Abstract
Background
Peroral endoscopic myotomy (POEM) is a minimally invasive yet challenging procedure for achalasia. Additional technological innovations and improvements are important for simplifying the procedure.
Methods
We report the successful use of a modified POEM procedure, which utilized a "Push and Pull" technique, on a patient with achalasia.
Results
Our modifications resulted in a short operation time of only 35 min. No complications arose during or after the procedure, up to a follow-up period of 6 months, and symptoms were significantly and quickly improved.
Conclusions
This modified procedure shortens operation time and lowers the difficulty of the operation, while leaving the safety and efficacy uncompromised.
This is a preview of subscription content, log in to check access.
Access options
Buy single article
Instant unlimited access to the full article PDF.
US$ 39.95
Price includes VAT for USA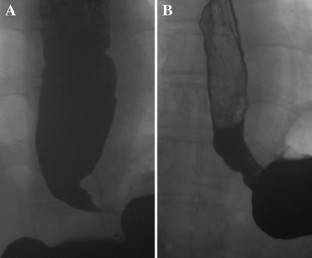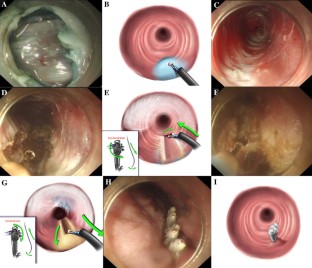 References
1.

Inoue H, Minami H, Kobayashi Y, Sato Y, Kaga M, Suzuki M et al (2010) Peroral endoscopic myotomy (POEM) for esophageal achalasia. Endoscopy 42:265–271

2.

Eckardt AJ, Eckardt VF (2011) Treatment and surveillance strategies in achalasia: an update. Nat Rev Gastroenterol Hepatol 8:311–319

3.

Li QL, Zhou PH (2015) Perspective on peroral endoscopic myotomy for achalasia: Zhongshan experience. Gut Liver 9:152–158

4.

Li QL, Chen WF, Zhou PH, Yao LQ, Xu MD, Hu JW et al (2013). Peroral endoscopic myotomy for the treatment of achalasia: a clinical comparative study of endoscopic full-thickness and circular muscle myotomy. J Am Coll Surg 217:442–451

5.

Patti MG, Molena D, Fisichella PM, Whang K, Yamada H, Perretta S, Way LW (2001) Laparoscopic Heller myotomy and Dor fundoplication for achalasia: analysis of successes and failures. Arch Surg 136:870–877
Acknowledgements
Drs. Dan-Feng Zhang, Wei-Feng Chen, Quan-Lin Li, Mei-Dong Xu, Yun-Shi Zhong, Yi-Qun Zhang, and Ping-Hong Zhou have received grants from the Major Project of Shanghai Municipal Science and Technology Committee (16411950400, 14441901500, and 15JC1490300), National Natural Science Foundation of China (81470811 and 81670483), and the Project of Shanghai Municipal Commission of Health and Family Planning (201440393).
Ethics declarations
Disclosures
Dan-Feng Zhang, Wei-Feng Chen, Mei-Dong Xu, Yun-Shi Zhong, Yi-Qun Zhang, Quan-Lin Li, Ping-Hong Zhou have no other conflicts of interest or financial ties to disclose.
Additional information
Dan-Feng Zhang and Wei-Feng Chen have contributed equally to this paper.
Electronic supplementary material
Below is the link to the electronic supplementary material.
Video 1: Modified peroral endoscopic myotomy using the "Push and Pull" technique (WMV 31981 KB)
About this article
Cite this article
Zhang, D., Chen, W., Xu, M. et al. Modified peroral endoscopic myotomy: a "Push and Pull" technique. Surg Endosc 32, 2165–2168 (2018). https://doi.org/10.1007/s00464-017-5889-y
Received:

Accepted:

Published:

Issue Date:
Keywords
POEM

Modified procedure

Push and Pull technique