Abstract
Background
Long-term resorbable mesh represents a promising technology for complex ventral and incisional hernia repair (VIHR). Preclinical studies indicate that poly-4-hydroxybutyrate (P4HB) resorbable mesh supports strength restoration of the abdominal wall. This study evaluated outcomes of high-risk subjects undergoing VIHR with P4HB mesh.
Methods
This was a prospective, multi-institutional study of subjects undergoing retrorectus or onlay VIHR. Inclusion criteria were CDC Class I, defect 10–350 cm2, ≤ 3 prior repairs, and ≥ 1 high-risk criteria (obesity (BMI: 30–40 kg/m2), active smoker, COPD, diabetes, immunosuppression, coronary artery disease, chronic corticosteroid use, hypoalbuminemia, advanced age, and renal insufficiency). Physical exam and/or quality of life surveys were performed at regular intervals through 18 months (to date) with longer-term, 36-month follow-up ongoing.
Results
One hundred and twenty-one subjects (46M, 75F) with an age of 54.7 ± 12.0 years and BMI of 32.2 ± 4.5 kg/m2 (mean ± SD), underwent VIHR. Comorbidities included the following: obesity (n = 95, 78.5%), hypertension (n = 72, 59.5%), cardiovascular disease (n = 42, 34.7%), diabetes (n = 40, 33.1%), COPD (n = 34, 28.1%), malignancy (n = 30, 24.8%), active smoker (n = 28, 23.1%), immunosuppression (n = 10, 8.3%), chronic corticosteroid use (n = 6, 5.0%), advanced age (n = 6, 5.0%), hypoalbuminemia (n = 3, 2.5%), and renal insufficiency (n = 1, 0.8%). Hernia types included the following: primary ventral (n = 17, 14%), primary incisional (n = 54, 45%), recurrent ventral (n = 15, 12%), and recurrent incisional hernia (n = 35, 29%). Defect and mesh size were 115.7 ± 80.6 and 580.9 ± 216.1 cm2 (mean ± SD), respectively. Repair types included the following: retrorectus (n = 43, 36%), retrorectus with additional myofascial release (n = 45, 37%), onlay (n = 24, 20%), and onlay with additional myofascial release (n = 8, 7%). 95 (79%) subjects completed 18-month follow-up to date. Postoperative wound infection, seroma requiring intervention, and hernia recurrence occurred in 11 (9%), 7 (6%), and 11 (9%) subjects, respectively.
Conclusions
High-risk VIHR with P4HB mesh demonstrated positive outcomes and low incidence of hernia recurrence at 18 months. Longer-term 36-month follow-up is ongoing.
This is a preview of subscription content, log in to check access.
Access options
Buy single article
Instant access to the full article PDF.
US$ 39.95
Price includes VAT for USA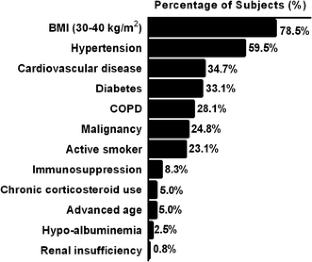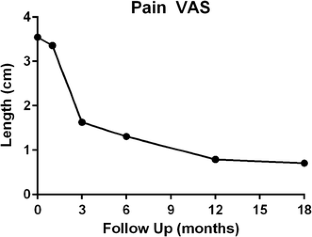 References
1.

Cox TC, Blair LJ, Huntington CR, Colavita PD, Prasad T, Lincourt AE, Heniford BT, Augenstein VA (2016) The cost of preventable comorbidities on wound complications in open ventral hernia repair. J Surg Res 206:214–222

2.

Finan KR, Vick CC, Kiefe CI, Neumayer L, Hawn MT (2005) Predictors of wound infection in ventral hernia repair. Am J Surg 190:676–681

3.

Breuing K, Butler CE, Ferzoco S, Franz M, Hultman CS, Kilbridge JF, Rosen M, Silverman RP, Vargo D (2010) Incisional ventral hernias: review of the literature and recommendations regarding the grading and technique of repair. Surgery 148:544–558

4.

Jin J, Rosen MJ, Blatnik J, Mcgee MF, Williams CP, Marks J, Ponsky J (2007) Use of acellular dermal matrix for complicated ventral hernia repair: does technique affect outcomes? J Am Coll Surg 205:654–660

5.

Itani KM, Rosen M, Vargo D, Awad SS, Denoto G 3rd, Butler CE, Group RS (2012) Prospective study of single-stage repair of contaminated hernias using a biologic porcine tissue matrix: the RICH Study. Surgery 152:498–505

6.

Helgstrand F, Rosenberg J, Kehlet H, Jorgensen LN, Bisgaard T (2013) Nationwide prospective study of outcomes after elective incisional hernia repair. J Am Coll Surg 216:217–228

7.

Rosen M, Bauer J, Harmaty M, Carbonell AM, Cobb WS, Matthews BD, Goldblatt M, Selzer D, Poulose BK, Hansson BM, Rosman C, Chao J, Jacobsen G (2017) Multicenter, prospective, longitudinal study of the recurrence, surgical site infection, and quality of life after contaminated ventral hernia repair using biosynthetic absorbable mesh: the COBRA Study. Ann Surg 265:205–211

8.

Bansal VK, Misra MC, Kumar S, Keerthi RY, Singhal P, Goswami A, Guleria S, Arora MK, Chabra A (2011) A prospective randomized study comparing suture mesh fixation versus tacker mesh fixation for laparoscopic repair of incisional and ventral hernias. Surg Endosc 25:1431–1438

9.

Reynvoet E, Deschepper E, Rogiers X, Troisi R, Berrevoet F (2014) Laparoscopic ventral hernia repair: is there an optimal mesh fixation technique? A systematic review. Langenbecks Arch Surg 399:55–63

10.

Rosen MJ, Krpata DM, Ermlich B, Blatnik JA (2013) A 5-year clinical experience with single-staged repairs of infected and contaminated abdominal wall defects utilizing biologic mesh. Ann Surg 257:991–996

11.

Primus FE, Harris HW (2013) A critical review of biologic mesh use in ventral hernia repairs under contaminated conditions. Hernia 17:21–30

12.

Rosen MJ (2010) Biologic mesh for abdominal wall reconstruction: a critical appraisal. Am Surg 76:1–6

13.

Slater NJ, Van Der Kolk M, Hendriks T, Van Goor H, Bleichrodt RP (2013) Biologic grafts for ventral hernia repair: a systematic review. Am J Surg 205:220–230

14.

Instructions for use - Phasix Mesh, C. R. Bard, Inc. (Warwick, RI). https://www.crbard.com/davol/product-listing/sp/phasix-mesh/. Accessed 13 July 2017

15.

Instructions for use - Gore Bio-A Tissue Reinforcement, W. L. Gore & Associates, Inc. (Flagstaff, AZ). https://www.goremedical.com/products/bioatissue---ifu/instructions?locale=mpd_euro. Accessed 13 July 2017

16.

Instructions for use - TIGR Matrix Surgical Mesh, Novus Scientific (Uppsala, Sweden). http://novusscientific.com/us/wp-content/uploads/sites/4/2017/08/50192-PG-IFU-US-Rev02.pdf. Accessed 13 July 2017

17.

Instructions for use - SERI Surgical Scaffold, Allergen, Inc. (Irvine, CA). https://www.allergan.com/miscellaneous-pages/allergan-pdf-files/ifu_sclfd. Accessed 13 July 2017

18.

Instructions for use - Vicryl Mesh, Ethicon, Inc. (Somerville, NJ). https://hostedvl106.quosavl.com/qb/doc/52prsdf9irm418ak721jjffidc. Accessed 13 July 2017

19.

Jenkins ED, Yip M, Melman L, Frisella MM, Matthews BD (2010) Informed consent: cultural and religious issues associated with the use of allogeneic and xenogeneic mesh products. J Am Coll Surg 210:402–410

20.

Deeken CR, Matthews BD (2013) Characterization of the mechanical strength, resorption properties, and histologic characteristics of a fully absorbable material (poly-4-hydroxybutyrate-PHASIX Mesh) in a porcine model of hernia repair. ISRN Surg 2013:238067

21.

Martin DP, Badhwar A, Shah DV, Rizk S, Eldridge SN, Gagne DH, Ganatra A, Darois RE, Williams SF, Tai HC, Scott JR (2013) Characterization of poly-4-hydroxybutyrate mesh for hernia repair applications. J Surg Res 184:766–773

22.

Scott JR, Deeken CR, Martindale RG, Rosen MJ (2016) Evaluation of a fully absorbable poly-4-hydroxybutyrate/absorbable barrier composite mesh in a porcine model of ventral hernia repair. Surg Endosc 30:3691–3701

23.

Surgical Site Infection Event Protocol, Centers for Disease Control and Prevention (CDC), https://www.cdc.gov/nhsn/pdfs/pscmanual/9pscssicurrent.pdf. Accessed 2017

24.

Mangram A, Horan T, Pearson M, Silver L, Jarvis W (2014) Guideline for prevention of surgical site infection, 1999. Am J Infect Control 20:250–280

25.

Burger JW, Luijendijk RW, Hop WC, Halm JA, Verdaasdonk EG, Jeekel J (2004) Long-term follow-up of a randomized controlled trial of suture versus mesh repair of incisional hernia. Ann Surg 240:578–583

26.

Kokotovic D, Bisgaard T, Helgstrand F (2016) Long-term recurrence and complications associated with elective incisional hernia repair. JAMA 316:1575–1582

27.

Totten CF, Davenport DL, Ward ND, Roth JS (2016) Cost of ventral hernia repair using biologic or synthetic mesh. J Surg Res 203:459–465

28.

Roth JS, Zachem A, Plymale MA, Davenport DL (2017) Complex ventral hernia repair with acellular dermal matrices: clinical and quality of life outcomes. Am Surg 83:141–147

29.

Chamieh J, Tan WH, Ramirez R, Nohra E, Apakama C, Symons W (2017) Synthetic versus biologic mesh in single-stage repair of complex abdominal wall defects in a contaminated field. Surg Infect 18:112–118

30.

Atema JJ, De Vries FE, Boermeester MA (2016) Systematic review and meta-analysis of the repair of potentially contaminated and contaminated abdominal wall defects. Am J Surg 212:982–995 e981

31.

Carbonell AM, Criss CN, Cobb WS, Novitsky YW, Rosen MJ (2013) Outcomes of synthetic mesh in contaminated ventral hernia repairs. J Am Coll Surg 217:991–998

32.

Plymale MA, Ragulojan R, Davenport DL, Roth JS (2017) Ventral and incisional hernia: the cost of comorbidities and complications. Surg Endosc 31:341–351
Funding
This study was sponsored by C. R. Bard, Inc. (Davol), Warwick, RI.
Ethics declarations
Disclosures
Authors were reimbursed for expenses related to the conduct of the study. JSR, GJA, JGB, WWH, RGM, MIG, DBE, GJM, JAG, EPD, BJS, CRD, and GRV are paid consultants for C. R. Bard, Inc. (Davol). Poulose conflicts: Bard-Davol-research (pertains to this study); Americas Hernia Society Quality Collaborative-compensation; Ariste Medical-consulting; Pfizer-consulting. Deeken conflicts: Covalent Bio, LLC – Owner and Principal Consultant; Biom'Up – consulting; Colorado Therapeutics – consulting; C. R. Bard/Davol, Inc. – consulting (pertains to this study); Musculoskeletal Transplant Foundation – paid Grant reviewer; Johnson & Johnson Medical GmbH – consulting; TELA Bio, Inc. – consulting.
About this article
Cite this article
Roth, J.S., Anthone, G.J., Selzer, D.J. et al. Prospective evaluation of poly-4-hydroxybutyrate mesh in CDC class I/high-risk ventral and incisional hernia repair: 18-month follow-up. Surg Endosc 32, 1929–1936 (2018). https://doi.org/10.1007/s00464-017-5886-1
Received:

Accepted:

Published:

Issue Date:
Keywords
Hernia repair

Recurrence

Infection

Poly-4-hydroxybutyrate

Mesh

Seroma