Abstract
Introduction
A robotic laparoendoscopic single-site access surgery (R-LESS) platform that incorporates the EndoWrist function of robotic instruments may provide better triangulation and retraction during LESS. The aim of the study is to assess if R-LESS is feasible with standard robotic instruments via a single incision and whether the approach could reduce the difficulty of the procedure and confer additional benefits over conventional LESS.
Methods
This was a prospective randomized controlled study investigating the workload performance, efficacy, and risks of performing R-LESS when compared with human LESS (H-LESS) in a survival porcine model for cholecystectomy and gastrojejunostomy. The primary outcome is the NASA task load index. Secondary outcomes included the difficulty of the procedures, procedural time, morbidities, and mortalities.
Results
Twenty-four cholecystectomies and gastrojejunostomies using the R-LESS or H-LESS approach (12:12) were performed. None of the swine suffered from procedural adverse events and none of the procedures required conversion. In both the cholecystectomy and gastrojejunostomy groups, R-LESS was associated with significantly lower NASA task load index (P < 0.001) and reduced difficulties in various steps of the procedures. No differences in the overall procedure times of the two procedures were observed (P = 0.315).
Conclusion
The R-LESS approach significantly reduced the workload and difficulties of LESS cholecystectomies and gastrojejunostomies. A dedicated single-site platform that could reduce instrument clashing while retaining the EndoWrist function is eagerly awaited.
This is a preview of subscription content, log in to check access.
Access options
Buy single article
Instant access to the full article PDF.
US$ 39.95
Price includes VAT for USA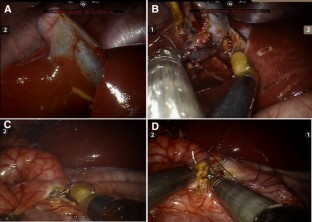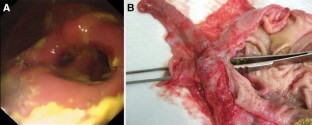 References
1.

Chan SM, Wu JC, Teoh AY et al (2016) Comparison of early outcomes and quality of life after laparoscopic Heller's cardiomyotomy to peroral endoscopic myotomy for treatment of achalasia. Dig Endosc 28:27–32

2.

Teoh AY, Chong CN, Wong J et al (2007) Routine early laparoscopic cholecystectomy for acute cholecystitis after conclusion of a randomized controlled trial. Br J Surg 94:1128–1132

3.

Merchant AM, Cook MW, White BC et al (2009) Transumbilical Gelport access technique for performing single incision laparoscopic surgery (SILS). J Gastrointest Surg 13:159–162

4.

Teoh AY, Chiu PW, Wong TC et al (2011) A case-controlled comparison of single-site access versus conventional three-port laparoscopic appendectomy. Surg Endosc 25:1415–1419

5.

Teoh AY, Chiu PW, Wong TC et al (2012) A double-blinded randomized controlled trial of laparoendoscopic single-site access versus conventional 3-port appendectomy. Ann Surg 256:909–914

6.

Angelou A, Skarmoutsos A, Margonis GA et al (2017) Robotic single port cholecystectomy: current data and future perspectives. Minerva Chir 72:140–145

7.

Tsimoyiannis EC, Tsimogiannis KE, Pappas-Gogos G et al (2010) Different pain scores in single transumbilical incision laparoscopic cholecystectomy versus classic laparoscopic cholecystectomy: a randomized controlled trial. Surg Endosc 24:1842–1848

8.

Lee PC, Lo C, Lai PS et al (2010) Randomized clinical trial of single-incision laparoscopic cholecystectomy versus minilaparoscopic cholecystectomy. Br J Surg 97:1007–1012

9.

Han HJ, Choi SB, Kim WB et al (2011) Single-incision multiport laparoscopic cholecystectomy: things to overcome. Arch Surg 146:68–73

10.

Haber GP, White MA, Autorino R et al (2010) Novel robotic da Vinci instruments for laparoendoscopic single-site surgery. Urology 76:1279–1282

11.

Wren SM, Curet MJ (2011) Single-port robotic cholecystectomy: results from a first human use clinical study of the new da Vinci single-site surgical platform. Arch Surg 146:1122–1127

12.

Konstantinidis KM, Hirides P, Hirides S et al (2012) Cholecystectomy using a novel single-site ((R)) robotic platform: early experience from 45 consecutive cases. Surg Endosc 26:2687–2694

13.

Cao A, Chintamani KK, Pandya AK et al (2009) NASA TLX: software for assessing subjective mental workload. Behav Res Methods 41:113–117

14.

Yurko YY, Scerbo MW, Prabhu AS et al (2010) Higher mental workload is associated with poorer laparoscopic performance as measured by the NASA-TLX tool. Simul Healthc 5:267–271

15.

Ruiz-Rabelo JF, Navarro-Rodriguez E, Di-Stasi LL et al (2015) Validation of the NASA-TLX score in ongoing assessment of mental workload during a laparoscopic learning curve in bariatric surgery. Obes Surg 25:2451–2456

16.

Joseph RA, Goh AC, Cuevas SP et al (2010) "Chopstick" surgery: a novel technique improves surgeon performance and eliminates arm collision in robotic single-incision laparoscopic surgery. Surg Endosc 24:1331–1335

17.

Allemann P, Leroy J, Asakuma M et al (2010) Robotics may overcome technical limitations of single-trocar surgery: an experimental prospective study of Nissen fundoplication. Arch Surg 145:267–271

18.

Ostrowitz MB, Eschete D, Zemon H et al (2009) Robotic-assisted single-incision right colectomy: early experience. Int J Med Robot 5:465–470

19.

Sugimoto M, Tanaka K, Matsuoka Y et al (2011) da Vinci robotic single-incision cholecystectomy and hepatectomy using single-channel GelPort access. J Hepatobiliary Pancreat Sci 18:493–498

20.

Stein RJ, White WM, Goel RK et al (2010) Robotic laparoendoscopic single-site surgery using GelPort as the access platform. Eur Urol 57:132–136

21.

Park JH, Kim SY, Lee CR et al (2013) Robot-assisted posterior retroperitoneoscopic adrenalectomy using single-port access: technical feasibility and preliminary results. Ann Surg Oncol 20:2741–2745

22.

Kroh M, El-Hayek K, Rosenblatt S et al (2011) First human surgery with a novel single-port robotic system: cholecystectomy using the da Vinci Single-Site platform. Surg Endosc 25:3566–3573

23.

Eisenberg D, Vidovszky TJ, Lau J et al (2013) Comparison of robotic and laparoendoscopic single-site surgery systems in a suturing and knot tying task. Surg Endosc 27:3182–3186

24.

Gonzalez A, Murcia CH, Romero R et al (2016) A multicenter study of initial experience with single-incision robotic cholecystectomies (SIRC) demonstrating a high success rate in 465 cases. Surg Endosc 30:2951–2960

25.

Lee GS, Arghami A, Dy BM et al (2016) Robotic single-site adrenalectomy. Surg Endosc 30:3351–3356

26.

Engan C, Engan M, Bonilla V et al (2015) Description of robotically assisted single-site transabdominal preperitoneal (RASS-TAPP) inguinal hernia repair and presentation of clinical outcomes. Hernia 19:423–428

27.

Spinoglio G, Lenti LM, Maglione V et al (2012) Single-site robotic cholecystectomy (SSRC) versus single-incision laparoscopic cholecystectomy (SILC): comparison of learning curves. First European experience. Surg Endosc 26:1648–1655

28.

Bedeir K, Mann A, Youssef Y (2016) Robotic single-site versus laparoscopic cholecystectomy: which is cheaper? A cost report and analysis. Surg Endosc 30:267–272
Acknowledgements
This study was supported by The Research Grant Council, Hong Kong.
Ethics declarations
Disclosures
Anthony Yuen Bun Teoh, Shannon Melissa Chan, Hon Chi Yip, Vivien Wai Yin Wong, Philip Wai Yan Chiu, and Enders Kwok Wai Ng have no conflicts of interest or financial ties to disclose.
About this article
Cite this article
Teoh, A.Y.B., Chan, S.M., Yip, H.C. et al. Randomized controlled trial of EndoWrist-enabled robotic versus human laparoendoscopic single-site access surgery (LESS) in the porcine model. Surg Endosc 32, 1273–1279 (2018). https://doi.org/10.1007/s00464-017-5803-7
Received:

Accepted:

Published:

Issue Date:
Keywords
Laparoendoscopic single-site access surgery

Single-port surgery

Robotic surgical procedures

Cholecystectomy

Gastrojejunostomy