Abstract
Introduction
Bariatric surgery has been shown to lead to significant improvement in glucose homeostasis, resulting in greater rates of type 2 diabetes mellitus (T2DM) remission. While there is substantial evidence of the benefits of bariatric/metabolic surgery in obese diabetic patients on oral therapy (O-T2D), more evidence is necessary in the case of insulin-treated type 2 diabetes (I-T2D) patients and the selection of surgical procedure.
Methods
Analysis of the Ontario Bariatric Registry data was performed, comparing outcomes of Roux-en-Y-gastric bypass (RYGB) and sleeve gastrectomy (SG) on insulin-treated versus non-insulin-treated T2DM patients. We compared weight loss, medication use and remission rates during a 3-year follow up.
Results
A total of 3668 diabetic Bariatric Registry patients underwent surgery from Jan 2010 to Feb 2017, across 7 Bariatric Centers of Excellence in Ontario. Of these 2872 were O-T2D and 1187 were I-T2D. Weight loss was similar between the two groups at 3 years; with mean %WL of 30.1% for the insulin group vs. 28.3% non-insulin (p = 0.0673). At 3 years, 11.3% of the non-insulin and 59.6% of the insulin-dependent group were using anti-diabetic medication (p < 0.0001). Among insulin-dependent patients, RYGB showed greater reduction in insulin use with 26.5 and 40% compared to SG at 3 years. O-T2D patients experienced more complete diabetes remission, with 66.5 vs. 18.5% (p < 0.0001) at 3 years. Complete remission for I-T2D patients was higher in the RYGB group than SG (p < 0.0001) at years 1 and 2 (8.5 vs. 5.4% and 24.4 vs. 21.1%). The same trend was found regardless of insulin use; complete remission higher for RYGB at 1 and 2 years [50.7 vs. 39.8% (p < 0.0001), and 54.6 vs. 49.1% (p < 0.0001)].
Conclusion
While both RYGB and SG procedures provide effective treatment for I-T2D patients in terms of weight loss and diabetes, incidence of complete remission for insulin-dependent patients is higher with RYGB in earlier years.
This is a preview of subscription content, log in to check access.
Access options
Buy single article
Instant access to the full article PDF.
US$ 39.95
Price includes VAT for USA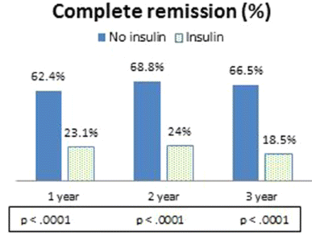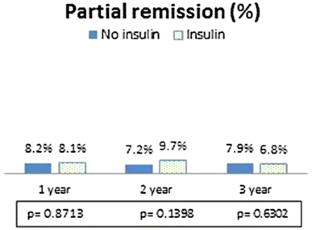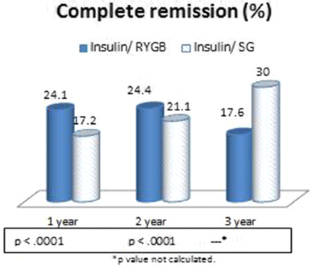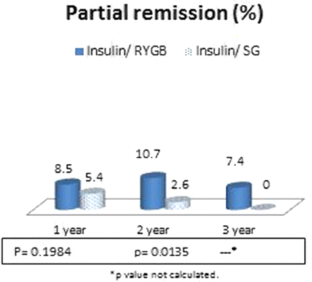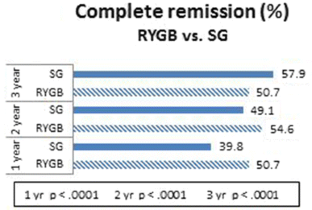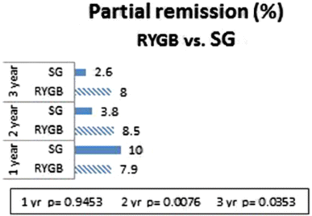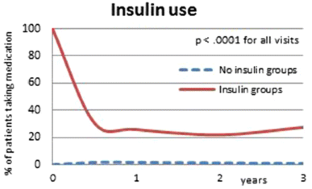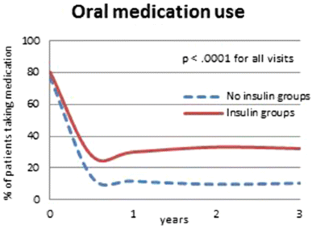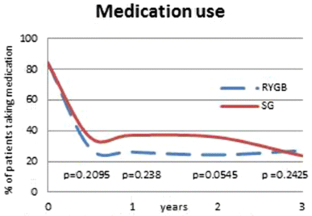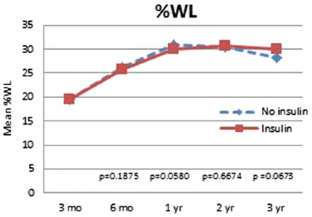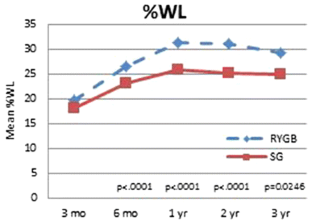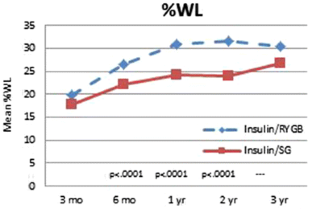 Abbreviations
AGB:

Adjustable gastric banding

BMI:

Body mass index

BPD:

Biliopancreatic diversion

HbA1c:

Glycated hemoglobin (A1C)

I-T2D:

Insulin-treated type 2 diabetes

O-T2D:

Oral-treated type 2 diabetes

%WL:

Percent weight loss

%EWL:

Percent excess weight loss

SG:

Sleeve gastrectomy

RCT:

Randomized control trial

RYGB:

Roux-en-Y gastric bypass

T1DM:

Type 1 diabetes mellitus

T2DM:

Type 2 diabetes mellitus
References
1.

World Health Organization (2016) Global report on diabetes. WHO Press, Geneva

2.

Schauer PR, Bhatt DL, Kirwan JP, Wolski K, Aminian A, Brethauer SA, Navaneethan SD, Singh RP, Pothier CE, Nissen SE (2017) Bariatric surgery vs. intensive medical therapy for diabetes -5-Year Outcomes. N Engl J Med 376(7):641–651

3.

Cottam D, Qureshi FG, Mattar SG, Sharma S, Holover S, Bonanomi G, Ramanathan R, Schauer P (2006) Laparoscopic sleeve gastrectomy as an initial weight-loss procedure for high-risk patients with morbid obesity. Surg Endosc 20:859–863

4.

Regan JP, Inabnet WB, Gagner M, Pomp A (2003) Early experience with two-stage laparoscopic Roux-en-Y gastric bypass as an alternative in the super-super obese patient. Obes Surg 13:861–864

5.

Silecchia G, Rizzello M, Casella G, Fioriti M, Soricelli E, Basso N (2009) Two-stage laparoscopic biliopancreatic diversion with duodenal switch as treatment of high-risk super-obese patients: analysis of complications. Surg Endosc 23:1032–1037

6.

Angrisani L, Santonicola A, Iovino P, Formisano G, Buchwald H, Scopinaro N (2015) Bariatric surgery worldwide 2013. Obes Surg 25(10):1822–1832

7.

Vidal J, Ibarzabal A, Romero F, Delgado S, Momblán D, Flores L, Lacy A (2008) Type 2 diabetes mellitus and the metabolic syndrome following sleeve gastrectomy in severely obese subjects. Obes Surg 18(9):1077–1082

8.

Bruno G, Gruden G, Barutta F, Cavallo Perin P, Morino M, Toppino M (2015) What is the impact of sleeve gastrectomy and gastric bypass on metabolic control of diabetes? A clinic-based cohort of Mediterranean diabetic patients. Surg Obes Relat Dis 11(5):1014–1019

9.

Maraka S, Kudva YC, Kellogg TA, Collazo-Clavell ML, Mundi MS (2015) Bariatric surgery and diabetes: implications of type 1 vs. insulin-requiring type 2. Obesity 23(3):552–557

10.

Robert M, Belanger P, Hould FS, Marceau S, Tchernof A, Biertho L (2015) Should metabolic surgery be offered in morbidly obese patients with type I diabetes? Surg Obes Relat Dis 11(4):798–805

11.

Kadera BE, Lum K, Grant J, Pryor AD, Portenier DD, DeMaria EJ (2009) Remission of type 2 diabetes after Roux-en-Y gastric bypass is associated with greater weight loss. Surg Obes Relat Dis 5(3):305–309

12.

Schauer PR, Burguera B, Ikramuddin S, Cottam D, Gourash W, Hamad G, Eid GM, Mattar S, Ramanathan R, Barinas-Mitchel E, Rao RH, Kuller L, Kelley D (2003) Effect of laparoscopic Roux-en Y gastric bypass on type 2 diabetes mellitus. Ann Surg 238(4):467–484

13.

Ramos-Levi A, Sanchez-Pernaute A, Matia P, Cabrerizo L, Barabash A, Hernandez C, Calle-Pascual A, Torres A, Rubio M (2013) Diagnosis of diabetes remission after bariatic surgery may be jeopardized by remission criteria and previous hypoglycemic treatment. Obes Surg 23(10):1520–1526

14.

Buse JB, Caprio S, Cefalu WT et al (2009) How do we define cure of diabetes? Diabetes Care 32:2133–2135

15.

Rubino F, Nathan DM, Eckel RH, Schauer PR, Alberti KG, Zimmet PZ, Del Prato S, Ji L, Sadikot SM, Herman WH, Amiel SA, Kaplan LM, Taroncher-Oldenburg G (2016) Metabolic surgery in the treatment algorithm for type 2 diabetes: a joint statement by International Diabetes Organizations. Diabetes Care 39(6):861–877

16.

Laferrère B (2012) Gut feelings about diabetes. Endocrinol Nutr 59:254–260

17.

Hutch CR, Sandoval DA (2017) Physiological and molecular responses to bariatric surgery: markers or mechanisms underlying T2DM resolution? Ann N Y Acad Sci 1391(1):5–19

18.

Stefater MA, Wilson-Pérez HE, Chambers AP, Sandoval DA, Seeley RJ (2012) All bariatric surgeries are not created equal: insights from mechanistic comparisons. Endocr Rev 33(4):595–622

19.

Brethauer SA, Aminian A, Romero-Talamás H, Batayyah E, Mackey J, Kennedy L, Kashyap SR, Kirwan JP, Rogula T, Kroh M, Chand B, Schauer PR (2013) Can diabetes be surgically cured? Long-term metabolic effects of bariatric surgery in obese patients with type 2 diabetes mellitus. Ann Surg 258(4):628–636

20.

Ardestani A, Rhoads D, Tavakkoli A (2015) Insulin cessation and diabetes remission after bariatric surgery in adults with insulin-treated type 2 diabetes. Diabetes Care 38(4):659–664

21.

Kahn SE, Lachin JM, Zinman B et al (2011) Effects of rosiglitazone, glyburide, and metformin on β-cell function and insulin sensitivity in ADOPT. Diabetes 60:1552–1560

22.

Min T, Barry JD, Stephens JW (2015) Predicting the resolution of type 2 diabetes after bariatric surgical procedures: a concise review. J Diabetes Metab 6:617

23.

Honarmand K, Chetty K, Vanniyasingam T, Anvari M, Chetty VT (2017) Type 2 diabetes remission rates 1-year post-Roux-en-Y gastric bypass and validation of the DiaRem score: the Ontario Bariatric Network experience. Clin Obes 7(3):176–182

24.

Pournaras DJ, Aasheim ET, Søvik TT, Andrews R, Mahon D, Welbourn R et al (2012) Effect of the definition of type II diabetes remission in the evaluation of bariatric surgery for metabolic disorders. Br J Surg 99:100–103

25.

Robert M, Ferrand-Gaillard C, Disse E, Espalieu P, Simon C, Laville M, Gouillat C, Thivolet C (2013) Predictive factors of type 2 diabetes remission 1 year after bariatric surgery: impact of surgical techniques. Obes Surg 23(6):770–775

26.

Todkar JS, Shah SS, Shah PS et al (2010) Long-term effects of laparoscopic sleeve gastrectomy in morbidly obese subjects with type 2 diabetes mellitus. Surg Obes Relat Dis 6:142–145

27.

Abbatini F, Rizzello M, Casella G et al (2010) Long-term effects of laparoscopic sleeve gastrectomy, gastric bypass, and adjustable gastric banding on type 2 diabetes. Surg Endosc 24:1005–1010

28.

Yip S, Plank LD, Murphy R (2013) Gastric bypass and sleeve gastrectomy for type 2 diabetes: a systematic review and meta-analysis of outcomes. Obes Surg 23(12):1994–2003

29.

Jiménez A, Casamitjana R, Flores L, Viaplana J, Corcelles R, Lacy A, Vidal J (2012) Long-term effects of sleeve gastrectomy and Roux-en-Y gastric bypass surgery on type 2 diabetes mellitus in morbidly obese subjects. Ann Surg 256(6):1023–1029

30.

Fernández-Soto ML, Martín-Leyva A, González-Jiménez A, García-Rubio J, Cózar-Ibáñez A, Zamora-Camacho FJ, Leyva-Martínez MS, Jiménez-Ríos JA, Escobar-Jiménez F (2017) Remission of type 2 diabetes mellitus after bariatric surgery–comparison between procedures. Endokrynol Pol 68(1):18–25

31.

Nguyen KT, Billington CJ, Vella A et al (2015) Preserved insulin secretory capacity and weight loss are the predominant predictors of glycemic control in patients with type 2 diabetes randomized to Roux en-Y gastric bypass. Diabetes 64:3104–3110. doi:10.2337/db14-1870

32.

Li P, Fu P, Chen J, Wang LH, Wang DR (2013) Laparoscopic Roux-en-Y gastric bypass vs. laparoscopic sleeve gastrectomy for morbid obesity and diabetes mellitus: a meta-analysis of 16 recent studies. Hepatogastroenterology 60(121):132–137
Acknowledgments
The authors would like to acknowledge the data management team at the Population Health Research Institute (PHRI) who provide statistical analysis of the Bariatric Registry, and who assisted in the analysis for this study.
Funding
The Ontario Ministry of Health and Long-Term Care (MOHLTC) support the Ontario Bariatric Registry.
Ethics declarations
Conflict of interest
Drs. Lemus, Karni, Hong, Gmora, Anvari and Ms. Breau have no conflict of interest or financial ties to disclose.
Additional information
Presented at the SAGES 2017 Annual Meeting, March 22–25, 2017, Houston, Texas.
About this article
Cite this article
Lemus, R., Karni, D., Hong, D. et al. The impact of bariatric surgery on insulin-treated type 2 diabetes patients. Surg Endosc 32, 990–1001 (2018). https://doi.org/10.1007/s00464-017-5777-5
Received:

Accepted:

Published:

Issue Date:
Keywords
Diabetes mellitus

Sleeve gastrectomy

Gastric bypass

Insulin dependence

Remission