Abstract
Background
Laparoscopic lens fogging (LLF) hampers vision and impedes operative efficiency. Attempts to reduce LLF have led to the development of various anti-fogging fluids and warming devices. Limited literature exists directly comparing these techniques. We constructed a model peritoneum to simulate LLF and to compare the efficacy of various anti-fogging techniques.
Materials and methods
Intraperitoneal space was simulated using a suction bag suspended within an 8 L container of water. LLF was induced by varying the temperature and humidity within the model peritoneum. Various anti-fogging techniques were assessed including scope warmers, FREDTM, ResoclearTM, chlorhexidine, betadine and immersion in heated saline. These products were trialled with and without the use of a disposable scope warmer. Vision scores were evaluated by the same investigator for all tests and rated according to a predetermined scale. Fogging was assessed for each product or technique 30 times and a mean vision rating was recorded.
Results
All products tested imparted some benefit, but FREDTM performed better than all other techniques. Betadine and ResoclearTM performed no better than the use of a scope warmer alone. Immersion in saline prior to insertion resulted in decreased vision ratings. The robotic scope did not result in LLF within the model.
Conclusions
In standard laparoscopes, the most superior preventative measure was FREDTM utilised on a pre-warmed scope. Despite improvements in LLF with other products FREDTM was better than all other techniques. The robotic laparoscope performed superiorly regarding LLF compared to standard laparoscope.
This is a preview of subscription content, log in to check access.
Access options
Buy single article
Instant access to the full article PDF.
US$ 39.95
Price includes VAT for USA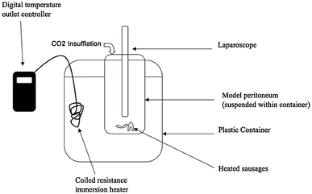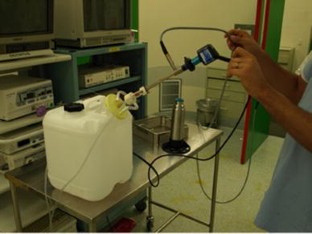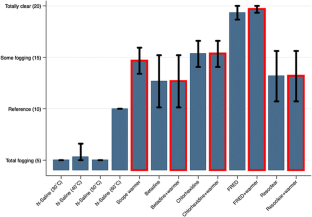 References
1.

Dubois F, Icard P, Berthelot G, Levard H (1990) Coelioscopic cholecystectomy: preliminary report of 36 cases. Lippincott Williams & Wilkins, WK Health, Philadelphia

2.

Perissat J, Collet D, Belliard R, Dost C, Bikandou G (1990) Cholelithiasis. Laparoscopic treatment with intracorporeal lithotripsy followed by cholecystostomy or cholecystectomy. Personal technique. Chirurgie; Mémoires De L'académie De Chirurgie 116(3):243–247

3.

Soper NJ, Brunt LM, Kerbl K (1994) Laparoscopic general surgery. N Engl J Med 330(6):409–419. doi:10.1056/NEJM199402103300608

4.

Kitano S, Tomikawa M, Iso Y, Iwata S, Gondo K, Moriyama M, Sugimachi K (1992) A safe and simple method to maintain a clear field of vision during laparoscopic cholecystectomy. Surg Endosc 6(4):197–198

5.

Lawrentschuk N, Fleshner NE, Bolton DM (2010) Laparoscopic lens fogging: a review of etiology and methods to maintain a clear visual field. J Endourol 6:905

6.

Manning TG, Perera M, Christidis D, Kinnear N, McGrath S, O'Beirne R, Zotov P, Bolton D, Lawrentschuk N (2017) Visual occlusion during minimally invasive surgery: a contemporary review of methods to reduce laparoscopic and robotic lens fogging and other sources of optical loss. J Endourol. 31(4):327–333

7.

Van Deurzen DFP, Mannaerts GHH, Jakimowicz JJ, Cuschieri A (2005) Prevention of lens condensation in laparoscopic surgery by lens heating with a thermos flask. Surg Endosc 19(2):299–300

8.

Schurr MO, Kunert W, Arezzo A, Buess G (1999) The role and future of endoscopic imaging systems. Endoscopy 31(7):557–562

9.

McCain LA, Jones G (1995) Endoscopic techniques in aesthetic plastic surgery the hopkins rod lens system. Plast Surg Nurs 15(3):145–178

10.

Brown JA, Inocencio MD, Sundaram CP (2008) Use of a warming bath to prevent lens fogging during laparoscopy. J Endourol 22(11):2413–2414. doi:10.1089/end.2008.0212

11.

Drysch A, Schmitt K, Uribe B, Yoon R, Okhunov Z, Landman J (2016) Comparative analysis of techniques to prevent laparoscopic fogging. Minim Invasive Ther Allied Technol 25:1–4

12.

Yu T-C, Hamill JK, Liley A, Hill AG (2013) Warm, humidified carbon dioxide gas insufflation for laparoscopic appendicectomy in children: a double-blinded randomized controlled trial. Ann Surg 257(1):44–53. doi:10.1097/SLA.0b013e31825f0721

13.

Farley DR, Greenlee SM, Larson DR, Harrington JR (2004) Double-blind, prospective, randomized study of warmed, humidified carbon dioxide insufflation vs standard carbon dioxide for patients undergoing laparoscopic cholecystectomy. Arch Surg 139(7):739–743

14.

Lawrentschuk N, Bolton DM (2009) Re: use of a warming bath to prevent lens fogging during laparoscopy. (From Brown JA, Inocencio MD, and Sundaram CP. J Endourol 2008; 22: 2413). J Endourol 23(7):1213. doi:10.1089/end.2009.0122

15.

den Boer KT, Herder JL, Sjoerdsma W, Meijer DW, Gouma DJ, Stassen HG (1999) Sensitivity of laparoscopic dissectors. What can you feel? Surg Endosc 13(9):869–873

16.

Flemming E, Bessell JR, Kunert W, Eibl H, Buess G (1996) Principles determining optical clarity in endoscopic surgery. Minim Invasive Ther Allied Technol 5(5):440

17.

Bessell JR, Flemming E, Kunert W, Buess G (1996) Maintenance of clear vision during laparoscopic surgery. Minim Invasive Ther Allied Technol 5(5):450

18.

North GR, Erukhimova TL (2009) Atmospheric thermodynamics. [electronic resource]: elementary physics and chemistry. Cambridge University Press, Cambridge

19.

Gao X, Yan X, Yao X, Xu L, Zhang K, Zhang J, Yang B, Jiang L (2007) The dry-style antifogging properties of mosquito compound eyes and artificial analogues prepared by soft lithography. Adv Mater 19(17):2213

20.

Ohdaira T, Nagai H, Kayano S, Kazuhito H (2007) Antifogging effects of a socket-type device with the superhydrophilic, titanium dioxide-coated glass for the laparoscope. Surg Endosc 21(2):333–338

21.

Rosen MJ, Kunjappu JT (2012) Surfactants and interfacial phenomena, 4th edn. Ringgold Inc, Avon, pp 1–2

22.

Chevallier P, Sp Turgeon, Sarra-Bournet C, Rl Turcotte, Gt Laroche (2011) Characterization of Multilayer Anti-Fog Coatings. ACS Appl Mater Interfaces 3(3):750

23.

Rosen MJ, Kunjappu JT (2012) Surfactants and interfacial phenomena, 4th edn. Ringgold Inc, Avon, pp 214–215

24.

Sarah P, Conley SS, Benjamin R (2016) lee urologic robotic surgery course. American Urolological Association. https://www.auanet.org/education/modules/robotic-surgery/module1.cfm. Accessed 01 May 2016

25.

Wong CG, Gu X, Barkoukis M (2013) Novel laparoscope defogging and cleaning device for robot-assisted laparoscopic prostatectomy (RALP). J Endourol 27(1):144

26.

Calhoun JT, Redan JA (2014) Elimination of laparoscopic lens fogging using directional flow of CO2. J Soc Laparoendosc Surg 18(1):55–61. doi:10.4293/108680813X13693422520431

27.

Nezhat C, Morozov V (2008) A simple solution to lens fogging during robotic and laparoscopic surgery. J Soc Laparoendosc Surg 12(4):431

28.

Khan MJ, Karim O (2013) Use of Ethicon Vicryl foil and robotic camera lights to warm the robotic scope lens to prevent lens fogging, 2nd edn. Wiley, Hoboken

29.

Schurr MO, Bablich H, Wurster H, Melzer A, Roth K, Wiest FM, Buess G (1994) A new optic cleaning and visualization stabilizing system for endoscopic surgery. Minim Invasive Ther 3(3):131–134. doi:10.1080/0961625X.1994.11665539

30.

Piromchai P, Kasemsiri P, Thanaviratananich S (2011) Alternative agents to prevent fogging in head and neck endoscopy. Clin Med Insights 4:1

31.

Fraser L, Gunasekaran S, Cruickshank H (2009) Patient saliva: a useful anti-fog agent for the fibre-optic nasolaryngoscope. Int J Clin Pract 63(11):1668. doi:10.1111/j.1742-1241.2009.02194.x

32.

Yavuz Y, Skogås JG, Güllüoglu MG, Langø T, Mårvik R (2006) Are cold light sources really cold? Surg Laparosc Endoscand Percutaneous Tech 16(5):370–376
Funding
No funding was received to conduct this research. The manuscript has been seen and approved by all authors.
Ethics declarations
Disclosures
The authors Dr. Todd G Manning, Dr. Nathan Papa, Dr. Marlon Perera, Dr. Shannon McGrath, Dr. Daniel Christidis, Dr. Munad Khan, Mr. Richard O'Beirne, Dr. Nicholas Campbell, Prof. Damien Bolton and A/Prof. Nathan Lawrentschuk have no conflicts of interest or financial ties to disclose.
About this article
Cite this article
Manning, T.G., Papa, N., Perera, M. et al. Laparoscopic lens fogging: solving a common surgical problem in standard and robotic laparoscopes via a scientific model. Surg Endosc 32, 1600–1606 (2018). https://doi.org/10.1007/s00464-017-5772-x
Received:

Accepted:

Published:

Issue Date:
Keywords
Surgery

Laparoscopic surgery

Fogging

Laparoscopic lens fogging

Robotic surgery

Laparoscopic equipment