Abstract
Introduction
To compare the outcomes of pure laparoscopic left hemihepatectomy (LLH) versus open left hemihepatectomy (OLH) for benign and malignant conditions using multivariate analysis.
Materials and methods
All consecutive cases of LLH and OLH between October 2007 and December 2013 in a tertiary referral hospital were enrolled in this retrospective cohort study. All surgical procedures were performed by one surgeon. The LLH and OLH groups were compared in terms of patient demographics, preoperative data, clinical perioperative outcomes, and tumor characteristics in patients with malignancy. Multivariate analysis of the prognostic factors associated with severe complications was then performed.
Results
The LLH group (n = 62) had a significantly shorter postoperative hospital stay than the OLH group (n = 118) (9.53 ± 3.30 vs 14.88 ± 11.36 days, p < 0.001). Multivariate analysis revealed that the OLH group had >4 times the risk of the LLH group in terms of developing severe complications (Clavien–Dindo grade ≥III) (odds ratio 4.294, 95% confidence intervals 1.165–15.832, p = 0.029).
Discussion
LLH was a safe and feasible procedure for selected patients. LLH required shorter hospital stay and resulted in less operative blood loss. Multivariate analysis revealed that LLH was associated with a lower risk of severe complications compared to OLH. The authors suggest that LLH could be a reasonable treatment option for selected patients.
This is a preview of subscription content, log in to check access.
Access options
Buy single article
Instant access to the full article PDF.
US$ 39.95
Price includes VAT for USA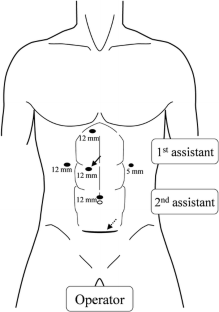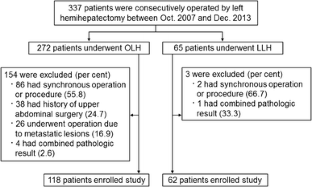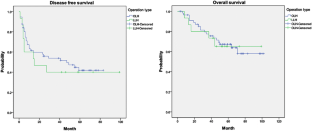 References
1.

Kim K, Jung D, Park K et al (2011) Comparison of open and laparoscopic live donor left lateral sectionectomy. Br J Surg 98(9):1302–1308

2.

Reich H, McGlynn F, DeCaprio J, Budin R (1991) Laparoscopic excision of benign liver lesions. Obstet Gynecol 78(5 Pt 2):956–958

3.

Gagner M, Rheault M, Dubuc J (1992) Laparoscopic partial hepatectomy for liver tumor. Surg Endosc 6(2):99

4.

Lesurtel M, Cherqui D, Laurent A, Tayar C, Fagniez PL (2003) Laparoscopic versus open left lateral hepatic lobectomy: a case-control study. J Am Coll Surg 196(2):236–242

5.

Abu Hilal M, McPhail MJW, Zeidan B et al (2008) Laparoscopic versus open left lateral hepatic sectionectomy: a comparative study. Ejso-Eur J Surg Oncol 34(12):1285–1288

6.

Aldrighetti L, Pulitano C, Catena M et al (2008) A prospective evaluation of laparoscopic versus open left lateral hepatic sectionectomy. J Gastrointest Surg 12(3):457–462

7.

Carswell KA, Sagias FG, Murgatroyd B, Rela M, Heaton N, Patel AG (2009) Laparoscopic versus open left lateral segmentectomy. BMC Surg 9:14

8.

van Dam RM, Wong-Lun-Hing EM, van Breukelen G et al (2012) Open versus laparoscopic left lateral hepatic sectionectomy within an enhanced recovery ERAS® programme (ORANGE II-trial): study protocol for a randomised controlled trial. Trials 13(1):54

9.

Dokmak S, Raut V, Aussilhou B et al (2014) Laparoscopic left lateral resection is the gold standard for benign liver lesions: a case–control study. HPB 16(2):183–187

10.

Dagher I, Di Giuro G, Dubrez J, Lainas P, Smadja C, Franco D (2009) Laparoscopic versus open right hepatectomy: a comparative study. Am J Surg 198(2):173–177

11.

Abu Hilal M, Di Fabio F, Teng MJ, Lykoudis P, Primrose JN, Pearce NW (2011) Single-centre comparative study of laparoscopic versus open right hepatectomy. J Gastrointest Surg 15(5):818–823

12.

Namgoong J-M, Kim K-H, Park G-C et al (2014) Comparison of laparoscopic versus open left hemihepatectomy for left-sided hepatolithiasis. Int J Med Sci 11(2):127–133

13.

Buell JF, Cherqui D, Geller DA et al (2009) The international position on laparoscopic liver surgery: the louisville statement, 2008. Ann Surg 250(5):825–830

14.

Dindo D, Demartines N, Clavien P-A (2004) Classification of surgical complications: a new proposal with evaluation in a cohort of 6336 patients and results of a survey. Ann Surg 240(2):205

15.

Clavien PA, Barkun J, de Oliveira ML et al (2009) The Clavien–Dindo classification of surgical complications: five-year experience. Ann Surg 250(2):187–196

16.

Morise Z, Kawabe N, Kawase J et al (2013) Pure laparoscopic hepatectomy for hepatocellular carcinoma with chronic liver disease. World J Hepatol 5(9):487

17.

Yu Y-D, Kim K-H, Jung D-H et al (2014) Robotic versus laparoscopic liver resection: a comparative study from a single center. Langenbeck's Arch Surg 399(8):1039–1045

18.

Aldrighetti L, Guzzetti E, Ferla G (2011) Laparoscopic hepatic left lateral sectionectomy using the laparoendoscopic single site approach: evolution of minimally invasive liver surgery. J Hepato-Biliary-Pancreat Sci 18(1):103–105

19.

Gkegkes ID, Iavazzo C (2014) Single incision laparoscopic hepatectomy: a systematic review. J Minim Access Surg 10(3):107

20.

Buell JF, Thomas MJ, Doty TC et al (2004) An initial experience and evolution of laparoscopic hepatic resectional surgery. Surgery 136(4):804–811

21.

Belli G, Gayet B, Han H-S et al (2013) Laparoscopic left hemihepatectomy a consideration for acceptance as standard of care. Surg Endosc 27:2721–2726

22.

Medbery RL, Chadid TS, Sweeney JF et al (2014) Laparoscopic vs open right hepatectomy: a value-based analysis. J Am Coll Surg 218(5):929–939

23.

Laurent A, Cherqui D, Lesurtel M, Brunetti F, Tayar C, Fagniez P-L (2003) Laparoscopic liver resection for subcapsular hepatocellular carcinoma complicating chronic liver disease. Arch Surg 138(7):763–769

24.

Kaneko H, Takagi S, Otsuka Y et al (2005) Laparoscopic liver resection of hepatocellular carcinoma. Am J Surg 189(2):190–194

25.

Ramirez PT, Wolf JK, Levenback C (2003) Laparoscopic port-site metastases: etiology and prevention. Gynecol Oncol 91(1):179–189

26.

Schmandra T, Mierdl S, Bauer H, Gutt C, Hanisch E (2002) Transoesophageal echocardiography shows high risk of gas embolism during laparoscopic hepatic resection under carbon dioxide pneumoperitoneum. Br J Surg 89(7):870–876
Ethics declarations
Disclosures
Hwui-Dong Cho, Ki-Hun Kim, Shin Hwang, Chul-Soo Ahn, Deok-Bog Moon, Tae-Yong Ha, Gi-Won Song, Dong-Hwan Jung, Gil-Chun Park, Sung-Gyu Lee have no conflict of interest or financial ties to disclose.
About this article
Cite this article
Cho, H., Kim, K., Hwang, S. et al. Comparison of pure laparoscopic versus open left hemihepatectomy by multivariate analysis: a retrospective cohort study. Surg Endosc 32, 643–650 (2018). https://doi.org/10.1007/s00464-017-5714-7
Received:

Accepted:

Published:

Issue Date:
Keywords
Pure laparoscopic left hemihepatectomy

Open left hemihepatectomy

Comparative study

Multivariate analysis