Abstract
Background
Laparoscopic wedge resection of the stomach is an ideal procedure if the gastric gastrointestinal stromal tumors (GISTs) are located in the extraluminal stomach. When the tumor is located in the intraluminal stomach, two minimally invasive surgical procedures involving laparoscopic and endoscopic cooperative surgery (LECS) or endoscopic intragastric surgery (EIGS) are frequently performed. To date, there have been no comparative studies of LECS and EIGS in patients with intraluminal gastric GISTs regarding short-term and long-term outcomes. The aim of this study was to compare the safety and feasibility of LECS and EIGS in patients with intraluminal gastric GISTs.
Methods
This was a single-center retrospective study of 46 consecutive patients with intraluminal gastric GISTs who underwent minimally invasive surgery. LECS (n = 21) was performed between 2013 and 2015 and EIGS (n = 26) was performed between 2001 and 2013.
Results
The overall incidence of perioperative complications was significantly higher in the EIGS group than in the LECS group (40 vs 4.8%; P = 0.006). In the EIGS group, three patients with intraoperative gastric mucosal injury were followed-up throughout surgical repair (12%). An esophageal tear was found in one patient during oral removal of tumor (4%). Postoperative gastric hemorrhage occurred in three patients (12%) and superficial surgical site infection was observed in three patients (12%). In the LECS group, anastomotic leakage requiring additional drainage was observed in one patient (4.8%). EIGS had less favorable results regarding median time to resumption of first oral intake (2 vs 1 days; P = 0.005). Two of 46 patients (4.3%), including one patient who underwent LECS and one patient who underwent EIGS developed recurrence. No cause-specific deaths were observed.
Conclusion
LECS is a feasible and safe procedure for intraluminal gastric GISTs with regard to both short-term surgical and long-term oncological outcomes. Registration number: UMIN000026631.
This is a preview of subscription content, log in to check access.
Access options
Buy single article
Instant unlimited access to the full article PDF.
US$ 39.95
Price includes VAT for USA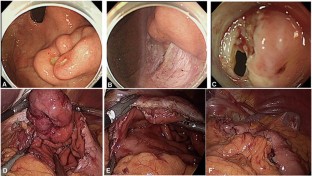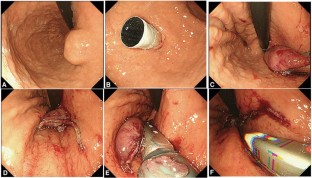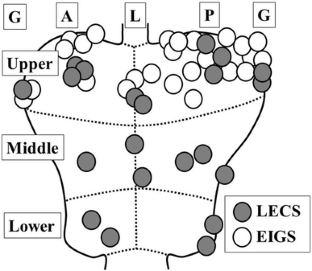 References
1.

Nakamori M, Iwahashi M, Nakamura M, Tabuse K, Mori K, Taniguchi K, Aoki Y, Yamaue H (2008) Laparoscopic resection for gastrointestinal stromal tumors of the stomach. Am J Surg 196:425–429

2.

Iwahashi M, Takifuji K, Ojima T, Nakamura M, Nakamori M, Nakatani Y, Ueda K, Ishida K, Naka T, Ono K, Yamaue H (2006) Surgical management of small gastrointestinal stromal tumors of the stomach. World J Surg 30:28–35

3.

Choi CI, Lee SH, Hwang SH, Kim DH, Jeon TY, Kim DH, Park do Y (2016) Various features of laparoscopic tailored resection for gastric submucosal tumors: a single institution's results for 168 patients. Surg Endosc 30:1450–1458

4.

DeMatteo RP, Lewis JJ, Leung D, Mudan SS, Woodruff JM, Brennan MF (2000) Two hundred gastrointestinal stromal tumors: recurrence patterns and prognostic factors for survival. Ann Surg 231:51–58

5.

Hiki N, Yamamoto Y, Fukunaga T, Yamaguchi T, Nunobe S, Tokunaga M, Miki A, Ohyama S, Seto Y (2008) Laparoscopic and endoscopic cooperative surgery for gastrointestinal stromal tumor dissection. Surg Endosc 22:1729–1735

6.

Waseda Y, Doyama H, Inaki N, Nakanishi H, Yoshida N, Tsuji S, Takemura K, Yamada S, Okada T (2014) Does laparoscopic and endoscopic cooperative surgery for gastric submucosal tumors preserve residual gastric motility? Results of a retrospective single-center study. PLoS ONE 9:e101337

7.

Hiki N, Nunobe S, Matsuda T, Hirasawa T, Yamamoto Y, Yamaguchi T (2015) Laparoscopic endoscopic cooperative surgery. Dig Endosc 27:197–204

8.

Ohashi S (1995) Laparoscopic intraluminal (intragastric) surgery for early gastric cancer. A new concept in laparoscopic surgery. Surg Endosc 9:169–171

9.

Kanehira E, Kamei A, Umezawa A, Kurita A, Tanida T, Nakagi M (2016) Long-term outcomes of percutaneous endoscopic intragastric surgery in the treatment of gastrointestinal stromal tumors at the esophagogastric junction. Surg Endosc 30:2036–2042

10.

Edge SE, Byrd DR, Carducci MA, Compton CA (2011) AJCC cancer staging manual, 7th edn. Springer, New York

11.

Blay JY, Bonvalot S, Casali P, Choi H, Debiec-Richter M, Dei Tos AP, Emile JF, Gronchi A, Hogendoorn PC, Joensuu H, Le Cesne A, McClure J, Maurel J, Nupponen N, Ray-Coquard I, Reichardt P, Sciot R, Stroobants S, van Glabbeke M, van Oosterom A, Demetri GD (2005) Consensus meeting for the management of gastrointestinal stromal tumors. Report of the GIST Consensus Conference of 20–21 March 2004, under the auspices of ESMO. Ann Oncol 16:566–578

12.

Joensuu H (2008) Risk stratification of patients diagnosed with gastrointestinal stromal tumor. Hum Pathol 39:1411–1419

13.

Joensuu H, Vehtari A, Riihimäki J, Nishida T, Steigen SE, Brabec P, Plank L, Nilsson B, Cirilli C, Braconi C, Bordoni A, Magnusson MK, Linke Z, Sufliarsky J, Federico M, Jonasson JG, Dei Tos AP, Rutkowski P (2012) Risk of recurrence of gastrointestinal stromal tumour after surgery: an analysis of pooled population-based cohorts. Lancet Oncol 13:265–274

14.

Dindo D, Demartines N, Clavien PA (2004) Classification of surgical complications: a new proposal with evaluation in a cohort of 6336 patients and results of a survey. Ann Surg 240:205–213

15.

Sasaki A, Koeda K, Obuchi T, Nakajima J, Nishizuka S, Terashima M, Wakabayashi G (2010) Tailored laparoscopic resection for suspected gastric gastrointestinal stromal tumors. Surgery 147:516–520

16.

Shim JH, Lee HH, Yoo HM, Jeon HM, Park CH, Kim JG, Song KY (2011) Intragastric approach for submucosal tumors located near the Z-line: a hybrid laparoscopic and endoscopic technique. J Surg Oncol 104:312–315

17.

Walsh RM, Ponsky J, Brody F, Matthews BD, Heniford BT (2003) Combined endoscopic/laparoscopic intragastric resection of gastric stromal tumors. J Gastrointest Surg 7:386–392

18.

Uchikoshi F, Ito T, Nishida T, Kitagawa T, Endo S, Matsuda H (2004) Laparoscopic intragastric resection of gastric stromal tumor located at the esophago-cardiac junction. Surg Laparosc Endosc Percutan Tech 14:1–4

19.

Mino JS, Guerron AD, Monteiro R, El-Hayek K, Ponsky JL, Patil DT, Walsh RM (2016) Long-term outcomes of combined endoscopic/laparoscopic intragastric enucleation of presumed gastric stromal tumors. Surg Endosc 30:1747–1753

20.

Ludwig K, Wilhelm L, Scharlau U, Amtsberg G, Bernhardt J (2002) Laparoscopic-endoscopic rendezvous resection of gastric tumors. Surg Endosc 16:1561–1565

21.

Honda M, Hiki N, Nunobe S, Ohashi M, Kiyokawa T, Sano T, Yamaguchi T (2014) Long-term and surgical outcomes of laparoscopic surgery for gastric gastrointestinal stromal tumors. Surg Endosc 28:2317–2322

22.

Novitsky YW, Kercher KW, Sing RF, Heniford BT (2006) Long-term outcomes of laparoscopic resection of gastric gastrointestinal stromal tumors. Ann Surg 243:738–745

23.

Karakousis GC, Singer S, Zheng J, Gonen M, Coit D, DeMatteo RP, Strong VE (2011) Laparoscopic versus open gastric resections for primary gastrointestinal stromal tumors (GISTs): a size-matched comparison. Ann Surg Oncol 18:1599–1605

24.

Lai IR, Lee WJ, Yu SC (2006) Minimally invasive surgery for gastric stromal cell tumors: intermediate follow-up results. J Gastrointest Surg 10:563–566
Acknowledgement
We thank Prof. Toshio Shimokawa from the Department of Clinical Research Center, Wakayama Medical University for the professional help with statistical analyses.
Ethics declarations
Disclosures
Drs. Toshiyasu Ojima, Masaki Nakamura, Mikihito Nakamori, Katsunari Takifuji, Keiji Hayata, Masahiro Katsuda, Yoh Takei, and Hiroki Yamaue have no conflicts of interests or financial ties to disclose.
Electronic supplementary material
Below is the link to the electronic supplementary material.
Laparoscopic and endoscopic cooperative surgery procedures and endoscopic intragastric surgery for intraluminal gastric gastrointestinal stromal tumors. Supplementary material 1 (MPG 202456 kb)
Laparoscopic and endoscopic cooperative surgery procedures and endoscopic intragastric surgery for intraluminal gastric gastrointestinal stromal tumors. Supplementary material 1 (MPG 202456 kb)
About this article
Cite this article
Ojima, T., Nakamura, M., Nakamori, M. et al. Laparoscopic and endoscopic cooperative surgery is a feasible treatment procedure for intraluminal gastric gastrointestinal stromal tumors compared to endoscopic intragastric surgery. Surg Endosc 32, 351–357 (2018). https://doi.org/10.1007/s00464-017-5683-x
Received:

Accepted:

Published:

Issue Date:
Keywords
Gastrointestinal stromal tumors

Laparoscopic and endoscopic cooperative surgery

Endoscopic intragastric surgery

Minimally invasive surgery