Abstract
Background
Since the endoscopic resection of laterally spreading tumors (LSTs) involving the appendiceal orifice remains technically difficult, such lesions are usually treated by surgical resection. However, with recent advances in endoscopic devices, endoscopic submucosal dissection (ESD) has become feasible and may be safely performed even for lesions involving the appendiceal orifice. Therefore, in order to assess the validity of endoscopic treatment for such lesions, we retrospectively evaluated the safety and efficacy of ESD.
Methods
A total of 30 patients with LSTs extending to within 10 mm of the appendiceal orifice (Group AO) and 122 patients with cecal LSTs located away from the appendiceal orifice (Group C) who were treated between December 2011 and September 2015 were retrospectively enrolled in the present study. The indications for ESD were determined by the preoperative endoscopic diagnosis made on the basis of Kudo's pit pattern classification. Based on these preoperative endoscopic diagnoses, 8 of the 30 enrolled patients underwent surgical resection as the initial treatment, because the tumor showed deep invasion beyond the orifice and/or a VN pit pattern was visible. The treatment outcomes (en bloc R0 resection rates, tumor size, procedure time, and complication rates) were compared between the two groups.
Results
The sensitivity and specificity for the cancer diagnosis were 81.8 and 94.7%, respectively. There was no significant difference in the en bloc R0 resection rate between Group AO and Group C (90.9 vs. 95.9%, P = 0.23). Furthermore, there were also no differences in the mean tumor size (30.0 ± 20.8 vs. 34.9 ± 14.5 mm, P = 0.17) or mean OR time (55.0 ± 39.2 vs. 58.9 ± 48.2 min P = 0.72) between the two groups. One case from Group AO (4.5%) was complicated by a perforation, which was successfully managed endoscopically.
Conclusions
Although proficiency in endoscopic techniques is required, our results indicate that LSTs involving the appendiceal orifice can be successfully treated by ESD.
This is a preview of subscription content, log in to check access.
Access options
Buy single article
Instant unlimited access to the full article PDF.
US$ 39.95
Price includes VAT for USA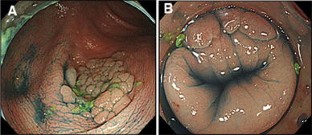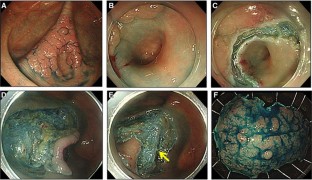 References
1.

Terasaki M, Tanaka S, Oka S, Nakadoi K, Takata S, Kanao H, Yoshida S, Chayama K (2012) Clinical outcomes of endoscopic submucosal dissection and endoscopic mucosal resection for laterally spreading tumors larger than 20 mm. J Gastroenterol Hepatol 27(4):734–740

2.

Fujishiro M, Yahagi N, Kakushima N, Kodashima S, Muraki Y, Ono S, Yamamichi N, Tateishi A, Oka M, Ogura K et al (2007) Outcomes of endoscopic submucosal dissection for colorectal epithelial neoplasms in 200 consecutive cases. Clin Gastroenterol Hepatol 5(6):678–683 (Quiz 645)

3.

Niimi K, Fujishiro M, Kodashima S, Goto O, Ono S, Hirano K, Minatsuki C, Yamamichi N, Koike K (2010) Long-term outcomes of endoscopic submucosal dissection for colorectal epithelial neoplasms. Endoscopy 42(9):723–729

4.

Tanaka S, Oka S, Kaneko I, Hirata M, Mouri R, Kanao H, Yoshida S, Chayama K (2007) Endoscopic submucosal dissection for colorectal neoplasia: possibility of standardization. Gastrointest Endosc 66(1):100–107

5.

Uraoka T, Kawahara Y, Kato J, Saito Y, Yamamoto K (2009) Endoscopic submucosal dissection in the colorectum: present status and future prospects. Dig Endosc 21(Suppl 1):S13–S16

6.

Yamamoto K, Michida T, Nishida T, Hayashi S, Naito M, Ito T (2015) Colorectal endoscopic submucosal dissection: recent technical advances for safe and successful procedures. World J Gastrointest Endosc 7(14):1114–1128

7.

Cao Y, Liao C, Tan A, Gao Y, Mo Z, Gao F (2009) Meta-analysis of endoscopic submucosal dissection versus endoscopic mucosal resection for tumors of the gastrointestinal tract. Endoscopy 41(9):751–757

8.

Draganov PV, Gotoda T, Chavalitdhamrong D, Wallace MB (2013) Techniques of endoscopic submucosal dissection: application for the Western endoscopist? Gastrointest Endosc 78(5):677–688

9.

Antillon MR, Bartalos CR, Miller ML, Diaz-Arias AA, Ibdah JA, Marshall JB (2008) En bloc endoscopic submucosal dissection of a 14-cm laterally spreading adenoma of the rectum with involvement to the anal canal: expanding the frontiers of endoscopic surgery (with video). Gastrointest Endosc 67(2):332–337

10.

Hurlstone DP, Atkinson R, Sanders DS, Thomson M, Cross SS, Brown S (2007) Achieving R0 resection in the colorectum using endoscopic submucosal dissection. Br J Surg 94(12):1536–1542

11.

Kudo S, Lambert R, Allen JI, Fujii H, Fujii T, Kashida H, Matsuda T, Mori M, Saito H, Shimoda T et al (2008) Nonpolypoid neoplastic lesions of the colorectal mucosa. Gastrointest Endosc 68(4 Suppl):S3–S47

12.

Tanaka S, Kashida H, Saito Y, Yahagi N, Yamano H, Saito S, Hisabe T, Yao T, Watanabe M, Yoshida M et al (2015) JGES guidelines for colorectal endoscopic submucosal dissection/endoscopic mucosal resection. Dig Endosc 27(4):417–434

13.

Iwai T, Hotta K, Imai K, Yamaguchi Y, Ito S, Kawata N, Tanaka M, Kakushima N, Takizawa K, Matsubayashi H et al (2016) Early cecal cancer adjacent to the appendiceal orifice successfully treated by endoscopic submucosal dissection. Gastrointest Endosc 83(1):260–261

14.

Yoshida N, Wakabayashi N, Kanemasa K, Sumida Y, Hasegawa D, Inoue K, Morimoto Y, Kashiwa A, Konishi H, Yagi N et al (2009) Endoscopic submucosal dissection for colorectal tumors: technical difficulties and rate of perforation. Endoscopy 41(9):758–761

15.

Gracia E, Targarona EM, Garriga J, Pujol J, Trias M (2000) Laparoscopic treatment of colorectal polyps. Gastroenterol Hepatol 23(5):224–227

16.

Dulskas A, Samalavicius NE, Gupta RK, Zabulis V (2015) Laparoscopic colorectal surgery for colorectal polyps: single institution experience. Videosurg Other Miniinvasive Tech 10(1):73–78

17.

Keswani RN, Law R, Ciolino JD, Lo AA, Gluskin AB, Bentrem DJ, Komanduri S, Pacheco JA, Grande D, Thompson WK (2016) Adverse events after surgery for nonmalignant colon polyps are common and associated with increased length of stay and costs. Gastrointest Endosc 84:296–303

18.

Kudo S, Tamura S, Nakajima T, Yamano H, Kusaka H, Watanabe H (1996) Diagnosis of colorectal tumorous lesions by magnifying endoscopy. Gastrointest Endosc 44(1):8–14

19.

Kudo S, Tamegai Y, Yamano H, Imai Y, Kogure E, Kashida H (2001) Endoscopic mucosal resection of the colon: the Japanese technique. Gastrointest Endosc Clin N Am 11(3):519–535

20.

Ohya T, Ohata K, Sumiyama K, Tsuji Y, Koba I, Matsuhashi N, Tajiri H (2009) Balloon overtube-guided colorectal endoscopic submucosal dissection. World J Gastroenterol 15(48):6086–6090

21.

Saito Y, Uraoka T, Matsuda T, Emura F, Ikehara H, Mashimo Y, Kikuchi T, Kozu T, Saito D (2007) A pilot study to assess the safety and efficacy of carbon dioxide insufflation during colorectal endoscopic submucosal dissection with the patient under conscious sedation. Gastrointest Endosc 65(3):537–542

22.

Kishimoto G, Saito Y, Takisawa H, Suzuki H, Sakamoto T, Nakajima T, Matsuda T (2012) Endoscopic submucosal dissection for large laterally spreading tumors involving the ileocecal valve and terminal ileum. World J Gastroenterol 18(3):291–294

23.

Schlemper RJ, Riddell RH, Kato Y, Borchard F, Cooper HS, Dawsey SM, Dixon MF, Fenoglio-Preiser CM, Flejou JF, Geboes K et al (2000) The Vienna classification of gastrointestinal epithelial neoplasia. Gut 47(2):251–255

24.

Dixon MF (2002) Gastrointestinal epithelial neoplasia: Vienna revisited. Gut 51(1):130–131

25.

Watanabe T, Itabashi M, Shimada Y, Tanaka S, Ito Y, Ajioka Y, Hamaguchi T, Hyodo I, Igarashi M, Ishida H et al (2015) Japanese Society for Cancer of the Colon and Rectum (JSCCR) Guidelines 2014 for treatment of colorectal cancer. Int J Clin Oncol 20(2):207–239

26.

Yamashina T, Takeuchi Y, Uedo N, Hamada K, Aoi K, Yamasaki Y, Matsuura N, Kanesaka T, Akasaka T, Yamamoto S et al (2016) Features of electrocoagulation syndrome after endoscopic submucosal dissection for colorectal neoplasm. J Gastroenterol Hepatol 31(3):615–620

27.

Li M, Ali SM, Umm-a-OmarahGilani S, Liu J, Li YQ, Zuo XL (2014) Kudo's pit pattern classification for colorectal neoplasms: a meta-analysis. World J Gastroenterol 20(35):12649–12656

28.

Kudo SE, Wakamura K, Ikehara N, Mori Y, Inoue H, Hamatani S (2011) Diagnosis of colorectal lesions with a novel endocytoscopic classification—a pilot study. Endoscopy 43(10):869–875

29.

Nonaka K, Ohata K, Ichihara S, Ban S, Hiejima Y, Minato Y, Tashima T, Matsuyama Y, Takita M, Matsuhashi N et al (2016) Development of a new classification for in vivo diagnosis of duodenal epithelial tumors with confocal laser endomicroscopy: a pilot study. Dig Endosc 28(2):186–193

30.

Misawa M, Kudo SE, Mori Y, Nakamura H, Kataoka S, Maeda Y, Kudo T, Hayashi T, Wakamura K, Miyachi H et al (2016) Characterization of colorectal lesions using a computer-aided diagnostic system for narrow-band imaging endocytoscopy. Gastroenterology 150:1531–1532

31.

Imai K, Hotta K, Yamaguchi Y, Kakushima N, Tanaka M, Takizawa K, Kawata N, Matsubayashi H, Shimoda T, Mori K et al (2016) Preoperative indicators of failure of en bloc resection or perforation in colorectal endoscopic submucosal dissection: implications for lesion stratification by technical difficulties during stepwise training. Gastrointest Endosc 83(5):954–962

32.

Law R, Das A, Gregory D, Komanduri S, Muthusamy R, Rastogi A, Vargo J, Wallace MB, Raju GS, Mounzer R et al (2015) Endoscopic resection is cost-effective compared with laparoscopic resection in the management of complex colon polyps: an economic analysis. Gastrointest Endosc 83:1248–1257

33.

Hon SS, Ng SS, Wong TC, Chiu PW, Mak TW, Leung WW, Lee JF (2015) Endoscopic submucosal dissection versus laparoscopic colorectal resection for early colorectal epithelial neoplasia. World J Gastrointest Endosc 7(17):1243–1249
Disclosures
Authors Tomoaki Tashima, Ken Ohata, Kouichi Nonaka, Eiji Sakai, Yohei Minato, Hajime Horiuchi, and Nobuyuki Matsuhashi have no conflicts of interest or financial ties to disclose.
Electronic supplementary material
Below is the link to the electronic supplementary material.
Supplementary material 1 (WMV 20575 kb)
About this article
Cite this article
Tashima, T., Ohata, K., Nonaka, K. et al. Endoscopic submucosal dissection for laterally spreading tumors involving the appendiceal orifice. Surg Endosc 31, 5444–5450 (2017) doi:10.1007/s00464-017-5598-6
Received:

Accepted:

Published:

Issue Date:
Keywords
Endoscopic submucosal dissection (ESD)

Laterally spreading tumor (LST)

Appendiceal orifice

Preoperative endoscopic diagnosis

ESD strategy