Abstract
Background
A transoral approach has been experimentally introduced to the field of thyroid surgery and several groups in Asia have recently used the technique to treat patients. We performed transoral endoscopic thyroidectomies on patients with thyroid cancer or a benign tumor.
Methods
We reviewed the medical records of patients who underwent transoral endoscopic thyroid surgery between July 2016 and January 2017. A midline incision was made in the vestibule, and a 10 mm cannula was placed; then, the working space was widened by insufflating CO2 at a pressure of 5–6 mmHg. Two lateral incisions were made in the vestibule near the first molars, and 5-mm-diameter cannulas were inserted. A 10-mm 30° telescope was inserted through the midline cannula and instruments were positioned through the lateral cannulas. Thyroid surgery was endoscopically performed using conventional endoscopic instruments.
Results
We performed 18 thyroid surgeries (15 thyroid lobectomies, one completion thyroidectomy, and two total thyroidectomies) in 17 patients. The postoperative pathology was papillary thyroid cancer in 11 cases (61.1%), a follicular carcinoma in two cases (one patient) (11.1%) and benign in five cases (27.8%). The average tumor diameter was 1.75 cm (range 0.5–7.5 cm). No patient reported sensory changes around the lower lip. No patient developed permanent recurrent laryngeal nerve palsy or hypocalcemia. No patient developed a wound infection or a fistula between the oral incision and anterior neck.
Conclusions
The transoral endoscopic approach provides a short, direct route to the thyroid gland and seems to be safe and feasible. It is important to further develop and refine the surgical techniques. The approach is optimal, and will become widely used for thyroid surgery in the near future.
This is a preview of subscription content, log in to check access.
Access options
Buy single article
Instant unlimited access to the full article PDF.
US$ 39.95
Price includes VAT for USA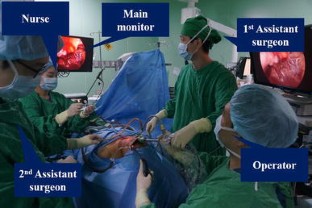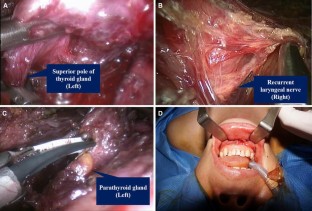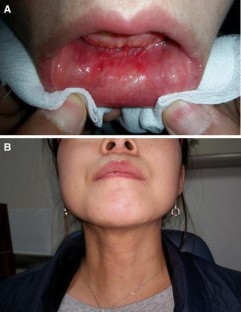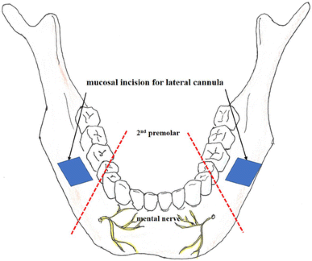 References
1.

Jung KW, Won YJ, Kong HJ, Oh CM, Lee DH, Lee JS (2014) Cancer statistics in Korea: incidence, mortality, survival, and prevalence in 2011. Cancer Res Treat 46:109–123

2.

Park KN, Cho SH, Lee SW (2015) Nationwide multicenter survey for current status of endoscopic thyroidectomy in Korea. Clin Exp Otorhinolaryngol 8:149–154

3.

Park JO, Kim SY, Chun BJ, Joo YH, Cho KJ, Park YH, Kim MS, Sun DI (2015) Endoscope-assisted facelift thyroid surgery: an initial experience using a new endoscopic technique. Surg Endosc 29:1469–1475

4.

Wilhelm T, Harlaar J, Kerver A, Kleinrensink GJ, Benhidjeb T (2010) Transoral endoscopic thyroidectomy. Part 1: rationale and anatomical studies. Chirurg 81:50–55

5.

Benhidjeb T, Harlaar J, Kerver A, Kleinrensink GJ, Wilhelm T (2010) Transoral endoscopic thyroidectom. Part 2: surgical technique. Chirurg 81:134–138

6.

Anuwong A (2016) Transoral endoscopic thyroidectomy vestibular approach: a series of the first 60 human cases. World J Surg 40:491–497

7.

Lee HY, You JY, Woo SU, Son GS, Lee JB, Bae JW, Kim HY (2015) Transoral periosteal thyroidectomy: cadaver to human. Surg Endosc 29:898–904

8.

Nakajo A, Arima H, Hirata M, Mizoguchi T, Kijima Y, Mori S, Ishigami S, Ueno S, Yoshinaka H, Natsugoe S (2013) Trans-oral video-assisted neck surgery (TOVANS). A new transoral technique of endoscopic thyroidectomy with gasless premandible approach. Surg Endosc 27:1105–1110

9.

Pai VM, Muthukumar P, Prathap A, Leo J, Rekha A (2015) Transoral endoscopic thyroidectomy: a case report. Int J Surg Case Rep 12:99–101

10.

Wang C, Zhai H, Liu W, Li J, Yang J, Hu Y, Huang J, Yang W, Pan Y, Ding H (2014) Thyroidectomy: a novel endoscopic oral vestibular approach. Surgery 155:33–38

11.

Park JO, Kim CS, Song JN, Kim JE, Nam IC, Lee SY, Chun BJ, Cho JH, Joo YH, Cho KJ, Park YH, Kim MS, Sun DI (2014) Transoral endoscopic thyroidectomy via the tri-vestibular route: results of a preclinical cadaver feasibility study. Eur Arch Otorhinolaryngol 271:3269–3275

12.

Witzel K, von Rahden BH, Kaminski C, Stein HJ (2008) Transoral access for endoscopic thyroid resection. Surg Endosc 22:1871–1875

13.

Richmon JD, Holsinger FC, Kandil E, Moore MW, Garcia JA, Tufano RP (2011) Transoral robotic-assisted thyroidectomy with central neck dissection: preclinical cadaver feasibility study and proposed surgical technique. J Robotic Surg 5:279–282

14.

Karakas E, Steinfeldt T, Gockel A, Schlosshauer T, Dietz C, Jäger J, Westermann R, Sommer F, Richard HR, Exner C, Sesterhenn AM, Bartsch DK (2011) Transoral thyroid and parathyroid surgery—development of a new transoral technique. Surgery 150:108–115

15.

Wilhelm T, Metzig A (2011) Endoscopic minimally invasive thyroidectomy (eMIT): a prospective proof-of-concept study in humans. World J Surg 35:543–551

16.

Janfaza P (2011) Surgical anatomy of the head and neck. Harvard University Press, Cambridge

17.

Inabnet WB, Suh H, Fernandez-Ranvier G (2016) Transoral endoscopic thyroidectomy vestibular approach with intraoperative nerve monitoring. Surg Endosc. doi:10.1007/s00464-016-5322-y
Ethics declarations
Disclosure
Dr. Jun-Ook Park and Dr. Dong-Il Sun have no conflicts of interest or financial ties to disclose.
Electronic supplementary material
Below is the link to the electronic supplementary material.
Supplementary material 1 (WMV 192814 kb)
About this article
Cite this article
Park, J., Sun, D. Transoral endoscopic thyroidectomy: our initial experience using a new endoscopic technique. Surg Endosc 31, 5436–5443 (2017). https://doi.org/10.1007/s00464-017-5594-x
Received:

Accepted:

Published:

Issue Date:
Keywords
Transoral thyroidectomy

Transoral

Thyroidectomy

Thyroid

Endoscopic