Abstract
Background
Liver re-resection plays a paramount role in treatment of patients with posthepatectomy hepatocellular carcinoma (HCC) recurrence. Laparoscopic liver resection has been a feasible alternative to open surgery. However, whether laparoscopic liver re-resection for posthepatectomy HCC recurrence is better than open liver re-resection remains unknown.
Method
From January 2008 to December 2015, 30 patients with recurrent HCC after prior liver resection underwent laparoscopic liver re-resection in our center. To minimize any confounding factors, a propensity score matching study using a patient ratio of 1:1 was conducted to compare the short- and long-term outcomes of patients who underwent laparoscopic or open liver re-resection.
Result
With the open surgery group compared laparoscopic group, operative time was 207.50 versus 200.5 min (p = 0.903), blood loss was 400 versus 100 ml (p = 0.000196), blood transfusion rate was 43.3 versus 0.0% (p = 0.000046), complication rates were 30.0 versus 6.7% (p = 0.01), and hospital stay was 13.5 versus 9.5 days (p = 0.000008). The median follow-up was 35 months. The 1-year, 3-year, 5-year disease-free survival rates were 79.0, 51.0, and 31.9%, versus 78.3, 57.4, and 43.0%, respectively (p = 0.474). The 1-year, 3-year, and 5-year overall survival rates were 89.4, 75, and 67.5%, versus 96.7, 85.0, and 74.4%, respectively (p = 0.413).
Conclusion
Laparoscopic liver re-resection for patients with posthepatectomy HCC recurrence provided comparable perioperative and oncological outcomes as open liver re-resection and can be a safe alternative to open procedure.
This is a preview of subscription content, log in to check access.
Access options
Buy single article
Instant access to the full article PDF.
US$ 39.95
Price includes VAT for USA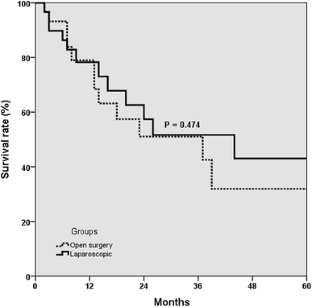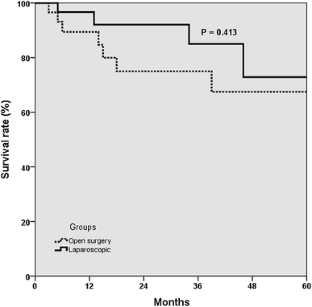 References
1.

Takayama T, Makuuchi M, Hirohashi S, Sakamoto M, Yamamoto J, Shimada K, Kosuge T, Okada S, Takayasu K, Yamasaki S (1998) Early hepatocellular carcinoma as an entity with a high rate of surgical cure. Hepatology 28:1241–1246

2.

Poon RT, Fan ST, Lo CM, Liu CL, Ng IO, Wong J (2000) Long-term prognosis after resection of hepatocellular carcinoma associated with hepatitis B-related cirrhosis. J Clin Oncol 18:1094–1101

3.

Sugimachi K, Maehara S, Tanaka S, Shimada M, Sugimachi K (2001) Repeat hepatectomy is the most useful treatment for recurrent hepatocellular carcinoma. J Hepatobiliary Pancreat Surg 8:410–416

4.

Itamoto T, Nakahara H, Amano H, Kohashi T, Ohdan H, Tashiro H, Asahara T (2007) Repeat hepatectomy for recurrent hepatocellular carcinoma. Surgery 141:589–597

5.

Chan AC, Chan SC, Chok KS, Cheung TT, Chiu DW, Poon RT, Fan ST, Lo CM (2013) Treatment strategy for recurrent hepatocellular carcinoma: salvage transplantation, repeated resection, or radiofrequency ablation? Liver Transpl 19:411–419

6.

Minagawa M, Makuuchi M, Takayama T, Kokudo N (2003) Selection criteria for repeat hepatectomy in patients with recurrent hepatocellular carcinoma. Ann Surg 238:703–710

7.

Nguyen KT, Marsh JW, Tsung A, Steel JJ, Gamblin TC, Geller DA (2011) Comparative benefits of laparoscopic vs open hepatic resection: a critical appraisal. Arch Surg 146:348–356

8.

Vigano L, Laurent A, Tayar C, Tomatis M, Ponti A, Cherqui D (2009) The learning curve in laparoscopic liver resection: improved feasibility and reproducibility. Ann Surg 250:772–782

9.

Chan AC, Poon RT, Chok KS, Cheung TT, Chan SC, Lo CM (2014) Feasibility of laparoscopic re-resection for patients with recurrent hepatocellular carcinoma. World J Surg 38:1141–1146

10.

Kanazawa A, Tsukamoto T, Shimizu S, Kodai S, Yamamoto S, Yamazoe S, Ohira G, Nakajima T (2013) Laparoscopic liver resection for treating recurrent hepatocellular carcinoma. J Hepatobiliary Pancreat Sci 20:512–517

11.

Belli G, Cioffi L, Fantini C, D'Agostino A, Russo G, Limongelli P, Belli A (2009) Laparoscopic redo surgery for recurrent hepatocellular carcinoma in cirrhotic patients: feasibility, safety, and results. Surg Endosc 23:1807–1811

12.

Hu M, Zhao G, Xu D, Liu R (2011) Laparoscopic repeat resection of recurrent hepatocellular carcinoma. World J Surg 35:648–655

13.

Clavien PA, Barkun J, de Oliveira ML, Vauthey JN, Dindo D, Schulick RD, de Santibanes E, Pekolj J, Slankamenac K, Bassi C, Graf R, Vonlanthen R, Padbury R, Cameron JL, Makuuchi M (2009) The Clavien–Dindo classification of surgical complications: five-year experience. Ann Surg 250:187–196

14.

Becker JM, Dayton MT, Fazio VW, Beck DE, Stryker SJ, Wexner SD, Wolff BG, Roberts PL, Smith LE, Sweeney SA, Moore M (1996) Prevention of postoperative abdominal adhesions by a sodium hyaluronate-based bioresorbable membrane: a prospective, randomized, double-blind multicenter study. J Am Coll Surg 183:297–306

15.

Szomstein S, Lo Menzo E, Simpfendorfer C, Zundel N, Rosenthal RJ (2006) Laparoscopic lysis of adhesions. World J Surg 30:535–540

16.

Wu JM, Lin HF, Chen KH, Tseng LM, Tsai MS, Huang SH (2007) Impact of previous abdominal surgery on laparoscopic appendectomy for acute appendicitis. Surg Endosc 21:570–573

17.

Yoon YS, Han HS, Choi YS, Jang JY, Suh KS, Kim SW, Lee KU, Park YH (2006) Total laparoscopic right posterior sectionectomy for hepatocellular carcinoma. J Laparoendosc Adv Surg Technol A 16:274–277

18.

Nunobe S, Hiki N, Fukunaga T, Tokunaga M, Ohyama S, Seto Y, Yamaguchi T (2008) Previous laparotomy is not a contraindication to laparoscopy-assisted gastrectomy for early gastric cancer. World J Surg 32:1466–1472

19.

Polymeneas G, Theodosopoulos T, Stamatiadis A, Kourias E (2001) A comparative study of postoperative adhesion formation after laparoscopic vs open cholecystectomy. Surg Endosc 15:41–43

20.

Dowson HM, Bong JJ, Lovell DP, Worthington TR, Karanjia ND, Rockall TA (2008) Reduced adhesion formation following laparoscopic versus open colorectal surgery. Br J Surg 95:909–914

21.

Wakabayashi G, Cherqui D, Geller DA, Buell JF, Kaneko H, Han HS, Asbun H, O'Rourke N, Tanabe M, Koffron AJ, Tsung A, Soubrane O, Machado MA, Gayet B, Troisi RI, Pessaux P, Van Dam RM, Scatton O, Abu Hilal M, Belli G, Kwon CH, Edwin B, Choi GH, Aldrighetti LA, Cai X, Cleary S, Chen KH, Schon MR, Sugioka A, Tang CN, Herman P, Pekolj J, Chen XP, Dagher I, Jarnagin W, Yamamoto M, Strong R, Jagannath P, Lo CM, Clavien PA, Kokudo N, Barkun J, Strasberg SM (2015) Recommendations for laparoscopic liver resection: a report from the second international consensus conference held in Morioka. Ann Surg 261:619–629

22.

Takenaka K, Kanematsu T, Fukuzawa K, Sugimachi K (1990) Can hepatic failure after surgery for hepatocellular carcinoma in cirrhotic patients be prevented? World J Surg 14:123–127

23.

Jarnagin WR, Gonen M, Fong Y, DeMatteo RP, Ben-Porat L, Little S, Corvera C, Weber S, Blumgart LH (2002) Improvement in perioperative outcome after hepatic resection: analysis of 1803 consecutive cases over the past decade. Ann Surg 236:397–406

24.

Katz SC, Shia J, Liau KH, Gonen M, Ruo L, Jarnagin WR, Fong Y, D'Angelica MI, Blumgart LH, Dematteo RP (2009) Operative blood loss independently predicts recurrence and survival after resection of hepatocellular carcinoma. Ann Surg 249:617–623

25.

Hanazaki K, Kajikawa S, Shimozawa N, Matsushita A, Machida T, Shimada K, Yazawa K, Koide N, Adachi W, Amano J (2005) Perioperative blood transfusion and survival following curative hepatic resection for hepatocellular carcinoma. Hepatogastroenterology 52:524–529

26.

Tranchart H, O'Rourke N, Van Dam R, Gaillard M, Lainas P, Sugioka A, Wakabayashi G, Dagher I (2015) Bleeding control during laparoscopic liver resection: a review of literature. J Hepatobiliary Pancreat Sci 22:371–378

27.

Cheung TT, Poon RT, Yuen WK, Chok KS, Jenkins CR, Chan SC, Fan ST, Lo CM (2013) Long-term survival analysis of pure laparoscopic versus open hepatectomy for hepatocellular carcinoma in patients with cirrhosis: a single-center experience. Ann Surg 257:506–511

28.

Torzilli G, Montorsi M, Donadon M, Palmisano A, Del Fabbro D, Gambetti A, Olivari N, Makuuchi M (2005) "Radical but conservative" is the main goal for ultrasonography-guided liver resection: prospective validation of this approach. J Am Coll Surg 201:517–528

29.

Akyildiz HY, Morris-Stiff G, Aucejo F, Fung J, Berber E (2011) Techniques of radiofrequency-assisted precoagulation in laparoscopic liver resection. Surg Endosc 25:1143–1147

30.

Livraghi T, Goldberg SN, Lazzaroni S, Meloni F, Solbiati L, Gazelle GS (1999) Small hepatocellular carcinoma: treatment with radio-frequency ablation versus ethanol injection. Radiology 210:655–661

31.

Zhu Y, Dong J, Wang WL, Li MX, Lu Y (2013) Short- and long-term outcomes after salvage liver transplantation versus primary liver transplantation for hepatocellular carcinoma: a meta-analysis. Transplant Proc 45:3329–3342

32.

Chan DL, Alzahrani NA, Morris DL, Chua TC (2014) Systematic review of efficacy and outcomes of salvage liver transplantation after primary hepatic resection for hepatocellular carcinoma. J Gastroenterol Hepatol 29:31–41

33.

Belghiti J, Cortes A, Abdalla EK, Regimbeau JM, Prakash K, Durand F, Sommacale D, Dondero F, Lesurtel M, Sauvanet A, Farges O, Kianmanesh R (2003) Resection prior to liver transplantation for hepatocellular carcinoma. Ann Surg 238:885–892

34.

Guerrini GP, Gerunda GE, Montalti R, Ballarin R, Cautero N, De Ruvo N, Spaggiari M, Di Benedetto F (2014) Results of salvage liver transplantation. Liver Int 34:e96–e104

35.

Lu MD, Yin XY, Xie XY, Xu HX, Xu ZF, Liu GJ, Kuang M, Zheng YL (2005) Percutaneous thermal ablation for recurrent hepatocellular carcinoma after hepatectomy. Br J Surg 92:1393–1398

36.

Rodriguez-Sanjuan JC, Gonzalez F, Juanco C, Herrera LA, Lopez-Bautista M, Gonzalez-Noriega M, Garcia-Somacarrera E, Figols J, Gomez-Fleitas M, Silvan M (2008) Radiological and pathological assessment of hepatocellular carcinoma response to radiofrequency. A study on removed liver after transplantation. World J Surg 32:1489–1494

37.

Wu CC, Cheng SB, Yeh DC, Wang J, P'Eng FK (2009) Second and third hepatectomies for recurrent hepatocellular carcinoma are justified. Br J Surg 96:1049–1057

38.

Llovet JM, Vilana R, Bru C, Bianchi L, Salmeron JM, Boix L, Ganau S, Sala M, Pages M, Ayuso C, Sole M, Rodes J, Bruix J, Barcelona Clinic Liver Cancer G (2001) Increased risk of tumor seeding after percutaneous radiofrequency ablation for single hepatocellular carcinoma. Hepatology 33:1124–1129

39.

Zhang L, Chen YJ, Shang CZ, Zhang HW, Huang ZJ (2009) Total laparoscopic liver resection in 78 patients. World J Gastroenterol 15:5727–5731

40.

Cho JY, Han HS, Yoon YS, Shin SH (2008) Feasibility of laparoscopic liver resection for tumors located in the posterosuperior segments of the liver, with a special reference to overcoming current limitations on tumor location. Surgery 144:32–38

41.

Ishizawa T, Gumbs AA, Kokudo N, Gayet B (2012) Laparoscopic segmentectomy of the liver: from segment I to VIII. Ann Surg 256:959–964

42.

Yoon YS, Han HS, Cho JY, Ahn KS (2010) Total laparoscopic liver resection for hepatocellular carcinoma located in all segments of the liver. Surg Endosc 24:1630–1637
Acknowledgements
We are grateful to Wan Yee Lau, The Chinese University of Hong Kong, for writing assistance and review of our manuscript.
Funding
No funding supported for this work.
Ethics declarations
Disclosures
Dr. Kairui Liu; Dr. Yajin Chen; Dr. Xiaolin Wu; Dr. Zejian Huang; Dr. Zeyu Lin; Dr. Junliang Jiang; Dr. Wenliang Tan; Dr. Lei Zhang have no conflicts of interest or financial ties to disclose.
About this article
Cite this article
Liu, K., Chen, Y., Wu, X. et al. Laparoscopic liver re-resection is feasible for patients with posthepatectomy hepatocellular carcinoma recurrence: a propensity score matching study. Surg Endosc 31, 4790–4798 (2017). https://doi.org/10.1007/s00464-017-5556-3
Received:

Accepted:

Published:

Issue Date:
Keywords
Posthepatectomy hepatocellular recurrence

Laparoscopic liver re-resection

Short-term outcomes

Survival analysis