Abstract
Background
Laparoscopic liver resection (LLR) is mostly performed to treat benign lesions at easily accessible locations. With improvements in instruments and accumulation of experience, LLR has evolved to treat malignant tumors with major hepatectomy, even in less accessible locations, without compromising the principles of safety and oncology. The present meta-analysis aimed to compare the outcomes of LLR for lesions located in anterolateral (AL) (II, III, IVb, V, and VI) and posterosuperior (PS) (I, IVa, VII, and VIII) liver segments.
Methods
A comprehensive search was conducted to identify all eligible studies. This meta-analysis was performed using the STATA 12.0 statistical software. Standardized mean differences (SMDs) and odds ratios (ORs) were calculated for continuous variables and dichotomous variables, respectively, with 95% confidence intervals (CIs).
Results
A total of 846 patients from five studies were identified for the final analysis, with 565 patients in the AL group and 281 in the PS group. Although the operation time (SMD −0.60; 95% CI −0.75 to −0.45; P = 0.000) and conversion rate (OR 0.40; 95% CI 0.24–0.67; P = 0.000) were lower and the resection margin was wider (SMD 0.2; 95% CI 0.03–0.37; P = 0.019) in the AL group than in the PS group, no significant differences in blood loss (SMD −0.29; 95% CI −0.68 to 0.09; P = 0.131), complication rate (OR 0.73; 95% CI 0.50–1.07; P = 0.103), hospital stay (SMD −0.53; 95% CI −1.16 to 0.11; P = 0.105), and tumor recurrence (OR 1.23; 95% CI 0.81–1.86; P = 0.334) were noted between the groups.
Conclusion
LLR is technically feasible and safe for selected patients with lesions in the PS segments of the liver.
This is a preview of subscription content, log in to check access.
Access options
Buy single article
Instant access to the full article PDF.
US$ 39.95
Price includes VAT for USA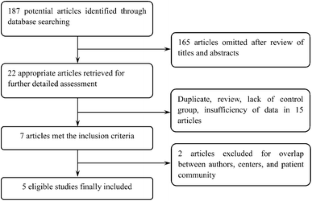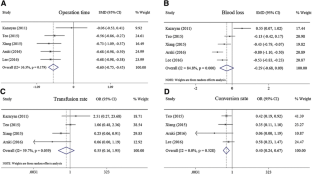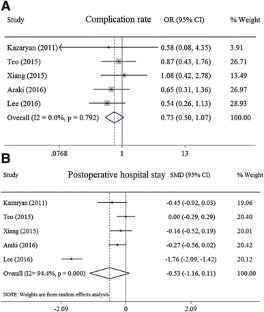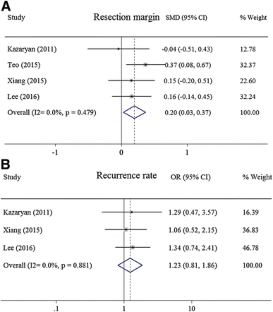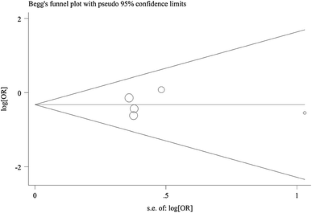 References
1.

Yin Z, Fan X, Ye H, Yin D, Wang J (2013) Short- and long-term outcomes after laparoscopic and open hepatectomy for hepatocellular carcinoma: a global systematic review and meta-analysis. Ann Surg Oncol 20:1203–1215

2.

Yu SJ (2016) A concise review of updated guidelines regarding the management of hepatocellular carcinoma around the world: 2010–2016. Clin Mol Hepatol 22:7–17

3.

Nguyen KT, Gamblin TC, Geller DA (2009) World review of laparoscopic liver resection-2,804 patients. Ann Surg 250:831–841

4.

Buell JF, Cherqui D, Geller DA, O'Rourke N, Iannitti D, Dagher I, Koffron AJ, Thomas M, Gayet B, Han HS, Wakabayashi G, Belli G, Kaneko H, Ker CG, Scatton O, Laurent A, Abdalla EK, Chaudhury P, Dutson E, Gamblin C, D'Angelica M, Nagorney D, Testa G, Labow D, Manas D, Poon RT, Nelson H, Martin R, Clary B, Pinson WC, Martinie J, Vauthey JN, Goldstein R, Roayaie S, Barlet D, Espat J, Abecassis M, Rees M, Fong Y, McMasters KM, Broelsch C, Busuttil R, Belghiti J, Strasberg S, Chari RS, World Consensus Conference on Laparoscopic S (2009) The international position on laparoscopic liver surgery: the Louisville statement, 2008. Ann Surg 250:825–830

5.

Cho JY, Han HS, Yoon YS, Shin SH (2008) Feasibility of laparoscopic liver resection for tumors located in the posterosuperior segments of the liver, with a special reference to overcoming current limitations on tumor location. Surgery 144:32–38

6.

Yoon YS, Han HS, Cho JY, Ahn KS (2010) Total laparoscopic liver resection for hepatocellular carcinoma located in all segments of the liver. Surg Endosc 24:1630–1637

7.

Kazaryan AM, Rosok BI, Marangos IP, Rosseland AR, Edwin B (2011) Comparative evaluation of laparoscopic liver resection for posterosuperior and anterolateral segments. Surg Endosc 25:3881–3889

8.

Teo JY, Kam JH, Chan CY, Goh BK, Wong JS, Lee VT, Cheow PC, Chow PK, Ooi LL, Chung AY, Lee SY (2015) Laparoscopic liver resection for posterosuperior and anterolateral lesions-a comparison experience in an Asian centre. Hepatobiliary Surg Nutr 4:379–390

9.

Xiang L, Xiao L, Li J, Chen J, Fan Y, Zheng S (2015) Safety and feasibility of laparoscopic hepatectomy for hepatocellular carcinoma in the posterosuperior liver segments. World J Surg 39:1202–1209

10.

Araki K, Fuks D, Nomi T, Ogiso S, Lozano RR, Kuwano H, Gayet B (2016) Feasibility of laparoscopic liver resection for caudate lobe: technical strategy and comparative analysis with anteroinferior and posterosuperior segments. Surg Endosc 30:4300–4306

11.

Lee W, Han HS, Yoon YS, Cho JY, Choi Y, Shin HK, Jang JY, Choi H, Jang JS, Kwon SU (2016) Comparison of laparoscopic liver resection for hepatocellular carcinoma located in the posterosuperior segments or anterolateral segments: a case-matched analysis. Surgery 160(5):1219–1226

12.

Wakabayashi G, Cherqui D, Geller DA, Buell JF, Kaneko H, Han HS, Asbun H, O'Rourke N, Tanabe M, Koffron AJ, Tsung A, Soubrane O, Machado MA, Gayet B, Troisi RI, Pessaux P, Van Dam RM, Scatton O, Abu Hilal M, Belli G, Kwon CH, Edwin B, Choi GH, Aldrighetti LA, Cai X, Cleary S, Chen KH, Schon MR, Sugioka A, Tang CN, Herman P, Pekolj J, Chen XP, Dagher I, Jarnagin W, Yamamoto M, Strong R, Jagannath P, Lo CM, Clavien PA, Kokudo N, Barkun J, Strasberg SM (2015) Recommendations for laparoscopic liver resection: a report from the second international consensus conference held in Morioka. Ann Surg 261:619–629

13.

Athanasiou T, Al-Ruzzeh S, Kumar P, Crossman MC, Amrani M, Pepper JR, Del Stanbridge R, Casula R, Glenville B (2004) Off-pump myocardial revascularization is associated with less incidence of stroke in elderly patients. Ann Thorac Surg 77:745–753

14.

Deeks JJ (2001) Systematic reviews in health care: systematic reviews of evaluations of diagnostic and screening tests. BMJ 323:157–162

15.

Higgins JP, Thompson SG, Deeks JJ, Altman DG (2003) Measuring inconsistency in meta-analyses. BMJ 327:557–560

16.

Hedges LV, Pigott TD (2001) The power of statistical tests in meta-analysis. Psychol Methods 6:203–217

17.

DerSimonian R, Laird N (1986) Meta-analysis in clinical trials. Control Clin Trials 7:177–188

18.

Begg CB, Mazumdar M (1994) Operating characteristics of a rank correlation test for publication bias. Biometrics 50:1088–1101

19.

Egger M, Davey Smith G, Schneider M, Minder C (1997) Bias in meta-analysis detected by a simple, graphical test. BMJ 315:629–634

20.

Dagher I, O'Rourke N, Geller DA, Cherqui D, Belli G, Gamblin TC, Lainas P, Laurent A, Nguyen KT, Marvin MR, Thomas M, Ravindra K, Fielding G, Franco D, Buell JF (2009) Laparoscopic major hepatectomy: an evolution in standard of care. Ann Surg 250:856–860

21.

Ciria R, Cherqui D, Geller DA, Briceno J, Wakabayashi G (2016) Comparative short-term benefits of laparoscopic liver resection: 9000 cases and climbing. Ann Surg 263:761–777

22.

Dagher I, Gayet B, Tzanis D, Tranchart H, Fuks D, Soubrane O, Han HS, Kim KH, Cherqui D, O'Rourke N, Troisi RI, Aldrighetti L, Bjorn E, Abu Hilal M, Belli G, Kaneko H, Jarnagin WR, Lin C, Pekolj J, Buell JF, Wakabayashi G (2014) International experience for laparoscopic major liver resection. J Hepato Biliary Pancreat Sci 21:732–736

23.

Kaneko H, Takagi S, Otsuka Y, Tsuchiya M, Tamura A, Katagiri T, Maeda T, Shiba T (2005) Laparoscopic liver resection of hepatocellular carcinoma. Am J Surg 189:190–194

24.

Cheek SM, Geller DA (2016) The learning curve in laparoscopic major hepatectomy: What is the magic number? Jama Surg 151:929

25.

Nomi T, Fuks D, Kawaguchi Y, Mal F, Nakajima Y, Gayet B (2015) Learning curve for laparoscopic major hepatectomy. Br J Surg 102:796–804

26.

Yoon YS, Han HS, Cho JY, Kim JH, Kwon Y (2013) Laparoscopic liver resection for centrally located tumors close to the hilum, major hepatic veins, or inferior vena cava. Surgery 153:502–509
Ethics declarations
Disclosures
The authors BenBo Zheng, Rongce Zhao, Xiaodong Li, and Bo Li declare no conflict of interest.
About this article
Cite this article
Zheng, B., Zhao, R., Li, X. et al. Comparison of laparoscopic liver resection for lesions located in anterolateral and posterosuperior segments: a meta-analysis. Surg Endosc 31, 4641–4648 (2017). https://doi.org/10.1007/s00464-017-5527-8
Received:

Accepted:

Published:

Issue Date:
Keywords
Laparoscopic liver resection

Anterolateral

Posterosuperior

Meta-analysis