Abstract
Background
Robotic intersphincteric resection (ISR) has been introduced for sphincter-preservation in the treatment of low rectal cancer. However, many patients experience anorectal symptoms and defecatory dysfunction after ISR. This study aims to evaluate the anorectal complications that develop after ISR.
Methods
The medical records of 108 patients who underwent robotic ISR at Taipei Medical University Hospital, Taipei, Taiwan between December 2011 and June 2016 were retrospectively reviewed. Photographic records of perineal conditions were documented at the following time intervals after surgery: 1 day, 2 weeks, 1, 2, 3 and 6 months. Clinical outcomes and treatment results were analysed.
Results
Eighty-five patients (78.7%) developed edematous hemorrhoids after surgery. These subsided at a median of 56 days after operation (range 23–89 days). Forty-six patients (42.6%) were found to have anal stenosis requiring anal dilatation. Sixteen patients (14.8%) had neorectal mucosal prolapse, which was noted to occur at an average of 98 days after surgery (range 41–162 days). Multivariate analysis showed that the occurrence of edematous hemorrhoids was associated with operating time (P = 0.043), and male gender was a significant risk factor for anal stenosis (P = 0.007).
Conclusions
This is the first study reporting on the clinical outcomes of anorectal status after robotic ISR. Further studies are needed to assess the long-term effects of these anorectal complications.
This is a preview of subscription content, log in to check access.
Access options
Buy single article
Instant access to the full article PDF.
US$ 39.95
Price includes VAT for USA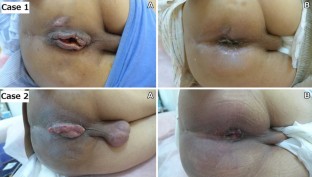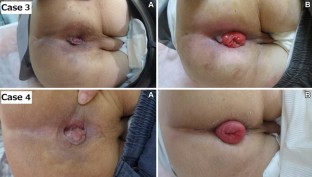 References
1.

Meyer JE, Narang T, Schnoll-Sussman FH, Pochapin MB, Christos PJ, Sherr DL (2010) Increasing incidence of rectal cancer in patients aged younger than 40 years: an analysis of the surveillance, epidemiology, and end results database. Cancer 116(18):4354–4359

2.

Pourhoseingholi MA (2012) Increased burden of colorectal cancer in Asia. World J Gastrointest Oncol 4(4):68–70

3.

Kuvshinoff B, Maghfoor I, Miedema B, Bryer M, Westgate S, Wilkes J, Ota D (2000) Distal margin requirements after preoperative chemoradiotherapy for distal rectal carcinoma: are ≤ 1 cm distal margins sufficient? Ann Surg Oncol 8:163–169

4.

Moore HG, Riedel E, Minsky BD, Saltz L, Paty P, Wong D et al (2003) Adequacy of 1 cm distal margin after restorative rectal cancer resection with sharp mesorectal excision and preoperative combined-modality therapy. Ann Surg Oncol 10:80–85

5.

Ruo L, Guillen JG (1999) Major 20th-century advancements in the management of rectal cancer. Dis Colon Rectum 42:563–578

6.

Schootman M, Hendren S, Ratnapradipa K, Stringer L, Davidson NO (2016) Adoption of robotic technology for treating colorectal cancer. Dis Colon Rectum 59:1101–1108

7.

Schiessel R, Karner-Hanusch J, Herbst F, Teleky B, Wunderlich M (1994) Intersphincteric resection for low rectal tumours. Br J Surg 81:1376–1378

8.

Kuo LJ, Hung CS, Wu CH, Wang W, Tam KW, Liang HH, Chang YJ, Wei PL (2011) Oncological and functional outcomes of intersphincteric resection for low rectal cancer. J Surg Res 170:e93–e98

9.

Koyama M, Murata A, Sakamoto Y, Morohashi H, Takahashi S, Yoshida E, Hakamada K (2014) Long-term clinical and functional results of intersphincteric resection for lower rectal cancer. Ann Surg Oncol 21(Suppl 3):S422–S428

10.

Pucciani F (2013) A review on functional results of sphincter-saving surgery for rectal cancer: the anterior resection syndrome. Updates Surg 65:257–263

11.

Maris A, Penninckx F, Devreese AM, Staes F, Moons P, Van Cutsem E, Haustermans K, D'Hoore A (2013) Persisting anorectal dysfunction after rectal cancer surgery. Colorectal Dis 15:e672–e679

12.

Martin ST, Heneghan HM, Winter DC (2012) Systematic review of outcomes after intersphincteric resection for low rectal cancer. Br J Surg 99:603–612

13.

Barisic G, Markovic V, Popovic M, Dimitrijevic I, Gavrilovic P, Krivokapic Z (2011) Function after intersphincteric resection for low rectal cancer and its influence on quality of life. Colorectal Dis 13:638–643

14.

van Duijvendijk P, Slors JF, Taat CW (2002) Prospective evaluation of anorectal function after total mesorectal excision for rectal carcinoma with or without preoperative radiotherapy. Am J Gastroenterol 97:2282–2289

15.

Chamlou R, Parc Y, Simon T, Bennis M, Dehni N, Parc R, Tiret E (2007) Long-term results of intersphincteric resection for low rectal cancer. Ann Surg 246:916–921

16.

Lipska MA, Bissett IP, Parry BR, Merrie AE (2006) Anastomotic leakage after lower gastrointestinal anastomosis: men are at a higher risk. ANZ J Surg 76:579–585

17.

Rullier E, Laurent C, Garrelon JL, Michel P, Saric J, Parneix M (1998) Risk factors for anastomotic leakage after resection of rectal cancer. Br J Surg 85:355–358

18.

Baeten CI, Castermans K, Lammering G, Hillen F, Griffioen AW, Baeten CG (2006) Effects of radiotherapy and chemotherapy on angiogenesis and leukocyte infiltration in rectal cancer. Int J Radiat Oncol Biol Phys 66:1219–1227
Ethics declarations
Disclosure
Dr. Li-Jen Kuo, Dr. James Chi-Yong Ngu, Dr. Yan-Jiun Huang, Mr. Yen-Kuang Lin, Dr. Chia-Che Chen, Dr. Yiu-Shun Tong, Ms. Szu-Chia Huang, Ms. Chia-Chen Hu and Ms. Shu-Hwa Tan have no conflicts of interest or financial ties to disclose.
Additional information
Li-Jen Kuo and Yan-Jiun Huang contributed equally to this work.
About this article
Cite this article
Kuo, L., Ngu, J.C., Huang, Y. et al. Anorectal complications after robotic intersphincteric resection for low rectal cancer. Surg Endosc 31, 4466–4471 (2017). https://doi.org/10.1007/s00464-017-5499-8
Received:

Accepted:

Published:

Issue Date:
Keywords
Anal stenosis

Intersphincteric resection

Mucosal prolapse

Rectal cancer

Robotic surgery