Abstract
Background
Recent American College of Surgeons National Surgical Quality Improvement Project (ACS-NSQIP)-based evidence indicates that laparoscopic (LAP) colectomy results in improved outcomes compared to hand-assisted laparoscopic (HAL) colectomy in the general population. Previous comparative studies demonstrated that the HAL technique offers distinct advantages for obese patients. The aim of this study was to perform comparative analyses of HAL and LAP colectomy and low anterior resection (LAR) in obese patients.
Methods
The ACS-NSQIP public use file and targeted colectomy dataset, 2012-2014, were utilized for patients undergoing colectomy and LAR. Only obese patients (BMI > 30) and laparoscopic or hand-assisted operations were included. Patient, operation, and outcome variables were compared in two separate cohorts: colectomy and LAR. Bivariate analysis compared the approaches, followed by multivariable regression.
Results
Of 9610 obese patients included, HAL and LAP colectomy were performed in 3126 and 3793 patients and LAR in 1431 and 1260 patients, respectively. In comparison to LAP colectomy, HAL colectomy patients had increased comorbidities including class 2 and 3 obesity. HAL colectomy was associated with higher overall morbidity (20 vs. 16%, p < 0.001), infectious complications (10.2 vs. 7.7%, p < 0.001), anastomotic leaks (3.0 vs. 2.2%, p = 0.03), and ileus (11 vs. 8%, p < 0.001). Multivariate analysis indicated that overall morbidity (OR 1.27, 95% CI 1.11–1.44), infectious complications (OR 1.35, 95% CI 1.14–1.59), and ileus (OR 1.33, 95% CI 1.12–1.57) were each increased in the HAL colectomy cohort but not different for HAL and LAP LAR.
Conclusions
In comparison to LAP colectomy, the HAL technique is used more often in obese patients with an increased operative risk profile. While inherent bias and unmeasured variables limit the analysis, the available data indicate that the HAL technique is associated with increased perioperative morbidity. Alternatively, HAL and LAP LAR are performed in obese patients with a similar risk profile and result in similar postoperative outcomes.
This is a preview of subscription content, log in to check access.
Access options
Buy single article
Instant access to the full article PDF.
US$ 39.95
Price includes VAT for USA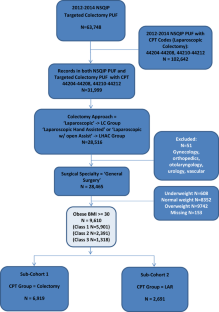 References
1.

The Clinical Outcomes of Surgical Therapy Study Group (2004) A comparison of laparoscopically assisted and open colectomy for colon cancer. N Engl J Med 350:2050–2059

2.

Lacy AM, García-Valdecasas JC, Delgado S, Castells A, Taurá P, Piqué JM, Visa J (2002) Laparoscopy-assisted colectomy versus open colectomy for treatment of non-metastatic colon cancer: a randomised trial. Lancet 359(9325):2224–2229

3.

Schwenk W, Haase O, Neudecker J, Müller JM (2005) Short term benefits for laparoscopic colorectal resection. Cochrane Database Syst Rev 3:CD003145

4.

HALS Study Group (2000) Hand-assisted laparoscopic surgery vs standard laparoscopic surgery for colorectal disease. Surg Endosc 14:896–901

5.

Darzi A (2000) Hand-assisted laparoscopic colorectal surgery. Surg Endosc 14:999–1004

6.

Nakajima K, Lee SW, Cocilovo C, Foglia C, Sonoda T, Milsom JW (2004) Laparoscopic total colectomy: hand-assisted vs standard technique. Surg Endosc 18:582–586

7.

Lee SW, Yoo J, Dujovny N, Sonoda T, Milsom JW (2006) Laparoscopic vs. hand-assisted laparoscopic sigmoidectomy for diverticulitis. Dis Colon Rectum 49:464–469

8.

Stein S, Whelan RL (2007) The controversy regarding hand-assisted colorectal resection. Surg Endosc 21:2123–2126

9.

Cima RR, Pendlimari R, Holubar SD, Pattana-Arun J, Larson DW, Dozois EJ, Wolff BG, Pemberton JH (2011) Utility and short-term outcomes of hand-assisted laparoscopic colorectal surgery: a single-institution experience in 1103 patients. Dis Colon Rectum 54(9):1076–1081

10.

Samalavicius NE, Gupta RK, Dulskas A, Kazanavicius D, Petrulis K, Lunevicius R (2013) Clinical outcomes of 103 hand-assisted laparoscopic surgeries for left-sided colon and rectal cancer: single institutional review. Ann Coloproctol 29(6):225–230

11.

Tajima T, Mukai M, Yamazaki M, Higami S, Yamamoto S, Hasegawa S, Nomura E, Sadahiro S, Yasuda S, Makuuchi H (2014) Comparison of hand-assisted laparoscopic surgery and conventional laparotomy for colorectal cancer: Interim results from a single institution. Oncol Lett 8(2):627–632

12.

Tajima T, Mukai M, Noguchi W, Higami S, Uda S, Yamamoto S, Hasegawa S, Nomura E, Sadahiro S, Yasuda D, Makuuchi H (2015) Comparison of hand-assisted laparoscopic surgery and conventional laparotomy for rectal cancer: Interim results from a single center. Mol. Clin Oncol 3(3):533–538

13.

Targarona EM, Gracia E, Garriga J, Martinez-Bru C, Cortes M, Boluda R, Lerma L, Trias M (2002) Prospective randomized trial comparing conventional laparoscopic colectomy with hand-assisted laparoscopic colectomy. Surg Endosc 16:234–239

14.

Marcello PW, Fleshman JW, Milsom JW, Read TE, Arnell TD, Birnbaum EH, Feingold DL, Lee SW, Mutch MG, Sonoda T, Yan Y, Whelan RL (2008) Hand-assisted laparoscopic vs. laparoscopic colorectal surgery: a multicenter, prospective, randomized trial. Dis Colon Rectum 51:818–828

15.

Hassan I, You YN, Cima RR, Larson DW, Dozois EJ, Barnes SA, Pemberton JH (2008) Hand-assisted versus laparoscopic-assisted colorectal surgery: practice patterns and clinical outcomes in a minimally-invasive colorectal practice. Surg Endosc 22:739–743

16.

Ozturk E, Kiran RP, Geisler DP, Hull TL, Vogel JD (2009) Hand-assisted laparoscopic colectomy: benefits of laparoscopic colectomy at no extra cost. J Am Coll Surg 209(2):242–247

17.

Ozturk E, Kiran RP, Remzi F, Geisler D, Fazio V (2010) Hand-assisted laparoscopic surgery may be a useful tool for surgeons early in the learning curve performing total abdominal colectomy. Colorectal Dis 12(3):199–205

18.

Vogel JD, Lian L, Kalady MF, de Campos-Lobato LF, Alves-Ferreira PC, Remzi FH (2011) Hand-assisted laparoscopic right colectomy: how does it compare to conventional laparoscopy?. J Am Coll Surg 212(3):367–372

19.

Mooloo H, Haggar F, Coyle D, Hutton B, Duhaime S, Mamazza J, Poulin EC, Boushey RP, Grimshaw J (2010) Hand assisted laparoscopic surgery versus conventional laparoscopy for colorectal surgery (Review). Cochrane Database Syst Rev. 10

20.

Moghadamyeghaneh Z, Carmichael JC, Mills S, Pigazzi A, Nguyen NT, Stamos MJ (2015) Hand-assisted laparoscopic approach in colon surgery. J Gastrointest Surg 19(11):2045–2053

21.

Benlice C, Costedio M, Kessler H, Remzi FH, Gorgun E (2016) Comparison of straight vs hand-assisted laparoscopic colectomy: an assessment from the NSQIP procedure-targeted cohort. Am J Surg doi: 10.1016/j.amjsurg.2016.01.026

22.

Myers EA, Feingold DL, Arnell TD, Njoh L, Cekic V, Jang JH, Naffouje S, Whelan RL (2014) The rate for the use of hand-assisted laparoscopic methods is directly proportional to body mass index. Surg Endosc 28:108–115

23.

Heneghan HM, Martin ST, Kiran RP, Khoury W, Stocchi L, Remzi FH, Vogel JD (2013) Laparoscopic Colorectal Surgery for Obese Patients: Decreased Conversions with the Hand-Assisted Technique. J Gastrointest Surg 17:548–554

24.

ACS NSQIP® https://www.facs.org/quality-programs/acs-nsqip, Accessed 3-17-16

25.

Khuri SF, Daley J, Henderson W, Hur K, Demakis J, Aust JB, Chong V, Fabri PJ, Gibbs JO, Grover F, Hemmermeister K, Irvin G 3rd, McDonald G, Passaro E Jr, Phillips L, Scamman F, Spencer J, Stremple JF (1998) The Department of Veterans Affairs' NSQIP: the first national, validated, outcome-based risk-adjusted, and peer-controlled program for the measurement and enhancement of the quality of surgical care. National VA Surgical Quality Improvement Program. Ann Surg 228(4):491–507

26.

Lange EO, Jensen CC, Melton GB, Madoff RD, Kwaan MR (2015) Relationship between model for end-stage liver disease score and 30-day outcomes for patients undergoing elective colorectal resections: an american college of surgeons-national surgical quality improvement program study. Dis Colon Rectum 58(5):494–501

27.

Cohen ME, Ko CY, Bilimoria KY, Zhou L, Huffman K, Wang X, Liu Y, Kraemer K, Meng X, Merkow R, Chow W, Matel B, Richards K, Hart AJ, Dimick JB, Hall BL (2013) Optimizing ACS NSQIP modeling for evaluation of surgical quality and risk: patient risk adjustment, procedure mix adjustment, shrinkage adjustment, and surgical focus. JACS 217 (2):336–346

28.

IBM SAS® http://www.sas.com/en_us/home.html, Accessed 3-17-16

29.

Guend H, Lee DY, Myers EA, Gandhi ND, Cekic V, Whelan RL (2015) Technique of last resort: characteristics of patients undergoing open surgery in the laparoscopic era. Surg Endosc 29(9):2763–2769

30.

Tjandra JJ, Chan MK, Yeh CH (2008) Laparoscopic- vs. hand-assisted ultralow anterior resection: a prospective study. Dis Colon Rectum 51(1):26–31

31.

Pyo DH, Huh JW, Park YA, Cho YB, Yun SH, Kim HC, Lee WY, Chun HK (2016) A comparison of hand-assisted laparoscopic surgery and conventional laparoscopic surgery in rectal cancer: a propensity score analysis. Surg Endosc 30(6):2449–2456

32.

Kumara HMCS, Gaita DJ, Miyagaki H, Yan X, Herath SAC, Cekic V, Whelan RL (2014) Minimally invasive colorectal resection is associated with significantly elevated levels of plasma matrix metalloproteinase 3 (MMP-3) during the first month after surgery which may promote the growth of residual metastases. Surg Endosc 28:3322–3328

33.

Bärlehner E, Benhidjeb T, Anders S, Schicke B (2005) Laparoscopic resection for rectal cancer: outcomes in 194 patients and review of the literature. Surg Endosc 19(6):757–766

34.

Köckerling F, Rose J, Schneider C, Scheidbach H, Scheuerlein H, Reymond MA, Reck T, Konradt J, Bruch HP, Zornig C, Bärlehner E, Kuthe A, Szinicz G, Richter HA, Hohenberger W (1999) Laparoscopic colorectal anastomosis: risk of postoperative leakage. Results of a multicenter study. Laparoscopic colorectal surgery study group (LCSSG). Surg Endosc 13(7):639–644

35.

Veyrie N, Ata T, Muscari F, Couchard AC, Msika S, Hay JM, Fingerhut A, Dziri C; French Associations for Surgical Research (2007) Anastomotic leakage after elective right versus left colectomy for cancer: prevalence and independent risk factors. J Am Coll Surg. 205(6): 785–793.

36.

Yamamoto S, Fujita S, Akasu T, Moriya Y (2004) A comparison of the complication rates between laparoscopic colectomy and laparoscopic low anterior resection. Surg Endosc 18(10):1447–1451

37.

Pendlimari R, Touzios JG, Azodo IA, Chua HK, Dozois EJ, Cima RR, Larson DW (2011) Short-term outcomes after elective minimally invasive colectomy for diverticulitis. Br J Surg 98(3):431–435
Acknowledgements
University of Colorado Surgical Outcomes and Applied Research (SOAR) group for funding and general support, especially Drs. Robert Meguid and Richard Schulick.
Ethics declarations
Disclosures
Drs. Douglas M. Overbey, Michelle L. Cowan, Patrick W. Hosokawa, Brandon C. Chapman, and Jon D. Vogel have no conflicts of interest or financial ties to disclose.
About this article
Cite this article
Overbey, D.M., Cowan, M.L., Hosokawa, P.W. et al. Laparoscopic colectomy in obese patients: a comparison of laparoscopic and hand-assisted laparoscopic techniques. Surg Endosc 31, 3912–3921 (2017). https://doi.org/10.1007/s00464-017-5422-3
Received:

Accepted:

Published:

Issue Date:
Keywords
Colectomy

Obesity

Laparoscopic

Hand-assisted

Colorectal