Abstract
Introduction
Outcomes following OVHR may be affected by type of component separation. In this study, outcomes including QOL of patients undergoing OVHR were evaluated based on the utilization of transversus abdominis release (TAR), posterior rectus sheath release (PRSR) alone or in combination with external oblique release (EOR + PRSR).
Methods
A prospective, single-institution study following open ventral hernia repair involving component separation was performed from May 2005 to April 2015. Self-reported QOL outcomes were obtained preoperatively and at 1, 6 and 12 months postoperatively using the Carolinas Comfort Scale (CCS). A CCS of 2 (mild but bothersome discomfort) or greater was considered symptomatic. Comorbidities, complications, outcomes and CCS scores were reviewed. Univariate group comparisons were performed using Chi-square and Wilcoxon two-sample tests with statistical significance set at p < 0.05.
Results
During the study period, 292 OVHRs with CST met inclusion criteria. Single-sided, different releases on opposite sides, etc., were eliminated. Demographics included: average age-57.9 ± 11.9 years, BMI-34.0 ± 7.9 kgm2, 53.2% female, 69% at least one prior hernia repair and average defect size-291.2 ± 236.2 cm2. Preoperative discomfort (82 vs. 75 vs. 79%, p = 0.77) and movement limitation (94 vs. 70 vs. 78%, p = 0.1) in TAR, PRSR and EOR + PRSR were similar. Average follow-up was 16.4 months. At 1, 6 and 12 months postoperatively, there was no difference in reported CCS pain scores, movement limitation or mesh sensation among the groups (p > 0.05). Comparing OVHR patients outcomes by CST type, TAR was associated with decreased wound infections compared to others (3.2 vs. 16.1 vs. 20%, p = 0.07) while recurrence rates were increased in EOR + PRSR compared to TAR and PRSR alone(8.4 vs. 3 vs. 1.8%, p = 0.03). Eighty percent of recurrences had a biologic mesh secondary to contaminated field during hernia repair. The other two recurrences were one which occurred superior to the mesh at a suture site and one who developed a wound infection postoperatively. Mesh infection rates were low (0 vs. 1.5 vs. 2.6%, p > 0.05) even including contaminated cases (0 vs. 2 vs. 3.6%, p > 0.05) and were statistically equivalent among all three techniques.
Conclusion
While QOL is not impacted by type of component separation on short- or long-term follow-up, the TAR may provide benefits such as decreased wound infection rates. Overall QOL had a significant improvement from preoperative regardless of type of component separation. When controlling for field contamination, there were no differences in recurrence or infection.
This is a preview of subscription content, log in to check access.
Access options
Buy single article
Instant access to the full article PDF.
US$ 39.95
Price includes VAT for USA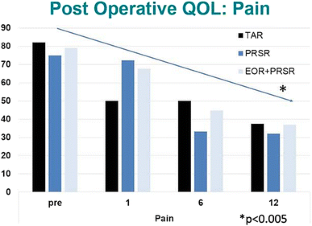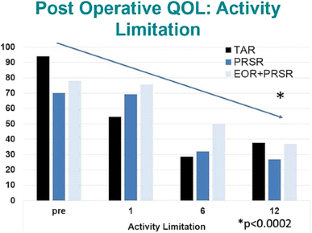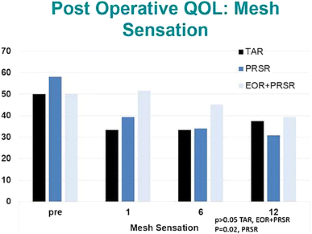 References
1.

Li LT, Jafrani RJ, Becker NS et al (2014) Outcomes of acute versus elective primary ventral hernia repair. J Trauma Acute Care Surg 76(2):523–528

2.

Bucknall TE, Cox PJ, Ellis H (1982) Burst abdomen and incisional hernia: a prospective study of 1129 major laparotomies. Br Med J (Clin Res Ed) 284(6320):931–933

3.

Criss CN, Petro CC, Krpata DM et al (2014) Functional abdominal wall reconstruction improves core physiology and quality-of-life. Surgery 156(1):176–182

4.

Klima DA, Tsirline VB, Belyansky I et al (2014) Quality of life following component separation versus standard open ventral hernia repair for large hernias. Surg Innov 21(2):147–154

5.

San Martin AF. Técnica para el tratamiento de las grandes eventraciones medianas supraumbilicales. 19481201 DCOM- 20081016

6.

Zavaleta De Fau - Bun RF, Bun Rf Fau - Solian JA, Solian Ja Fau - Bresan E, Bresan E. [Costal relaxing incisions in the treatment of massive supraumbilical eventrations]. 19660206 DCOM- 19660206 (0032-745X (Print))

7.

Mathes SJ, Bostwick J 3rd (1977) A rectus abdominis myocutaneous flap to reconstruct abdominal wall defects. Br J Plast Surg 30(4):282–283

8.

Ramirez OM, Ruas E, Dellon AL (1990) "Components separation" method for closure of abdominal-wall defects: an anatomic and clinical study. Plast Reconstr Surg 86(3):519–526

9.

Novitsky YW, Elliott HL, Orenstein SB, Rosen MJ (2012) Transversus abdominis muscle release: a novel approach to posterior component separation during complex abdominal wall reconstruction. Am J Surg 204(5):709–716

10.

Shestak KC, Edington HJ, Johnson RR (2000) The separation of anatomic components technique for the reconstruction of massive midline abdominal wall defects: anatomy, surgical technique, applications, and limitations revisited. Plast Reconstr Surg 105(2):731–738 quiz 739

11.

Levine JP, Karp NS (2001) Restoration of abdominal wall integrity as a salvage procedure in difficult recurrent abdominal wall hernias using a method of wide myofascial release. Plast Reconstr Surg 107(3):707–716 discussion 717-708

12.

Vargo D (2004) Component separation in the management of the difficult abdominal wall. Am J Surg 188(6):633–637

13.

Chang EI, Foster RD, Hansen SL, Jazayeri L, Patti MG (2007) Autologous tissue reconstruction of ventral hernias in morbidly obese patients. Arch Surg 142(8):746–749 discussion 749-751

14.

Ko JH, Wang EC, Salvay DM, Paul BC, Dumanian GA (2009) Abdominal wall reconstruction: lessons learned from 200 "components separation" procedures. Arch Surg 144(11):1047–1055

15.

Snyder CW, Graham LA, Vick CC, Gray SH, Finan KR, Hawn MT (2011) Patient satisfaction, chronic pain, and quality of life after elective incisional hernia repair: effects of recurrence and repair technique. Hernia 15(2):123–129

16.

Sosin M, Patel KM, Albino FP, Nahabedian MY, Bhanot P (2014) A patient-centered appraisal of outcomes following abdominal wall reconstruction: a systematic review of the current literature. Plast Reconstr Surg 133(2):408–418

17.

Heniford BT, Walters AL, Lincourt AE, Novitsky YW, Hope WW, Kercher KW (2008) Comparison of generic versus specific quality-of-life scales for mesh hernia repairs. J Am Coll Surg 206(4):638–644

18.

Ross SW, Oommen B, Heniford BT, Augenstein VA (2014) Components separation in complex ventral hernia repair: surgical technique and post-operative outcomes. Surg Technol Int 24:167–177

19.

Novitsky YW, Porter JR, Rucho ZC et al (2006) Open preperitoneal retrofascial mesh repair for multiply recurrent ventral incisional hernias. J Am Coll Surg 203(3):283–289

20.

Krpata DM, Blatnik JA, Novitsky YW, Rosen MJ (2012) Posterior and open anterior components separations: a comparative analysis. Am J Surg 203(3):318–322 discussion 322

21.

Novitsky YW, Fayezizadeh M, Majumder A, Neupane R, Elliott HL, Orenstein SB (2016) Outcomes of posterior component separation with transversus abdominis muscle release and synthetic mesh sublay reinforcement. Ann Surg 264(2):226–232

22.

De Silva GS, Krpata DM, Hicks CW et al (2014) Comparative radiographic analysis of changes in the abdominal wall musculature morphology after open posterior component separation or bridging laparoscopic ventral hernia repair. J Am Coll Surg 218(3):353–357

23.

Itani KM, Rosen M, Vargo D et al (2012) Prospective study of single-stage repair of contaminated hernias using a biologic porcine tissue matrix: the RICH Study. Surgery 152(3):498–505

24.

Pauli EM, Wang J, Petro CC, Juza RM, Novitsky YW, Rosen MJ (2015) Posterior component separation with transversus abdominis release successfully addresses recurrent ventral hernias following anterior component separation. Hernia 19(2):285–291

25.

Cobb WS, Warren JA, Ewing JA, Burnikel A, Merchant M, Carbonell AM (2015) Open retromuscular mesh repair of complex incisional hernia: predictors of wound events and recurrence. J Am Coll Surg 220(4):606–613
Ethics declarations
Disclosures
Drs. Heniford and Augenstein have previously been awarded surgical research and education grants from W.L. Gore and Associates, Ethicon, Novadaq, Bard/Davol and LifeCell Inc. All other authors have no conflicts of interest or financial ties to disclose.
About this article
Cite this article
Blair, L.J., Cox, T.C., Huntington, C.R. et al. The effect of component separation technique on quality of life (QOL) and surgical outcomes in complex open ventral hernia repair (OVHR). Surg Endosc 31, 3539–3546 (2017). https://doi.org/10.1007/s00464-016-5382-z
Received:

Accepted:

Published:

Issue Date:
Keywords
Hernia repair

Ventral hernia repair

Incisional hernia repair

Recurrence

Quality of life

Components separation

Transversus abdominis release

External oblique release