Abstract
Background
Wedge resection is the most commonly used method in laparoscopic partial gastrectomy for gastric gastrointestinal stromal tumor (GIST). However, this method can involve inadvertent resection of additional gastric tissue and cause gastric deformation. To minimize the volume of resected gastric tissue, we have developed a laparoscopic partial gastrectomy with seromyotomy which we call the 'lift-and-cut method' for gastric GIST. Here, we report a case series of this surgery.
Method
First, the seromuscular layer around the tumor is cut. Because the mucosa and submucosa are extensible, the tumor is lifted toward the abdominal cavity. After sufficient lifting, the gastric tissue under the tumor is cut at the submucosal layer with a linear stapler (thus 'lift-and-cut method'). Finally, the defect in the seromuscular layer is closed with a hand-sewn suture.
Results
From April 2011 to December 2015, 28 patients underwent laparoscopic partial gastrectomy by this method at Osaka Red Cross Hospital. Average operation time was 126 min (range 65–302 min) and average blood loss was 10 ml (range 0–200 ml). No intraoperative complications including tumor rupture or postoperative complications regarded as Clavien–Dindo Grade II or higher occurred. All patients took sufficient solid diet at discharge. Median postoperative hospital stay was 7 days (range 5–21 days). On median follow-up of 26.6 months (range 6–54 months), no recurrence was reported.
Conclusion
Laparoscopic partial gastrectomy by the lift-and-cut method is safe and simple, and widely applicable for gastric GIST.
This is a preview of subscription content, log in to check access.
Access options
Buy single article
Instant unlimited access to the full article PDF.
US$ 39.95
Price includes VAT for USA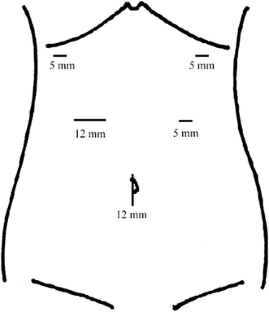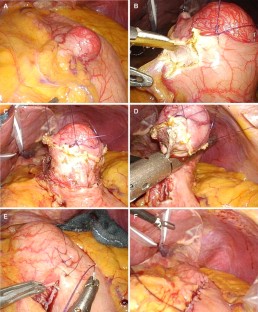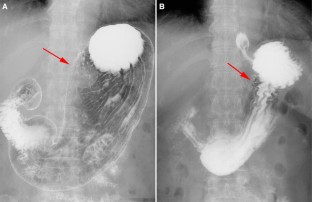 References
1.

Nishida T, Hirota S (2000) Biological and clinical review of stromal tumors in the gastrointestinal tract. Histol Histopathol 15(4):1293–1301

2.

Rubin BP, Heinrich MC, Corless CL (2007) Gastrointestinal stromal tumour. Lancet 369(9574):1731–1741

3.

Kindblom LG, Remotti HE, Aldenborg F, Meis-Kindblom JM (1998) Gastrointestinal pacemaker cell tumor (GIPACT): gastrointestinal stromal tumors show phenotypic characteristics of the interstitial cells of Cajal. Am J Pathol 152(5):1259–1269

4.

Ducimetiere F, Lurkin A, Ranchere-Vince D, Decouvelaere AV, Isaac S, Claret-Tournier C, Suignard Y, Salameire D, Cellier D, Alberti L, Bringuier PP, Blay JY, Ray-Coquard I (2010) Incidence rate, epidemiology of sarcoma and molecular biology. Preliminary results from EMS study in the Rhone-Alpes region. Bull Cancer 97(6):629–641

5.

DeMatteo RP, Lewis JJ, Leung D, Mudan SS, Woodruff JM, Brennan MF (2000) Two hundred gastrointestinal stromal tumors: recurrence patterns and prognostic factors for survival. Ann Surg 231(1):51–58

6.

Roggin KK, Posner MC (2012) Modern treatment of gastric gastrointestinal stromal tumors. World J Gastroenterol 18(46):6720–6728

7.

Nishida T, Hirota S, Yanagisawa A, Sugino Y, Minami M, Yamamura Y, Otani Y, Shimada Y, Takahashi F, Kubota T (2008) Clinical practice guidelines for gastrointestinal stromal tumor (GIST) in Japan: english version. Int J Clin Oncol 13(5):416–430

8.

Woodall CE 3rd, Brock GN, Fan J, Byam JA, Scoggins CR, McMasters KM, Martin RC 2nd (2009) An evaluation of 2537 gastrointestinal stromal tumors for a proposed clinical staging system. Arch Surg 144(7):670–678

9.

Kong SH, Yang HK (2013) Surgical treatment of gastric gastrointestinal stromal tumor. J Gastric Cancer 13(1):3–18

10.

Novitsky YW, Kercher KW, Sing RF, Heniford BT (2006) Long-term outcomes of laparoscopic resection of gastric gastrointestinal stromal tumors. Ann Surg 243(6):738–745 (discussion 745-747)

11.

Ohtani H, Maeda K, Noda E, Nagahara H, Shibutani M, Ohira M, Muguruma K, Tanaka H, Kubo N, Toyokawa T, Sakurai K, Yamashita Y, Yamamoto A, Hirakawa K (2013) Meta-analysis of laparoscopic and open surgery for gastric gastrointestinal stromal tumor. Anticancer Res 33(11):5031–5041

12.

Liang JW, Zheng ZC, Zhang JJ, Zhang T, Zhao Y, Yang W, Liu YQ (2013) Laparoscopic versus open gastric resections for gastric gastrointestinal stromal tumors: a meta-analysis. Surg Laparosc Endosc Percutan Tech 23(4):378–387

13.

Choi SM, Kim MC, Jung GJ, Kim HH, Kwon HC, Choi SR, Jang JS, Jeong JS (2007) Laparoscopic wedge resection for gastric GIST: long-term follow-up results. Eur J Surg Oncol 33(4):444–447

14.

Okumura S, Kanaya S, Yamaura T, Yoshimura F, Arimoto A, Ito T (2015) The 'lift and cut method', laparoscopic partial gastrectomy with seromyotomy for gastric submucosal tumor. Operation 69(5):743–747 (article in Japanese)

15.

Na JU, Lee SI, Noh SM (2011) The single incision laparoscopic intragastric wedge resection of gastric submucosal tumor. J Gastric Cancer 11(4):225–229

16.

Joensuu H (2008) Risk stratification of patients diagnosed with gastrointestinal stromal tumor. Hum Pathol 39(10):1411–1419

17.

Rutkowski P, Bylina E, Wozniak A, Nowecki ZI, Osuch C, Matlok M, Switaj T, Michej W, Wronski M, Gluszek S, Kroc J, Nasierowska-Guttmejer A, Joensuu H (2011) Validation of the Joensuu risk criteria for primary resectable gastrointestinal stromal tumour—the impact of tumour rupture on patient outcomes. Eur J Surg Oncol 37(10):890–896

18.

Hasegawa T, Matsuno Y, Shimoda T, Hirohashi S (2002) Gastrointestinal stromal tumor: consistent CD117 immunostaining for diagnosis, and prognostic classification based on tumor size and MIB-1 grade. Hum Pathol 33(6):669–676

19.

Mochizuki Y, Kodera Y, Fujiwara M, Ito S, Yamamura Y, Sawaki A, Yamao K, Kato T (2006) Laparoscopic wedge resection for gastrointestinal stromal tumors of the stomach: initial experience. Surg Today 36(4):341–347

20.

Nishida T, Blay JY, Hirota S, Kitagawa Y, Kang YK (2016) The standard diagnosis, treatment, and follow-up of gastrointestinal stromal tumors based on guidelines. Gastric Cancer 19(1):3–14

21.

Ronellenfitsch U, Staiger W, Kahler G, Strobel P, Schwarzbach M, Hohenberger P (2009) Perioperative and oncological outcome of laparoscopic resection of gastrointestinal stromal tumour (GIST) of the stomach. Diagn Ther Endosc. doi:10.1155/2009/286138,Mar26

22.

Karakousis GC, Singer S, Zheng J, Gonen M, Coit D, DeMatteo RP, Strong VE (2011) Laparoscopic versus open gastric resections for primary gastrointestinal stromal tumors (GISTs): a size-matched comparison. Ann Surg Oncol 18(6):1599–1605

23.

Lin J, Huang C, Zheng C, Li P, Xie J, Wang J, Lu J (2014) Laparoscopic versus open gastric resection for larger than 5 cm primary gastric gastrointestinal stromal tumors (GIST): a size-matched comparison. Surg Endosc 28(9):2577–2583

24.

Hiki N, Yamamoto Y, Fukunaga T, Yamaguchi T, Nunobe S, Tokunaga M, Miki A, Ohyama S, Seto Y (2008) Laparoscopic and endoscopic cooperative surgery for gastrointestinal stromal tumor dissection. Surg Endosc 22(7):1729–1735

25.

Inoue H, Ikeda H, Hosoya T, Yoshida A, Onimaru M, Suzuki M, Kudo SE (2012) Endoscopic mucosal resection, endoscopic submucosal dissection, and beyond: full-layer resection for gastric cancer with nonexposure technique (CLEAN-NET). Surg Oncol Clin N Am 21(1):129–140

26.

Mitsui T, Niimi K, Yamashita H, Goto O, Aikou S, Hatao F, Wada I, Shimizu N, Fujishiro M, Koike K, Seto Y (2014) Non-exposed endoscopic wall-inversion surgery as a novel partial gastrectomy technique. Gastric Cancer 17(3):594–599

27.

Hirahara N, Matsubara T, Kidani A, Hyakudomi R, Fujii Y, Tajima Y (2014) A novel technique to minimize deformation of the stomach in laparoscopic partial gastrectomy for intraluminal gastric GISTs. J Laparoendosc Adv Surg Tech A 24(10):707–711
Ethics declarations
Disclosures
Seiichiro Kanaya has received personal fees from Covidien, Ethicon and Olympus unrelated to the submitted work. Shintaro Okumura, Hisahiro Hosogi, Takeshi Ito, Susumu Miura, Toshihiro Okada, Norihiro Shimoike, Shin Akagawa, Hironori Kawada and Akira Arimoto have no conflict of interest or financial ties to disclose.
Electronic supplementary material
Below is the link to the electronic supplementary material.
Supplementary material 1 (WMV 168927 kb)
About this article
Cite this article
Okumura, S., Kanaya, S., Hosogi, H. et al. Our experience with laparoscopic partial gastrectomy by the 'lift-and-cut method' for gastric gastrointestinal stromal tumor with maximal preservation of the remnant stomach. Surg Endosc 31, 3398–3404 (2017). https://doi.org/10.1007/s00464-016-5367-y
Received:

Accepted:

Published:

Issue Date:
Keywords
Gastrointestinal stromal tumor

Laparoscopic

Partial

Gastrectomy