Abstract
Background
Choledochal cysts are associated with ductal strictures, stone formation, cholangitis, rupture, secondary biliary cirrhosis and increased incidence of cholangiocarcinoma. The surgical approach to choledochal cysts has evolved from the cyst-enterostomy to a complete excision with more recent use of minimally invasive approaches. We report a complete minimally invasive approach to a Type 1 choledochal cyst and summarize the literature containing large case series of similar approaches.
Methods and operative technique
A 38-year-old female with a history of vague epigastric pain for multiple years was diagnosed with a Type 1 choledochal cyst on MRCP. The operative approach was an elective laparoscopic resection of choledochal cyst and Roux-en-Y hepaticojejunostomy. There were no intraoperative complications and discharge occurred on postoperative day three. Approximately 1 month after resection, she was diagnosed with a small retrohepatic fluid collection which was treated percutaneously and was diagnosed as a hematoma. A PubMed literature review focusing on surgical approaches to Type 1 choledochal cysts methods of repair and postoperative complications was performed and summarized.
Results and discussion
The literature search performed on the subject of choledochal cyst management in adults and laparoscopic approaches resulted in a review of twenty-one articles. Ten of the articles were review articles regarding surgical approach and management of the disease. An additional two were case reviews, and eight reported on laparoscopic approaches to management of choledochal cysts. In this paper, we summarize the eight articles that provide information on the laparoscopic management and outcomes for choledochal cysts. While operative times were longer on the laparoscopic procedures, hospital stay was shorter and there was no increase in complication rates. The most common complications reported were postoperative bile leak followed by anastomotic stricture.
Conclusion
This case highlights the management of laparoscopic resection of choledochal cyst as a viable, safe and feasible approach based on this case and a literature review.
This is a preview of subscription content, log in to check access.
Access options
Buy single article
Instant unlimited access to the full article PDF.
US$ 39.95
Price includes VAT for USA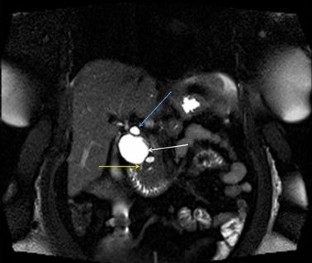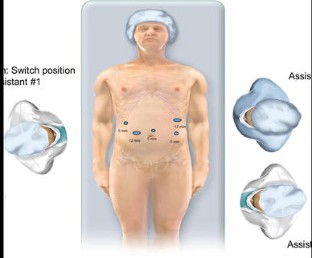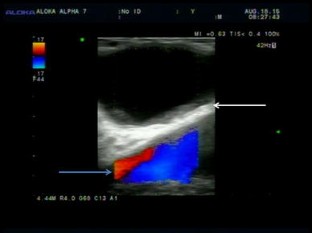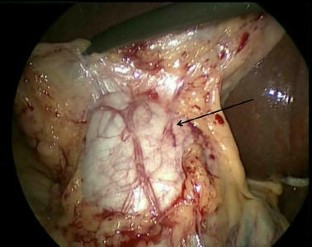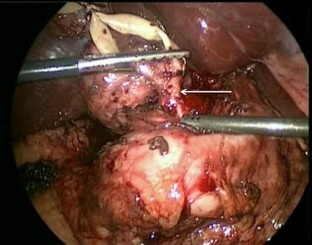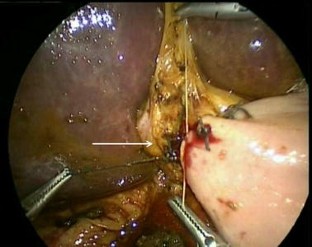 References
1.

Lipsett PA, Pitt HA, Colombani PM, Boitnott JK, Cameron JL (1994) Choledochal cyst disease: a changing pattern of presentation. Ann Surg 220:644–652

2.

Dhupar R, Gulack B, Geller DA, Marsh JW, Gamblin TC (2009) The changing presentation of choledochal cyst disease: an incidental diagnosis. HPB Surg. doi:10.1155/2009/103739

3.

Lü SC, Shi XJ, Wang HG, Lu F, Liang YR, Luo Y, Ji WB, Zhao ZM (2013) Technical points of total laparoscopic choledochal cyst excision. Chin Med J (Engl) 126:884–887. doi:10.3760/cma.j.issn.0366-6999.20111678

4.

Abbas HM, Yassin NA, Ammori BJ (2006) Laparoscopic resection of type I choledochal cyst in an adult and Roux-en-Y hepaticojejunostomy: a case report and literature review. Surg Laparosc Endosc Percutan Tech 16(6):439–444

5.

Jang JY, Yoon YS, Kang MJ, Kwon W, Park JW, Chang YR, Ahn WJ, Cho JY, Han HS, Kim SW (2013) Laparoscopic excision of a choledochal cyst in 82 consecutive patients. Surg Endosc Other Interv Tech 27:1648–1652. doi:10.1007/s00464-012-2646-0

6.

Palanivelu C, Rangarajan M, Parthasarathi R, Amar V, Senthilnathan P (2008) Laparoscopic management of choledochal cysts: technique and outcomes: a retrospective study of 35 patients from a tertiary center. J Am Coll Surg 207:839–846. doi:10.1016/j.jamcollsurg.2008.08.004

7.

Senthilnathan P, Patel ND, Nair AS, Nalankilli VP, Vijay A, Palanivelu C (2015) Laparoscopic management of choledochal cyst-technical modifications and outcome analysis. World J Surg 39:2550–2556. doi:10.1007/s00268-015-3111-8

8.

Liu Y, Yao X, Li S, Liu W, Liu L, Liu J (2014) Comparison of therapeutic effects of laparoscopic and open operation for congenital choledochal cysts in adults. Gastroenterol Res Pract 2014:10–13. doi:10.1155/2014/670260

9.

Tian Y, Wu SD, Zhu AD, Chen DX (2010) Management of type I choledochal cyst in adult: totally laparoscopic resection and Roux-en-Y hepaticoenterostomy. J Gastrointest Surg 14:1381–1388. doi:10.1007/s11605-010-1263-2

10.

Jang JY, Kim SW, Han HS, Yoon YS, Han SS, Park YH (2006) Totally laparoscopic management of choledochal cysts using a four-hole method. Surg Endosc Other Interv Tech 20:1762–1765. doi:10.1007/s00464-005-0565-z

11.

Hwang DW, Lee JH, Lee SY, Song DK, Hwang JW, Park KM, Lee YJ (2012) Early experience of laparoscopic complete en bloc excision for choledochal cysts in adults. Surg Endosc Other Interv Tech 26:3324–3329. doi:10.1007/s00464-012-2299-z

12.

Zhe W, Huiying L, Jiankun L, Qifeng L, Huimin X (2016) Evaluation of the learning curve of laparoscopic choledochal cyst excision and Roux-en-Y hepaticojejunostomy in children: CUSUM analysis of a single surgeon's experience. Surg Endosc. doi:10.1007/s00464-016-5032-5
Ethics declarations
Disclosures
Drs. Bestoun Ahmed, Priya Sharma and Cynthia L. Leaphart have no conflicts of interest or financial ties to disclose.
Electronic supplementary material
Below is the link to the electronic supplementary material.
Supplementary material 1 (AVI 217397 kb)
About this article
Cite this article
Ahmed, B., Sharma, P. & Leaphart, C.L. Laparoscopic resection of choledochal cyst with Roux-en-Y hepaticojejunostomy: a case report and review of the literature. Surg Endosc 31, 3370–3375 (2017) doi:10.1007/s00464-016-5346-3
Received:

Accepted:

Published:

Issue Date:
Keywords
Choledochal cyst

Laparoscopic resection

Laparoscopy

Type I choledochal cyst

Complications

Minimally invasive surgery