Abstract
Background
Laparoscopic camera navigation is vital to laparoscopic surgery, yet often falls to the most junior member of the surgical team who has limited laparoscopic operating experience. Previously published reports on simulation models fail to address qualitative scoring of movement, method of communication and correct physician location with respect to patient position. The purpose of this study was to develop and evaluate a novel laparoscopic camera navigation simulation model that addresses these deficiencies.
Methods
A novel, low-cost laparoscopic camera navigational maze was constructed from pliable foam for use in a standard laparoscopic surgery box trainer. Participants (n = 37) completed a camera navigation exercise by following a pre-recorded set of verbal instructions using correct anatomic terminology that is used in the operating room, to simulate an actual operating room experience of receiving verbal cues from senior surgeons. The sample group consisted of participants at various levels of Obstetrics and Gynecology training, representing novice to expert laparoscopists. Each trial was recorded with a multi-channel video camera. Performances were scored by a blinded evaluator for excess gross and fine camera movements as well as overt errors, including camera collisions and failure to follow directions.
Results
Our model demonstrated evidence of validity by discriminating performance by level of laparoscopic experience with a statistically significant decrease in number of movements and errors in experts compared to novices. A trend emerged toward improvement with each additional year of training, with reduced variability among performances in more experienced participants.
Conclusions
This novel, low-cost box-trainer simulation model for laparoscopic camera navigation offers a mechanism for assessment of laparoscopic camera operation skills. Moreover, this model closely replicates operating room logistics and communication. Given the necessity for improved laparoscopic camera operation education, our model represents a unique, complementary tool to other laparoscopic simulation curricula.
This is a preview of subscription content, log in to check access.
Access options
Buy single article
Instant unlimited access to the full article PDF.
US$ 39.95
Price includes VAT for USA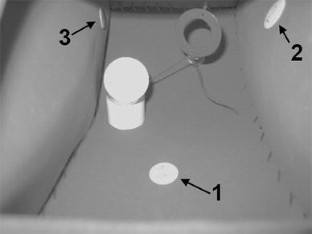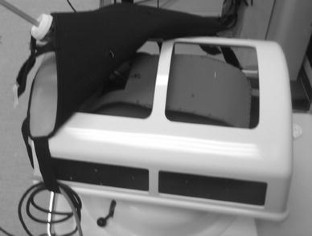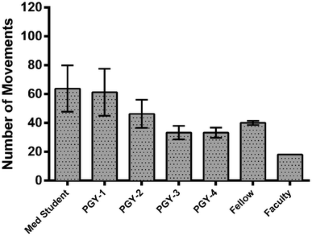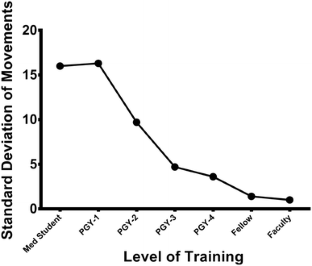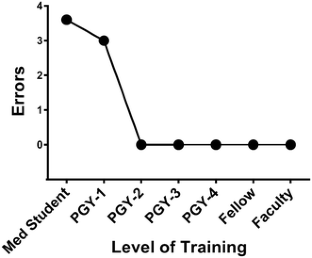 References
1.

Kovac SR (2000) Hysterectomy outcomes in patients with similar indications. Obstet Gynecol 95:787–793

2.

de Campos-Lobato LF, Alves-Ferreira PC, Geisler DP, Kiran RP (2011) Benefits of laparoscopy: does the disease condition that indicated colectomy matter? Am Surg 77:527–533

3.

Bijen CB, Vermeulen KM, Mourits MJ, de Bock GH (2009) Costs and effects of abdominal versus laparoscopic hysterectomy: systematic review of controlled trials. PLoS ONE 4:e7340

4.

Igwe E, Hernandez E, Rose S, Uppal S (2014) Resident participation in laparoscopic hysterectomy: impact of trainee involvement on operative times and surgical outcomes. Am J Obstet Gynecol 211:484.e1–484.e7

5.

Puram SV, Kozin ED, Sethi R, Alkire B, Lee DJ, Gray ST, Shrime MG, Cohen M (2014) Impact of resident surgeons on procedure length based on common pediatric otolaryngology cases. The Laryngoscope 125:991–997

6.

Farnworth LR, Lemay DE, Wooldridge T, Mabrey JD, Blaschak MJ, DeCoster TA, Wascher DC, Schenck RC Jr (2001) A comparison of operative times in arthroscopic ACL reconstruction between orthopaedic faculty and residents: the financial impact of orthopaedic surgical training in the operating room. Iowa Orthop J 21:31–35

7.

Bridges M, Diamond DL (1999) The financial impact of teaching surgical residents in the operating room. Am J Surg 177:28–32

8.

Krell RW, Birkmeyer NJ, Reames BN, Carlin AM, Birkmeyer JD, Finks JF (2014) Effects of resident involvement on complication rates after laparoscopic gastric bypass. J Am Coll Surg 218:253–260

9.

Birkmeyer JD, Finks JF, O'Reilly A, Oerline M, Carlin AM, Nunn AR, Dimick J, Banerjee M, Birkmeyer NJ (2013) Surgical skill and complication rates after bariatric surgery. N Engl J Med 369:1434–1442

10.

Zendejas B, Cook DA, Bingener J, Huebner M, Dunn WF, Sarr MG, Farley DR (2011) Simulation-based mastery learning improves patient outcomes in laparoscopic inguinal hernia repair: a randomized controlled trial. Ann Surg 254:502–509 discussion 509–511

11.

Andreatta P, Chen Y, Marsh M, Cho K (2011) Simulation-based training improves applied clinical placement of ultrasound-guided PICCs. Support Care Cancer: Off J Multinatl Assoc Support Care Cancer 19:539–543

12.

Derossis AM, Fried GM, Abrahamowicz M, Sigman HH, Barkun JS, Meakins JL (1998) Development of a model for training and evaluation of laparoscopic skills. Am J Surg 175:482–487

13.

Yee KA, Karmali S, Sherman V (2009) Validation of a simple camera navigation trainer. J Am Coll Surg 209:753–757

14.

Munz Y, Kumar BD, Moorthy K, Bann S, Darzi A (2004) Laparoscopic virtual reality and box trainers: is one superior to the other? Surg Endosc 18:485–494

15.

Bennett A, Birch DW, Menzes C, Vizhul A, Karmali S (2011) Assessment of medical student laparoscopic camera skills and the impact of formal camera training. Am J Surg 201:655–659

16.

Korndorffer JR Jr, Hayes DJ, Dunne JB, Sierra R, Touchard CL, Markert RJ, Scott DJ (2005) Development and transferability of a cost-effective laparoscopic camera navigation simulator. Surg Endosc 19:161–167

17.

Stefanidis D, Haluck R, Pham T, Dunne JB, Reinke T, Markley S, Korndorffer JR Jr, Arellano P, Jones DB, Scott DJ (2007) Construct and face validity and task workload for laparoscopic camera navigation: virtual reality versus videotrainer systems at the SAGES Learning Center. Surg Endosc 21:1158–1164

18.

Haluck RS, Webster RW, Snyder AJ, Melkonian MG, Mohler BJ, Dise ML, Lefever A (2001) A virtual reality surgical trainer for navigation in laparoscopic surgery. Stud Health Technol Inform 81:171–176

19.

Joint Committee on Standards for Educational and Psychological Testing APA, American Educational Research Association, and National Council on Measurement in Education (2014) Standards for Educational and Psychological Testing. American Educational Research Association, Washington DC

20.

Ziv A, Wolpe PR, Small SD, Glick S (2003) Simulation-based medical education: an ethical imperative. Acad Med: J Assoc Am Med Coll 78:783–788

21.

Andreatta P, Marzano DA, Curran DS, Klotz JJ, Gamble CR, Reynolds RK (2014) Low-hanging fruit: a clementine as a simulation model for advanced laparoscopy. Simul Healthc: J Soc Simul Healthc 9:234–240

22.

Wong J, Bhattacharya G, Vance SJ, Bistolarides P, Merchant AM (2013) Construction and validation of a low-cost laparoscopic simulator for surgical education. J Surg Educ 70:443–450

23.

Diesen DL, Erhunmwunsee L, Bennett KM, Ben-David K, Yurcisin B, Ceppa EP, Omotosho PA, Perez A, Pryor A (2011) Effectiveness of laparoscopic computer simulator versus usage of box trainer for endoscopic surgery training of novices. J Surg Educ 68:282–289

24.

Franzeck FM, Rosenthal R, Muller MK, Nocito A, Wittich F, Maurus C, Dindo D, Clavien PA, Hahnloser D (2012) Prospective randomized controlled trial of simulator-based versus traditional in-surgery laparoscopic camera navigation training. Surg Endosc 26:235–241
Acknowledgements
Study funding was provided by individual donor support to the simulation program at the University of Michigan. We would like to acknowledge the Kramer and Goldberg families for the support of our simulation program. Their donation provided an unrestricted fund for use in simulation research and was not limited to our study.
Ethics declarations
Disclosures
We have no other financial relationships to disclose. Melissa Brackmann, Pamela Andreatta, Karen McLean, R Kevin Reynolds have no conflicts of interest to disclose.
Electronic supplementary material
Below is the link to the electronic supplementary material.
MPEG, Comparison of a novice and expert laparoscopist navigating our laparoscopic camera maze utilizing fixed audio cues (MPEG 182182 kb)
MPEG, Comparison of a novice and expert laparoscopist navigating our laparoscopic camera maze utilizing fixed audio cues (MPEG 182182 kb)
About this article
Cite this article
Brackmann, M.W., Andreatta, P., McLean, K. et al. Development of a novel simulation model for assessment of laparoscopic camera navigation. Surg Endosc 31, 3033–3039 (2017) doi:10.1007/s00464-016-5323-x
Received:

Accepted:

Published:

Issue Date:
Keywords
Simulation

Laparoscopic camera navigation

Surgical education