Abstract
Background
Laparoscopic percutaneous extraperitoneal closure (LPEC) of the internal ring is a well-developed procedure for pediatric inguinal hernia and hydrocele. To reduce the skin incisions and improve the cosmesis, single-site LPEC (SLPEC) has been developed with numerous techniques and instruments. In this study, we described our modifications of SLPEC using an epidural and spinal needle in a large pediatric population.
Methods
From February 2013 to February 2016, 1464 pediatric patients who underwent SLPEC in our hospital were retrospectively reviewed. A 5-mm laparoscope was introduced at the subumbilicus. An 18-gauge epidural needle with a silk suture loop was introduced into the corresponding skin of the internal ring. The needle was advanced extraperitoneally on the medial side of the ring. The suture loop was pushed into peritoneal cavity by the spinal needle. The epidural needle was withdrawn to the roof of the internal ring and then kept advancing along the lateral side. Aided by the spinal needle and laparoscope, a long suture loop was sent into the first loop in peritoneal cavity. The long suture loop was pulled out of the abdominal wall by picking up the first loop, and the internal ring was closed by knotting the suture extracorporeally. The contralateral patent processus vaginalis (CPPV) was simultaneously repaired if present.
Results
In total, 981 patients presented with inguinal hernia and 483 with hydrocele. A CPPV was present in 483 patients with unilateral pathology and thus simultaneously repaired. The hydrodissection technique and grasping forceps were used in 290 and 113 patients, respectively. The median operation time was 11 min (7–18 min) and 18 min (10–30 min) for unilateral and bilateral inguinal hernias/hydroceles, respectively. There was no development of intra- or postoperative complications.
Conclusions
SLPEC using an epidural and spinal needle can be performed with excellent results in pediatric inguinal hernias and hydroceles.
This is a preview of subscription content, log in to check access.
Access options
Buy single article
Instant access to the full article PDF.
US$ 39.95
Price includes VAT for USA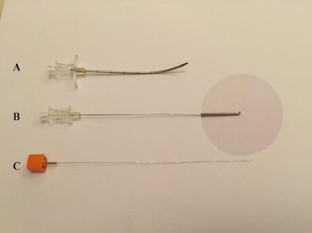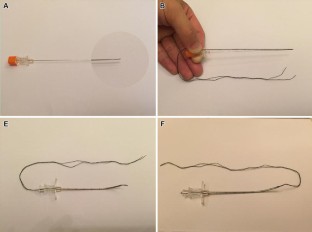 References
1.

Chan KL, Hui WC, Tam PK (2005) Prospective randomized single-center, single-blind comparison of laparoscopic vs open repair of pediatric inguinal hernia. Surg Endosc 19:927–932

2.

Ahmed H, Youssef MK, Salem EA, Fawzi AM, Desoky EA, Eliwa AM, Sakr AM, Shahin AM (2016) Efficacy of laparoscopically assisted high ligation of patent processus vaginalis in children. J Pediatr Urol 12:50-e1–50-e5

3.

Thomas DT, Göcmen KB, Tulgar S, Boga I (2016) Percutaneous internal ring suturing is a safe and effective method for the minimal invasive treatment of pediatric inguinal hernia: experience with 250 cases. J Pediatr Surg 51:1330–1335

4.

Yang XD, Wu Y, Xiang B, Wong K, Pei J, Li FY (2015) Ten year experience of laparoscopic repair of pediatric hydrocele and the long-term follow-up results. J Pediatr Surg 50:1987–1990

5.

Shalaby R, Ismail M, Dorgham A, Hefny K, Alsaied G, Gabr K, Abdelaziz M (2010) Laparoscopic hernia repair in infancy and childhood: evaluation of 2 different techniques. J Pediatr Surg 45:2210–2216

6.

Tatekawa Y (2012) Laparoscopic extracorporeal ligation of hernia defects using an epidural needle and preperitoneal hydrodissection. J Endourol 26(5):474–477. doi:10.1089/end.2011.0498

7.

McClain L, Streck C, Lesher A, Cina R, Hebra A (2015) Laparoscopic needle-assisted inguinal hernia repair in 495 children. Surg Endosc 29:781–786

8.

Xu C, Xiang B, Jin SG, Luo QC, Zhong L (2013) Transumbilical two-port laparoscopic percutaneous extraperitoneal closure: a new technique for inguinal hernia repair in children. J Laparoendosc Adv Surg Tech A 23:392–396

9.

Shen W, Ji H, Lu G, Chen Z, Li L, Zhang H, Pan J (2010) A modified single-port technique for the minimally invasive treatment of pediatric inguinal hernias with high ligation of the vaginal process: the initial experience. Eur J Pediatr 169:1207–1212

10.

Yilmaz E, Afsarlar CE, Senel E, Cavusoglu YH, Karaman I, Karaman A, Ozguner IF (2015) A novel technique for laparoscopic inguinal hernia repair in children: single-port laparoscopic percutaneous extraperitoneal closure assisted by an optical forceps. Pediatr Surg Int 31:639–646

11.

Li B, Nie X, Xie H, Gong D (2012) Modified single-port laparoscopic herniorrhaphy for pediatric inguinal hernias: based on 1,107 cases in China. Surg Endosc 26(12):3663–3668. doi:10.1007/s00464-012-2396-z

12.

Chang YT, Wang JY, Lee JY, Chiou CS (2009) A simple single-port laparoscopic-assisted technique for completely enclosing inguinal hernia in children. Am J Surg 198:e13–e16

13.

Shalaby R, Ismail M, Shehata S, Gamaan I, Yehya A, Elsayaad I, Akl M, Shams A (2015) Shalaby technique for efficient single incision laparoscopic pediatric inguinal hernia repair. J Pediatr Surg 50:1995–2000

14.

Yamoto M, Morotomi Y, Yamamoto M, Suehiro S (2011) Single-incision laparoscopic percutaneous extraperitoneal closure for inguinal hernia in children: an initial report. Surg Endosc 25:1531–1534

15.

Liu W, Wu R, Du G (2014) Single-port laparoscopic extraperitoneal repair of pediatric inguinal hernias and hydroceles by using modified Kirschner pin: a novel technique. Hernia 18:345–349

16.

Kimura T, Yamauchi K, Ihara Y, Sawai T, Kosumi T, Yonekura T (2012) Single-site laparoscopic herniorrhaphy using needle instruments for inguinal hernias in children: a novel technique. Surg Today 42:100–103

17.

Li S, Liu L, Li M (2014) Single-port laparoscopic percutaneous extraperitoneal closure using an innovative apparatus for pediatric inguinal hernia. J Laparoendosc Adv Surg Tech A 24:188–193

18.

Li S, Li M, Wong KK, Liu L, Tam PK (2014) Laparoscopically assisted simple suturing obliteration (LASSO) of the internal ring using an epidural needle: a handy single-port laparoscopic herniorrhaphy in children. J Pediatr Surg 49:1818–1820

19.

Chan KL, Chan HY, Tam PK (2007) Towards a near-zero recurrence rate in laparoscopic inguinal hernia repair for pediatric patients of all ages. J Pediatr Surg 42:1993–1997

20.

Uchida H, Kawashima H, Goto C, Sato K, Yoshida M, Takazawa S, Iwanaka T (2010) Inguinal hernia repair in children using single-incision laparoscopic-assisted percutaneous extraperitoneal closure. J Pediatr Surg 45:2386–2389

21.

Bharathi RS, Dabas AK, Arora M, Baskaran V (2008) Laparoscopic ligation of internal ring-three ports versus single-port technique: Are working ports necessary? J Laparoendosc Adv Surg Tech A 18:891–894
Acknowledgements
The authors would like to acknowledge Chengzhong Yu and Huiming Jin for their modification of the epidural and spinal needle before the study began. This work was supported by the Natural Science Foundation of Ningbo Municipal Science and Technology Bureau—2016A610177.
Ethics declarations
Disclosures
Furan Wang, Hongji Zhong, Yi Chen, Junfeng Zhao, Yan Li, Junxian Chen, and Sheng Dong have no conflicts of interest or financial ties to disclose.
About this article
Cite this article
Wang, F., Zhong, H., Chen, Y. et al. Single-site laparoscopic percutaneous extraperitoneal closure of the internal ring using an epidural and spinal needle: excellent results in 1464 children with inguinal hernia/hydrocele. Surg Endosc 31, 2932–2938 (2017). https://doi.org/10.1007/s00464-016-5309-8
Received:

Accepted:

Published:

Issue Date:
Keywords
Single-site surgery laparoscopy

Inguinal hernia

Hydrocele

Children

Epidural and spinal needle