Abstract
Background
Major liver resection for hepatocellular carcinoma (HCC) ideally involves preoperative portal venous embolization (PVE) coupled with preoperative transarterial chemoembolization (TACE) to improve postoperative course and oncological results. Laparoscopic right hepatectomy (RH) following sequential TACE–PVE for HCC, although challenging, may help improve both immediate and long-term patient outcomes. This study is the first to describe and compare laparoscopic to open RH following sequential TACE–PVE for HCC in terms of feasibility, safety, and patient outcomes.
Study design
All patients who underwent laparoscopic RH following successful TACE–PVE sequence (video provided) were retrospectively reviewed from a prospective database maintained at our center. Preoperative characteristics, operative data, and postoperative outcomes were analyzed and compared with those of patients who underwent open RH after TACE–PVE sequence during the same period.
Results
The laparoscopic and open RH groups each included 16 patients. F3 or F4 fibrosis was present in 81 % of patients. The conversion rate was 25 %. The 90-day postoperative complication rate was 25 % in the laparoscopic group versus 50 % in the open group (p = 0.27). The incidence of postoperative liver failure grade B was higher in the open group than in the laparoscopic group (5 vs. 0 patients, p = 0.043). Severe complications, Clavien grade ≥ IIIb, only occurred in the open group and included one postoperative death. Hospital stay was significantly shorter in the laparoscopic group than in the open group (7 vs. 12 days, p = 0.001). R0 resection was accomplished in 93.8 % of laparoscopic patients.
Conclusion
Laparoscopic approach seems technically feasible and safe. This modern approach may optimize the surgical strategy in the future of HCC management.
This is a preview of subscription content, log in to check access.
Access options
Buy single article
Instant unlimited access to the full article PDF.
US$ 39.95
Price includes VAT for USA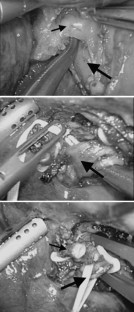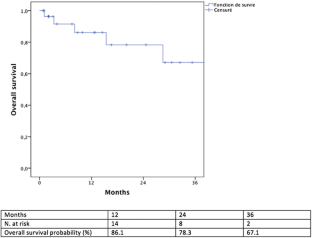 References
1.

European Association for the Study of the Liver, European Organisation for Research and Treatment of Cancer (2012) EASL-EORTC clinical practice guidelines: management of hepatocellular carcinoma. J Hepatol 56(4):908–943

2.

Abulkhir A, Limongelli P, Healey AJ, Damrah O, Tait P, Jackson J et al (2008) Preoperative portal vein embolization for major liver resection: a meta-analysis. Ann Surg 247(1):49–57

3.

Palavecino M, Chun YS, Madoff DC, Zorzi D, Kishi Y, Kaseb AO et al (2009) Major hepatic resection for hepatocellular carcinoma with or without portal vein embolization: perioperative outcome and survival. Surgery 145(4):399–405

4.

Shindoh J, Tzeng C-WD, Vauthey J-N (2012) Portal vein embolization for hepatocellular carcinoma. Liver Cancer 1(3–4):159–167

5.

Ogata S, Belghiti J, Farges O, Varma D, Sibert A, Vilgrain V (2006) Sequential arterial and portal vein embolizations before right hepatectomy in patients with cirrhosis and hepatocellular carcinoma. Br J Surg 93(9):1091–1098

6.

Llovet JM, Real MI, Montaña X, Planas R, Coll S, Aponte J et al (2002) Arterial embolisation or chemoembolisation versus symptomatic treatment in patients with unresectable hepatocellular carcinoma: a randomised controlled trial. Lancet 359(9319):1734–1739

7.

Pang YY (2000) The Brisbane 2000 terminology of liver anatomy and resections. HPB 2:333–339 (HPB. 2002;4(2):99; author reply 99–100)

8.

Tzanis D, Shivathirthan N, Laurent A, Abu Hilal M, Soubrane O, Kazaryan AM et al (2013) European experience of laparoscopic major hepatectomy. J Hepato-Biliary-Pancreat Sci 20(2):120–124

9.

Tranchart H, Di Giuro G, Lainas P, Roudie J, Agostini H, Franco D et al (2010) Laparoscopic resection for hepatocellular carcinoma: a matched-pair comparative study. Surg Endosc 24(5):1170–1176

10.

Belli G, Limongelli P, Fantini C, D'Agostino A, Cioffi L, Belli A et al (2009) Laparoscopic and open treatment of hepatocellular carcinoma in patients with cirrhosis. Br J Surg 96(9):1041–1048

11.

Ker CG, Chen JS, Kuo KK, Chuang SC, Wang SJ, Chang WC et al (2011) Liver surgery for hepatocellular carcinoma: laparoscopic versus open approach. Int J Hepatol. 2011:596792

12.

Soubrane O, Goumard C, Laurent A, Tranchart H, Truant S, Gayet B et al (2014) Laparoscopic resection of hepatocellular carcinoma: a French survey in 351 patients. HPB 16(4):357–365

13.

Hwang DW, Han H-S, Yoon Y-S, Cho JY, Kwon Y, Kim JH et al (2013) Laparoscopic major liver resection in Korea: a multicenter study. J Hepato-Biliary-Pancreat Sci 20(2):125–130

14.

Soubrane O, Schwarz L, Cauchy F, Perotto LO, Brustia R, Bernard D et al (2015) A conceptual technique for laparoscopic right hepatectomy based on facts and oncologic principles: the caudal approach. Ann Surg 261(6):1226–1231

15.

Aoki T, Imamura H, Hasegawa K, Matsukura A, Sano K, Sugawara Y et al (2004) Sequential preoperative arterial and portal venous embolizations in patients with hepatocellular carcinoma. Arch Surg 139(7):766–774

16.

Dindo D, Demartines N, Clavien P-A (2004) Classification of surgical complications. Ann Surg 240(2):205–213

17.

Rahbari NN, Garden OJ, Padbury R, Brooke-Smith M, Crawford M, Adam R et al (2011) Posthepatectomy liver failure: a definition and grading by the international study group of liver surgery (ISGLS). Surgery 149(5):713–724

18.

Croome KP, Yamashita MH (2010) Laparoscopic versus open hepatic resection for benign and malignant tumors: an updated meta-analysis. Arch Surg 145(11):1109–1118

19.

Xiong J-J, Altaf K, Javed MA, Huang W, Mukherjee R, Mai G et al (2012) Meta-analysis of laparoscopic versus open liver resection for hepatocellular carcinoma. World J Gastroenterol 18(45):6657–6668

20.

Yin Z, Fan X, Ye H, Yin D, Wang J (2013) Short- and long-term outcomes after laparoscopic and open hepatectomy for hepatocellular carcinoma: a global systematic review and meta-analysis. Ann Surg Oncol 20(4):1203–1215

21.

Wu CC, Yeh DC, Lin MC, Liu TJ, P'Eng FK (2001) Improving operative safety for cirrhotic liver resection. Br J Surg 88(2):210–215

22.

Cannon RM, Saggi B, Buell JF (2014) Evaluation of a laparoscopic liver resection in the setting of cirrhosis. HPB 16(2):164–169

23.

Dokmak S, Ftériche FS, Borscheid R, Cauchy F, Farges O, Belghiti J (2013) 2012 Liver resections in the 21st century: we are far from zero mortality. HPB 15(11):908–915

24.

Wong TCL, Cheung TT, Chok KSH, Chan ACY, Dai WC, Chan SC et al (2014) Treatment strategy to improve long-term survival for hepatocellular carcinoma smaller than 5 cm: major hepatectomy versus minor hepatectomy. World J Surg 38(9):2386–2394

25.

Cescon M, Vetrone G, Grazi GL, Ramacciato G, Ercolani G, Ravaioli M et al (2009) Trends in perioperative outcome after hepatic resection: analysis of 1500 consecutive unselected cases over 20 years. Ann Surg 249(6):995–1002

26.

Abecassis MM, Fisher RA, Olthoff KM, Freise CE, Rodrigo DR, Samstein B et al (2012) Complications of living donor hepatic lobectomy: a comprehensive report. Am J Transpl 12(5):1208–1217

27.

Andreou A, Vauthey J-N, Cherqui D, Zimmitti G, Ribero D, Truty MJ et al (2013) Improved long-term survival after major resection for hepatocellular carcinoma: a multicenter analysis based on a new definition of major hepatectomy. J Gastrointest Surg 17(1):66–77 (discussion p. 77)

28.

Fuks D, Cauchy F, Ftériche S, Nomi T, Schwarz L, Dokmak S et al (2015) Laparoscopy decreases pulmonary complications in patients undergoing major liver resection: a propensity score analysis. Ann Surg 263(2):353–361

29.

Nguyen KT, Gamblin TC, Geller DA (2009) World review of laparoscopic liver resection-2,804 patients. Ann Surg 250(5):831–841

30.

Ariizumi S-I, Kotera Y, Takahashi Y, Katagiri S, Yamamoto M (2013) Impact of hepatectomy for huge solitary hepatocellular carcinoma. J Surg Oncol 107(4):408–413

31.

Rao A, Rao G, Ahmed I (2012) Laparoscopic or open liver resection? Let systematic review decide it. Am J Surg 204(2):222–231
Ethics declarations
Disclosures
Drs. Claire Goumard, Shohei Komatsu, Raffaele Brustia, Laëtitia Fartoux, Olivier Soubrane, and Olivier Scatton declare they have no conflict of interest or any financial ties to disclose.
Electronic supplementary material
Below is the link to the electronic supplementary material.
Laparoscopic right hepatectomy following TACE–PVE: video selection (MOV 381432 kb)
About this article
Cite this article
Goumard, C., Komatsu, S., Brustia, R. et al. Technical feasibility and safety of laparoscopic right hepatectomy for hepatocellular carcinoma following sequential TACE–PVE: a comparative study. Surg Endosc 31, 2340–2349 (2017) doi:10.1007/s00464-016-5225-y
Received:

Accepted:

Published:

Issue Date:
Keywords
Hepatocellular carcinoma

Laparoscopic liver resection

Right hepatectomy

Transarterial chemoembolization