Abstract
Background
To retrospectively investigate the clinicopathological features and prognosis of early esophageal squamous cell neoplasm (ESCN) treated with endoscopic resection (ER), especially, to compare the prognosis in patients with sm2 cancer and non-sm2 cancer.
Methods
From 2007 to 2013, 368 patients were included in our analysis.
Results
The patients were 252 (68.5 %) men and 116 (31.5 %) women with a median age of 61 (range 16–84 years) years. Hyperplasia, mild dysplasia, moderate dysplasia, severe dysplasia, m1, m2, m3, sm1, and sm2 were diagnosed in 47 (12.8 %), 27 (7.3 %), 34 (9.2 %), 61 (16.6 %), 54 (14.7 %), 38 (10.3 %), 63 (17.1 %), 12 (3.3 %), and 32 (8.7 %) cases. The mean (range) follow-up time was 29 (0–84) months. The cumulative overall 1-, 3-, and 5-year metachronous esophageal lesion rates were 4.1, 12.9, and 32.6 %. The incidence of lymph node or distant metastasis was 1.54 % in m3, 6.25 % in sm2, and 0 in other subgroups. The overall 1-, 3-, and 5-year survival rates were 99.5, 97.3, and 87.5 %. There was significant difference between sm2 and non-sm2 patients in metastatic rate (P = 0.021); however, no difference existed between m3 patients and sm2 patients (P = 0.252). The difference of metachronous esophageal lesion (P = 0.401) and survival (P = 0.634) between sm2 and non-sm2 patients was not obvious.
Conclusions
Our study showed that ER was an effective and relatively safe treatment for superficial ESCN. ER is still appropriate in select sm2 patients. To monitor the second primary cancer in sm2 is necessary during the follow-up.
This is a preview of subscription content, log in to check access.
Access options
Buy single article
Instant access to the full article PDF.
US$ 39.95
Price includes VAT for USA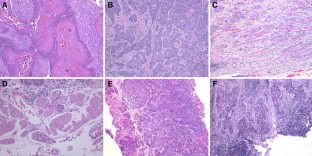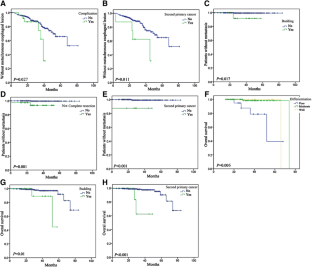 References
1.

Rustgi AK, El-Serag HB (2014) Esophageal carcinoma. N Engl J Med 371:2499–2509

2.

Arnold M, Soerjomataram I, Ferlay J, Forman D (2015) Global incidence of oesophageal cancer by histological subtype in 2012. Gut 64:381–387

3.

Mocanu A, Barla R, Hoara P, Constantinoiu S (2015) Current endoscopic methods of radical therapy in early esophageal cancer. J Med Life 8:150–156

4.

Crumley AB, Going JJ, McEwan K, McKernan M, Abela JE, Shearer CJ, Stuart RC (2011) Endoscopic mucosal resection for gastroesophageal cancer in a U.K. population: long-term follow-up of a consecutive series. Surg Endosc 25:543–548

5.

Higuchi K, Tanabe S, Azuma M, Katada C, Sasaki T, Ishido K, Naruke A, Katada N, Koizumi W (2013) A phase II study of endoscopic submucosal dissection for superficial esophageal neoplasms (KDOG 0901). Gastrointest Endosc 78:704–710

6.

Yamada M, Oda I, Nonaka S, Suzuki H, Yoshinaga S, Taniguchi H, Sekine S, Kushima R, Saito Y, Gotoda T (2013) Long-term outcome of endoscopic resection of superficial adenocarcinoma of the esophagogastric junction. Endoscopy 45:992–996

7.

Yamashina T, Ishihara R, Nagai K, Matsuura N, Matsui F, Ito T, Fujii M, Yamamoto S, Hanaoka N, Takeuchi Y, Higashino K, Uedo N, Iishi H (2013) Long-term outcome and metastatic risk after endoscopic resection of superficial esophageal squamous cell carcinoma. Am J Gastroenterol 108:544–551

8.

Tsujii Y, Nishida T, Nishiyama O, Yamamoto K, Kawai N, Yamaguchi S, Yamada T, Yoshio T, Kitamura S, Nakamura T, Nishihara A, Ogiyama H, Nakahara M, Komori M, Kato M, Hayashi Y, Shinzaki S, Iijima H, Michida T, Tsujii M, Takehara T (2015) Clinical outcomes of endoscopic submucosal dissection for superficial esophageal neoplasms: a multicenter retrospective cohort study. Endoscopy 47:775–783

9.

Ono S, Fujishiro M, Niimi K, Goto O, Kodashima S, Yamamichi N, Omata M (2009) Long-term outcomes of endoscopic submucosal dissection for superficial esophageal squamous cell neoplasms. Gastrointest Endosc 70:860–866

10.

Schlemper RJ, Dawsey SM, Itabashi M, Iwashita A, Kato Y, Koike M, Lewin KJ, Riddell RH, Shimoda T, Sipponen P, Stolte M, Watanabe H (2000) Differences in diagnostic criteria for esophageal squamous cell carcinoma between Japanese and Western pathologists. Cancer 88:996–1006

11.

Vieth M, Stolte M (2005) Pathology of early upper GI cancers. Best Pract Res Clin Gastroenterol 19:857–869

12.

Shi Q, Ju H, Yao LQ, Zhou PH, Xu MD, Chen T, Zhou JM, Chen TY, Zhong YS (2014) Risk factors for postoperative stricture after endoscopic submucosal dissection for superficial esophageal carcinoma. Endoscopy 46:640–644

13.

Akutsu Y, Uesato M, Shuto K, Kono T, Hoshino I, Horibe D, Sazuka T, Takeshita N, Maruyama T, Isozaki Y, Akanuma N, Matsubara H (2013) The overall prevalence of metastasis in T1 esophageal squamous cell carcinoma: a retrospective analysis of 295 patients. Ann Surg 257:1032–1038

14.

Shimoda T (2011) Japanese classification of esophageal cancer, the 10th edition: pathological part. Nihon Rinsho 69(Suppl 6):109–120

15.

Wani S, Drahos J, Cook MB, Rastogi A, Bansal A, Yen R, Sharma P, Das A (2014) Comparison of endoscopic therapies and surgical resection in patients with early esophageal cancer: a population-based study. Gastrointest Endosc 79(224–232):e1

16.

Chung SC, Stuart RC, Li AK (1994) Surgical therapy for squamous-cell carcinoma of the oesophagus. Lancet 343:521–524

17.

Merkow RP, Bilimoria KY, Keswani RN, Chung J, Sherman KL, Knab LM, Posner MC, Bentrem DJ (2014) Treatment trends, risk of lymph node metastasis, and outcomes for localized esophageal cancer. J Natl Cancer Inst 16:106–107

18.

Takubo K, Makuuchi H, Fujita H, Isono K (2009) Japanese classification of esophageal cancer, tenth edition: part I. ESOPHAGUS 6:1–25

19.

Li ZS, Li Q (2011) The latest 2010 WHO classification of tumors of digestive system. Zhonghua Bing Li Xue Za Zhi 40:351–354

20.

Ueno H, Mochizuki H, Hashiguchi Y, Shimazaki H, Aida S, Hase K, Matsukuma S, Kanai T, Kurihara H, Ozawa K, Yoshimura K, Bekku S (2004) Risk factors for an adverse outcome in early invasive colorectal carcinoma. Gastroenterology 127:385–394

21.

Deyhle P, Jenny S, Fumagalli I (1973) Endoscopic polypectomy in the proximal colon: a diagnostic, therapeutic (and preventive?) intervention]. Dtsch Med Wochenschr 98:219–220

22.

Takekoshi T, Baba Y, Ota H, Kato Y, Yanagisawa A, Takagi K, Noguchi Y (1994) Endoscopic resection of early gastric carcinoma: results of a retrospective analysis of 308 cases. Endoscopy 26:352–358

23.

Oyama T, Tomori A, Hotta K, Morita S, Kominato K, Tanaka M, Miyata Y (2005) Endoscopic submucosal dissection of early esophageal cancer. Clin Gastroenterol Hepatol 3:S67–S70

24.

Yano T, Ono H, Doi T, Hasegawa H, Honda M, Oono Y, Ikematsu H, Tanaka M, Kakushima N, Kaneko K, Sato A, Ohtsu A (2014) Endoscopic submucosal dissection using a new scissors-type electrosurgical knife: a first-in-human feasibility study. Endoscopy 46:754–757

25.

Kato M, Nakajima K, Yamada T, Hirota M, Miyazaki Y, Yamasaki M, Nishida T, Mori M, Doki Y, Tsujii M, Takehara T (2014) Esophageal submucosal dissection under steady pressure automatically controlled endoscopy (SPACE): a clinical feasibility study. Endoscopy 46:680–684

26.

Bhatt A, Abe S, Kumaravel A, Vargo J, Saito Y (2015) Indications and techniques for endoscopic submucosal dissection. Am J Gastroenterol 110:784–791

27.

Zhai Y, Linghu E, Li H (2014) Double-tunnel endoscopic submucosal tunnel dissection for circumferential superficial esophageal neoplasms. Endoscopy 46(Suppl 1):E204–E205

28.

Probst A, Aust D, Markl B, Anthuber M, Messmann H (2015) Early esophageal cancer in Europe: endoscopic treatment by endoscopic submucosal dissection. Endoscopy 47:113–121

29.

Joo DC, Kim GH, Park DY, Jhi JH, Song GA (2014) Long-term outcome after endoscopic submucosal dissection in patients with superficial esophageal squamous cell carcinoma: a single-center study. Gut Liver 8:612–618

30.

Pech O, May A, Manner H, Behrens A, Pohl J, Weferling M, Hartmann U, Manner N, Huijsmans J, Gossner L, Rabenstein T, Vieth M, Stolte M, Ell C (2014) Long-term efficacy and safety of endoscopic resection for patients with mucosal adenocarcinoma of the esophagus. Gastroenterology 146(652–660):e1

31.

Kuwano H, Nishimura Y, Oyama T, Kato H, Kitagawa Y, Kusano M, Shimada H, Takiuchi H, Toh Y, Doki Y, Naomoto Y, Matsubara H, Miyazaki T, Muto M, Yanagisawa A (2015) Guidelines for diagnosis and treatment of carcinoma of the esophagus April 2012 edited by the Japan Esophageal Society. Esophagus 12:1–30

32.

Badreddine RJ, Prasad GA, Lewis JT, Lutzke LS, Borkenhagen LS, Dunagan KT, Wang KK (2010) Depth of submucosal invasion does not predict lymph node metastasis and survival of patients with esophageal carcinoma. Clin Gastroenterol Hepatol 8:248–253

33.

Manner H, May A, Pech O, Gossner L, Rabenstein T, Günter E, Vieth M, Stolte M, Ell C (2008) Early Barrett's carcinoma with "low-risk" submucosal invasion: long-term results of endoscopic resection with a curative intent. Am J Gastroenterol 103:2589–2597

34.

Higuchi K, Tanabe S, Koizumi W, Sasaki T, Nakatani K, Saigenji K, Kobayashi N, Mitomi H (2007) Expansion of the indications for endoscopic mucosal resection in patients with superficial esophageal carcinoma. Endoscopy 39:36–40

35.

Diseases TJSF (2002) Comprehensive registry of esophageal cancer in Japan, 3rd edn. The Japanese Society for Esophageal Diseases, Chiba
Acknowledgments
This work was supported by Shanghai Municipal Commission of Health and Family Planning, Key Developing Disciplines (No. 2015ZB0201).
Ethics declarations
Disclosure
Dongxian Jiang, Xuquan Li, Haixing Wang, Chen Xu, Xiaojing Li, Akesu Sujie, Haiying Zeng, Yunshi Zhong, and Yingyong Hou have no conflicts of interest or financial ties to disclose.
Additional information
Dongxian Jiang and Xuquan Li have contributed equally to this work.
About this article
Cite this article
Jiang, D., Li, X., Wang, H. et al. A retrospective study of endoscopic resection for 368 patients with early esophageal squamous cell carcinoma or precancerous lesions. Surg Endosc 31, 2122–2130 (2017). https://doi.org/10.1007/s00464-016-5208-z
Received:

Accepted:

Published:

Issue Date:
Keywords
Early esophageal cancer or precancerous lesion

Endoscopic resection

Pathology

sm2

Prognosis