Abstract
Background
Laparoscopic inguinal hernia repair has been shown to offer patients the benefit of less postoperative pain as compared to traditional open techniques. However, the risk of experiencing significant postoperative pain may affect patient's decision making. We aimed to elucidate potential patterns of pain and the predictors of such, up to 2 years postoperatively, using both generic and specific quality of life tools.
Methods
Patients undergoing laparoscopic totally extra-peritoneal inguinal hernia repair were identified from a prospectively maintained database. Short form-36, Surgical Outcomes Measurement System (SOMS) and Carolinas Comfort Scale (CCS) surveys were administered pre- and postoperatively at 3 weeks, 6 months, 1 and 2 years. Patients with concomitant procedures were excluded. Significant pain was considered mild but bothersome or worse on either specific tool (SOMS scores ≥3/4, CCS scores ≥2). Predictors of significant pain were determined by logistic regression.
Results
From 2009 to 2015, 482 patients enrolled in our database underwent elective TEP repair of 626 hernias and completed an assessment tool. Mean age was 57 (±15) years, with 93 % male. Reported pain on all three tools improved significantly from baseline over time (p < 0.01). Significant pain on either specific tool, related or unrelated to surgery, was reported by 52 % of respondents (158/301) preoperatively, and postoperatively by 50 % at 3 weeks (111/220), 21 % at 6 months (15/70), 13 % at 1 year (14/108), and 25 % at 2 years (30/121). Significant pain at 6 months–2 years correlated more significantly with general health status than surgical factors.
Conclusions
Significant pain can be as high as 50 % at 3 weeks on surgery-specific quality of life measures, but with significant improvement by 6 months which is maintained through 2 years. Poor quality of life and general health were the main predictors of pain after 6 months.
This is a preview of subscription content, log in to check access.
Access options
Buy single article
Instant access to the full article PDF.
US$ 39.95
Price includes VAT for USA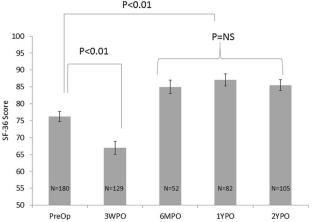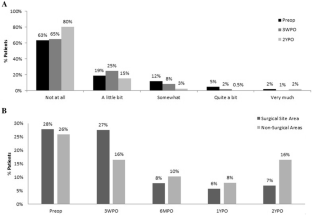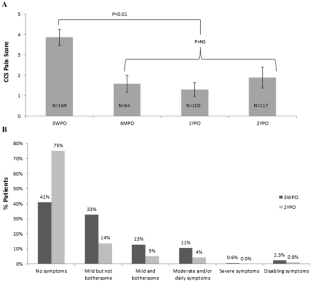 References
1.

Fitzgibbons RJ Jr, Giobbie-Hurder A, Gibbs JO et al (2006) Watchful waiting vs repair of inguinal hernia in minimally symptomatic men: a randomized clinical trial. JAMA 295(3):285–292

2.

McCormack K, Scott NW, Go PM, Ross S, Grant AM (2003) Collaboration EUHT. laparoscopic techniques versus open techniques for inguinal hernia repair. Cochrane Database Syst Rev. (1):CD001785

3.

Myers E, Browne KM, Kavanagh DO, Hurley M (2010) Laparoscopic (TEP) versus lichtenstein inguinal hernia repair: a comparison of quality-of-life outcomes. World J Surg 34(12):3059–3064

4.

Eklund A, Montgomery A, Bergkvist L, Rudberg C (2010) Swedish multicentre trial of inguinal hernia repair by laparoscopy study g. chronic pain 5 years after randomized comparison of laparoscopic and lichtenstein inguinal hernia repair. Br J Surg 97(4):600–608

5.

Singh AN, Bansal VK, Misra MC et al (2012) Testicular functions, chronic groin pain, and quality of life after laparoscopic and open mesh repair of inguinal hernia: a prospective randomized controlled trial. Surg Endosc 26(5):1304–1317

6.

Lau H, Patil NG (2004) Acute pain after endoscopic totally extraperitoneal (TEP) inguinal hernioplasty: multivariate analysis of predictive factors. Surg Endosc 18(1):92–96

7.

Langeveld HR, van't Riet M, Weidema WF et al (2010) Total extraperitoneal inguinal hernia repair compared with Lichtenstein (the LEVEL-Trial): a randomized controlled trial. Ann Surg 251(5):819–824

8.

Westin L, Wollert S, Ljungdahl M, Sandblom G, Gunnarsson U, Dahlstrand U (2016) Less pain 1 year after total extra-peritoneal repair compared with lichtenstein using local anesthesia: data from a randomized controlled clinical trial. Ann Surg 263(2):240–243

9.

Bansal VK, Misra MC, Babu D et al (2013) A prospective, randomized comparison of long-term outcomes: chronic groin pain and quality of life following totally extraperitoneal (TEP) and transabdominal preperitoneal (TAPP) laparoscopic inguinal hernia repair. Surg Endosc 27(7):2373–2382

10.

Takata MC, Duh QY (2008) Laparoscopic inguinal hernia repair. Surg Clin North Am 88(1):157–178

11.

Onitsuka A, Katagiri Y, Kiyama S, Yasunaga H, Mimoto H (2003) Current practices in adult groin hernias: a survey of Japanese general surgeons. Surg Today 33(2):155–157

12.

Ziesche M, Manger T (2000) Determining the status of laparoscopic surgery in east brandenburg. results of a survey. Zentralbl Chir 125(12):997–1002

13.

Jalil O, Rowlands C, Ruddle A, Hassn A, Morcous P (2015) Medium-term recurrence and quality of life assessment using the hernia-specific carolinas comfort scale following laparoscopic inguinal hernia repair. J Laparoendosc Adv Surg Tech A 25(6):477–480

14.

Lomanto D, Katara AN (2006) Managing intra-operative complications during totally extraperitoneal repair of inguinal hernia. J Minim Access Surg 2(3):165–170

15.

Ali SM, Zendejas B, Yadav S, Hernandez-Irizarry RC, Lohse CM, Farley DR (2013) Predictors of chronic groin discomfort after laparoscopic totally extraperitoneal inguinal hernia repair. J Am Coll Surg 217(1):72–78 (discussion 78–80)

16.

Ware JE Jr, Sherbourne CD (1992) The MOS 36-item short-form health survey (SF-36). I. conceptual framework and item selection. Med Care 30(6):473–483

17.

Heniford BT, Walters AL, Lincourt AE, Novitsky YW, Hope WW, Kercher KW (2008) Comparison of generic versus specific quality-of-life scales for mesh hernia repairs. J Am Coll Surg 206(4):638–644

18.

Wennergren JE, Plymale M, Davenport D, et al. (2015) Quality-of-life scores in laparoscopic preperitoneal inguinal hernia repair. Surg Endosc 30(8):3467–3473. doi:10.1007/s00464-015-4631-x

19.

Ramanan B, Maloley BJ, Fitzgibbons RJ Jr (2014) Inguinal hernia: follow or repair? Adv Surg 48:1–11

20.

Ujiki MB, Gitelis ME, Carbray J et al (2015) Patient-centered outcomes following laparoscopic inguinal hernia repair. Surg Endosc 29(9):2512–2519

21.

Tolver MA, Rosenberg J, Bisgaard T (2012) Early pain after laparoscopic inguinal hernia repair. A qualitative systematic review. Acta Anaesthesiol Scand 56(5):549–557

22.

Taylor C, Layani L, Liew V, Ghusn M, Crampton N, White S (2008) Laparoscopic inguinal hernia repair without mesh fixation, early results of a large randomised clinical trial. Surg Endosc 22(3):757–762

23.

Moore JB, Hasenboehler EA (2007) Orchiectomy as a result of ischemic orchitis after laparoscopic inguinal hernia repair: case report of a rare complication. Patient Saf Surg 1(1):3

24.

Shirasaka W, Toriyama S, Tsujikawa S, Yamashita T, Tani Y, Ikeshita K (2015) Use of flurbiprofen before emergence from anesthesia relieves pain during immediate postoperative period after laparoscopic inguinal hernia repair. Masui 64(1):60–64

25.

Sung TY, Kim MS, Cho CK et al (2013) Clinical effects of intrathecal fentanyl on shoulder tip pain in laparoscopic total extraperitoneal inguinal hernia repair under spinal anaesthesia: a double-blind, prospective, randomized controlled trial. J Int Med Res 41(4):1160–1170

26.

Bar-Dayan A, Natour M, Bar-Zakai B et al (2004) Preperitoneal bupivacaine attenuates pain following laparoscopic inguinal hernia repair. Surg Endosc 18(7):1079–1081

27.

Eker HH, Langeveld HR, Klitsie PJ et al (2012) Randomized clinical trial of total extraperitoneal inguinal hernioplasty vs Lichtenstein repair: a long-term follow-up study. Archives of Surg (Chicago, Ill.: 1960) 147(3):256–260

28.

Staerkle RF, Buchli C, Villiger P (2009) Patient satisfaction, hernia recurrence rate, and chronic pain 10 years after endoscopic total extraperitoneal inguinal hernia repair. Surg Laparosc Endosc Percutan Tech 19(5):405–409

29.

Eisenberg D, Hwa K, Wren SM (2015) Telephone follow-up by a midlevel provider after laparoscopic inguinal hernia repair instead of face-to-face clinic visit. JSLS 19(1):e2014 00205

30.

van den Heuvel B, van Jarwaarde JA, de Wichers P, de Lange Klerk ES, Bonjer HJ, Dwars BJ (2015) Follow-up after laparoscopic inguinal hernia repair, can it be done by phone? A prospective study in 300 patients, the PINQ-PHONE. Surg Endosc 29(11):3292–3297
Ethics declarations
Disclosure
Drs. Patel, Lapin, Gitelis, Brown, Linn, Haggerty, Denham, Butt, Barrera, Joehl, Carbray, Hall, Ujiki have no conflicts of interest or financial ties to disclose.
About this article
Cite this article
Patel, L.Y., Lapin, B., Gitelis, M.E. et al. Long-term patterns and predictors of pain following laparoscopic inguinal hernia repair: a patient-centered analysis. Surg Endosc 31, 2109–2121 (2017). https://doi.org/10.1007/s00464-016-5207-0
Received:

Accepted:

Published:

Issue Date:
Keywords
Hernia repair

Inguinal groin

Quality of life

Chronic pain

Totally extra-peritoneal (TEP) hernia repair