Abstract
Purpose
We developed and validated a specific laparoscopic fundoplication simulator for use with the objective endoscopic surgical skills evaluation system. The aim of this study was to verify the quality of skills of surgeons.
Materials and methods
We developed a 1-year-old infant body model based on computed tomography data and reproduced pneumoperitoneum model based on the clinical situation. The examinees were divided into three groups: fifteen pediatric surgery experts (PSE), twenty-four pediatric surgery trainees (PSN), and ten general surgeons (GS). They each had to perform three sutures ligatures for construction of Nissen wrap. Evaluate points are time for task, the symmetry of the placement of the sutures, and the uniformity of the interval of suture ligatures in making wrap. And the total path length and velocity of forceps were measured to assess bi-hand coordination.
Results
PSE were significantly superior to PSN regarding total time spent (p < 0.01) and total path length (p < 0.01). GS used both forceps faster than the other groups, and PSN used the right forceps faster than the left forceps (p < 0.05). PSE were shorter with regard to the total path length than GS (p < 0.01). PSE showed most excellent results in the symmetry of the wrap among three groups.
Conclusion
Our new model was used useful to validate the characteristics between GS and pediatric surgeon. Both PSE and GS have excellent bi-hand coordination and can manipulate both forceps equally and had superior skills compared to PSN. In addition, PSE performed most compact and accurate skills in the conflicted operative space.
This is a preview of subscription content, log in to check access.
Access options
Buy single article
Instant access to the full article PDF.
US$ 39.95
Price includes VAT for USA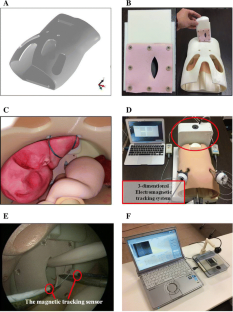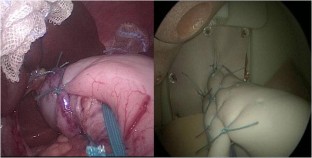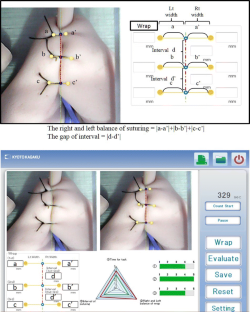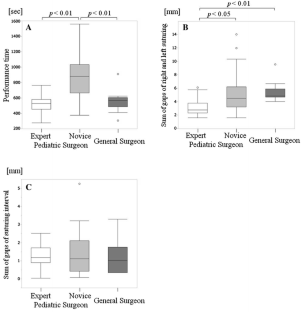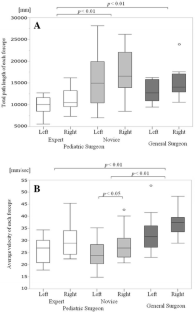 References
1.

Alain JL, Grousseau D, Longis B, Ugazzi M, Terrier G (1996) Extramucosal pyloromyotomy by laparoscopy. J Laparoendosc Surg 6(Suppl 1):S41–S44

2.

Holcomb GW 3rd, Olsen DO, Sharp KW (1991) Laparoscopic cholecystectomy in the pediatric patient. J Pediatr Surg 26:1186–1190

3.

Rothenberg SS (2005) Thoracoscopic repair of esophageal atresia and tracheo-esophageal fistula. Semin Pediatr Surg 14:2–7

4.

Diao M, Li L, Cheng W (2013) Role of laparoscopy in treatment of choledochal cysts in children. Pediatr Surg Int 29:317–326

5.

Ieiri S, Nakatsuji T, Higashi M, Akiyoshi J, Uemura M, Konishi K, Onimaru M, Ohuchida K, Hong J, Tomikawa M, Tanoue K, Hashizume M, Taguchi T (2010) Effectiveness of basic endoscopic surgical skill training for pediatric surgeons. Pediatr Surg Int 26:947–954

6.

Takazawa S, Ishimaru T, Harada K, Tsukuda Y, Sugita N, Mitsuishi M, Iwanaka T (2015) Video-based skill assessment of endoscopic suturing in a pediatric chest model and a box trainer. J Laparoendosc Adv Surg Tech A 25:445–453

7.

Barsness KA, Rooney DM, Davis LM, O'Brien E (2015) Evaluation of three sources of validity evidence for a laparoscopic duodenal atresia repair simulator. J Laparoendosc Adv Surg Tech A 25:256–260

8.

Ieiri S, Ishii H, Souzaki R, Uemura M, Tomikawa M, Matsuoka N, Takanishi A, Hashizume M, Taguchi T (2013) Development of an objective endoscopic surgical skill assessment system for pediatric surgeons: suture ligature model of the crura of the diaphragm in infant fundoplication. Pediatr Surg Int 29:501–504

9.

Jimbo T, Ieiri S, Obata S, Uemura M, Souzaki R, Matsuoka N, Katayama T, Masumoto K, Hashizume M, Taguchi T (2015) Effectiveness of short-term endoscopic surgical skill training for young pediatric surgeons: a validation study using the laparoscopic fundoplication simulator. Pediatr Surg Int 31:963–969

10.

Botden SM, Christie L, Goossens R, Jakimowicz JJ (2010) Training for laparoscopic Nissen fundoplication with a newly designed model: a replacement for animal tissue models? Surg Endosc 24:3134–3140

11.

Uemura M, Tomikawa M, Kumashiro R, Miao T, Souzaki R, Ieiri S, Ohuchida K, Lefor AT, Hashizume M (2014) Analysis of hand motion differentiates expert and novice surgeons. J Surg Res 188:8–13

12.

Rothenberg SS (2005) The first decade's experience with laparoscopic Nissen fundoplication in infants and children. J Pediatr Surg 40:142–146 discussion 147

13.

Cho A, Basson S, Tsang T (2013) Outcomes of a structured training programme for paediatric laparoscopic inguinal hernia repair. J Pediatr Surg 48:404–407

14.

Beyer-Berjot L, Palter V, Grantcharov T, Aggarwal R (2014) Advanced training in laparoscopic abdominal surgery: a systematic review. Surgery 156:676–688

15.

Botden SM, Goossens R, Jakimowicz JJ (2010) Developing a realistic model for the training of the laparoscopic Nissen fundoplication. Simul Healthc 5:173–178

16.

Peters JH, Fried GM, Swanstrom LL, Soper NJ, Sillin LF, Schirmer B, Hoffman K (2004) Development and validation of a comprehensive program of education and assessment of the basic fundamentals of laparoscopic surgery. Surgery 135:21–27

17.

Scott DJ, Ritter EM, Tesfay ST, Pimentel EA, Nagji A, Fried GM (2008) Certification pass rate of 100 % for fundamentals of laparoscopic surgery skills after proficiency-based training. Surg Endosc 22:1887–1893

18.

Singh P, Aggarwal R, Tahir M, Pucher PH, Darzi A (2015) A randomized controlled study to evaluate the role of video-based coaching in training laparoscopic skills. Ann Surg 261:862–869

19.

Steigerwald SN, Park J, Hardy KM, Gillman LM, Vergis AS (2015) Does laparoscopic simulation predict intraoperative performance? A comparison between the fundamentals of laparoscopic surgery and LapVR evaluation metrics. Am J Surg 209:34–39

20.

Issenberg SB, McGaghie WC, Petrusa ER, Lee Gordon D, Scalese RJ (2005) Features and uses of high-fidelity medical simulations that lead to effective learning: a BEME systematic review. Med Teach 27:10–28

21.

Watson DI, Baigrie RJ, Jamieson GG (1996) A learning curve for laparoscopic fundoplication. Definable, avoidable, or a waste of time? Ann Surg 224:198–203
Acknowledgments
We thank Brian Quinn for his comments and help with the manuscript. This study was supported by Grants-in-Aid for Scientific Research from the Japan Society for the Promotion of Science (JSPS, Nos. 25293360, 26670765, and 15K01355), JFE (the Japanese Foundation for Research and Promotion of Endoscopy), and J-CASE (Japanese Consortium of Advanced Surgical Endoscopy).
Ethics declarations
Disclosures
Takahiro Jimbo, Satoshi Ieiri, Satoshi Obata, Munenori Uemura, Ryota Souzaki, Noriyuki Matsuoka, Tamotsu Katayama, Kouji Masumoto, Makoto Hashizume, and Tomoaki Taguchi declare that they have no conflict of interest or financial ties to disclose.
About this article
Cite this article
Jimbo, T., Ieiri, S., Obata, S. et al. A new innovative laparoscopic fundoplication training simulator with a surgical skill validation system. Surg Endosc 31, 1688–1696 (2017). https://doi.org/10.1007/s00464-016-5159-4
Received:

Accepted:

Published:

Issue Date:
Keywords
Endoscopic surgery

Objective skill assessment

Pediatric surgeon

Fundoplication