Abstract
Background
Endoscopic placement of fully covered self-expanding metal stents (FCSEMS) to treat malignant dysphagia in patients with esophageal cancer significantly improves dysphagia; however, these stents have a high migration rate.
Aim
To determine whether FCSEMS fixation using an endoscopic suturing device treated malignant dysphagia and prevented stent migration in patients with locally advanced esophageal cancer receiving neoadjuvant therapy when compared to patients with FCSEMS placement alone.
Method
A review of patients with locally advanced esophageal cancer who underwent FCSEMS placement at 3 centers was performed. Patients were divided into two groups: Group A (n = 26) was composed of patients who underwent FCSEMS placement with suture placement, and Group B (n = 67) was composed of patients with FCSEMS placement alone.
Results
There were no significant differences between Groups A and B in demographics, and tumor characteristics. The technical success rate for stent placement was 100 %. There was no difference between Groups A and B in the median stent diameter and stent lengths. Mean dysphagia score obtained at 1 week after stent placement had improved significantly from baseline (2.4 and 1, respectively, p < 0.001). Patients had a median follow-up of 4 months. Immediate adverse events were mild chest discomfort in 4 patients in Group A and 2 patients in Group B (p = 0.05), and significant acid reflux in 3 patient in Group A compared to 2 patients in Group B (p = 0.1). The stent migration rate was significantly lower in Group A compared to compared to Group B (7.7 vs 26.9 %, respectively, p = 0.004). There was a delayed perforation in 1 patient and 1 death due to aspiration pneumonia in Group B.
Conclusion
Fixation of esophageal FCSEMSs by using an endoscopic suturing device in patients receiving neoadjuvant therapy was shown to be feasible, safe, and relatively effective at preventing stent migration compared to those who had stent placed alone.
This is a preview of subscription content, log in to check access.
Access options
Buy single article
Instant unlimited access to the full article PDF.
US$ 39.95
Price includes VAT for USA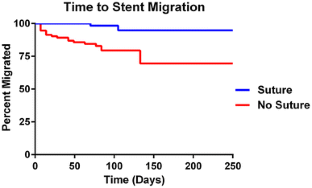 References
1.

Siddiqui AA, Sarkar A, Beltz S, Lewis J, Loren D, Kowalski T et al (2012) Placement of fully covered self-expandable metal stents in patients with locally advanced esophageal cancer before neoadjuvant therapy. Gastrointest Endosc 76(1):44–51

2.

Homs MY, Steyerberg EW, Eijkenboom WM, Tilanus HW, Stalpers LJ, Bartelsman JF et al (2004) Single-dose brachytherapy versus metal stent placement for the palliation of dysphagia from oesophageal cancer: multicentre randomised trial. Lancet 364(9444):1497–1504

3.

Vlavianos P, Zabron A (2012) Clinical outcomes, quality of life, advantages and disadvantages of metal stent placement in the upper gastrointestinal tract. Curr Opin Support Palliat Care 6(1):27–32

4.

Dua KS, Latif SU, Yang JF, Fang TC, Khan A, Oh Y (2014) Efficacy and safety of a new fully covered self-expandable non-foreshortening metal esophageal stent. Gastrointest Endosc 80(4):577–585

5.

Song HY, Do YS, Han YM, Sung KB, Choi EK, Sohn KH et al (1994) Covered, expandable esophageal metallic stent tubes: experiences in 119 patients. Radiology 193(3):689–695

6.

Siersema PD, van Hillegersberg R (2008) Treatment of locally advanced esophageal cancer with surgery and chemoradiation. Curr Opin Gastroenterol 24(4):535–540

7.

Campbell NP, Villaflor VM (2010) Neoadjuvant treatment of esophageal cancer. World J Gastroenterol 16(30):3793–3803

8.

Sharaiha RZ, Kumta NA, DeFilippis EM, Dimaio CJ, Gonzalez S, Gonda T, et al. (2016) A large multicenter experience with endoscopic suturing for Management of gastrointestinal defects and stent anchorage in 122 patients: a retrospective review. J Clin Gastroenterol 50(5):388–392

9.

Haito-Chavez Y, Law JK, Kratt T, Arezzo A, Verra M, Morino M et al (2014) International multicenter experience with an over-the-scope clipping device for endoscopic management of GI defects (with video). Gastrointest Endosc 80(4):610–622

10.

Sharaiha RZ, Kim KJ, Singh VK, Lennon AM, Amateau SK, Shin EJ et al (2014) Endoscopic stenting for benign upper gastrointestinal strictures and leaks. Surg Endosc 28(1):178–184

11.

Cotton PB, Eisen GM, Aabakken L, Baron TH, Hutter MM, Jacobson BC et al (2010) A lexicon for endoscopic adverse events: report of an ASGE workshop. Gastrointest Endosc 71(3):446–454

12.

Hyngstrom JR, Posner MC (2010) Neoadjuvant strategies for the treatment of locally advanced esophageal cancer. J Surg Oncol 101(4):299–304

13.

Diaz R, Reynes G, Tormo A, de Juan M, Girones R, Segura A et al (2009) Long-term results of neoadjuvant chemotherapy and combined chemoradiotherapy before surgery in the management of locally advanced oesophageal cancer: a single-centre experience. Clin Transl Oncol 11(12):835–841

14.

Bakken JC, Song LMWK, de Groen PC, Baron TH (2010) Use of a fully covered self-expandable metal stent for the treatment of benign esophageal diseases. Gastrointest Endosc 72(4):712–720

15.

Senousy BE, Gupte AR, Draganov PV, Forsmark CE, Wagh MS (2010) Fully covered Alimaxx esophageal metal stents in the endoscopic treatment of benign esophageal diseases. Dig Dis Sci 55(12):3399–3403

16.

Eloubeidi MA, Lopes TL (2009) Novel removable internally fully covered self-expanding metal esophageal stent: feasibility, technique of removal, and tissue response in humans. Am J Gastroenterol 104(6):1374–1381

17.

Didden P, Spaander MC, Bruno MJ, Kuipers EJ (2013) Esophageal stents in malignant and benign disorders. Curr Gastroenterol Rep 15(4):319

18.

Maetani I, Isayama H, Mizumoto Y (2007) Palliation in patients with malignant gastric outlet obstruction with a newly designed enteral stent: a multicenter study. Gastrointest Endosc 66(2):355–360

19.

Homann N, Noftz MR, Klingenberg-Noftz RD, Ludwig D (2008) Delayed complications after placement of self-expanding stents in malignant esophageal obstruction: treatment strategies and survival rate. Dig Dis Sci 53(2):334–340

20.

Conio M, Repici A, Battaglia G, De Pretis G, Ghezzo L, Bittinger M et al (2007) A randomized prospective comparison of self-expandable plastic stents and partially covered self-expandable metal stents in the palliation of malignant esophageal dysphagia. Am J Gastroenterol 102(12):2667–2677
Acknowledgments
This study was funded entirely through existing intramural funds and salary support. We would like to acknowledge Dr. Juliana Yang from the University of Texas Southwestern Medical Center for her work in editing the manuscript.
Ethics declarations
Disclosures
The authors attest that they have no commercial associations (e.g., equity ownership or interest, consultancy, patent and licensing agreement, or institutional and corporate associations) that might be a conflict of interest in relation to the submitted manuscript.
Additional information
Dr. Yang and Dr. Siddiqui are joint first authors on this manuscript.
The original version of this article was revised: Juliana Yang was misspelled as Julian Tang and should be listed as the first author.
An erratum to this article is available at http://dx.doi.org/10.1007/s00464-016-5259-1.
Electronic supplementary material
Below is the link to the electronic supplementary material.
Placement of an esophageal FCSEMS followed by endoscopic suturing of the proximal end of the stent using the OverStitch device
Placement of an esophageal FCSEMS followed by endoscopic suturing of the proximal end of the stent using the OverStitch device
About this article
Cite this article
Yang, J., Siddiqui, A.A., Kowalski, T.E. et al. Esophageal stent fixation with endoscopic suturing device improves clinical outcomes and reduces complications in patients with locally advanced esophageal cancer prior to neoadjuvant therapy: a large multicenter experience. Surg Endosc 31, 1414–1419 (2017) doi:10.1007/s00464-016-5131-3
Received:

Accepted:

Published:

Issue Date:
Keywords
Stent Placement

Migration Rate

Stent Migration

Argon Plasma Coagulation

Advanced Esophageal Cancer