Abstract
Background
The aim of this study was to demonstrate the detailed surgical techniques of laparoscopic hepatectomy using intercostal transthoracic trocars for subcapsular tumors located in segment VII or VIII.
Methods
Intercostal transthoracic trocars were used in patients undergoing laparoscopic hepatectomy for tumors located in segment VII or VIII. Following establishment of pneumoperitoneum and placement of abdominal trocars, balloon-tipped trocars were inserted into the abdominal cavity from the intercostal space and through the pleural space and diaphragm. Upon placement of the intercostal trocars, the lung edge was confirmed by ultrasonography and laparoscopic examination. Following minimal mobilization of the right liver, hemispherical wedge resection of segment VII or VIII was performed using the intercostal trocars as a camera port or for the forceps of the surgeon's left hand. After the hepatectomy, the holes in the diaphragm were sutured closed.
Results
Among the 79 patients who underwent laparoscopic hepatectomy, intercostal trocars were used in 14 patients for resection of tumors located in segment VII (4 nodules) or VIII (10 nodules). The median (range) operation time and amount of blood loss for hepatectomy were 225 (109–477) min and 60 (20–310) mL, respectively. No postoperative complications associated with hepatectomy or the use of intercostal trocars occurred.
Conclusions
Use of intercostal transthoracic trocars is safe and effective not only for complicated laparoscopic hepatectomy but also for hemispherical wedge resections of subcapsular hepatic tumors located in segment VII or VIII.
This is a preview of subscription content, log in to check access.
Access options
Buy single article
Instant unlimited access to the full article PDF.
US$ 39.95
Price includes VAT for USA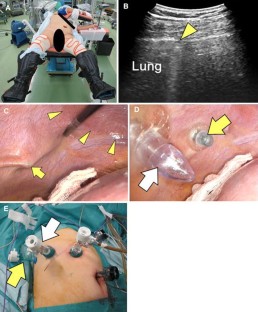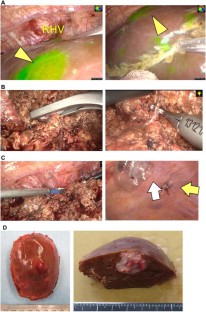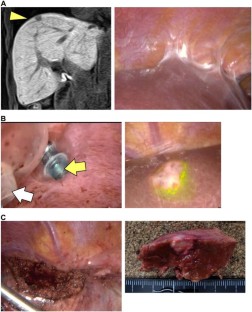 References
1.

Couinaud C (1957) Le Foie: Études Anatomiques et Chirurgicales. Masson et Cie, Paris

2.

Lim C, Ishizawa T, Miyata A, Mise Y, Sakamoto Y, Hasegawa K, Sugawara Y, Kokudo N (2015) Surgical indications and procedures for resection of hepatic malignancies confined to segment VII. Ann Surg 263:529–537

3.

Wakabayashi G, Cherqui D, Geller DA, Buell JF, Kaneko H, Han HS, Asbun H, O'Rourke N, Tanabe M, Koffron AJ, Tsung A, Soubrane O, Machado MA, Gayet B, Troisi RI, Pessaux P, Van Dam RM, Scatton O, Abu Hilal M, Belli G, Kwon CH, Edwin B, Choi GH, Aldrighetti LA, Cai X, Cleary S, Chen KH, Schön MR, Sugioka A, Tang CN, Herman P, Pekolj J, Chen XP, Dagher I, Jarnagin W, Yamamoto M, Strong R, Jagannath P, Lo CM, Clavien PA, Kokudo N, Barkun J, Strasberg SM (2015) Recommendations for laparoscopic liver resection: a report from the second international consensus conference held in Morioka. Ann Surg 261:619–629

4.

Ishizawa T, Gumbs AA, Kokudo N, Gayet B (2012) Laparoscopic segmentectomy of the liver: from segment I to VIII. Ann Surg 256:959–964

5.

Lee W, Han HS, Yoon YS, Cho JY, Choi Y, Shin HK (2014) Role of intercostal trocars on laparoscopic liver resection for tumors in segments 7 and 8. J Hepatobiliary Pancreat Sci 21:E65–E68

6.

Hallet J, Soler L, Diana M, Mutler D, Baumert TF, Habersetzer F, Marescaux J, Pessaux P (2015) Trans-thoracic minimally invasive liver resection guided by augmented reality. J Am Coll Surg 220(5):e55–e60

7.

Ogiso S, Conrad C, Araki K, Nomi T, Anil Z, Gayet B (2015) Laparoscopic transabdominal with transdiaphragmatic access improves resection of difficult posterosuperior liver lesions. Ann Surg 262:358–365

8.

Ishizawa T, Fukushima N, Shibahara J, Masuda K, Tamura S, Aoki T, Hasegawa K, Beck Y, Fukayama M, Kokudo N (2009) Real-time identification of liver cancers by using indocyanine green fluorescent imaging. Cancer 115:2491–2504

9.

van der Vorst JR, Schaafsma BE, Hutteman M, Verbeek FP, Liefers GJ, Hartgrink HH, Smit VT, Löwik CW, van de Velde CJ, Frangioni JV, Vahrmeijer AL (2013) Near-infrared fluorescence-guided resection of colorectal liver metastases. Cancer 119:3411–3418

10.

Kudo H, Ishizawa T, Tani K, Harada N, Ichida A, Shimizu A, Kaneko J, Aoki T, Sakamoto Y, Sugawara Y, Hasegawa K, Kokudo N (2014) Visualization of subcapsular hepatic malignancy by indocyanine-green fluorescence imaging during laparoscopic hepatectomy. Surg Endosc 28:2504–2508

11.

Cipriani F, Shelat VG, Rawashdeh M, Francone E, Aldrighetti L, Takhar A, Armstrong T, Pearce NW, Abu Hilal M (2015) Laparoscopic parenchymal-sparing resections for nonperipheral liver lesions, the diamond technique: technical aspects, clinical outcomes, and oncologic efficiency. J Am Coll Surg 221:265–272
Acknowledgments
This work was supported by Grants from the Mochida Memorial Foundation for Medical and Pharmaceutical Research (Ishizawa) and the Ministry of Health, Labour and Welfare of Japan (Ishizawa).
Ethics declarations
Disclosure
Hirofumi Ichida, Takeaki Ishizawa, Masayuki Tanaka, Muga Terasawa, Genki Watanabe, Yoshinori Takeda, Ryota Matsuki, Masaru Matsumura, Taigo Hata, Yoshinori Mise, Yosuke Inoue, Yu Takahashi, and Akio Saiura have no conflicts of interest or financial ties to disclose.
Electronic supplementary material
Below is the link to the electronic supplementary material.
Supplementary material 1 (M4 V 35976 kb)
Supplementary material 2 (M4 V 49280 kb)
About this article
Cite this article
Ichida, H., Ishizawa, T., Tanaka, M. et al. Use of intercostal trocars for laparoscopic resection of subphrenic hepatic tumors. Surg Endosc 31, 1280–1286 (2017) doi:10.1007/s00464-016-5107-3
Received:

Accepted:

Published:

Issue Date:
Keywords
Laparoscopic hepatectomy

Intercostal trocar

Transthoracic trocar

Lateral approach

Fluorescence imaging