Abstract
Background
Trans-axillary endoscopic thyroid surgery offers the advantage of a good cosmetic outcome; however, it requires a wider dissection field compared to the other endoscopic approaches or open surgery. Therefore, it might cause severe postoperative pain occasionally. To reduce the dissection field required, we perform trans-axillary single-incision endoscopic thyroidectomy (SIET) with gas inflation. The aim of this study was to present a single surgeon's experience with SIET and to investigate the learning curve of SIET.
Methods
Between June 2009 and September 2014, a total of 105 patients who underwent hemithyroidectomy for benign thyroid tumor via an SIET procedure were included in the present study. All of the procedures were performed by the same surgeon. Each patient's operative outcomes were collected and retrospectively analyzed. The cumulative summation (CUSUM) analysis was used to assess the learning curve of SIET.
Results
No mortality or serious morbidity was observed during the study period. The adverse postoperative outcomes included wound hematoma (2 cases; 1.9 %), transient skin paresthesia (5 cases; 4.76 %), transient voice change (5 cases; 4.76 %), skin pigmentation (1 case; 0.9 %), and fibrous band of wound (1 case; 0.9 %). The overall mean operative time was 105 min, and the mean operative time in the experienced phase was 95 min. CUSUM analysis showed a decreasing trend at the 35th patient, suggesting that more than 35 cases were needed for the surgeon to gain proficiency. In 76.19 % of the cases, patients showed extreme satisfaction with the cosmetic results.
Conclusion
Our results showed reasonable surgical outcomes compared to previous studies on endoscopic thyroidectomy. The SIET procedure is safe and feasible for benign thyroid tumors and has an acceptable learning curve for surgeons who are proficient in conventional endoscopic thyroidectomy.
This is a preview of subscription content, log in to check access.
Access options
Buy single article
Instant access to the full article PDF.
US$ 39.95
Price includes VAT for USA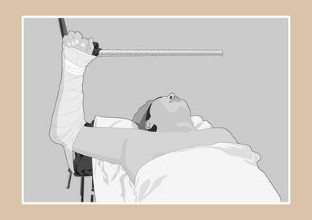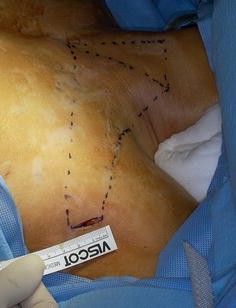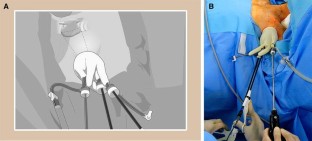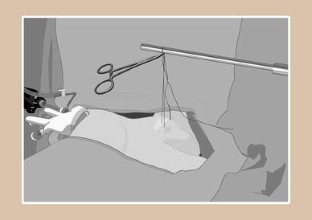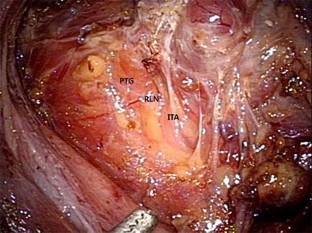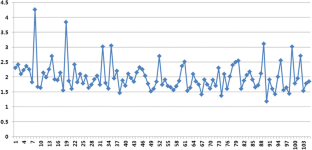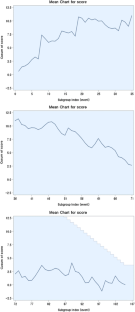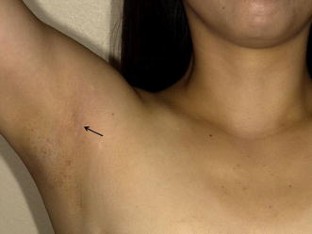 References
1.

Gagner M (1996) Endoscopic Subtotal parathyroidectomy in patient with primary hyperparathyroidism. Br J Surg 83:875

2.

HÜshcer CS, Chiodini S, Napolitano C, Recher A (1997) Endoscopic right thyroid lobectomy. Surg Endosc 11:877

3.

Tan CT, Cheah WK, Delbridge L (2008) "Scareless" (in the neck) endoscopic thyroidectomy (SET): an evidence-based review of published techniques. Word J Surg 32:1349–1357

4.

Sgourakis G, Sotiropoulos GC, Neuhäuser M, Musholt TJ, Karaliotas C, Lang H (2008) Comparison between minimally invasive video-assisted thyroidectomy and conventional thyroidectomy: is there any evidence-based information? Thyroid 18:721–727

5.

Linos D (2011) Minimally invasive thyroidectomy: a comprehensive appraisal of existing techniques. Surgery 150:17–24

6.

Ikeda Y, Takami H, Sasaki Y, Kan S, Niimi M (2000) Endoscopic neck surgery by the axillary approach. J Am Coll Surg 191:336–340

7.

Muenscher A, Dalchow C, Kutta H, Knecht R (2011) The endoscopic approach to the neck: a review of the literature, and overview of the various techniques. Surg Endosc 25:1358–1363

8.

Lee D, Nam Y, Sung K (2010) Single-incision endoscopic thyroidectomy by the axillary approach. J Laparoendosc Adv Surg Tech A 20:839–842

9.

Ikeda Y, Takami H, Sasaki Y, Takayama J, Kurihara H (2004) Are there significant benefits of minimally invasive endoscopic thyroidectomy? World J Surg 28:1075–1078

10.

Lang BH, Wong KP (2013) A comparison of surgical morbidity and scar appearance between gasless, transaxillary endoscopic thyroidectomy (GTET) and minimally invasive video-assisted thyroidectomy (VAT). Ann Surg Oncol 20:646–652

11.

Bellantone R, Lombardi CP, Bossola M, Boscherini M, De Crea C, Alesina PF, Traini E (2002) Video-assisted vs conventional thyroid lobectomy: a randomized trial. Arch Surg 137:301–304

12.

Hegazy MA, Khater AA, Setit AE, Amin MA, Kotb SZ, El Shafei MA, Yousef TF, Hussein O, Shabana YK, Dayem OT (2007) Minimally invasive video-assisted thyroidectomy for small follicular thyroid nodules. World J Surg 31:1743–1750

13.

Lombardi CP, Raffaelli M, Princi P, Lulli P, Rossi ED, Fadda G, Bellantone R (2005) Safety of video-assisted thyroidectomy versus conventional surgery. Head Neck 27:58–64

14.

Miccoli P, Berti P, Raffaelli M, Materazzi G, Baldacci S, Rossi G (2001) Comparison between minimally invasive video-assisted thyroidectomy and conventional thyroidectomy: a prospective randomized study. Surgery 130:1039–1043

15.

Dobrinja C, Trevisan G, Makovac P, Liguori G (2009) Minimally invasive video-assisted thyroidectomy compared with conventional thyroidectomy in a general surgery department. Surg Endosc 23:2263–2267

16.

Liao HJ, Dong C, Kong FJ, Zhang ZP, Huang P, Chang S (2014) The CUSUM analysis of the learning curve for endoscopic thyroidectomy by the breast approach. Surg Innov 21:221–228

17.

Kwak HY, Kim SH, Chae BJ, Song BJ, Jung SS, Bae JS (2014) Learning curve for gasless endoscopic thyroidectomy using the trans-axillary approach: CUSUM analysis of a single surgeon's experience. Int J Surg 12:1273–1277

18.

Maguire T, Mayne CJ, Terry T, Tincello DG (2013) Analysis of the surgical learning curve using the cumulative sum (CUSUM) method. Neurourol Urodyn 32:964–967

19.

Liu S, Qiu M, Jiang DZ, Zheng XM, Zhang W, Shen HL, Shan CX (2009) The learning curve for endoscopic thyroidectomy: a single surgeon's experience. Surg Endosc 23:1802–1806
Acknowledgments
The statistical consultation was supported by a grant of the Korean Health Technology R&D Project, Ministry of Health and Welfare, Republic of Korea. (HI14C1731).
Ethics declarations
Disclosures
Jinbeom Cho, Dosang Lee, Jongmin Baek, Junhyun Lee, Yohan Park, and Kiyoung Sung have no conflicts of interest or financial ties to disclose.
Electronic supplementary material
Below is the link to the electronic supplementary material.
About this article
Cite this article
Cho, J., Lee, D., Baek, J. et al. Single-incision endoscopic thyroidectomy by the axillary approach with gas inflation for the benign thyroid tumor: retrospective analysis for a single surgeon's experience. Surg Endosc 31, 437–444 (2017). https://doi.org/10.1007/s00464-016-5093-5
Received:

Accepted:

Published:

Issue Date:
Keywords
Trans-axillary endoscopic thyroidectomy

Single-incision endoscopic thyroidectomy

Gas inflation