Abstract
Background
The aim of the present study was to analyse the fatigue experienced by surgeons during and after performing robotic and laparoscopic surgery and to analyse muscle function, self-perceived fatigue and postural balance.
Methods
Cross-sectional study considering two surgical protocols (laparoscopic and robotic) with two different roles (chief and assistant surgeon). Fatigue was recorded in two ways: pre- and post-surgery using questionnaires [Profile of Mood States (POMS), Quick Questionnaire Piper Fatigue Scale and Visual Analogue Scale (VAS)-related fatigue] and parametrising functional tests [handgrip and single-leg balance test (SLBT)] and during the intervention by measuring the muscle activation of eight different muscles via surface electromyography and kinematic measurement (using inertial sensors). Each surgery profile intervention (robotic/laparoscopy–chief/assistant surgeon) was measured three times, totalling 12 measured surgery interventions. The minimal duration of surgery was 180 min.
Results
Pre- and post-surgery, all questionnaires showed that the magnitude of change was higher for the chief surgeon compared with the assistant surgeon, with differences of between 10 % POMS and 16.25 % VAS (robotic protocol) and between 3.1 % POMS and 12.5 % VAS (laparoscopic protocol). In the inter-profile comparison, the chief surgeon (robotic protocol) showed a lower balance capacity during the SLBT after surgery. During the intervention, the kinematic variables showed significant differences between the chief and assistant surgeon in the robotic protocol, but not in the laparoscopic protocol. Regarding muscle activation, there was not enough muscle activity to generate fatigue.
Conclusion
Prolonged surgery increased fatigue in the surgeon; however, the magnitude of fatigue differed between surgical profiles. The surgeon who experienced the greatest fatigue was the chief surgeon in the robotic protocol.
This is a preview of subscription content, log in to check access.
Access options
Buy single article
Instant access to the full article PDF.
US$ 39.95
Price includes VAT for USA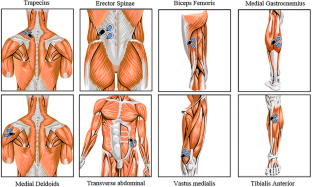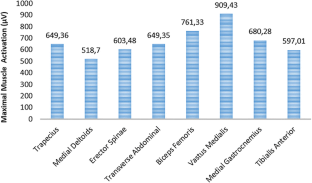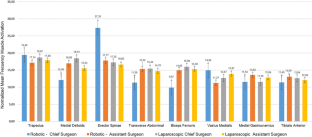 References
1.

Park A, Lee G, Seagull FJ, Meenaghan N, Dexter D (2010) Patients benefit while surgeons suffer: an impending epidemic. J Am Coll Surg 210:306–313

2.

Gofrit ON, Mikahail AA, Zorn KC, Zagaja GP, Steinberg GD, Shalhav AL (2008) Surgeons' perceptions and injuries during and after urologic laparoscopic surgery. Urology 71:404–407

3.

Reyes D, Tang B, Cushien A (2006) Minimal access surgery (MAS)-related surgeon morbidity syndromes. Surg Endosc 20:1–13

4.

Berguer R, Forkey DL, Smith WD (1999) Ergonomic problems associated with laparoscopic surgery. Surg Endosc 13:466–468

5.

Berguer R, Smith W (2006) Ergonomic comparison of robotic and laparoscopic technique: the influence of surgeon experience and task complexity. J Surg Res 134:87–92

6.

Narula VK, Watson WC, Davis SS, Hinshaw K, Needleman BJ, Mikami DJ, Hazey JW, Winston JH, Muscarella P, Rubin M, Patel V, Melvin WS (2007) A computerized analysis of robotic versus laparoscopic task performance. Surg Endosc 21:2258–2261

7.

van der Schatte Olivier RH, van't Hullenaar C, Ruurda JP, Broeders I (2009) Ergonomics, user comfort, and performance in standard and robot-assisted laparoscopic surgery. Surg Endosc 23:1365–1371

8.

Vollestad NK (1997) Measurement of human muscle fatigue. J Neurosci Meth 74(2):219–227

9.

Heimer S (1983) Fatigue. In: Medved R (eds) Sports medicine. Second edn, pp 147–151

10.

Johnston RB, Howard ME, Cawley PW, Losse GM (1998) Effect of lower extremity muscular fatigue on motor control performance. Med Sci Sport Exerc 30:1703–1707

11.

Surenkok O, Isler AK, Aytar A, Gultekin Z, Akman M (2006) Effect of knee muscle fatigue and lactic acid accumulation on balance in healthy subjects. Isokinet Exerc Sci 14:301–306

12.

Wilkins JC, Valovich McLeod TC, Perrin DH, Gansneder BM (2004) Performance on the balance error scoring system decreases after fatigue. J Athl Train 39:156–161

13.

Riemann BL, Guskiewicz KM (2000) Contribution of the peripheral somatosensory system to balance and postural equilibirum. In: Lephart SM, Fu FH (eds) Proprioception and neuromuscular control in joint stability. Human Kinetics, Champaign, pp 37–51

14.

Yaggie J, Armstrong WJ (2004) Effects of lower extremity fatigue on indices of balance. J Sport Rehabil 13:312–322

15.

Baadjou VA, van Eijsden-Besseling MD, Samama-Polak AL, Smeets RJ, Passos VL, Westerterp KR (2011) Energy expenditure in brass and woodwind instrumentalists: the effect of body posture. Med Probl Perform Art 26(4):218–223

16.

Zander MF, Voltmer E, Spahn C (2010) Health promotion and prevention in higher music education: results of a longitudinal study. Med Probl Perform Art. 25(2):54–65

17.

Al-Mulla MR, Sepulveda F, Colley M (2011) A review of non-invasive techniques to detect and predict localised muscle fatigue. Sensors (Basel) 11(4):3545–3594

18.

Cifrek M, Medved V, Tonković S, Ostojić S (2009) Surface EMG based muscle fatigue evaluation in biomechanics. Clin Biomech (Bristol, Avon) 24(4):327–340

19.

Wright KE, Lyons TS, Navalta JW (2013) Effects of exercise-induced fatigue on postural balance: a comparison of treadmill versus cycle fatiguing protocols. Eur J Appl Physiol 113(5):1303–1309. doi:10.1007/s00421-012-2553-z

20.

Butler KA, Kapetanakis VE, Smith BE, Sanjak M, Verheijde JL, Chang YH, Magtibay PM, Magrina JF (2013) Surgeon fatigue and postural stability: is robotic better than laparoscopic surgery? J Laparoendosc Adv Surg Tech A 23(4):343–346. doi:10.1089/lap.2012.0531

21.

Andrade E, Arce C, Torrado J, Garrido J, De Francisco C, Arce I (2010) Factor structure and invariance of the POMS Mood State Questionnaire in Spanish. Span J Psychol 13(1):444–452

22.

Cuesta-Vargas AI, Férnandez-Lao C, Cantarero-Villanueva I, Castro-Sánchez AM, Fernández-de-Las Peñas C, Polley MJ, Arroyo-Morales M (2013) Psychometric properties of the QuickPIPER: a shortened version of the PIPER Fatigue scale. Eur J Cancer Care (Engl) 22(2):245–252. doi:10.1111/ecc.12022

23.

Norcross JC, Guadagnoli E, Prochaska JO (1984) Factor structure of the Profile of Mood States (POMS): two partial replications. J Clin Psychol 40(5):1270–1277

24.

Andrade EM, Arce C, Seoane G (2002) Adaptación al español del cuestionario "Perfil de los Estados de Ánimo" en una muestra de deportistas. Psicothema 14:708–713

25.

SENIAM (2014) http://www.seniam.org/. Cited 19 Dec 2014

26.

Barbero M, Merletti R, Rainoldi A (2012) Atlas of muscle innervation zones. Understanding surface electromiography and its applications (Editorial). Springer, Milan

27.

Mega Electronics Ltd|Pioneers in Biosignal Monitoring Technology (2014) http://www.megaemg.com/. Cited 14 Dec 2014

28.

Hislop HJ, Avers D, Brown M (2014) Daniels and Worthingham's muscle testing: techniques of manual examination and performance testing (Editorial), 9th edn. Elsevier, Sant Louis

29.

Crebbin W, Beasley SW, Watters DA (2013) Clinical decision making: how surgeons do it. ANZ J. Surg. 83:422–428

30.

Watters DA (2014) Does fatigue impair performance? ANZ J Surg 84(3):102–103. doi:10.1111/ans.12505

31.

Leaver R, Harris EC, Palmer KT (2011) Musculoskeletal pain in elite professional musicians from British symphony orchestras. Occup Med (Lond) 61(8):549–555. doi:10.1093/occmed/kqr129

32.

Hendrix CR, Housh TJ, Johnson GO, Mielke M, Camic CL, Zuniga JM, Schmidt RJ (2009) A new EMG frequency-based fatigue threshold test. J Neurosci Methods 181(1):45–51. doi:10.1016/j.jneumeth.2009.04.011

33.

Merletti R, Parker P (2004) Electromyography: physiology, engineering and non-invasive applications, 1st edn. Wiley, London, pp 233–253

34.

Rosenblatt PL, McKinney J, Adams SR (2013) Ergonomics in the operating room: protecting the surgeon. J Minim Invasive Gynecol 20(6):744. doi:10.1016/j.jmig.2013.07.006

35.

Dorion D, Darveau S (2013) Do micropauses prevent surgeon's fatigue and loss of accuracy associated with prolonged surgery? An experimental prospective study. Ann Surg 257(2):256–259. doi:10.1097/SLA.0b013e31825efe87
Ethics declarations
Disclosure
All authors, Manuel González-Sánchez, Ivan González-Poveda, Santiago Mera-Velasco and Antonio I. Cuesta-Vargas, declare that they have no conflicts of interest or financial ties to disclose.
About this article
Cite this article
González-Sánchez, M., González-Poveda, I., Mera-Velasco, S. et al. Comparison of fatigue accumulated during and after prolonged robotic and laparoscopic surgical methods: a cross-sectional study. Surg Endosc 31, 1119–1135 (2017). https://doi.org/10.1007/s00464-016-5076-6
Received:

Accepted:

Published:

Issue Date:
Keywords
Surface EMG

Kinematic measurement

Handgrip

Balance

Profile of Mood States

Quick Questionnaire Piper Fatigue Scale