Abstract
Background
The key step of the endoscopic full-thickness resection (EFTR) procedure is the successful closure of any gastric wall defect which ultimately avoids surgical intervention. This report presents a new method of closing large gastric defects left after EFTR, using metallic clips and novel endoloops by means of single-channel endoscope.
Methods
We retrospectively analyzed 68 patients who were treated for gastric fundus gastrointestinal stromal tumors originating from the muscularis propria layer at four institutes between April 2014 and February 2015 and consequently underwent EFTR. The large gastric post-EFTR defects were completely closed with metallic clips and novel endoloops using single-channel endoscope, and all the patients were discharged with subsequent endoscopic and clinical follow-up. Patient characteristics, tumor size, en bloc resection rate, closure operation time, and postoperative adverse events were evaluated.
Results
EFTR was successfully performed on 68 patients [41 male (60 %), 27 female (40 %); median age 61 years, range 38–73], and the en bloc resection rate was 100 %. Complete closure of all the gastric post-EFTR defects was achieved (success rate 100 %). The mean closure operation time was 13 min (range 9–21 min). The mean maximum size of the lesions was 2.6 cm (range 2.0–3.5 cm). One Mallory–Weiss syndrome and one delayed bleeding were resolved with nonsurgical treatment. The wounds were healed in all cases 1 month after the procedure.
Conclusions
The use of metallic clips and novel endoloops with single-channel endoscope is a relatively safe, easy, and feasible method for repairing large gastric post-EFTR defects.
This is a preview of subscription content, log in to check access.
Access options
Buy single article
Instant access to the full article PDF.
US$ 39.95
Price includes VAT for USA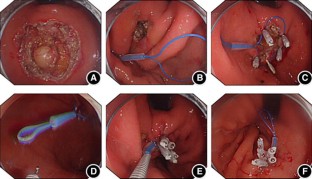 References
1.

Akahoshi K, Sumida Y, Matsui N et al (2007) Preoperative diagnosis of gastrointestinal stromal tumor by endoscopic ultrasound-guided fine needle aspiration. World J Gastroenterol 13(14):2077–2082

2.

Miettinen M, Sobin LH, Lasota J (2005) Gastrointestinal stromal tumors of the stomach: a clinicopathologic, immunohistochemical, and molecular genetic study of 1765 cases with long-term follow-up. Am J Surg Pathol 29(1):52–68

3.

Demetri GD, von Mehren M, Antonescu CR et al (2010) NCCN Task Force Report: update on the management of patients with gastrointestinal stromal tumors. J Natl Comp Cancer Netw 8(Suppl 2):S1–S41

4.

Zhou PH, Yao LQ, Qin XY et al (2011) Endoscopic full-thickness resection without laparoscopic assistance for gastric submucosal tumors originated from the muscularis propria. Surg Endosc 25(9):2926–2931

5.

von Renteln D, Rösch T, Kratt T et al (2012) Endoscopic full-thickness resection of submucosal gastric tumors. Dig Dis Sci 57(5):1298–1303

6.

Schlag C, Wilhelm D, von Delius S et al (2012) EndoResect study: endoscopic full-thickness resection of gastric subepithelial tumors. Endoscopy 45(1):4–11

7.

Schmidt A, Bauder M, Riecken B et al (2015) Endoscopic full-thickness resection of gastric subepithelial tumors: a single-center series. Endoscopy 47(2):154–158

8.

Kopelman Y, Siersema PD, Bapaye A et al (2012) Endoscopic full-thickness GI wall resection: current status. Gastrointest Endosc 75(1):165–173

9.

Li QL, Yao LQ, Zhou PH et al (2012) Submucosal tumors of the esophagogastric junction originating from the muscularis propria layer: a large study of endoscopic submucosal dissection (with video). Gastrointest Endosc 75(6):1153–1158

10.

Zhang Y, Wang X, Xiong G et al (2014) Complete defect closure of gastric submucosal tumors with purse-string sutures. Surg Endosc 28(6):1844–1851

11.

Shi Q, Chen T, Zhong YS et al (2013) Complete closure of large gastric defects after endoscopic full-thickness resection, using endoloop and metallic clip interrupted suture. Endoscopy 45(5):329–334

12.

Ye LP, Yu Z, Mao XL et al (2014) Endoscopic full-thickness resection with defect closure using clips and an endoloop for gastric subepithelial tumors arising from the muscularis propria. Surg Endosc 28(6):1978–1983

13.

Miettinen M, Lasota J (2006) Gastrointestinal stromal tumors: pathology and prognosis at different sites. Semin Diagn Pathol 23(2):70–83

14.

Joensuu H (2008) Risk stratification of patients diagnosed with gastrointestinal stromal tumor. Hum Pathol 39:1411–1419

15.

Cioffi A, Maki RG (2015) GI stromal tumors: 15 years of lessons from a rare cancer. J Clin Oncol 33(16):1849–1854

16.

Sepe PS, Brugge WR (2009) A guide for the diagnosis and management of gastrointestinal stromal cell tumors. Nat Rev Gastroenterol Hepatol 6(6):363–371

17.

Nishida T, Hirota S, Yanagisawa A et al (2008) Clinical practice guidelines for gastrointestinal stromal tumor (GIST) in Japan: English version. Int J Clin Oncol 13(5):416–430

18.

Hwang JH, Rulyak SD, Kimmey MB, Institute Association (2006) American Gastroenterological American Gastroenterological Association Institute technical review on the management of gastric subepithelial masses. Gastroenterology 130(7):2217–2228

19.

Blay JY, Bonvalot S, Casali P GIST Consensus Meeting Panelists et al (2005) Consensus meeting for the management of gastrointestinal stromal tumors. Report of the GIST Consensus Conference of 20–21 March 2004, under the auspices of ESMO. Ann Oncol 16(6):566–578

20.

ESMO/European Sarcoma Network Working Group (2012) Gastrointestinal stromal tumors: ESMO clinical practice guide-lines for diagnosis, treatment and follow-up. Ann Oncol 23(Suppl 7):vii49–vii55

21.

Kong SH, Yang HK (2013) Surgical treatment of gastric gastrointestinal stromal tumor. J Gastric Cancer 13(1):3–18

22.

Shen C, Chen H, Yin Y et al (2015) Endoscopic versus open resection for small gastric gastrointestinal stromal tumors: safety and outcomes. Med (Baltimore) 94(1):1–7

23.

Raju GS (2011) Gastrointestinal perforations: role of endoscopic closure. Curr Opin Gastroenterol 27(5):418–422

24.

Raju GS (2014) Endoscopic clip closure of gastrointestinal perforations, fistulae, and leaks. Dig Endosc 26(Suppl 1):95–104

25.

Al Ghossaini N, Lucidarme D, Bulois P (2014) Endoscopic treatment of iatrogenic gastrointestinal perforations: an overview. Dig Liver Dis 46(3):195–203

26.

Mangiavillano B, Viaggi P, Masci E (2010) Endoscopic closure of acute iatrogenic perforations during diagnostic and therapeutic endoscopy in the gastrointestinal tract using metallic clips: a literature review. J Dig Dis 11(1):12–18

27.

Kantsevoy SV, Bitner M, Mitrakov AA et al (2014) Endoscopic suturing closure of large mucosal defects after endoscopic submucosal dissection is technically feasible, fast, and eliminates the need for hospitalization (with videos). Gastrointest Endosc 79(3):503–507

28.

Paspatis GA, Dumonceau JM, Barthet M et al (2014) Diagnosis and management of iatrogenic endoscopic perforations: European Society of Gastrointestinal Endoscopy (ESGE) position statement. Endoscopy 46(8):693–711

29.

Schmidt A, Damm M, Caca K (2014) Endoscopic full-thickness resection using a novel over-the-scope device. Gastroenterology 147(4):740–742

30.

Samarasena JB, Nakai Y, Park DH et al (2012) Endoscopic closure of an iatrogenic duodenal perforation: a novel technique using endoclips, endoloop, and fibrin glue. Endoscopy 44(Suppl 2):E424–E425
Acknowledgments
The authors would like to thank the patients with gastric stromal tumors for their participation and cooperation. This study was supported in part by the grants from Natural Science Foundation of Jiangsu Province Education Department (14KJB320014).
Ethics declarations
Disclosures
Dongtao Shi, Rui Li, Weichang Chen, Deqing Zhang, Lei Zhang, Rui Guo, Ping Yao and Xudong Wu have no conflict of interest.
Electronic supplementary material
Below is the link to the electronic supplementary material.
About this article
Cite this article
Shi, D., Li, R., Chen, W. et al. Application of novel endoloops to close the defects resulted from endoscopic full-thickness resection with single-channel gastroscope: a multicenter study. Surg Endosc 31, 837–842 (2017). https://doi.org/10.1007/s00464-016-5041-4
Received:

Accepted:

Published:

Issue Date:
Keywords
Defect closure

Endoloop

Endoscopic full-thickness resection

Gastrointestinal stromal tumors