Abstract
Objective(s)
Roux-en-Y Gastric Bypass (RYGB) is well known to ameliorate type 2 diabetes mellitus (T2DM), and recent work suggests that the preoperative DiaREM model predicts successful remission up to 1 year post-RYGB. However, no data exist for long-term validity. Therefore, we sought to determine the utility of this score on long-term RYGB effectiveness for T2DM resolution at 2 and 10 years, respectively.
Methods
T2DM patients (Age: 48, BMI: 49, HbA1C: 8.1) undergoing RYGB at the University of Virginia between 2004–2006 (n = 42) and 2012–2014 (n = 59) were evaluated prospectively to assess preoperative DiaREM score, defined from insulin use, age, HbA1C, and type of antidiabetic medication. T2DM partial remission status was based on the American Diabetes Association guidelines (HbA1C < 6.5 % and fasting glycemia <125 mg/dL, and no anti-diabetic medications). Chi-square test was used to compare patient's T2DM status to their DiaREM probability of remission.
Results
Among RYGB patients with 2-year postoperative data, 2 were lost (n = 1 no follow-up and n = 1 died) resulting in 57 patients for analysis. For the 10-year postoperative data, 11 were lost (n = 6 no follow-up and n = 5 died), thereby resulting in only 31 patients for analysis. Patients were distributed by DiaREM score to correlate with the predicted probability of remission as follows: 0–2 (Predicted 94 %, 2-year 100 % p = 0.61, 10-year 100 % p = 0.72), 3–7 (Predicted 76 %, 2-year 94 % p = 0.08, 10-year 83 % p = 0.57), 8–12 (Predicted 36 %, 2-year 47 % p = 0.38, 10-year 43 % p = 0.72), 13–17 (Predicted 22 %, 2-year 20 % p = 0.92, 10-year 33 % p = 0.64), and 18–22 (Predicted 9 %, 2-year 15 % p = 0.40, 10-year 14 % p = 0.64).
Conclusions
Preoperative DiaREM scores are a good tool for predicting both short- and long-term T2DM remissions following RYGB. This study highlights the need to identify strategies that improve T2DM remission in those at highest risk.
This is a preview of subscription content, log in to check access.
Access options
Buy single article
Instant access to the full article PDF.
US$ 39.95
Price includes VAT for USA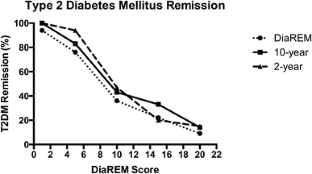 References
1.

Mokdad AH, Bowman BA, Ford ES, Vinicor F, Marks JS, Koplan JP (2001) The continuing epidemics of obesity and diabetes in the United States. JAMA 286(10):1195–1200

2.

Sturm R (2003) Increases in clinically severe obesity in the United States, 1986–2000. Arch Intern Med 163(18):2146–2148

3.

Wang YC, McPherson K, Marsh T, Gortmaker SL, Brown M (2011) Health and economic burden of the projected obesity trends in the USA and the UK. Lancet 378(9793):815–825

4.

Livingston EH (2010) The incidence of bariatric surgery has plateaued in the US. Am J Surg 200(3):378–385

5.

Schauer PR, Bhatt DL, Kirwan JP et al (2014) Bariatric surgery versus intensive medical therapy for diabetes–3-year outcomes. N Engl J Med 370(21):2002–2013

6.

Ricci C, Gaeta M, Rausa E, Macchitella Y, Bonavina L (2014) Early impact of bariatric surgery on type II diabetes, hypertension, and hyperlipidemia: a systematic review, meta-analysis and meta-regression on 6587 patients. Obes Surg 24(4):522–528

7.

Sjostrom L, Peltonen M, Jacobson P et al (2014) Association of bariatric surgery with long-term remission of type 2 diabetes and with microvascular and macrovascular complications. JAMA 311(22):2297–2304

8.

Kashyap SR, Bhatt DL, Wolski K et al (2013) Metabolic effects of bariatric surgery in patients with moderate obesity and type 2 diabetes: analysis of a randomized control trial comparing surgery with intensive medical treatment. Diabetes Care 36(8):2175–2182

9.

Pories WJ, Mehaffey JH, Staton KM (2011) The surgical treatment of type two diabetes mellitus. Surg Clin North Am 91(4):821–836

10.

Milone M, Di Minno MN, Leongito M et al (2013) Bariatric surgery and diabetes remission: sleeve gastrectomy or mini-gastric bypass? World J Gastroenterol 19(39):6590–6597

11.

Panunzi S, De Gaetano A, Carnicelli A, Mingrone G (2015) Predictors of remission of diabetes mellitus in severely obese individuals undergoing bariatric surgery: do BMI or procedure choice matter? A meta-analysis. Ann Surg. 261(3):459–467

12.

Khanna V, Malin SK, Bena J et al (2015) Adults with long-duration type 2 diabetes have blunted glycemic and beta-cell function improvements after bariatric surgery. Obesity (Silver Spring). 23(3):523–526

13.

Malin SK, Bena J, Abood B et al (2014) Attenuated improvements in adiponectin and fat loss characterize type 2 diabetes non-remission status after bariatric surgery. Diabetes Obes Metab 16(12):1230–1238

14.

Hatoum IJ, Blackstone R, Hunter TD, et al (2015) Clinical factors associated with remission of obesity-related comorbidities after bariatric surgery. JAMA Surg, pp 1–8

15.

Palmisano S, Silvestri M, Giuricin M, et al (2015) Preoperative predictive factors of successful weight loss and glycaemic control 1 year after gastric bypass for morbid obesity. Obes Surg

16.

Park JY, Kim YJ (2015) Prediction of diabetes remission in morbidly obese patients after Roux-en-Y gastric bypass. Obes Surg

17.

Lee WJ, Almulaifi A, Chong K et al (2015) The effect and predictive score of gastric bypass and sleeve gastrectomy on type 2 diabetes mellitus patients with BMI < 30 kg/m(2). Obes Surg 25(10):1772–1778

18.

Cotillard A, Poitou C, Duchateau-Nguyen G et al (2015) Type 2 diabetes remission after gastric bypass: what is the best prediction tool for clinicians? Obes Surg 25(7):1128–1132

19.

Still CD, Wood GC, Benotti P et al (2014) Preoperative prediction of type 2 diabetes remission after Roux-en-Y gastric bypass surgery: a retrospective cohort study. Lancet Diabetes Endocrinol 2(1):38–45

20.

Aminian A, Brethauer SA, Kashyap SR, Kirwan JP, Schauer PR (2014) DiaRem score: external validation. Lancet Diabetes Endocrinol 2(1):12–13

21.

Mehaffey JH, LaPar DJ, Clement KC, et al (2015) 10-Year outcomes after Roux-en-Y gastric bypass. Ann Surg

22.

American Diabetes A (2012) Standards of medical care in diabetes–2012. Diabetes Care 35 (Suppl 1):S11–S63

23.

Argyropoulos G (2015) Bariatric surgery: prevalence, predictors, and mechanisms of diabetes remission. Curr Diab Rep 15(4):15

24.

Ponsky TA, Brody F, Pucci E (2005) Alterations in gastrointestinal physiology after Roux-en-Y gastric bypass. J Am Coll Surg 201(1):125–131

25.

Pories WJ, Caro JF, Flickinger EG, Meelheim HD, Swanson MS (1987) The control of diabetes mellitus (NIDDM) in the morbidly obese with the Greenville Gastric Bypass. Ann Surg 206(3):316–323

26.

Harper J, Madan AK, Ternovits CA, Tichansky DS (2007) What happens to patients who do not follow-up after bariatric surgery? Am Surg 73(2):181–184
Ethics declarations
Disclosures
Research reported in this publication was supported by the National Heart, Lung, And Blood Institute of the National Institutes of Health under Award Number T32HL007849. The content is solely the responsibility of the authors and does not necessarily represent the official views of the National Institutes of Health.
About this article
Cite this article
Mehaffey, J.H., Mullen, M.G., Mehaffey, R.L. et al. Type 2 diabetes remission following gastric bypass: does diarem stand the test of time?. Surg Endosc 31, 538–542 (2017). https://doi.org/10.1007/s00464-016-4964-0
Received:

Accepted:

Published:

Issue Date:
Keywords
Bariatric surgery

Diabetes remission

DiaREM

Obesity