Abstract
Background
Abdominal sacral hystero-cervicopexy (ASC) is the gold standard for the treatment of apical prolapse, but requires advanced laparoscopic skills and exposes to potentially life-threatening complications. Lateral apical suspension to the abdominal wall with mesh is a feasible alternative of ASC where robotic assistance may offer specific advantages. We here describe the surgical technique and the short-term outcomes of robotic-assisted lateral apical suspension (R-ALS) with the use of a titan-covered T-shaped mesh.
Methods
Forty consecutive patients with stage III or IV symptomatic anterior and apical pelvic organ prolapse underwent R-ALS between September 2014 and September 2015.
Results
R-ALS was completed without complications in all cases with a mean operative time of 117 ± 26 min. From a technical standpoint, robotic assistance allowed for an extremely reproducible technique, with a swift learning curve and consistent length of the surgical steps. The procedure was extremely well tolerated and resulted in complete resolution of POP-associated symptoms and in improvements of POP- and incontinence-related quality-of-life scores (PQOL and IIQ7) at 1 month from surgery.
Conclusions
R-ALS is feasible, safe, well-tolerated and effective at a short-term follow-up. R-ALS may represent an effective and simple alternative to abdominal sacral hystero-cervicopexy for the treatment of high-grade apical and anterior POP, avoiding the challenges of sacral mesh fixation. Robotic assistance helps achieving optimally tailored anatomic reconstruction, allowing seamless deep pelvic dissection and suturing.
This is a preview of subscription content, log in to check access.
Access options
Buy single article
Instant unlimited access to the full article PDF.
US$ 39.95
Price includes VAT for USA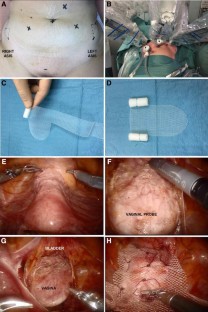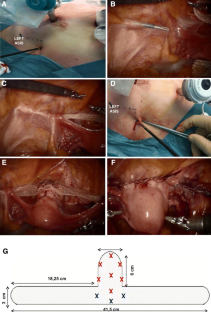 References
1.

Gerten KA, Markland AD, Lloyd LK, Richter HE (2008) Prolapse and incontinence surgery in older women. J Urol 179(6):2111–2118

2.

Nygaard I, Bradley C, Brandt D, Initiative WH (2004) Pelvic organ prolapse in older women: prevalence and risk factors. Obstet Gynecol 104(3):489–497

3.

Olsen AL, Smith VJ, Bergstrom JO, Colling JC, Clark AL (1997) Epidemiology of surgically managed pelvic organ prolapse and urinary incontinence. Obstet Gynecol 89(4):501–506

4.

Khunda A, Vashisht A, Cutner A (2013) New procedures for uterine prolapse. Best Pract Res Clin Obstet Gynaecol 27(3):363–379

5.

Jelovsek JE, Barber MD (2006) Women seeking treatment for advanced pelvic organ prolapse have decreased body image and quality of life. Am J Obstet Gynecol 194(5):1455–1461

6.

Mannella P, Giannini A, Russo E, Naldini G, Simoncini T (2015) Personalizing pelvic floor reconstructive surgery in aging women. Maturitas S0378–5122(15):00736–00737

7.

Murphy M, Holzberg A, van Raalte H, Kohli N, Goldman HB, Lucente V, Network PS (2012) Time to rethink: an evidence-based response from pelvic surgeons to the FDA Safety Communication: "UPDATE on Serious Complications Associated with Transvaginal Placement of Surgical Mesh for Pelvic Organ Prolapse". Int Urogynecol J 23(1):5–9

8.

Maher CF, Feiner B, DeCuyper EM, Nichlos CJ, Hickey KV, O'Rourke P (2011) Laparoscopic sacral colpopexy versus total vaginal mesh for vaginal vault prolapse: a randomized trial. Am J Obstet Gynecol 204(4):360e.1–360e.7

9.

Nygaard IE, McCreery R, Brubaker L, Connolly A, Cundiff G, Weber AM, Zyczynski H, Network PFD (2004) Abdominal sacrocolpopexy: a comprehensive review. Obstet Gynecol 104(4):805–823

10.

Rozet F, Mandron E, Arroyo C et al (2005) Laparoscopic sacral colpopexy approach for genito-urinary prolapse: experience with 363 cases. Eur Urol 47(2):230–236

11.

Ganatra AM, Rozet F, Sanchez-Salas R et al (2009) The current status of laparoscopic sacrocolpopexy: a review. Eur Urol 55(5):1089–1103

12.

Mustafa S, Amit A, Filmar S et al (2012) Implementation of laparoscopic sacrocolpopexy: establishment of a learning curve and short-term outcomes. Arch Gynecol Obstet 286(4):983–988

13.

Rosenblum N (2012) Robotic approaches to prolapse surgery. Curr Opin Urol 22(4):292–296

14.

Dubuisson JB, Yaron M, Wenger JM, Jacob S (2008) Treatment of genital prolapse by laparoscopic lateral suspension using mesh: a series of 73 patients. J Minim Invasive Gynecol 15(1):49–55

15.

Dubuisson JB, Eperon I, Jacob S et al (2011) Laparoscopic repair of pelvic organ prolapse by lateral suspension with mesh: a continuous series of 218 patients. Gynecol Obstet Fertil 39(3):127–131

16.

Clavien PA, Barkun J, de Oliveira ML et al (2009) The Clavien–Dindo classification of surgical complications: five-year experience. Ann Surg 250(2):187–196

17.

Shumaker SA, Wyman JF, Uebersax JS, McClish D, Fantl JA (1994) Health-related quality of life measures for women with urinary incontinence: the Incontinence Impact Questionnaire and the Urogenital Distress Inventory. Continence Program in Women (CPW) Research Group. Qual Life Res 3(5):291–306

18.

Lenz F, Stammer H, Brocker K, Rak M, Scherg H, Sohn C (2009) Validation of a German version of the P-QOL Questionnaire. Int Urogynecol J Pelvic Floor Dysfunct 20(6):641–649

19.

Agachan F, Chen T, Pfeifer J, Reissman P, Wexner SD (1996) A constipation scoring system to simplify evaluation and management of constipated patients. Dis Colon Rectum 39(6):681–685

20.

Paraiso MF, Jelovsek JE, Frick A, Chen CC, Barber MD (2011) Laparoscopic compared with robotic sacrocolpopexy for vaginal prolapse: a randomized controlled trial. Obstet Gynecol 118(5):1005–1013

21.

Stefanidis D, Hope WW, Scott DJ (2011) Robotic suturing on the FLS model possesses construct validity, is less physically demanding, and is favored by more surgeons compared with laparoscopy. Surg Endosc 25(7):2141–2146

22.

Osmundsen BC, Clark A, Goldsmith C et al (2012) Mesh erosion in robotic sacrocolpopexy. Female Pelvic Med Reconstr Surg 18(2):86–88

23.

Schug-Pass C, Tamme C, Tannapfel A, Köckerling FA (2006) Lightweight polypropylene mesh (TiMesh) for laparoscopic intraperitoneal repair of abdominal wall hernias: comparison of biocompatibility with the DualMesh in an experimental study using the porcine model. Surg Endosc 20(3):402–409

24.

Horstmann R, Hellwig M, Classen C, Röttgermann S, Palmes D (2006) Impact of polypropylene amount on functional outcome and quality of life after inguinal hernia repair by the TAPP procedure using pure, mixed, and titanium-coated meshes. World J Surg 30(9):1742–1749

25.

Frick AC, Barber MD, Paraiso MF, Ridgeway B, Jelovsek JE, Walters MD (2013) Attitudes toward hysterectomy in women undergoing evaluation for uterovaginal prolapse. Female Pelvic Med Reconstr Surg 19(2):103–109

26.

Price N, Slack A, Jackson SR (2010) Laparoscopic hysteropexy: the initial results of a uterine suspension procedure for uterovaginal prolapse. BJOG 117(1):62–68

27.

Leron E, Stanton SL (2001) Sacrohysteropexy with synthetic mesh for the management of uterovaginal prolapse. BJOG 108(6):629–633

28.

Propst K, Tunitsky-Bitton E, Schimpf MO, Ridgeway B (2014) Pyogenic spondylodiscitis associated with sacral colpopexy and rectopexy: report of two cases and evaluation of the literature. Int Urogynecol J 25(1):21–31

29.

Muffly TM, Diwadkar GB, Paraiso MF (2010) Lumbosacral osteomyelitis after robot-assisted total laparoscopic hysterectomy and sacral colpopexy. Int Urogynecol J 21(12):1569–1571
Ethics declarations
Disclosures
Prof. Tommaso Simoncini, Dr. Eleonora Russo, Dr. Paolo Mannella and Dr. Andrea Giannini have no conflicts of interest or financial ties to disclose.
Electronic supplementary material
Below is the link to the electronic supplementary material.
Supplementary material 1 (WMV 349454 kb)
About this article
Cite this article
Simoncini, T., Russo, E., Mannella, P. et al. Robotic-assisted apical lateral suspension for advanced pelvic organ prolapse: surgical technique and perioperative outcomes. Surg Endosc 30, 5647–5655 (2016) doi:10.1007/s00464-016-4924-8
Received:

Accepted:

Published:

Issue Date:
Keywords
Pelvic organ prolapse

Reconstructive surgery

Robotic surgery