Abstract
Background
Natural orifice translumenal endoscopic surgery (NOTES) is an emerging surgical paradigm, where peritoneal access is achieved through one of the natural orifices of the body. It is being reported as a safe and feasible surgical technique with significantly reduced external scarring. Virtual Translumenal Endoscopic Surgical Trainer (VTEST™) is the first virtual reality simulator for the NOTES. The VTEST™ simulator was developed to train surgeons in the hybrid transvaginal NOTES cholecystectomy procedure. The initial version of the VTEST™ simulator underwent face validation at the 2013 Natural Orifice Surgery Consortium for Assessment and Research (NOSCAR) summit. Several areas of improvement were identified as a result, and the corresponding modifications were implemented in the simulator. This manuscript outlines the results of the subsequent evaluation study, performed in order to assess the face and content validity of the latest VTEST™ simulator.
Methods
Twelve subjects participated in an institutional review board-approved study that took place at the 2014 NOSCAR summit. Six of the 12 subjects, who are experts with NOTES experience, were used for face and content validation. The subjects performed the hybrid transvaginal NOTES cholecystectomy procedure on VTEST™ that included identifying the Calot's triangle, clipping and cutting the cystic duct/artery, and detaching the gallbladder. The subjects then answered five-point Likert scale feedback questionnaires for face and content validity.
Results
Overall, subjects rated 12/15 questions as 3.0 or greater (60 %), for face validity questions regarding the realism of the anatomical features, interface, and the tasks. Subjects also highly rated the usefulness of the simulator in learning the fundamental NOTES technical skills (3.50 ± 0.84). Content validity results indicate a high level of usefulness of the VTEST™ for training prior to operating room experience (4.17 ± 0.75).
This is a preview of subscription content, log in to check access.
Access options
Buy single article
Instant access to the full article PDF.
US$ 39.95
Price includes VAT for USA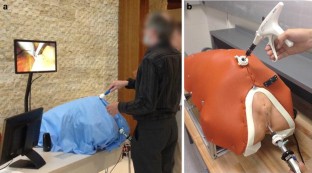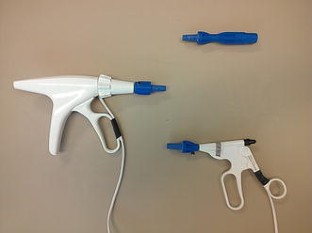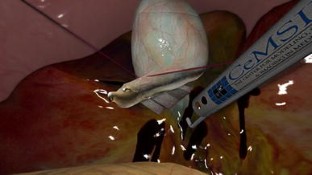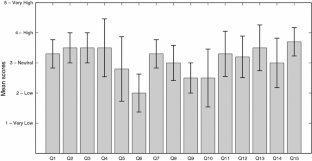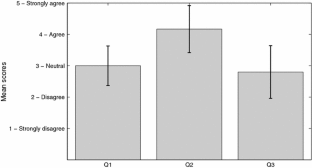 References
1.

Rattner D, Kalloo A (2006) ASGE/SAGES working group on natural orifice Translumenal endoscopic surgery. October 2005. Surg Endosc 20(2):329–333

2.

Moris DN, Bramis KJ, Mantonakis EI, Papalampros EL, Petrou AS, Papalampros AE (2012) Surgery via natural orifices in human beings: yesterday, today, tomorrow. Am J Surg 204(1):93–102

3.

Kalloo AN, Singh VK, Jagannath SB, Niiyama H, Hill SL, Vaughn CA, Magee CA, Kantsevoy SV (2004) Flexible transgastric peritoneoscopy: a novel approach to diagnostic and therapeutic interventions in the peritoneal cavity. Gastrointest Endosc 60(1):114–117

4.

Huang C (2011) Natural orifice transluminal endoscopic surgery: new minimally invasive surgery come of age. World J Gastroenterol 17(39):4382

5.

Rattner DW, SAJC on NOTES (2008) NOTES: Where have we been and where are we going? Surg Endosc 22(5):1143–1145

6.

Hochberger J, Matthes K, Maiss J, Koebnick C, Hahn EG, Cohen J (2005) Training with the compactEASIE biologic endoscopy simulator significantly improves hemostatic technical skill of gastroenterology fellows: a randomized controlled comparison with clinical endoscopy training alone. Gastrointest Endosc 61(2):204–215

7.

Fiolka A, Gillen S, Meining A, Feussner H (2010) ELITE—the ex vivo training unit for NOTES: development and Validation. Minim Invasive Ther Allied Technol 19(5):281–286

8.

Seymour NE, Gallagher AG, Roman SA, O'Brien MK, Bansal VK, Andersen DK, Satava RM (2002) Virtual reality training improves operating room performance: results of a randomized, double-blinded study. Ann Surg 236(4):458–463 (discussion 463–4)

9.

Wilson MS, Middlebrook A, Sutton C, Stone R, McCloy RF (1997) MIST VR: a virtual reality trainer for laparoscopic surgery assesses performance. Ann R Coll Surg Engl 79(6):403–404

10.

Triantafyllou K, Lazaridis LD, Dimitriadis GD (2014) Virtual reality simulators for gastrointestinal endoscopy training. World J Gastrointest Endosc 6(1):6–12

11.

Soper NJ, Fried GM (2008) The fundamentals of laparoscopic surgery: its time has come. Bull Am College Surg 93(9):30–32

12.

Vassiliou MC, Dunkin BJ, Marks JM, Fried GM (2010) FLS and FES: comprehensive models of training and assessment. Surg Clin North Am 90(3):535–558

13.

Sankaranarayanan G, Matthes K, Nemani A, Ahn W, Kato M, Jones DB, Schwaitzberg S, De S (2013) Needs analysis for developing a virtual-reality NOTES simulator. Surg Endosc 27(5):1607–1616

14.

Auyang ED, Santos BF, Enter DH, Hungness ES, Soper NJ (2011) Natural orifice translumenal endoscopic surgery (NOTES(®)): a technical review. Surg Endosc 25(10):3135–3148

15.

Chukwumah C, Zorron R, Marks JM, Ponsky JL (2010) Current status of natural orifice Translumenal endoscopic surgery (NOTES). Curr Probl Surg 47(8):630–668

16.

Coomber RS, Sodergren MH, Clark J, Teare J, Yang G-Z, Darzi A (2012) Natural orifice Translumenal endoscopic surgery applications in clinical practice. World J Gastrointest Endosc 4(3):65–74

17.

Dallemagne B, Marescaux J (2010) NOTES: past, present and future. Asian J Endosc Surg 3(3):115–121

18.

Dehn T, Austin RCT (2009) Natural orifice Translumenal endoscopic surgery (NOTES)—scar free or scary? Ann R Coll Surg Engl 91(3):192–194

19.

Roberts KE, Shetty S, Shariff AH, Silasi D-A, Duffy AJ, Bell RL (2012) Transvaginal NOTES hybrid cholecystectomy. Surg Innov 19(3):230–235

20.

Nemani A, Sankaranarayanan G, Olasky JS, Adra S, Roberts KE, Panait L, Schwaitzberg SD, Jones DB, De S (2014) A comparison of NOTES transvaginal and laparoscopic cholecystectomy procedures based upon task analysis. Surg Endosc 28(8):2443–2451

21.

Ahn W, Dargar S, Halic T, Lee J, Li B, Pan J, Sankaranarayanan G, Roberts K, De S (2014) Development of a virtual reality simulator for natural orifice Translumenal endoscopic surgery (NOTES) cholecystectomy procedure. Stud Health Technol Inf 196:1–5

22.

Ahn W, Dargar S, Halic T, Sankaranarayanan G, Roberts K, De S (2014) Preliminary evaluation of a novel virtual reality simulator for natural orifice Translumenal endoscopic surgery (NOTES). In: SAGES 2014 annual meeting

23.

Halic T, Venkata SA, Sankaranarayanan G, Lu Z, Ahn W, De S (2011) A software framework for multimodal interactive simulations (SoFMIS). Stud. Health Technol Inf 163:213–217

24.

Sutherland LM, Middleton PF, Anthony A, Hamdorf J, Cregan P, Scott D, Maddern GJ (2006) Surgical simulation: a systematic review. Ann Surg 243(3):291–300

25.

Arikatla VS, Sankaranarayanan G, Ahn W, Chellali A, De S, Caroline GL, Hwabejire J, DeMoya M, Schwaitzberg S, Jones DB (2013) Face and construct validation of a virtual peg transfer simulator. Surg Endosc 27(5):1721–1729

26.

Sankaranarayanan G, Lin H, Arikatla VS, Mulcare M, Zhang L, Derevianko A, Lim R, Fobert D, Cao C, Schwaitzberg SD, Jones DB, De S (2010) Preliminary face and construct validation study of a virtual basic laparoscopic skill trainer. J Laparoendosc Adv Surg Tech A 20(2):153–157
Acknowledgments
This work is supported by NIH/NIBIB 5R01EB010037, 1R01EB009362, 2R01EB005807.
Ethics declarations
Disclosures
Dr. Kurt Roberts: NovaTract Surgical (ownership, intellectual property). Drs. Denis Dorozhkin, Arun Nemani, Woojin Ahn, Tansel Halic, Saurabh Dargar, Jinling Wang, Caroline Cao, Ganesh Sankaranarayanan, and Suvranu De have no conflicts of interest or financial ties to disclose.
About this article
Cite this article
Dorozhkin, D., Nemani, A., Roberts, K. et al. Face and content validation of a Virtual Translumenal Endoscopic Surgery Trainer (VTEST™). Surg Endosc 30, 5529–5536 (2016). https://doi.org/10.1007/s00464-016-4917-7
Received:

Accepted:

Published:

Issue Date:
Keywords
NOTES

Natural orifice surgery

Virtual surgical simulation

Surgical training

Surgical performance metrics