Abstract
Background
A proportion of patients undergoing laparoscopic gynecological surgery experiences excessive post-operative pain, which results in high rescue analgesic treatment and prolonged hospitalization. The aim of our study was to evaluate the efficacy of intraoperative topical ropivacaine in the control of post-operative pain in the first 48 h after operative laparoscopy for benign adnexal or uterine pathologies .
Methods
We conducted a prospective, randomized, double-blind, placebo-controlled clinical trial. Patients received a standard dose of topical ropivacaine (injected at the three portal sites and atomized in the abdominal cavity) or placebo. The primary outcome was the evaluation of post-operative pain intensity 6 h after surgery. Secondary outcomes included the intensity of pain during the 48 h after surgery, shoulder tip pain and the request for rescue analgesics during the first 48 h after surgery, time to discharge from recovery room, time to mobilizing on the ward and time to return to daily activities. Patients were divided in two groups (Group_A: benign adnexal pathologies; Group_B: benign uterine diseases) and assigned to Subgroup_1 (receiving ropivacaine) and Subgroup_2 (receiving placebo).
Results
A total of 187 women were included: 93 in Group_A and 94 in Group_B. Forty-seven patients entered Subgroup_A1, 46 Subgroup_A2, 48 Subgroup_B1 and 46 Subgroup_B2. Subgroup_A1 experienced lower post-operative pain at 4 (p = 0.008) and 6 h (p = 0.001) as well as a faster return to daily activities (p = 0.01) in comparison with Subgroup_A2. Both Subgroup_A1 and Subgroup_B1 showed lower shoulder tip pain (respectively, p = 0.032 and p = 0.001) as well as shorter time to mobilizing on the ward after surgery (respectively, p = 0.001 and p = 0.01). The remaining variables analysis did not show significant results.
Conclusions
Combined topical analgesia with ropivacaine could represent a new safe and effective tool in the control of post-operative pain in gynecological laparoscopic surgery. Given the greater benefits for adnexal surgery, this strategy may be more suitable for this class of patients.
This is a preview of subscription content, log in to check access.
Access options
Buy single article
Instant access to the full article PDF.
US$ 39.95
Price includes VAT for USA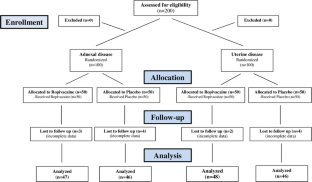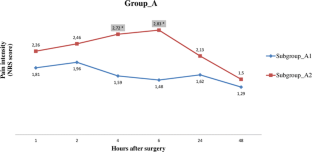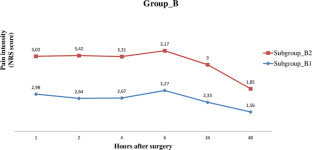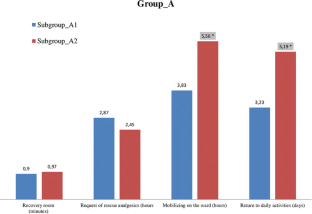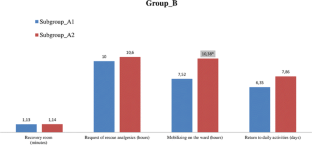 References
1.

Saccardi C, Visentin S, Noventa M, Cosmi E, Litta P, Gizzo S (2015) Uncertainties about laparoscopic myomectomy during pregnancy: A lack of evidence or an inherited misconception? a critical literature review starting from a peculiar case. Minim Invasive Ther Allied Technol 24(4):189–194

2.

Fanfani F, Fagotti A, Rossitto C, Gagliardi ML, Ercoli A, Gallotta V, Gueli Alletti S, Monterossi G, Turco LC, Scambia G (2012) Laparoscopic, minilaparoscopic and single-port hysterectomy: perioperative outcomes. Surg Endosc 26(12):3592–3596

3.

Malhotra N, Chanana C, Roy KK, Kumar S, Rewari V, Sharma JB (2007) To compare the efficacy of two doses of intraperitoneal bupivacaine for pain relief after operative laparoscopy in gynecology. Arch Gynecol Obste, 276(4):323–3266. Epub 2007 Jul 25. Erratum in: Arch Gynecol Obstet. 2009 Apr 279(4):611

4.

Lee T, Shepherd JP, Kantartzis KL, Ahn KH, Bonidie MJ (2014) Cost analysis when open surgeons perform minimally invasive hysterectomy. JSLS 18(e2014):00181

5.

Goh SM, Yam J, Loh SF, Wong A (2007) Minimal access approach to the management of large ovarian cysts. Surg Endosc 21(1):80–83

6.

Kaufman Y, Hirsch I, Ostrovsky L, Klein O, Shnaider I, Khoury E, Pizov R, Lissak A (2008) Pain relief by continuous intraperitoneal nebulization of ropivacaine during gynecologic laparoscopic surgery—a randomized study and review of the literature. J Minim Invasive Gynecol 15(5):554–558

7.

Ceyhan T, Teksoz E, Gungor S, Goktolga U, Pabuccu R (2005) Effect of bupivacaine after operative laparoscopic gynecologic procedures. J Minim Invasive Gynecol 12(4):326–329

8.

Ekstein P, Szold A, Sagie B, Werbin N, Klausner JM, Weinbroum AA (2006) Laparoscopic surgery may be associated with severe pain and high analgesia requirements in the immediate postoperative period. Ann Surg 243(1):41–46

9.

Jiménez Cruz J, Diebolder H, Dogan A, Mothes A, Rengsberger M, Hartmann M, Meissner W, Runnebaum IB (2014) Combination of pre-emptive port-site and intraoperative intraperitoneal ropivacaine for reduction of postoperative pain: a prospective cohort study. Eur J Obstet Gynecol Reprod Biol 179:11–16

10.

Marks JL, Ata B, Tulandi T (2012) Systematic review and metaanalysis of intraperitoneal instillation of local anesthetics for reduction of pain after gynecologic laparoscopy. J Minim Invasive Gynecol 19(5):545–553

11.

Costello MF, Abbott J, Katz S, Vancaillie T, Wilson S (2010) A prospective, randomized, double-blind, placebo-controlled trial of multimodal intraoperative analgesia for laparoscopic excision of endometriosis. Fertil Steril 94(2):436–443

12.

Scalia Catenacci S, Lovisari F, Peng S, Allegri M, Somaini M, Ghislanzoni L, Greco M, Rossini V, D'Andrea L, Buda A, Signorelli M, Pellegrino A, Sportiello D, Bugada D, Ingelmo PM (2015) Postoperative analgesia after laparoscopic ovarian cyst resection: double-blind multicenter randomized control trial comparing intraperitoneal nebulization and peritoneal instillation of ropivacaine. J Minim Invasive Gynecol 22(5):759–766

13.

Saccardi C, Gizzo S, Noventa M, Quaranta M, Borgato S, Conte L, Pluchino N, Litta P (2015) Subtotal versus total laparoscopic hysterectomy: could women sexual function recovery overcome the surgical outcomes in pre-operatory decision making? Arch Gynecol Obstet 291(6):1321–1326

14.

Saccardi C, Gizzo S, Noventa M, Ancona E, Borghero A, Litta PS (2014) Limits and complications of laparoscopic myomectomy: Which are the best predictors? a large cohort single-center experience. Arch Gynecol Obstet 290(5):951–956

15.

Alessandri F, Lijoi D, Mistrangelo E, Nicoletti A, Ragni N (2006) Effect of presurgical local infiltration of levobupivacaine in the surgical field on postsurgical wound pain in laparoscopic gynecological surgery. Acta Obstet Gynecol Scand 85(7):844–849

16.

Alkhamesi NA, Peck D, Lomax D, Darzi A (2007) Intraperitoneal aerosolization of bupivacaine reduces postoperative pain in laparoscopic surgery: a randomized prospective controlled double-blinded clinical trial. Surg Endosc 21:602–606

17.

Kuthiala G, Chaudhary G (2011) Ropivacaine: a review of its pharmacology and clinical use. Indian J Anaesth 55(2):104–110

18.

Callesen T, Hjort D, Mogensen T, Schouenborg L, Nielsen D, Reventlid H, Kehlet H (1999) Combined field block and i.p. instillation of ropivacaine for pain management after laparoscopic sterilization. Br J Anaesth 82(4):586–590

19.

Ghezzi F, Cromi A, Bergamini V, Raffaelli R, Crotti S, Segredini R, Bolis P (2005) Preemptive port site local anesthesia in gynecologic laparoscopy: a randomized, controlled trial. J Minim Invasive Gynecol 12(3):210–215

20.

Gizzo S, Conte L, Di Gangi S, Leggieri C, Quaranta M, Noventa M, Litta P, Saccardi C (2015) Could surgeon's expertise resolve the debate about surgery effectiveness in treatment of endometriosis-related infertility? Arch Gynecol Obstet 292(1):217–223

21.

Noventa M, Saccardi C, Litta P, Vitagliano A, D'Antona D, Abdulrahim B, Duncan A, Alexander-Sefre F, Aldrich CJ, Quaranta M, Gizzo S (2015) Ultrasound techniques in the diagnosis of deep pelvic endometriosis: algorithm based on a systematic review and meta-analysis. Fertil Steril 104(2):366–383

22.

Gizzo S, Vitagliano A, Noventa M, Litta P, Saccardi C, Quaranta M (2015) Surgery, endometriosis-related infertility and negative impact on ovarian reserve: "Which came first, the hen or the egg?" an unresolved dilemma. Arch Gynecol Obstet 292(4):709–711
Acknowledgments
The authors thank the whole staff of Gynecological and Obstetrics Clinical Unit (Department of Woman and Child Health) that participated to data collection and to the study realization.
Ethics declarations
Disclosures
Carlo Saccardi, Salvatore Gizzo, Amerigo Vitagliano, Marco Noventa, Masimo Micaglio, Matteo Parotto, Mauro Fiorese, Pietro Litta have no conflicts of interest or financial ties to disclose.
About this article
Cite this article
Saccardi, C., Gizzo, S., Vitagliano, A. et al. Peri-incisional and intraperitoneal ropivacaine administration: a new effective tool in pain control after laparoscopic surgery in gynecology: a randomized controlled clinical trial. Surg Endosc 30, 5310–5318 (2016). https://doi.org/10.1007/s00464-016-4881-2
Received:

Accepted:

Published:

Issue Date:
Keywords
Gynecological laparoscopic surgery

Ropivacaine

Topic analgesia

Post-operative pain

Adnexal pathology

Uterine pathology