Abstract
Background
The avoidance of postoperative chronic pain is of the foremost importance and has a deep impact on patient satisfaction. The objective of this study is to evaluate the selective transabdominal preperitoneal laparoscopic neurectomy for treatment of refractory inguinodynia.
Methods
Prospective study in a University Hernia Center included 16 consecutive patients with chronic pain. Primary endpoint was pain control (measured by appropriate questionnaire and need of analgesics). Secondary endpoint was surgical morbidity. Follow-up was 2 years (range 12 months–4 years).
Results
The mean operating time was 52 (range 36–68) minutes, and there were no intraoperative complications. All patients had histologic confirmation of neurectomy. Anatomical variation was found in ten patients (62.5 %), being a common trunk ilioinguinal/iliohypogastric nerve the most frequent (nine patients, 56.25 %). One patient developed hypoesthesia in the territory of the femorocutaneous nerve by nerve injury. Reoperation was performed 6 months afterward to complete ilioinguinal nerve neurectomy. Neuropathic pain medications were continued by five patients. Pain was completely eliminated in 11 (68.75 %).
Conclusions
Management of patients with neural groin pain should be done in a multidisciplinary unit. Selective neurectomy by a transabdominal preperitoneal laparoscopic approach is a safe and highly effective option in selected patients for the treatment of refractory postoperative chronic pain. Careful anatomical planning is essential to avoid inadvertent injuries and more suffering to these patients.
This is a preview of subscription content, log in to check access.
Access options
Buy single article
Instant access to the full article PDF.
US$ 39.95
Price includes VAT for USA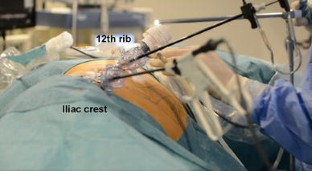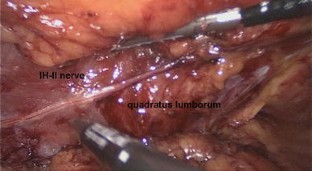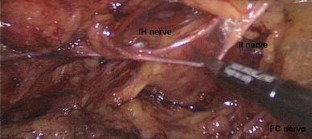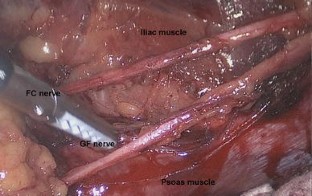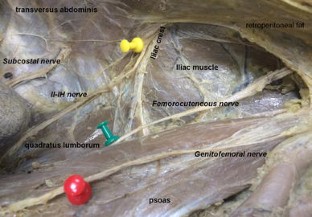 References
1.

Valvekens E, Nijs Y, Miserez M (2015) Long-term outcome of surgical treatment of chronic postoperative groin pain: a word of caution. Hernia 19(4):587–594

2.

Loos MJ, Roumen RM, Scheltinga MR (2007) Chronic sequelae of common elective groin hernia repair. Hernia 11:169–173

3.

Bjurstrom MF, Nicol AL, Amid PK, Chen DC (2014) Pain control following inguinal herniorrhaphy: current perspectives. J Pain Res 7:277–290

4.

Aasvang E, Kehlet H (2009) The effect of mesh removal and selective neurectomy on persistent postherniotomy pain. Ann Surg 249:327–334

5.

Loos MJ, Scheltinga MR, Roumen RM (2008) Surgical management of inguinal neuralgia after a low transverse pfannenstiel incision. Ann Surg 248:880–885

6.

Ducic I, West J, Maxted W (2008) Management of chronic postoperative groin pain. Ann Plast Surg 60:294–298

7.

Stulz P, Pfeiffer KM (1982) Peripheral nerve injuries resulting from common surgical procedures in the lower portion of the abdomen. Arch Surg 117(3):324–327

8.

Madura JA, Madura JA II, Copper CM, Worth RM (2005) Inguinal neurectomy for inguinal nerve entrapment: an experience with 100 patients. Am J Surg 189:283–287

9.

Lee CH, Dellon AL (2000) Surgical management of groin pain of neural origin. J Am Coll Surg 191:137–142

10.

Kim DH, Murovic JA, Tiel RL, Kline DG (2005) Surgical management of 33 ilioinguinal and iliohypogastric neuralgias at Louisiana State University Health Sciences Center. Neuro-surgery 56:1013–1020

11.

Bouhassira D, Attal N, Alchaar H, Boureau F, Brochet B, Bruxelle J et al (2005) Comparison of pain syndromes associated with nervous or somatic lesions and development of a new neuropathic pain diagnostic questionnaire (DN4). Pain 114:29–36

12.

Keller JE, Stefanidis D, Dolce CJ, Iannitti DA, Kercher KW, Heniford BT (2008) Combined open and laparoscopic approach to chronic pain after inguinal hernia repair. Am Surg 74(8):695–701

13.

Starling JR, Harms BA, Schroeder ME, Eichmin PL (1987) Diagnosis and treatment of genitofemoral and ilioinguinal entrapment neuralgia. Surgery 102:581–586

14.

Lange JFM, Kaufmann R, Wijsmuller AR, Pierie JPEN, Ploeg RJ, Chen DC et al (2015) An international consensus algorithm for management of chronic postoperative inguinal pain. Hernia 19:33–43

15.

Werner MU (2014) Management of persistent postsurgical inguinal pain. Langenbecks Arch Surg 399:559–569

16.

Holloran-Schwartz MB (2014) Surgical evaluation and treatment of the patient with chronic pelvic pain. Obstet Gynecol Clin N Am 41:357–369

17.

Chen DC, Amid PK (2014) Prevention of inguinodynia: the need for continuous refinement and quality improvement in inguinal hernia repair. World J Surg 38:2571–2573

18.

Bischoff JM, Enghuus C, Werner MU, Kehlet H (2013) Long-term follow-up alter mesh removal and selective neurectomy for persistent inguinal postherniorrhaphy pain. Hernia 17:339–345

19.

Campanelli G, Bertocchi V, Cavalli M, Bombini G, Biondi A, Tentorio T et al (2013) Surgical treatment of chronic pain alter inguinal hernia repair. Hernia 17:347–353

20.

Krähenbühl L, Strifflerler H, Baer HU, Büchler MW (1997) Retroperitoneal endoscopic neurectomy for nerve entrapment after hernia repair. Br J Surg 84:216–219

21.

Muto CM, Pedana N, Scarpelli S, Galardo R, Guida G, Schiavone V (2005) Inguinal neurectomy for nerve entrapment alter open/laparoscopic hernia repair using retroperitoneal endoscopic approach. Surg Endosc 19:974–976

22.

Giger U, Wente MN, Büchler MW, Krähenbühl S, Lerut J, Krähenbühl L (2009) Endoscopic retroperitoneal neurectomy for chronic pain after groin surgery. Br J Surg 96(9):1076–1081

23.

Emeksiz S, Ozden H, Guyen G (2013) Effects of variable courses of inguinal nerves on pain in patients undergoing lichtenstein repair for inguinal hernia: preliminary results. Acta Chir Belg 113:196–202

24.

Klaassen Z, Marshall E, Tubbs RS, Louis RG, Wartmann CT, Loukas M (2011) Anatomy of the ilioinguinal and iliohypogastric nerves with observations of their spinal nerve contributions. Clin Anat 24:454–461

25.

Song JW, Wolf JS, McGillicuddy JE, Bhangoo S, Yang LJ (2011) Laparoscopic triple neurectomy for intractable groin pain: technical of 3 cases. Neurosurgery 68:339–346

26.

Chen DC, Hiatt JR, Amid PK (2013) Operative management of refractory neuropathic inguinodynia by a laparoscopic retroperitoneal approach. JAMA Surg 148(10):962–967

27.

Mahan MA, Kader AK, Brown JM (2014) Robot-assisted triple neurectomy for iatrogenic inguinal pain: a technical note. Acta Neurochir (Wien) 156(1):171–175

28.

Moreno-Egea A, Borras E (2014) Selective ambulatory transabdominal retroperitoneal laparoscopic neurectomy to treat refractory neuropathic groin pain. Rev Hispanoam Hernia 02:67–71

29.

Amid PK (2002) A 1-stage surgical treatment for postherniorrhaphy neuropathic pain: triple neurectomy and proximal end implantation without mobilization of the cord. Arch Surg 137:100–104
Acknowledgments
The author is grateful for the San Antonio University School of Medicine.
Ethics declarations
Disclosures
Moreno-Egea has no conflicts of interest or financial ties to disclose.
About this article
Cite this article
Moreno-Egea, A. Surgical management of postoperative chronic inguinodynia by laparoscopic transabdominal preperitoneal approach. Surg Endosc 30, 5222–5227 (2016). https://doi.org/10.1007/s00464-016-4867-0
Received:

Accepted:

Published:

Issue Date:
Keywords
Neurectomy

Inguinal pain

Laparoscopy

Hernioplasty