Abstract
Background
Trucut biopsy (TCB) has been proposed to overcome the limitations of endoscopic ultrasonography (EUS)-guided fine-needle aspiration for the pathologic diagnosis of upper gastrointestinal (GI) subepithelial tumor (SET); however, it can be difficult to perform because the Trucut biopsy needle is very stiff. Although technical failures have been reported with the use of TCB, recently the forward-viewing echoendoscope showed a high diagnostic accuracy. We hypothesized that TCB under a conventional forward-viewing endoscope can be applied with higher yield of tissue diagnosis.
Methods
To evaluate the feasibility of TCB under a forward-looking endoscopy without cumbersome EUS guidance, we introduced a 19-gauge TCB needle into the working channel of a conventional upper endoscope in 27 patients with GI SET to make tissue diagnosis. Prospectively collected data were analyzed, including technical success rate, pathologic result, and adverse events.
Results
Twenty-seven patients with GI SET (18 esophageal tumors and nine gastric tumors) underwent TCB under a forward-looking endoscope. All procedures were performed safely without any TCB-related complications. Subsequently, histopathology examination revealed gastrointestinal stromal tumors (GISTs) in three cases and leiomyomas in 21 cases. Histologic assessment was completed in 24 out of 27 patients (88.9 %) because tissue obtained from three patients, whose tumors were located in the stomach, was not sufficient for the pathologic diagnosis.
Conclusions
TCB using a conventional forward-viewing endoscope without EUS guidance provided an excellent pathologic diagnosis of upper GI SET.
This is a preview of subscription content, log in to check access.
Access options
Buy single article
Instant access to the full article PDF.
US$ 39.95
Price includes VAT for USA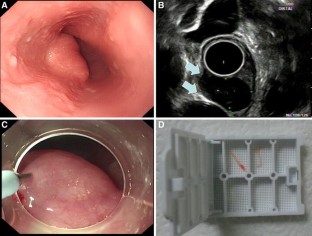 References
1.

Lee JH, Choi KD, Kim M-Y, Choi K-S, Kim DH, Park YS et al (2011) Clinical impact of EUS-guided Trucut biopsy results on decision making for patients with gastric subepithelial tumors ≥2 cm in diameter. Gastrointest Endosc 74(5):1010–1018

2.

Ponsaing LG, Kiss K, Loft A, Jensen LI, Hansen MB (2007) Diagnostic procedures for submucosal tumors in the gastrointestinal tract. World J Gastroenterol 13(24):3301–3310

3.

Kipp BR, Pereira TC, Souza PC, Gleeson FC, Levy MJ, Clayton AC (2009) Comparison of EUS-guided FNA and Trucut biopsy for diagnosing and staging abdominal and mediastinal neoplasms. Diagn Cytopathol 37(8):549–556

4.

Storch I, Jorda M, Thurer R, Raez L, Rocha-Lima C, Vernon S et al (2006) Advantage of EUS Trucut biopsy combined with fine-needle aspiration without immediate on-site cytopathologic examination. Gastrointest Endosc 64(4):505–511

5.

Levy MJ, Jondal ML, Clain J, Wiersema MJ (2003) Preliminary experience with an EUS-guided trucut biopsy needle compared with EUS-guided FNA. Gastrointest Endosc 57(1):101–106

6.

Saftoiu A, Vilmann P, Guldhammer Skov B, Georgescu CV (2007) Endoscopic ultrasound (EUS)-guided Trucut biopsy adds significant information to EUS-guided fine-needle aspiration in selected patients: a prospective study. Scand J Gastroenterol 42(1):117–125

7.

Thomas T, Kaye PV, Ragunath K, Aithal G (2009) Efficacy, safety, and predictive factors for a positive yield of EUS-guided Trucut biopsy: a large tertiary referral center experience. Am J Gastroenterol 104(3):584–591

8.

Jhala NC, Jhala DN, Chhieng DC, Eloubeidi MA, Eltoum IA (2003) Endoscopic ultrasound-guided fine-needle aspiration: a cytopathologist's perspective. Am J Clin Pathol 120(3):351–367

9.

Fernández-Esparrach G, Sendino O, Solé M, Pellisé M, Colomo L, Pardo A et al (2010) Endoscopic ultrasound-guided fine-needle aspiration and trucut biopsy in the diagnosis of gastric stromal tumors: a randomized crossover study. Endoscopy 42(4):292–299

10.

Polkowski M, Gerke W, Jarosz D, Nasierowska-Guttmejer A, Rutkowski P, Nowecki Z et al (2009) Diagnostic yield and safety of endoscopic ultrasound-guided trucut [corrected] biopsy in patients with gastric submucosal tumors: a prospective study. Endoscopy 41(4):329–334

11.

Larghi A, Lecca PG, Ardito F, Rossi ED, Fadda G, Nuzzo G et al (2009) Evaluation of hilar biliary strictures by using a newly developed forward-viewing therapeutic echoendoscope: preliminary results of an ongoing experience. Gastrointest Endosc 69(2):356–360

12.

Trevino JM, Varadarajulu S (2009) Initial experience with the prototype forward-viewing echoendoscope for therapeutic interventions other than pancreatic pseudocyst drainage (with videos). Gastrointest Endosc 69(2):361–365

13.

Lee HH, Hur H, Jung H, Jeon HM, Park CH, Song KY (2011) Analysis of 151 consecutive gastric submucosal tumors according to tumor location. J Surg Oncol 104(1):72–75

14.

Iglesias-Garcia J, Poley J-W, Larghi A, Giovannini M, Petrone MC, Abdulkader I et al (2011) Feasibility and yield of a new EUS histology needle: results from a multicenter, pooled, cohort study. Gastrointest Endosc 73:1189–1196

15.

Varadarajulu S, Bang JY, Hebert-Magee S (2012) Assessment of the technical performance of the flexible 19-gauge EUS-FNA needle. Gastrointest Endosc 76:336–343

16.

Larghi A, Fuccio L, Chiarello G, Attili F, Vanella G, Paliani GB et al (2014) Fine-needle tissue acquisition from subepithelial lesions using a forward-viewing linear echoendoscope. Endoscopy 46(1):39–45

17.

Akahoshi K, Sumida Y, Matsui N et al (2007) Preoperative diagnosis of gastrointestinal stromal tumor by endoscopic ultrasound-guided fine needle aspiration. World J Gastroenterol 13:2077–2082

18.

Sepe PS, Moparty B, Pitman MB et al (2009) EUS-guided FNA for the diagnosis of GI stromal cell tumors: sensitivity and cytologic yield. Gastrointest Endosc 70:254–261

19.

Mekky MA, Yamao K, Sawaki A et al (2010) Diagnostic utility of EUS-guided FNA in patients with gastric submucosal tumors. Gastrointest Endosc 71:913–919
Ethics declarations
Disclosures
Weon Jin Ko, Ga Won Song, Ki Baik Hahm, Sung Pyo Hong, Joo Young Cho, Jun-Hyung Cho, and So Young Jin have no conflicts of interest or financial ties to disclose.
Ethical standard
This study was conducted in accordance with the ethical standards of the Declaration of Helsinki 1964, as revised in 2013.
Electronic supplementary material
Below is the link to the electronic supplementary material.
Trucut biopsy using a forward-viewing endoscope without endoscopic ultrasonography guidance for the diagnosis of esophageal subepithelial tumors (WMV 10538 kb)
About this article
Cite this article
Ko, W.J., Song, G.W., Hahm, K.B. et al. Tissue diagnosis of GI subepithelial tumor only through Trucut biopsy under a forward-viewing endoscope: applicability as newer diagnostic modality. Surg Endosc 30, 5009–5014 (2016). https://doi.org/10.1007/s00464-016-4846-5
Received:

Accepted:

Published:

Issue Date:
Keywords
Trucut biopsy

Subepithelial tumor

Forward-viewing endoscope