Abstract
Introduction
Bariatric surgery is the most effective method for producing sustained weight loss, improving obesity-associated comorbidities and reducing inflammation in the morbidly obese population. The red cell distribution width (RDW) is a novel marker of inflammation that is usually reported as part of a complete blood count. In this study, we tested our hypothesis that red cell distribution width might represent a novel biomarker predictive of excess body-mass index loss (EBMIL) following laparoscopic Roux-en-Y gastric bypass (LRYGB).
Methods
Five hundred and forty-seven LRYGB patients included from a single institution were individually reviewed, noting both preoperative RDW and percent excess BMI loss at 6 months and 1 year post-LRYGB (%EBMIL180 and %EBMIL365, respectively). Bivariate and multivariate linear regression analysis was conducted between age, gender, initial body-mass index (BMI0) and RDW and each of the two endpoints, to assess the independence of RDW as a predictor of postoperative success.
Results
The median RDW was 13.9 (13.3–14.6) %, and median EBMIL180 and EBMIL365 were 55.4 (45.2–66.7) % and 71.3 (58.9–87.8) %, respectively. After controlling for age, gender and BMI0, RDW was associated with %EBMIL365 (B = −1.4 [−2.8 to −0.002] %, P = .05), but not %EBMIL180 (B = −0.6 [−1.6 to 0.5] %, P = .30. Upon Kruskal–Wallis analysis, patients with a preoperative RDW > 15.0 % had significantly lower %EBMIL than those in the <13.0 % (P < .001) and 13.0–15.0 % (P < .01) strata.
Conclusions
RDW is predictive of EBMIL at 1 year following LRYGB. This represents a novel preoperative biomarker that may provide clinically useful prognostic information.
This is a preview of subscription content, log in to check access.
Access options
Buy single article
Instant access to the full article PDF.
US$ 39.95
Price includes VAT for USA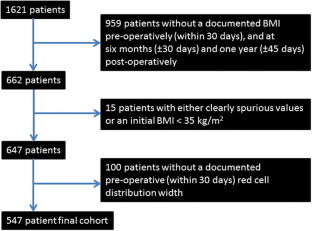 References
1.

Careaga M, Moize V, Flores L, Deulofeu R, Andreu A, Vidal J (2015) Inflammation and iron status in bariatric surgery candidates. Surg Obes Relat Dis 11(4):906–911

2.

Vaya A, Alis R, Hernandez-Mijares A, Sola E, Camara R, Rivera L et al (2014) Red blood cell distribution width is not related with inflammatory parameters in morbidly obese patients. Clin Biochem 47(6):464–466

3.

Still CD, Wood GC, Chu X, Manney C, Strodel W, Petrick A et al (2014) Clinical factors associated with weight loss outcomes after Roux-en-Y gastric bypass surgery. Obesity 22(3):888–894

4.

Maggard-Gibbons M, Maglione M, Livhits M, Ewing B, Maher AR, Hu J et al (2013) Bariatric surgery for weight loss and glycemic control in nonmorbidly obese adults with diabetes: a systematic review. JAMA J Am Med Assoc 309(21):2250–2261

5.

Benoit SC, Hunter TD, Francis DM, De La Cruz-Munoz N (2014) Use of bariatric outcomes longitudinal database (BOLD) to study variability in patient success after bariatric surgery. Obes Surg 24(6):936–943

6.

Wise ES, Hocking KM, Kavic SM (2016) Prediction of excess weight loss after laparoscopic Roux-en-Y gastric bypass: data from an artificial neural network. Surg Endosc 30(2):480–488

7.

van der Beek ES, Monpellier VM, Eland I, Tromp E, van Ramshorst B (2015) Nutritional deficiencies in gastric bypass patients; incidence, time of occurrence and implications for post-operative surveillance. Obes Surg 25(5):818–823

8.

Salvagno GL, Sanchis-Gomar F, Picanza A, Lippi G (2015) Red blood cell distribution width: a simple parameter with multiple clinical applications. Crit Rev Clin Lab Sci 2015(52):86–105

9.

Dong X, Liao Y, Chen K, Fang Y, Li W, Chen J et al (2015) Elevated red blood cell distribution width in benign prostatic hyperplasia patients with metabolic syndrome. Int J Clin Exp Med 8(1):1213–1219

10.

Roden DM, Pulley JM, Basford MA, Bernard GR, Clayton EW, Balser JR et al (2008) Development of a large-scale de-identified DNA biobank to enable personalized medicine. Clin Pharmacol Ther 84(3):362–369

11.

van de Laar A (2012) Bariatric Outcomes Longitudinal Database (BOLD) suggests excess weight loss and excess BMI loss to be inappropriate outcome measures, demonstrating better alternatives. Obes Surg 22(12):1843–1847

12.

Brethauer SA, Kim J, el Chaar M, Papasavas P, Eisenberg D, Rogers A et al (2015) Standardized outcomes reporting in metabolic and bariatric surgery. Surg Obes Related Dis Off J Am Soc Bariatr Surg 11(3):489–506

13.

Peng YF, Zhang Q, Cao L, Liu Y, Chen D, Sun YK et al (2014) Red blood cell distribution width: a potential maker estimating disease activity of ankylosing spondylitis. Int J Clin Exp Med 7(12):5289–5295

14.

Hu ZD, Chen Y, Zhang L, Sun Y, Huang YL, Wang QQ et al (2013) Red blood cell distribution width is a potential index to assess the disease activity of systemic lupus erythematosus. Clin Chim Acta 425:202–205

15.

Fujita B, Strodthoff D, Fritzenwanger M, Pfeil A, Ferrari M, Goebel B et al (2013) Altered red blood cell distribution width in overweight adolescents and its association with markers of inflammation. Pediatr Obes 8(5):385–391

16.

Meek CL, Lewis HB, Reimann F, Gribble FM, Park AJ (2015) The effect of bariatric surgery on gastrointestinal and pancreatic peptide hormones. Peptides. doi:10.1016/j.peptides.2015.08.013

17.

Felker GM, Allen LA, Pocock SJ, Shaw LK, McMurray JJ, Pfeffer MA et al (2007) Red cell distribution width as a novel prognostic marker in heart failure: data from the CHARM Program and the Duke Databank. J Am Coll Cardiol 50(1):40–47

18.

Uemura Y, Shibata R, Takemoto K, Uchikawa T, Koyasu M, Watanabe H et al (2015) Elevation of red blood cell distribution width during hospitalization predicts mortality in patients with acute decompensated heart failure. J Cardiol. doi:10.1016/j.jjcc.2015.05.011

19.

Khaki S, Mortazavi SH, Bozorgi A, Sadeghian S, Khoshnevis M, Mahmoodian M (2015) Relationship between red blood cell distribution width and mortality of patients with acute myocardial infarction referring to tehran heart center. Crit Pathw Cardiol 14(3):112–115

20.

Gurel OM, Demircelik MB, Bilgic MA, Yilmaz H, Yilmaz OC, Cakmak M et al (2015) Association between red blood cell distribution width and coronary artery calcification in patients undergoing 64-multidetector computed tomography. Korean Circ J 45(5):372–377

21.

Poludasu S, Marmur JD, Weedon J, Khan W, Cavusoglu E (2009) Red cell distribution width (RDW) as a predictor of long-term mortality in patients undergoing percutaneous coronary intervention. Thromb Haemost 102(3):581–587

22.

Collas VM, Paelinck BP, Rodrigus IE, Vrints CJ, Van Craenenbroeck EM, Bosmans JM (2016) Red cell distribution width improves the prediction of prognosis after transcatheter aortic valve implantation. Eur J Cardio Thorac Surg 49(2):471–477

23.

Bujak K, Wasilewski J, Osadnik T, Jonczyk S, Kolodziejska A, Gierlotka M et al (2015) the prognostic role of red blood cell distribution width in coronary artery disease: a review of the pathophysiology. Dis Markers 2015:824624

24.

Dirksen C, Jorgensen NB, Bojsen-Moller KN, Kielgast U, Jacobsen SH, Clausen TR et al (2013) Gut hormones, early dumping and resting energy expenditure in patients with good and poor weight loss response after Roux-en-Y gastric bypass. Int J Obes 37(11):1452–1459

25.

le Roux CW, Welbourn R, Werling M, Osborne A, Kokkinos A, Laurenius A et al (2007) Gut hormones as mediators of appetite and weight loss after Roux-en-Y gastric bypass. Ann Surg 246(5):780–785

26.

Alger-Mayer S, Polimeni JM, Malone M (2008) Preoperative weight loss as a predictor of long-term success following Roux-en-Y gastric bypass. Obes Surg 18(7):772–775

27.

Colquitt JL, Pickett K, Loveman E, Frampton GK (2014) Surgery for weight loss in adults. Cochrane Database Syst Rev 8:CD003641

28.

Livhits M, Mercado C, Yermilov I, Parikh JA, Dutson E, Mehran A et al (2012) Preoperative predictors of weight loss following bariatric surgery: systematic review. Obes Surg 22(1):70–89
Acknowledgments
The authors wish to thank Dr. Colleen Brophy, M.D., Professor of Surgery, Vanderbilt University as well as the Vanderbilt University Dept. of Biostatistics.
Funding
Vanderbilt RedCAP: CTSA Award UL1 TR000445 from NCATS/NIH.
Ethics declarations
Disclosures
Eric Wise, Kyle Hocking, Adam Weltz, Anna Uebele, Jose Diaz, Stephen Kavic and Mark Kligman have no conflicts of interest to disclose.
Additional information
This manuscript will be presented as a poster at the 2016 Annual Meeting of the Society of American Gastrointestinal and Endoscopic Surgeons (SAGES).
About this article
Cite this article
Wise, E.S., Hocking, K.M., Weltz, A. et al. Red cell distribution width is a novel biomarker that predicts excess body-mass index loss 1 year after laparoscopic Roux-en-Y gastric bypass. Surg Endosc 30, 4607–4612 (2016). https://doi.org/10.1007/s00464-016-4798-9
Received:

Accepted:

Published:

Issue Date:
Keywords
Bariatrics

Biomarkers

Outcomes

Laparoscopy

Gastric bypass