Abstract
Background
Accurate tumor localization is essential for minimally invasive surgery. This study describes the development of a novel endoscopic fluorescent band ligation method for the rapid and accurate identification of tumor sites during surgery.
Methods and materials
The method utilized a fluorescent rubber band, made of indocyanine green (ICG) and a liquid rubber solution mixture, as well as a near-infrared fluorescence laparoscopic system with a dual light source using a high-powered light-emitting diode (LED) and a 785-nm laser diode. The fluorescent rubber bands were endoscopically placed on the mucosae of porcine stomachs and colons. During subsequent conventional laparoscopic stomach and colon surgery, the fluorescent bands were assayed using the near-infrared fluorescence laparoscopy system.
Results
The locations of the fluorescent clips were clearly identified on the fluorescence images in real time. The system was able to distinguish the two or three bands marked on the mucosal surfaces of the stomach and colon. Resection margins around the fluorescent bands were sufficient in the resected specimens obtained during stomach and colon surgery.
Conclusion
These novel endoscopic fluorescent bands could be rapidly and accurately localized during stomach and colon surgery. Use of these bands may make possible the excision of exact target sites during minimally invasive gastrointestinal surgery.
This is a preview of subscription content, log in to check access.
Access options
Buy single article
Instant unlimited access to the full article PDF.
US$ 39.95
Price includes VAT for USA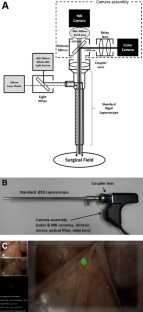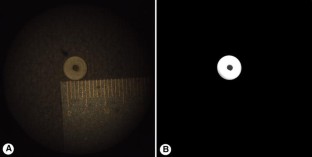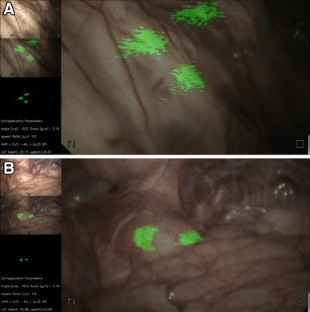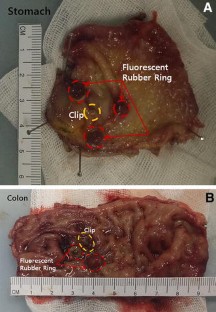 References
1.

Park JW, Sohn DK, Hong CW, Han KS, Choi DH, Chang HJ, Lim SB, Choi HS, Jeong SY (2008) The usefulness of preoperative colonoscopic tattooing using a saline test injection method with prepackaged sterile India ink for localization in laparoscopic colorectal surgery. Surg Endosc 22(2):501–505. doi:10.1007/s00464-007-9495-2

2.

Cho YB, Lee WY, Yun HR, Lee WS, Yun SH, Chun HK (2007) Tumor localization for laparoscopic colorectal surgery. World J Surg 31(7):1491–1495. doi:10.1007/s00268-007-9082-7

3.

Montorsi M, Opocher E, Santambrogio R, Bianchi P, Faranda C, Arcidiacono P, Passoni GR, Cosentino F (1999) Original technique for small colorectal tumor localization during laparoscopic surgery. Dis Colon Rectum 42(6):819–822

4.

Price N, Gottfried MR, Clary E, Lawson DC, Baillie J, Mergener K, Westcott C, Eubanks S, Pappas TN (2000) Safety and efficacy of India ink and indocyanine green as colonic tattooing agents. Gastrointest Endosc 51(4 Pt 1):438–442

5.

Park DJ, Lee HJ, Kim SG, Jung HC, Song IS, Lee KU, Choe KJ, Yang HK (2005) Intraoperative gastroscopy for gastric surgery. Surg Endosc 19(10):1358–1361. doi:10.1007/s00464-004-2217-0

6.

Beretvas RI, Ponsky J (2001) Endoscopic marking: an adjunct to laparoscopic gastrointestinal surgery. Surg Endosc 15(10):1202–1203. doi:10.1007/s004640000304

7.

Weissleder R, Ntziachristos V (2003) Shedding light onto live molecular targets. Nat Med 9(1):123–128. doi:10.1038/nm0103-123

8.

Choi Y, Kim KG, Kim JK, Nam KW, Kim HH, Sohn DK (2011) A novel endoscopic fluorescent clip for the localization of gastrointestinal tumors. Surg Endosc 25(7):2372–2377. doi:10.1007/s00464-010-1557-1

9.

Hyung WJ, Lim JS, Cheong JH, Kim J, Choi SH, Song SY, Noh SH (2005) Intraoperative tumor localization using laparoscopic ultrasonography in laparoscopic-assisted gastrectomy. Surg Endosc 19(10):1353–1357. doi:10.1007/s00464-004-8196-3

10.

Coman E, Brandt LJ, Brenner S, Frank M, Sablay B, Bennett B (1991) Fat necrosis and inflammatory pseudotumor due to endoscopic tattooing of the colon with india ink. Gastrointest Endosc 37(1):65–68

11.

Park SI, Genta RS, Romeo DP, Weesner RE (1991) Colonic abscess and focal peritonitis secondary to india ink tattooing of the colon. Gastrointest Endosc 37(1):68–71

12.

Cappell MS, Courtney JT, Amin M (2010) Black macular patches on parietal peritoneum and other extraintestinal sites from intraperitoneal spillage and spread of India ink from preoperative endoscopic tattooing: an endoscopic, surgical, gross pathologic, and microscopic study. Dig Dis Sci 55(9):2599–2605. doi:10.1007/s10620-009-1044-5

13.

Miyoshi N, Ohue M, Noura S, Yano M, Sasaki Y, Kishi K, Yamada T, Miyashiro I, Ohigashi H, Iishi H, Ishikawa O, Imaoka S (2009) Surgical usefulness of indocyanine green as an alternative to India ink for endoscopic marking. Surg Endosc 23(2):347–351. doi:10.1007/s00464-008-9938-4

14.

Takeyama H, Hata T, Nishimura J, Nonaka R, Uemura M, Haraguchi N, Takemasa I, Mizushima T, Yamamoto H, Doki Y, Mori M (2014) A novel endoscopic fluorescent clip visible with near-infrared imaging during laparoscopic surgery in a porcine model. Surg Endosc 28(6):1984–1990. doi:10.1007/s00464-014-3423-z

15.

Grupka MJ, Benson J (2008) Endoscopic clipping. J Dig 9:72–78

16.

Khattak AK, Manan F, Din RU (2013) Outcome of endoscopic band ligation for oesophageal variceal bleed in patients with chronic liver disease. Gomal J Med Sci 11(1):84–87

17.

Sarin SK, Kumar A (2014) Endoscopic treatment of gastric varices. Clin Liver Dis 18:809–827
Acknowledgments
This research was supported by the National Research Foundation of Korea (NRF), funded by the Ministry of Science, ICT & Future Planning (2014-030120), and by a Grant from the National Cancer Center (NCC-1510150).
Ethics declarations
Disclosure
All authors (Hyun JH, Kim S-K, Kim KG, Kim HR, Lee HM, Park S, Kim SC, Choi Y, and Sohn DK) have no conflicts of interest or financial ties to disclose.
Electronic supplementary material
Below is the link to the electronic supplementary material.
Supplementary material 1 (WMV 14064 kb)
About this article
Cite this article
Hyun, J.H., Kim, S., Kim, K.G. et al. A novel endoscopic fluorescent band ligation method for tumor localization. Surg Endosc 30, 4659–4663 (2016) doi:10.1007/s00464-016-4785-1
Received:

Accepted:

Published:

Issue Date:
Keywords
Tumor localization

Minimal invasive surgery

Fluorescence

Endoscopy