Abstract
Background
Answering telephone calls and pagers is common distraction in the operating room. We sought to evaluate the impact of distractions on patient care by (1) assessing the accuracy and safety of responses to clinical questions posed to a surgeon while operating and (2) determining whether pager distractions affect simulation-based surgical performance.
Methods
We conducted a randomized crossover study of obstetrics and gynecology residents. After studying a patient sign-out list, subjects performed a virtual salpingectomy. They were randomized to a distraction phase followed by quiet phase or vice versa. In the distraction phase, a pager beeped and subjects were asked questions based on the sign-out list. Accuracy of responses and the number of unsafe responses were recorded. In the quiet phase, trainees performed the task uninterrupted. Measures of surgical performance were successful task completion, time to task completion and operative blood loss.
Results
The mean score for correct responses to clinical questions during the distracted phase was 80 % (SD ±14 %). Nineteen residents (63 %) made at least 1 unsafe clinical decision while operating on the simulator (range 0–3). Subjects were more likely to successfully complete the surgical task in the allotted time under the quiet compared to distraction condition (OR 11.3, p = 0.03). There was no difference between the conditions in paired analysis for mean time (seconds) to task completion [426 (SD 133) vs. 440 (SD 186), p = 0.61] and mean operative blood loss (mL) [73.14 (SD 106) vs. 112.70 (SD 358), p = 0.47].
Conclusions
Distractions in the operating room may have a profound impact on patient safety on the wards. While multitasking in a simulated setting, the majority of residents made at least one unsafe clinical decision. Pager distractions also hindered surgical residents' ability to complete a simulated laparoscopic task in the allotted time without affecting other variables of surgical performance.
This is a preview of subscription content, log in to check access.
Access options
Buy single article
Instant access to the full article PDF.
US$ 39.95
Price includes VAT for USA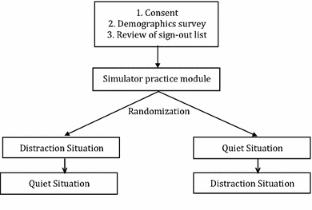 References
1.

Berguer R, Smith WD, Chung YH (2001) Performing laparoscopic surgery is significantly more stressful for the surgeon than open surgery. Surg Endosc 15:1204–1207

2.

Persoon MC, Broos HJ, Witjes JA, Hendrikx AJ, Scherpbier AJ (2011) The effect of distractions in the operating room during endourological procedures. Surg Endosc 25:437–443

3.

Zheng B, Martinec DV, Cassera MA, Swanstrom LL (2008) A quantitative study of disruption in the operating room during laparoscopic antireflux surgery. Surg Endosc 22:2171–2177

4.

Healey AN, Sevdalis N, Vincent CA (2006) Measuring intra-operative interference from distraction and interruption observed in the operating theatre. Ergonomics 49:589–604

5.

Arora S, Hull L, Sevdalis N, Tierney T, Nestel D, Woloshynowych M, Darzi A, Kneebone R (2010) Factors compromising safety in surgery: stressful events in the operating room. Am J Surg 199:60–65

6.

Lee JY, Lantz AG, McDougall EM, Landman J, Gettman M, Sweet R, Sundaram CP, Zorn KC (2013) Evaluation of potential distractors in the urology operating room. J Endourol 27:1161–1165

7.

Pluyter JR, Buzink SN, Rutkowski AF, Jakimowicz JJ (2010) Do absorption and realistic distraction influence performance of component task surgical procedure? Surg Endosc 24:902–907

8.

Persoon MC, van Putten K, Muijtjens AM, Witjes JA, Hendrikx AJ, Scherpbier AJ (2011) Effect of distraction on the performance of endourological tasks: a randomized controlled trial. BJU Int 107:1653–1657

9.

Goodell KH, Cao CG, Schwaitzberg SD (2006) Effects of cognitive distraction on performance of laparoscopic surgical tasks. J Laparoendosc Adv Surg Tech A 16:94–98

10.

Conrad C, Konuk Y, Werner P, Cao CG, Warshaw A, Rattner D, Jones DB, Gee D (2010) The effect of defined auditory conditions versus mental loading on the laparoscopic motor skill performance of experts. Surg Endosc 24:1347–1352

11.

Suh IH, Chien JH, Mukherjee M, Park SH, Oleynikov D, Siu KC (2010) The negative effect of distraction on performance of robot-assisted surgical skills in medical students and residents. Int J Med Robot 6:377–381

12.

Hsu KE, Man FY, Gizicki RA, Feldman LS, Fried GM (2008) Experienced surgeons can do more than one thing at a time: effect of distraction on performance of a simple laparoscopic and cognitive task by experienced and novice surgeons. Surg Endosc 22:196–201

13.

Moorthy K, Munz Y, Dosis A, Bann S, Darzi A (2003) The effect of stress-inducing conditions on the performance of a laparoscopic task. Surg Endosc 17:1481–1484

14.

Feuerbacher RL, Funk KH, Spight DH, Diggs BS, Hunter JG (2012) Realistic distractions and interruptions that impair simulated surgical performance by novice surgeons. Arch Surg 147:1026–1030

15.

Gallagher AG, Ritter EM, Champion H, Higgins G, Fried MP, Moses G, Smith CD, Satava RM (2005) Virtual reality simulation for the operating room: proficiency based training as a paradigm shift in surgical skills training. Ann Surg 241:364–372

16.

Schreuder HW, van Dongen KW, Roeleveld SJ, Schijven MP, Broeders IA (2009) Face and construct validity of virtual reality simulation of laparoscopic gynecologic surgery. Am J Obstet Gynecol 200:540-e1

17.

Eriksen JR, Grantcharov T (2005) Objective assessment of laparoscopic skills using a virtual reality stimulator. Surg Endosc 19:1216–1219

18.

Larsen CR, Grantcharov T, Aggarwal R, Tully A, Sorensen JL, Dalsgaard T, Ottesen B (2006) Objective assessment of gynecologic laparoscopic skills using the LapSimGyn virtual reality simulator. Surg Endosc 20:1460–1466

19.

Hickam DH, Severance S, Feldstein A, Ray L, Gorman P, Schuldheis S, Hersh WR, Pyle Krages KP, Helfand M (2003) The effect of health care working conditions on patient safety. Evidence report/technology Assessment Number 74. (Prepared by Oregon Health and Science University under Contract No. 290-97-0018.) AHRQ Publication No. 03-E031. Agency for Healthcare Research and Quality, Rockville
Acknowledgments
Faculty at the Harvard TH Chan School of Public Health for their advice and feedback during the creation of the study protocol.
Ethics declarations
Disclosures
Drs. Murji, Luketic, Sobel, Kulasegaram, Leyland and Posner have no conflicts of interest or financial ties to disclose.
Electronic supplementary material
Below is the link to the electronic supplementary material.
About this article
Cite this article
Murji, A., Luketic, L., Sobel, M.L. et al. Evaluating the effect of distractions in the operating room on clinical decision-making and patient safety. Surg Endosc 30, 4499–4504 (2016). https://doi.org/10.1007/s00464-016-4782-4
Received:

Accepted:

Published:

Issue Date:
Keywords
Postgraduate surgical education

Patient safety

Gynecology