Abstract
Background
Bile leakage (BL) remains a common cause of major morbidity after open major liver resection but has only been poorly described in patients undergoing laparoscopic major hepatectomy (LMH). The present study aimed to determine the incidence, risk factors and consequences of BL following LMH.
Methods
All 223 patients undergoing LMH between 2000 and 2013 at two tertiary referral centres were retrospectively analysed. BL was defined according to the International Study Group of Liver Surgery, and its incidence and consequences were assessed. Risk factors for BL were determined on multivariate analysis.
Results
BL occurred in 30 (13.5 %) patients, and its incidence remained stable over time (p = 0.200). BL was diagnosed following the presence of bile into the abdominal drain in 14 (46.7 %) patients and after drainage of symptomatic abdominal collections in 16 (53.3 %) patients without intra-operative drain placement. Grade A, B and C BL occurred in 3 (10.0 %), 23 (76.6 %) and 4 (13.4 %) cases, respectively. Interventional procedures for BL included endoscopic retrograde cholangiography, percutaneous and surgical drainage in 10 (33.3 %), 23 (76.7 %) and 4 (13.3 %) patients, respectively. BL was associated with significantly increased rates of symptomatic pleural effusion (30.0 vs. 11.4 %, p = 0.006), multiorgan failure (13.3 vs. 3.6 %, p = 0.022), postoperative death (10.0 vs. 1.6 %, p = 0.008) and prolonged hospital stay (18 vs. 8 days, p < 0.001). On multivariable analysis, BMI > 28 kg/m2 (OR 2.439, 95 % CI 1.878–2.771, p = 0.036), history of hepatectomy (OR 1.675, 95 % CI 1.256–2.035, p = 0.044) and biliary reconstruction (OR 1.975, 95 % CI 1.452–2.371, p = 0.039) were significantly associated with increased risk of BL.
Conclusions and relevance
After LMH, BL occurred in 13.5 % of the patients and was associated with significant morbidity. Patients with one or several risk factors for BL should benefit intra-operative drain placement.
This is a preview of subscription content, log in to check access.
Access options
Buy single article
Instant access to the full article PDF.
US$ 39.95
Price includes VAT for USA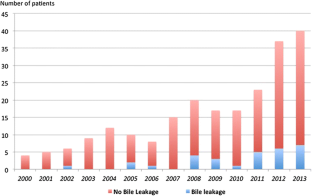 References
1.

Guillaud A, Pery C, Campillo B, Lourdais A, Sulpice L, Boudjema K (2013) Incidence and predictive factors of clinically relevant bile leakage in the modern era of liver resections. HPB (Oxford) 15:224–229

2.

Li SQ, Liang LJ, Peng BG, Lu MD, Lai JM, Li DM (2007) Bile leakage after hepatectomy for hepatolithiasis: risk factors and management. Surgery 141:340–345

3.

Lederer A, Seehofer D, Schirmeier A, Levasseur S, Stockmann M, Nüssler AK, Menger MD, Neuhaus P, Rayes N (2013) Postoperative bile leakage inhibits liver regeneration after 70 % hepatectomy in rats. J Invest Surg 26:36–45

4.

Zimmitti G, Roses RE, Andreou A, Shindoh J, Curley SA, Aloia TA, Vauthey JN (2013) Greater complexity of liver surgery is not associated with an increased incidence of liver-related complications except for bile leak: an experience with 2628 consecutive resections. J Gastrointest Surg 17:57–64

5.

Hoekstra LT, van Gulik TM, Gouma DJ, Busch OR (2012) Posthepatectomy bile leakage: how to manage. Dig Surg 29:48–53

6.

Liu Z, Jin H, Li Y, Gu Y, Zhai C (2012) Randomized controlled trial of the intraoperative bile leakage test in preventing bile leakage after hepatic resection. Dig Surg 29:510–515

7.

Tanaka S, Hirohashi K, Tanaka H, Shuto T, Lee SH, Kubo S, Takemura S, Yamamoto T, Uenishi T, Kinoshita H (2002) Incidence and management of bile leakage after hepatic resection for malignant hepatic tumors. J Am Coll Surg 195:484–489

8.

Zimmitti G, Vauthey JN, Shindoh J, Tzeng CW, Roses RE, Ribero D, Capussotti L, Giuliante F, Nuzzo G, Aloia TA (2013) Systematic use of an intraoperative air leak test at the time of major liver resection reduces the rate of postoperative biliary complications. J Am Coll Surg 217:1028–1037

9.

Nanashima A, Abo T, Shibuya A et al (2013) Does the placement of a cystic duct tube after a hepatic resection help reduce the incidence of post-operative bile leak? HPB (Oxford) 15:517–522

10.

Sakamoto K, Tamesa T, Yukio T, Tokuhisa Y, Maeda Y, Oka M (2015) Risk factors and managements of bile leakage after hepatectomy. World J Surg [Epub ahead of print]

11.

Taguchi Y, Ebata T, Yokoyama Y, Igami T, Sugawara G, Kokuryo T, Wakai K, Nagino M (2014) The determination of bile leakage in complex hepatectomy based on the guidelines of the International Study Group of Liver Surgery. World J Surg 38:168–176

12.

Dokmak S, Agostini J, Jacquin A, Cauchy F, Farges O, Belghiti J (2012) High risk of biliary fistula after isolated segment VIII liver resection. World J Surg 36:2692–2698

13.

Ishizawa T, Gumbs AA, Kokudo N, Gayet B (2012) Laparoscopic segmentectomy of the liver: from segment I to VIII. Ann Surg 256:959–964

14.

Ogiso S, Conrad C, Araki K, Nomi T, Anil Z, Gayet B (2015) Laparoscopic transabdominal with transdiaphragmatic access improves resection of difficult posterosuperior liver lesions. Ann Surg 262:358–365

15.

Dagher I, O'Rourke N, Geller DA, Cherqui D, Belli G, Gamblin TC, Lainas P, Laurent A, Nguyen KT, Marvin MR, Thomas M, Ravindra K, Fielding G, Franco D, Buell JF (2009) Laparoscopic major hepatectomy: an evolution in standard of care. Ann Surg 250:856–860

16.

Dagher I, Gayet B, Tzanis D, Tranchart H, Fuks D, Soubrane O, Han HS, Kim KH, Cherqui D, O'Rourke N, Troisi RI, Aldrighetti L, Bjorn E, Abu Hilal M, Belli G, Kaneko H, Jarnagin WR, Lin C, Pekolj J, Buell JF, Wakabayashi G (2014) International experience for laparoscopic major liver resection. J Hepatobiliary Pancreat Sci 21:732–736

17.

Medbery RL, Chadid TS, Sweeney JF, Knechtle SJ, Kooby DA, Maithel SK, Lin E, Sarmiento JM (2014) Laparoscopic vs open right hepatectomy: a value-based analysis. J Am Coll Surg 18:929–939

18.

Fuks D, Cauchy F, Ftériche S, Nomi T, Schwarz L, Dokmak S, Scatton O, Fusco G, Belghiti J, Gayet B, Soubrane O (2015) Laparoscopy decreases pulmonary complications in patients undergoing major liver resection: a propensity score analysis. Ann Surg [Epub ahead of print]

19.

Soubrane O, Schwarz L, Cauchy F, Perotto LO, Brustia R, Bernard D, Scatton O (2015) A conceptual technique for laparoscopic right hepatectomy based on facts and oncological rules: the caudal approach. Ann Surg 261:1226–1231

20.

Nguyen KT, Gamblin TC, Geller DA (2009) World review of laparoscopic liver resection-2804 patients. Ann Surg 250:831–841

21.

Nguyen KT, Marsh JW, Tsung A, Steel JJ, Gamblin TC, Geller DA (2011) Comparative benefits of laparoscopic vs open hepatic resection: a critical appraisal. Arch Surg 46:348–356

22.

Tranchart H, Gaillard M, Chirica M, Ferretti S, Perlemuter G, Naveau S, Dagher I (2014) Multivariate analysis of risk factors for postoperative complications after laparoscopic liver resection. Surg Endosc 29:2538–2544

23.

Couinaud C (1957) Le foie: études anatomiques et chirurgicales. Masson, Paris

24.

Jones RM, Moulton CE, Hardy KJ (1998) Central venous pressure and its effect on blood loss during liver resection. Br J Surg 85:1058–1060

25.

Belli G, Gayet B, Han HS, Wakabayashi G, Kim KH, Cannon R, Kaneko H, Gamblin T, Koffron A, Dagher I, Buell JF, International Consensus Group for Laparoscopic Liver Surgery (2013) Laparoscopic left hemihepatectomy a consideration for acceptance as standard of care. Surg Endosc 27:2721–2726

26.

Koch M, Garden OJ, Padbury R, Rahbari NN, Adam R, Capussotti L, Fan ST, Yokoyama Y, Crawford M, Makuuchi M, Christophi C, Banting S, Brooke-Smith M, Usatoff V, Nagino M, Maddern G, Hugh TJ, Vauthey JN, Greig P, Rees M, Nimura Y, Figueras J, DeMatteo RP, Büchler MW, Weitz J (2011) Bile leakage after hepatobiliary and pancreatic surgery: a definition and grading of severity by the International Study Group of Liver Surgery. Surgery 149:680–688

27.

Balzan S, Belghiti J, Farges O, Ogata S, Sauvanet A, Delefosse D, Durand F (2005) The "50–50 criteria" on postoperative day 5: an accurate predictor of liver failure and death after hepatectomy. Ann Surg 242:824–828

28.

Ishizawa T, Hasegawa K, Kokudo N, Sano K, Imamura H, Beck Y, Sugawara Y, Makuuchi M (2009) Risk factors and management of ascites after liver resection to treat hepatocellular carcinoma. Arch Surg 144:46–51

29.

Rahbari NN, Garden OJ, Padbury R, Maddern G, Koch M, Hugh TJ, Fan ST, Nimura Y, Figueras J, Vauthey JN, Rees M, Adam R, Dematteo RP, Greig P, Usatoff V, Banting S, Nagino M, Capussotti L, Yokoyama Y, Brooke-Smith M, Crawford M, Christophi C, Makuuchi M, Büchler MW, Weitz J (2011) Post-hepatectomy haemorrhage: a definition and grading by the International Study Group of Liver Surgery (ISGLS). HPB (Oxford) 13:528–535

30.

Dindo D, Demartines N, Clavien PA (2004) Classification of surgical complications: a new proposal with evaluation in a cohort of 6336 patients and results of a survey. Ann Surg 240:205–213

31.

Capussotti L, Ferrero A, Viganò L, Sgotto E, Muratore A, Polastri R (2006) Bile leakage and liver resection: Where is the risk? Arch Surg 141:690–694

32.

Li J, Malagó M, Sotiropoulos GC, Lang H, Schaffer R, Paul A, Broelsch CE, Nadalin S (2009) Intraoperative application of "white test" to reduce postoperative bile leak after major liver resection: results of a prospective cohort study in 137 patients. Langenbecks Arch Surg 394:1019–1024

33.

Yoshioka R, Saiura A, Koga R, Seki M, Kishi Y, Yamamoto J (2011) Predictive factors for bile leakage after hepatectomy: analysis of 505 consecutive patients. World J Surg 35:1898–1903

34.

Rahbari NN, Elbers H, Koch M, Kirchberg J, Dutlu M, Mehrabi A, Büchler MW, Weitz J (2012) Bilirubin level in the drainage fluid is an early and independent predictor of clinically relevant bile leakage after hepatic resection. Surgery 152:821–831

35.

Zheng SM, Li H, Li GC, Yu DS, Ying DJ, Zhang B, Lu C, Zhou XH (2015) Risk factors, treatment and impact on outcomes of bile leakage after hemihepatectomy. ANZ J Surg. doi:10.1111/ans.13073

36.

Cauchy F, Fuks D, Nomi T, Schwarz L, Barbier L, Dokmak S, Scatton O, Belghiti J, Soubrane O, Gayet B (2015) Risk factors and consequences of conversion in laparoscopic major liver resection. Br J Surg 102:785–795

37.

Koffron AJ, Auffenberg G, Kung R, Abecassis M (2007) Evaluation of 300 minimally invasive liver resections at a single institution: less is more. Ann Surg 246:385–392; discussion 392–394

38.

Chang S, Laurent A, Tayar C, Karoui M, Cherqui D (2007) Laparoscopy as a routine approach for left lateral sectionectomy. Br J Surg 94:58–63

39.

Cannon RM, Brock GN, Marvin MR, Buell JF (2011) Laparoscopic liver resection: an examination of our first 300 patients. J Am Coll Surg 213:501–507

40.

Soubrane O, Goumard C, Laurent A, Tranchart H, Truant S, Gayet B, Salloum C, Luc G, Dokmak S, Piardi T, Cherqui D, Dagher I, Boleslawski E, Vibert E, Sa Cunha A, Belghiti J, Pessaux P, Boelle PY, Scatton O (2014) Laparoscopic resection of hepatocellular carcinoma: a French survey in 351 patients. HPB (Oxford) 16:357–365

41.

Cai XJ, Wang YF, Liang YL, Yu H, Liang X (2009) Laparoscopic left hemihepatectomy: a safety and feasibility study of 19 cases. Surg Endosc 23:2556–2562

42.

Tu JF, Jiang FZ, Zhu HL, Hu RY, Zhang WJ, Zhou ZX (2010) Laparoscopic vs open left hepatectomy for hepatolithiasis. World J Gastroenterol 16:2818–2823

43.

Namgoong JM, Kim KH, Park GC et al (2014) Comparison of laparoscopic versus open left hemihepatectomy for left-sided hepatolithiasis. Int J Med Sci 11:127–133

44.

Ye X, Ni K, Zhou X, Xie K, Hong X (2015) Laparoscopic versus open left hemihepatectomy for hepatolithiasis. J Surg Res 199:402-406

45.

Kawai M, Tani M, Terasawa H, Ina S, Hirono S, Nishioka R, Miyazawa M, Uchiyama K, Yamaue H (2006) Early removal of prophylactic drains reduces the risk of intra-abdominal infections in patients with pancreatic head resection: prospective study for 104 consecutive patients. Ann Surg 244:1–7

46.

Bekki Y, Yamashita Y, Itoh S, Harimoto N, Shirabe K, Maehara Y (2015) Predictors of the effectiveness of prophylactic drains after hepatic resection. World J Surg 39:2543–2549

47.

Ijichi M, Takayama T, Toyoda H, Sano K, Kubota K, Makuuchi M (2000) Randomized trial of the usefulness of a bile leakage test during hepatic resection. Arch Surg 135:1395–1400

48.

Wang HQ, Yang J, Yang JY, Yan LN (2013) Bile leakage test in liver resection: a systematic review and meta-analysis. World J Gastroenterol 19:8420–8426

49.

Kawaguchi Y, Ishizawa T, Masuda K, Sato S, Kaneko J, Aoki T, Beck Y, Sugawara Y, Hasegawa K, Kokudo N (2011) Hepatobiliary surgery guided by a novel fluorescent imaging technique for visualizing hepatic arteries, bile ducts, and liver cancers on color images. J Am Coll Surg 212(6):e33–e39. doi:10.1016/j.jamcollsurg.2011.03.006

50.

Inoue Y, Tanaka R, Komeda K, Hirokawa F, Hayashi M, Uchiyama K (2014) Fluorescence detection of malignant liver tumors using 5-aminolevulinic acid-mediated photodynamic diagnosis: principles, technique, and clinical experience. World J Surg 38:1786–1794
Author contributions
Study concept and design: Soubrane, Fuks, Cauchy, Gayet; Acquisition of data: Nomi, Schwarz, Belgaumkar, Fuks, Cauchy; Analysis and interpretation of data: Cauchy, Fuks, Gayet, Soubrane; Drafting of the manuscript: Cauchy, Fuks, Soubrane, Gayet; Critical revision of the manuscript: Fuks, Cauchy, Soubrane, Gayet, Scatton; Statistical analysis: Cauchy, Fuks, Study supervision: Soubrane, Fuks, Cauchy, Gayet.
Ethics declarations
Disclosures
François Cauchy, David Fuks, Takeo Nomi, Lilian Schwarz, Ajay Belgaumkar, Olivier Scatton, Olivier Soubrane and Brice Gayet have no conflicts of interest or financial ties to disclose.
Electronic supplementary material
Below is the link to the electronic supplementary material.
About this article
Cite this article
Cauchy, F., Fuks, D., Nomi, T. et al. Incidence, risk factors and consequences of bile leakage following laparoscopic major hepatectomy. Surg Endosc 30, 3709–3719 (2016). https://doi.org/10.1007/s00464-015-4666-z
Received:

Accepted:

Published:

Issue Date:
Keywords
Bile leakage

Laparoscopic major hepatectomy

Postoperative complications

Abdominal drainage