Abstract
Background
Traditional endoscopic thoracic sympathicotomy is usually performed through an axillary incision with 5-mm thoracoscope under general anesthesia with endotrachea intubation. Nonintubated transareolar single-port thoracic sympathicotomy with a needle scope has rarely been attempted. The objective of this study is to evaluate the feasibility and safety of this minimally invasive technique in managing primary palmar hyperhidrosis (PPH).
Methods
From May 2012 to May 2014, a total of 85 male patients with severe PPH underwent transareolar single-port thoracic sympathicotomy by use of a 2-mm needle scope under total intravenous anesthesia without endotrachea intubation.
Results
All procedures were successfully performed with a mean operating time of 13.5 min. The palms of all patients became dry and warm as soon as the sympathetic chain was cut off. There were no sore throat, and all the patients regained consciousness rapidly after surgery. Eighty-two patients (96.5 %) were discharged from the hospital on the first postoperative day. The postoperative complications were minor, and no patients developed Horner's syndrome. At 6 months postoperatively, there is no obvious surgical scar on the chest wall, and none of the patients complained about postoperative pain. Compensatory sweating appeared in 31 patients. No recurrent symptoms were observed in our study. One-year follow-up revealed an excellent cosmetic result and degree of satisfaction.
Conclusions
Nonintubated transareolar single-port needlescopic thoracic sympathicotomy is a safe, effective and minimally invasive therapeutic procedure, which can be performed in routine clinical practice for male PPH patients.
This is a preview of subscription content, log in to check access.
Access options
Buy single article
Instant access to the full article PDF.
US$ 39.95
Price includes VAT for USA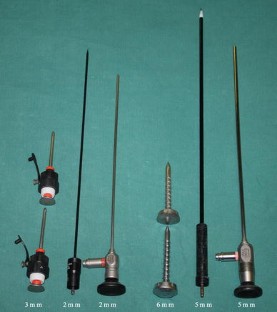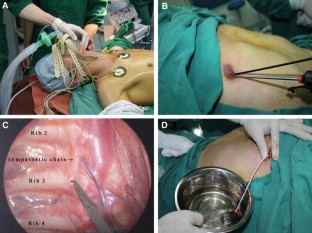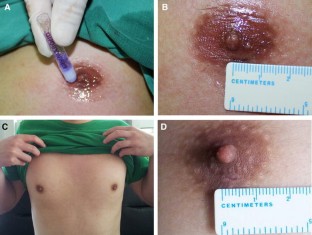 References
1.

Sato K, Kang WH, Saga K, Sato KT (1989) Biology of sweat glands and their disorders. II. Disorders of sweat gland function. J Am Acad Dermatol 20:713–726

2.

De Campos JR, Kauffman P, Werebe Ede C, Andrade Filho LO, Kusniek S, Wolosker N, Jatene FB (2003) Quality of life, before and after thoracic sympathectomy: report on 378 operated patients. Ann Thorac Surg 76:886–891

3.

Adar R, Kurchin A, Zweig A, Mozes M (1977) Palmar hyperhidrosis and its surgical treatment: a report of 100 cases. Ann Surg 186:34–41

4.

Friedel G, Linder A, Toomes H (1993) Selective video-assisted thoracoscopic sympathectomy. Thorac Cardiovasc Surg 41:245–248

5.

Malone PS, Cameron AE, Rennie JA (1986) Endoscopic thoracic sympathectomy in the treatment of upper limb hyperhidrosis. Ann R Coll Surg Engl 68:93–94

6.

Heckmann M, Plewig G, Hyperhidrosis Study Group (2005) Low-dose efficacy of botulinum toxin a for axillary hyperhidrosis: a randomized, side-by-side, open-label study. Arch Dermatol 141:1255–1259

7.

Lai FC, Tu YR, Li YP, Li X, Lin M, Chen JF, Lin JB (2015) Nation wide epidemiological survey of primary palmar hyperhidrosis in the People's Republic of China. Clin Auton Res 25:105–108

8.

Ro KM, Cantor RM, Lange KL, Ahn SS (2002) Palmar hyperhidrosis: evidence of genetic transmission. J Vasc Surg 35:382–386

9.

Kaufmann H, Saadia D, Polin C, Hague S, Singleton A, Singleton A (2003) Primary hyperhidrosis—evidence for autosomal dominant inheritance. Clin Auton Res 13:96–98

10.

Chen J, Lin M, Chen X, Cao Z, Tan Z, Xiong W, Tu Y, Yang J (2015) A novel locus for primary focal hyperhidrosis mapped on chromosome 2q31.1. Br J Dermatol 172:1150–1153

11.

Krasna MJ (2008) Thoracoscopic sympathectomy: a standardized approach to therapy for hyperhidrosis. Ann Thorac Surg 85:S764–S767

12.

Cerfolio RJ, De Campos JR, Bryant AS, Connery CP, Miller DL, DeCamp MM, McKenna RJ, Krasna MJ (2011) The society of thoracic surgeons expert consensus for the surgical treatment of hyperhidrosis. Ann Thorac Surg 91:1642–1648

13.

Tseng YD, Cheng YJ, Hung MH, Chen KC, Chen JS (2012) Nonintubated needlescopic video-assisted thoracic surgery for management of peripheral lung nodules. Ann Thorac Surg 93:1049–1054

14.

Mineo TC, Sellitri F, Tacconi F, Ambrogi V (2014) Quality of life and outcomes after nonintubated versus intubated video-thoracoscopic pleurodesis for malignant pleural effusion: comparison by a case-matched study. J Palliat Med 17:761–768

15.

Li X, Tu YR, Lin M, Lai FC, Chen JF, Dai ZJ (2008) Endoscopic thoracic sympathectomy for palmar hyperhidrosis: a randomized control trial comparing T3 and T2-4 ablation. Ann Thorac Surg 85:1747–1751

16.

Sihoe AD, Cheung CS, Lai HK, Lee TW, Thung KH, Yim AP (2005) Incidence of chest wall paresthesia after needlescopic video-assisted thoracic surgery for palmar hyperhidrosis. Eur J Cardiothorac Surg 27:313–319

17.

Dumont P, Denoyer A, Robin P (2004) Long-term results of thoracoscopic sympathectomy for hyperhidrosis. Ann Thorac Surg 78:1801–1807

18.

Lardinois D, Ris HB (2002) Minimally invasive video-endoscopic sympathectomy by use of a transaxillary single port approach. Eur J Cardiothorac Surg 21:67–70

19.

Zhu LH, Wang W, Yang S, Li D, Zhang Z, Chen S, Cheng X, Chen L, Chen W (2013) Transumbilical thoracic sympathectomy with an ultrathin flexible endoscope in a series of 38 patients. Surg Endosc 27:2149–2155

20.

Doolabh N, Horswell S, Williams M, Huber L, Prince S, Meyer DM, Mack MJ (2004) Thoracoscopic sympathectomy for hyperhidrosis: indications and results. Ann Thorac Surg 77:410–414

21.

Jeganathan R, Jordan S, Jones M, Grant S, Diamond O, McManus K, Graham A, McGuigan J (2008) Bilateral thoracoscopic sympathectomy: results and long-term follow-up. Interact Cardiovasc Thorac Surg 7:67–70

22.

Liu Y, Yang J, Liu J, Yang F, Jiang G, Li J, Huang Y, Wang J (2009) Surgical treatment of primary palmar hyperhidrosis: a prospective randomized study comparing T3 and T4 sympathicotomy. Eur J Cardiothorac Surg 35:398–402

23.

Fredman B, Olsfanger D, Jedeikin R (1997) Thorascopic sympathectomy in the treatment of palmar hyperhidrosis: anaesthetic implications. Br J Anaesth 79:113–119

24.

Conacher ID (2002) Anaesthesia for thoracoscopic surgery. Best Pract Res Clin Anaesthesiol 16:53–62

25.

Kwong KF, Cooper LB, Bennett LA, Burrows W, Gamliel Z, Krasna MJ (2005) Clinical experience in 397 consecutive thoracoscopic sympathectomies. Ann Thorac Surg 80:1063–1066

26.

Singh B, Moodley J, Allopi L, Cassimjee HM (2006) Horner syndrome after sympathectomy in the thoracoscopic era. Surg Laparosc Endosc Percutan Tech 16:222–225

27.

Rodríguez PM, Freixinet JL, Hussein M, Valencia JM, Gil RM, Herrero J, Caballero-Hidalgo A (2008) Side effects, complications and outcome of thoracoscopic sympathectomy for palmar and axillary hyperhidrosis in 406 patients. Eur J Cardiothorac Surg 34:514–519

28.

Kim DH, Paik HC, Lee DY (2005) Video assisted thoracoscopic re-sympathetic surgery in the treatment of re-sweating hyperhidrosis. Eur J Cardiothorac Surg 27:741–744

29.

Schmidt J, Bechara FG, Altmeyer P, Zirngibl H (2006) Endoscopic thoracic sympathectomy for severe hyperhidrosis: impact of restrictive denervation on compensatory sweating. Ann Thorac Surg 81:1048–1055

30.

Miller DL, Force SD (2007) Outpatient microthoracoscopic sympathectomy for palmar hyperhidrosis. Ann Thorac Surg 83:1850–1853

31.

Katara AN, Domino JP, Cheah WK, So JB, Ning C, Lomanto D (2007) Comparing T2 and T2–T3 ablation in thoracoscopic sympathectomy for palmar hyperhidrosis: a randomized control trial. Surg Endosc 21:1768–1771

32.

Licht PB, Pilegaard HK (2004) Severity of compensatory sweating after thoracoscopic sympathectomy. Ann Thorac Surg 78:427–431

33.

Yano M, Kiriyama M, Fukai I, Sasaki H, Kobayashi Y, Mizuno K, Haneda H, Suzuki E, Endo K, Fujii Y (2005) Endoscopic thoracic sympathectomy for palmar hyperhidrosis: efficacy of T2 and T3 ganglion resection. Surgery 138:40–45

34.

Liu YH, Liu HP, Wu YC, Ko PJ (2010) Feasibility of transtracheal thoracoscopy (natural orifice transluminal endoscopic surgery). J Thorac Cardiovasc Surg 139:1349–1350

35.

Rolanda C, Silva D, Branco C, Moreira I, Macedo G, Correia-Pinto J (2011) Peroral esophageal segmentectomy and anastomosis with single transthoracic trocar: a step forward in thoracic NOTES. Endoscopy 43:14–20

36.

Ko PJ, Chu Y, Wu YC, Liu CY, Hsieh MJ, Chen TP, Chao YK, Wu CY, Yuan HC, Liu YH, Liu HP (2012) Feasibility of endoscopic transoral thoracic surgical lung biopsy and pericardial window creation. J Surg Res 175:207–214
Acknowledgments
This study was supported by Natural Science Foundation of China (Grant 81070906), Natural Science Foundation of Fujian Province (Grant 2013J01303) and Key Program of Scientific Research of Fujian Province (Grant 2015-ZQN-ZD-22).
Ethics declarations
Disclosures
Jian-Feng Chen, Jian-Bo Lin, Yuan-Rong Tu, Min Lin, Xu Li, Fan-Cai Lai, Quan Du and Yuan-Da Dai have no conflicts of interest or financial ties to disclose.
Additional information
Jian-Feng Chen and Jian-Bo Lin contributed equally to this study, and both should be considered first author.
About this article
Cite this article
Chen, J., Lin, J., Tu, Y. et al. Nonintubated transareolar single-port thoracic sympathicotomy with a needle scope in a series of 85 male patients. Surg Endosc 30, 3447–3453 (2016). https://doi.org/10.1007/s00464-015-4628-5
Received:

Accepted:

Published:

Issue Date:
Keywords
Primary palmar hyperhidrosis

Single-port sympathicotomy

Needlescopic surgery

Areolar approach

Intravenous anesthesia