Abstract
Background
The use of transanal laparoscopic access to completely avoid abdominal wall incisions represents the most current evolution in minimally invasive surgery. The combination of single-site surgery and natural orifice transluminal endoscopic surgery (NOTES™) can be used for totally transanal laparoendoscopic pull-through colectomy with J-pouch creation (TLPC-J). The aim of the present study was to provide evidence for the feasibility of TLPC-J in adult human cadavers.
Methods
TLPC-J was performed in six fresh adult human cadavers. The procedure involved endorectal submucosal dissection from 1 cm above the dentate line to a point above the peritoneal reflection, where the rectal muscle was divided circumferentially. The edge of the mucosal cuff was closed distally in order to prevent fecal contamination and the endorectal tube was placed back into the abdomen. A Triport+™ or QuadPort+™ system was introduced transanally, and it served as a multiport device (MD). Resection of the entire colon, mobilization of the distal ileal segment, and extracorporeal suture of the ileal J-loop were performed via the transanal approach. The J-pouch was created using Endo GIA™. After removal of the MD, the J-pouch was sutured to the rectal wall.
Results
TLPC-J was performed in all cadavers, with a mean operation duration of 236 ± 22 min. Conversion to either transabdominal laparoscopy or laparotomy was not required in any of the cadavers. No bowel perforation or damage to other organs was observed. The use of a curved endoscope greatly facilitated visualization during transanal laparoscopic dissection for partial and total colectomy, making the procedure feasible. All specimens were retrieved through the anus, eliminating the need for additional transabdominal incisions.
Conclusions
TLPC-J was technically feasible in adult human cadavers, and abdominal wall incisions were not required. However, clinical studies are needed to determine its feasibility in living adults.
This is a preview of subscription content, log in to check access.
Access options
Buy single article
Instant unlimited access to the full article PDF.
US$ 39.95
Price includes VAT for USA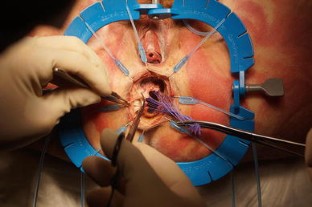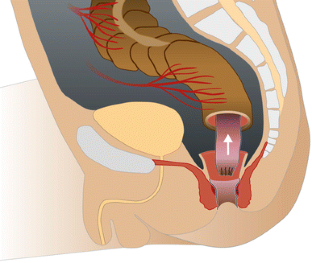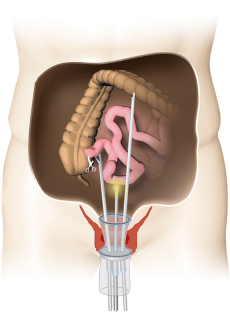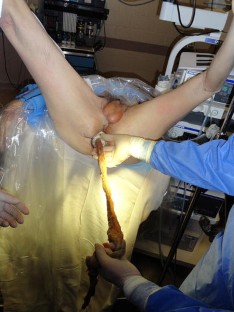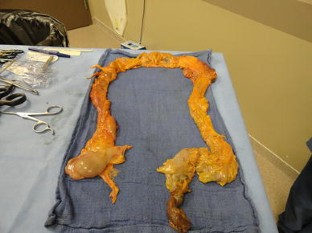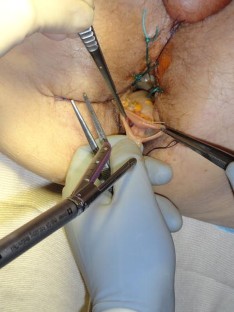 References
1.

Fuchs KH, Breithaupt W, Varga G et al (2013) Transanal hybrid colon resection: from laparoscopy to NOTES. Surg Endosc 27:746–752

2.

Fuchs KH, Meining A, von Renteln D (2013) Euro-NOTES status paper: from the concept to clinical practice. Surg Endosc 27:1456–1467

3.

Vahdad MR, Foroutan A, Najafi SM et al (2013) Totally transanal LESS pull-through colectomy: a novel approach for avoiding abdominal wall incision in children with long-segment intestinal aganglionosis. J Laparoendosc Adv Surg Tech A 23:276–280

4.

Martin-Perez B, Andrade-Ribeiro GD, Hunter L et al (2014) A systematic review of transanal minimally invasive surgery (TAMIS) from 2010 to 2013. Tech Coloproctol 18:775–788

5.

Mozafar M, Shateri K, Tabatabaey A et al (2014) Familial adenomatous polyposis: ileo-anal pouch versus ileo-rectal anastomosis. Gastroenterol Hepatol Bed Bench 7:206–210

6.

Tasende MM, Delgado S, Jimenez M et al (2015) Minimal invasive surgery: NOSE and NOTES in ulcerative colitis. Surg Endosc. doi:10.1007/s00464-015-4087-z

7.

Trigui A, Frikha F, Rejab H et al (2014) Ileal pouch-anal anastomosis: points of controversy. J Visc Surg 151:281–288

8.

Muensterer OJ, Chong A, Hansen EN et al (2010) Single-incision laparoscopic endorectal pull-through (SILEP) for hirschsprung disease. J Gastrointest Surg 14:1950–1954

9.

Bemelman WA (2010) Laparoscopic ileoanal pouch surgery. Br J Surg 97:2–3

10.

Sylla P (2010) Current experience and future directions of completely NOTES colorectal resection. World J Gastrointest Surg 2:193–198

11.

Fajardo AD, Hunt SR, Fleshman JW et al (2010) Video. Transanal single-port low anterior resection in a cadaver model. Surg Endosc 24:1765
Acknowledgments
We thank Mrs. Charlotte Schmitz (CATSNFROGS Medical Illustrations) for illustrating the steps of the surgical procedure. Additionally, we thank Editage (www.editage.com) for English language editing.
Ethics declarations
Disclosures
M. Reza Vahdad and Harry Zemon are consultants for Olympus Surgical Technologies. Samuel Faran is an employee of Olympus Surgical Technologies. Grigore Cernaianu, Alexander Semaan, Tobias Klein, Thomas Boemers, and Hamid Reza Foroutan have no conflicts of interest or financial ties to disclose.
Additional information
Presented at the SAGES 2015 Annual Meeting, April 15–18, 2015, Nashville, Tennessee.
Electronic supplementary material
Below is the link to the electronic supplementary material.
Transanal laparoscopic bowel dissection between the rectum and the left colonic flexure (WMV 32825 kb)
Transanal laparoscopic bowel resection between the transverse colon and the ascending colon, and transanal extraction of the resected bowel (WMV 21794 kb)
Transanal laparoscopic bowel dissection between the rectum and the left colonic flexure (WMV 32825 kb)
Transanal laparoscopic bowel resection between the transverse colon and the ascending colon, and transanal extraction of the resected bowel (WMV 21794 kb)
About this article
Cite this article
Vahdad, M.R., Cernaianu, G., Semaan, A. et al. An experimental study in six fresh human cadavers using a novel approach to avoid abdominal wall incisions in total colectomy: totally transanal laparoendoscopic single-site pull-through colectomy with J-pouch creation. Surg Endosc 30, 3107–3113 (2016). https://doi.org/10.1007/s00464-015-4555-5
Received:

Accepted:

Published:

Issue Date:
Keywords
Natural orifice transluminal endoscopic surgery

Transanal minimally invasive surgery

Colectomy

Transanal