Abstract
Background
Although uveal melanoma is a rare disease, its metastasis to the liver is associated with a poor survival. The aim of this study is to analyze the survival after surgical treatment of uveal melanoma metastases to the liver.
Methods
Within 15 years, 44 patients with uveal melanoma metastases to the liver were managed at a single center. Medical records were reviewed to identify patients who underwent surgical treatment of their liver disease. Clinical and oncologic results were compared to those patients who were managed otherwise. T test, Chi-square test, and Kaplan–Meier survival analyses were performed.
Results
There were 16 patients who underwent surgical treatment (laparoscopic liver resection, n = 2 and laparoscopic radiofrequency ablation, n = 14), compared to 28 patients who received systemic therapy. The groups were similar regarding demographics and size of primary tumor. The interval between diagnoses of primary tumor and liver metastases was longer for the surgical group (58 vs 22 months, respectively, p = 0.010). Although the dominant liver tumor size was similar, the average number of liver tumors was 4 in the surgical group and 10 in the systemic therapy group (p < 0.0001). The median survival after diagnosis of liver metastases was 35 months in the surgical group and 15 months in the systemic therapy group (p ≤ 0.0001). Five-year survival was zero in the systemic therapy group and 22 % in the surgical group.
Conclusions
This study shows that surgical treatment of liver metastases in selected patients with uveal melanoma, who have limited liver tumor burden and a long interval to metastases development, may result in long-term survival.
This is a preview of subscription content, log in to check access.
Access options
Buy single article
Instant access to the full article PDF.
US$ 39.95
Price includes VAT for USA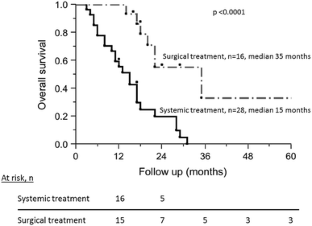 References
1.

Singh AD, Turell ME, Topham AK (2011) Uveal melanoma: trends in incidence, treatment, and survival. Ophthalmology 118:1881–1885

2.

Sato T (2010) Locoregional management of hepatic metastasis from primary uveal melanoma. Semin Oncol 37:127–138

3.

Diener-West M, Reynolds SM, Agugliaro DJ, Caldwell R, Cumming K, Earle JD, Hawkins BS, Hayman JA, Jaiyesimi I, Jampol LM, Kirkwood JM, Koh W-J, Robertson DM, Shaw JM, Straatsma BR, Thoma J (2005) Development of metastatic disease after enrollment in the COMS trials for treatment of choroidal melanoma: Collaborative Ocular Melanoma Study Group Report No. 26. Arch Ophthalmol 123:1639–1643

4.

Kolandjian NA, Wei C, Patel SP, Richard JL, Dett T, Papadopoulos NE, Bedikian AY (2013) Delayed systemic recurrence of uveal melanoma. Am J Clin Oncol 36:443–449

5.

Gomez D, Wetherill C, Cheong J, Jones L, Marshall E, Damato B, Coupland SE, Ghaneh P, Poston GJ, Malik HZ, Fenwick SW (2014) The Liverpool uveal melanoma liver metastases pathway: outcome following liver resection. J Surg Oncol 109:542–547

6.

Miyamoto C, Balazsi M, Bakalian S, Fernandes BF, Burnier MN (2012) Uveal melanoma: ocular and systemic disease. Saudi J Ophthalmol 26:145–149

7.

Edelhauser G, Schicher N, Berzaczy D, Beitzke D, Höeller C, Lammer J, Funovics M (2012) Fotemustine chemoembolization of hepatic metastases from uveal melanoma: a retrospective single-center analysis. Am J Roentgenol 199:1387–1392

8.

Derek E, Matsuoka L, Alexopoulos S, Fedenko A, Genyk Y, Selby R (2013) Combined surgical resection and radiofrequency ablation as treatment for metastatic ocular melanoma. Surg Today 43:367–371

9.

Yang XY, Xie F, Tao R, Li AJ, Wu MC (2013) Treatment of liver metastases from uveal melanoma: a retrospective single-center analysis. Hepatobiliary Pancreat Dis Int 12:602–606

10.

Mariani P, Piperno-Neumann S, Servois V, Berry MG, Dorval T, Plancher C, Couturier J, Levy-Gabriel C, Lumbroso-Le Rouic L, Desjardins L, Salmon RJ (2009) Surgical management of liver metastases from uveal melanoma: 16 years' experience at the Institut Curie. Eur J Surg Oncol 35:1192–1197

11.

Augsburger JJ, Corrêa ZM, Shaikh AH (2009) Effectiveness of treatments for metastatic uveal melanoma. Am J Ophthalmol 148:119–127

12.

Faries MB, Leung A, Morton DL, Hari D, Lee JH, Sim MS, Bilchik AJ (2014) A 20-year experience of hepatic resection for melanoma: is there an expanding role? J Am Coll Surg 219:62–68

13.

Aoyama T, Mastrangelo MJ, Berd D, Nathan FE, Shields CL, Shields JA, Rosato EL, Rosato FE, Sato T (2000) Protracted survival after resection of metastatic uveal melanoma. Cancer 89:1561–1568

14.

Berber E, Siperstein AE (2007) Perioperative outcome after laparoscopic radiofrequency ablation of liver tumors: an analysis of 521 cases. Surg Endosc 21:613–618

15.

Tsinberg M, Tellioglu G, Simpfendorfer CH, Walsh MR, Vogt D, Fung J, Berber E (2009) Comparison of laparoscopic versus open liver tumor resection: a case-controlled study. Surg Endosc 23:847–853

16.

Rivoire M, Kodjikian L, Baldo S, Kaemmerlen P, Négrier S, Grange JD (2005) Treatment of liver metastases from uveal melanoma. Ann Surg Oncol 12:422–428

17.

Cerbone L, Van Ginderdeuren R, Van den Oord J, Fieuws S, Spileers W, Van Eenoo L, Wozniak A, Sternberg CN, Schöffski P (2014) Clinical presentation, pathological features and natural course of metastatic uveal melanoma, an orphan and commonly fatal disease. Oncology 86:185–189

18.

Frenkel S, Nir I, Hendler K, Lotem M, Eid A, Jurim O, Pe'er J (2009) Long-term survival of uveal melanoma patients after surgery for liver metastases. Br J Ophthalmol 93:1042–1046

19.

Ryu SW, Saw R, Scolyer RA, Crawford M, Thompson JF, Sandroussi C (2013) Liver resection for metastatic melanoma: equivalent survival for cutaneous and ocular primaries. J Surg Oncol 108:129–135
Ethics declarations
Disclosures
Muhammet Akyuz, Pınar Yazici, Cem Dural, Hakan Yigitbas, Alexis Okoh, Emre Bucak, Michael McNamara, Arun Singh, and Eren Berber have no conflicts of interest or financial ties to disclose.
About this article
Cite this article
Akyuz, M., Yazici, P., Dural, C. et al. Laparoscopic management of liver metastases from uveal melanoma. Surg Endosc 30, 2567–2571 (2016). https://doi.org/10.1007/s00464-015-4527-9
Received:

Accepted:

Published:

Issue Date:
Keywords
Uveal melanoma

Liver metastases

Laparoscopic liver resection

Laparoscopic radiofrequency ablation