Abstract
Background
Currently, the majority cases of the novel down-to-up transanal total mesorectal excision (TaTME) were performed in a hybrid approach with conventional laparoscopic assistance because of less operative difficulty. However, although cases are limited, the successes of TaTME in a pure approach (without laparoscopic assistance) indicate that the costly and less mini-invasive hybrid TaTME could be potentially avoided.
Methods
In the present single institutional, prospective study, we attempted to demonstrate the safety and feasibility of this approach in rectal cancer by evaluating the short-term results of our first 20 TaTME cases. For the majority of cases, we adopted a strategy that laparoscopic assistance was not introduced unless it was required during the planned pure TaTME procedure.
Results
A total of 20 patients (12 males and 8 females) were analyzed in this study, including 11 cases (55 %) of pure TaTME and 9 cases (45 %) of hybrid TaTME. Overall, the median operative time was 200 min (range 70–420), along with a median estimated blood loss of 50 ml (range 20–800). Morbidity rate was 20 % (one urethral injury, two urinary retentions, one anastomotic hemorrhage and one mild anastomotic leak). The median number of harvested lymph nodes was 12 (range 1–20). All specimens were intact in mesorectum without positive distal and circumferential resection margins. Among the 15 patients who were preoperatively scheduled to undertake pure TaTME, four patients (26.7 %) required converting to laparoscopic assistance. Moreover, among these 15 patients, the results of the comparative analysis between female and male subgroups favor the former, suggesting easier operation in them.
Conclusion
This preliminary study demonstrates that TaTME in rectal cancer is safe and feasible. The strategy of not introducing laparoscopic assistance unless it is required while performing the planned pTaTME should be cautiously explored. Further studies with larger sample size and longer follow-up are warranted.
This is a preview of subscription content, log in to check access.
Access options
Buy single article
Instant access to the full article PDF.
US$ 39.95
Price includes VAT for USA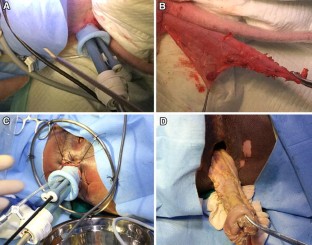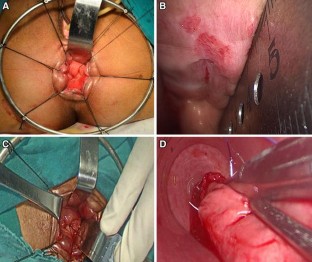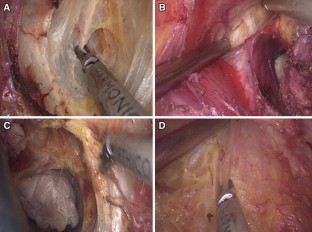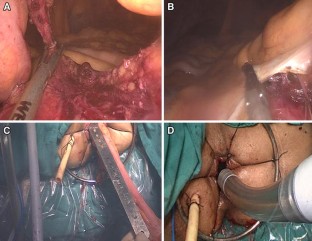 References
1.

Heald RJ, Ryall RD (1986) Recurrence and survival after total mesorectal excision for rectal cancer. Lancet 1:1479–1482

2.

Arezzo A, Passera R, Salvai A, Arolfo S, Allaix ME, Schwarzer G, Morino M (2015) Laparoscopy for rectal cancer is oncologically adequate: a systematic review and meta-analysis of the literature. Surg Endosc 29:334–348

3.

Jeong SY, Park JW, Nam BH, Kim S, Kang SB, Lim SB, Choi HS, Kim DW, Chang HJ, Kim DY, Jung KH, Kim TY, Kang GH, Chie EK, Kim SY, Sohn DK, Kim DH, Kim JS, Lee HS, Kim JH, Oh JH (2014) Open versus laparoscopic surgery for mid-rectal or low-rectal cancer after neoadjuvant chemoradiotherapy (COREAN trial): survival outcomes of an open-label, non-inferiority, randomised controlled trial. Lancet Oncol 15:767–774

4.

Bulut O, Aslak KK, Levic K, Nielsen CB, Romer E, Sorensen S, Christensen IJ, Nielsen HJ (2015) A randomized pilot study on single-port versus conventional laparoscopic rectal surgery: effects on postoperative pain and the stress response to surgery. Tech Coloproctol 19:11–22

5.

Leroy J, Barry BD, Melani A, Mutter D, Marescaux J (2013) No-scar transanal total mesorectal excision: the last step to pure NOTES for colorectal surgery. JAMA Surg 148:226–230 (discussion 231)

6.

Velthuis S, Nieuwenhuis DH, Ruijter TE, Cuesta MA, Bonjer HJ, Sietses C (2014) Transanal versus traditional laparoscopic total mesorectal excision for rectal carcinoma. Surg Endosc 28:3494–3499

7.

Tuech JJ, Karoui M, Lelong B, De Chaisemartin C, Bridoux V, Manceau G, Delpero JR, Hanoun L, Michot F (2015) A step toward NOTES total mesorectal excision for rectal cancer: endoscopic transanal proctectomy. Ann Surg 261:228–233

8.

Fernandez-Hevia M, Delgado S, Castells A, Tasende M, Momblan D, Diaz del Gobbo G, DeLacy B, Balust J, Lacy AM (2015) Transanal total mesorectal excision in rectal cancer: short-term outcomes in comparison with laparoscopic surgery. Ann Surg 261:221–227

9.

Heald RJ (2013) A new solution to some old problems: transanal TME. Tech Coloproctol 17:257–258

10.

Chen WH, Luo SL, Kang L (2015) Transanal total mesorectal excision: will it be a valid alternative in rectal cancer surgery? Ann Surg. doi:10.1097/sla.0000000000001108

11.

Martin-Perez B, Andrade-Ribeiro GD, Hunter L, Atallah S (2014) A systematic review of transanal minimally invasive surgery (TAMIS) from 2010 to 2013. Tech Coloproctol 18:775–788

12.

Emhoff IA, Lee GC, Sylla P (2014) Transanal colorectal resection using natural orifice translumenal endoscopic surgery (NOTES). Dig Endosc 26(Suppl 1):29–42

13.

Chen CC, Lai YL, Jiang JK, Chu CH, Huang IP, Chen WS, Cheng AY, Yang SH (2015) The evolving practice of hybrid natural orifice transluminal endoscopic surgery (NOTES) for rectal cancer. Surg Endosc 29:119–126

14.

Wolthuis AM, de Buck van Overstraeten A, D'Hoore A (2014) Dynamic article: transanal rectal excision: a pilot study. Dis Colon Rectum 57:105–109

15.

Velthuis S, van den Boezem PB, van der Peet DL, Cuesta MA, Sietses C (2013) Feasibility study of transanal total mesorectal excision. Br J Surg 100:828–831 (discussion 831)

16.

Sylla P, Bordeianou LG, Berger D, Han KS, Lauwers GY, Sahani DV, Sbeih MA, Lacy AM, Rattner DW (2013) A pilot study of natural orifice transanal endoscopic total mesorectal excision with laparoscopic assistance for rectal cancer. Surg Endosc 27:3396–3405

17.

Rouanet P, Mourregot A, Azar CC, Carrere S, Gutowski M, Quenet F, Saint-Aubert B, Colombo PE (2013) Transanal endoscopic proctectomy: an innovative procedure for difficult resection of rectal tumors in men with narrow pelvis. Dis Colon Rectum 56:408–415

18.

Lacy AM, Adelsdorfer C, Delgado S, Sylla P, Rattner DW (2013) Minilaparoscopy-assisted transrectal low anterior resection (LAR): a preliminary study. Surg Endosc 27:339–346

19.

Dumont F, Goere D, Honore C, Elias D (2012) Transanal endoscopic total mesorectal excision combined with single-port laparoscopy. Dis Colon Rectum 55:996–1001

20.

de Lacy AM, Rattner DW, Adelsdorfer C, Tasende MM, Fernandez M, Delgado S, Sylla P, Martinez-Palli G (2013) Transanal natural orifice transluminal endoscopic surgery (NOTES) rectal resection: "down-to-up" total mesorectal excision (TME)–short-term outcomes in the first 20 cases. Surg Endosc 27:3165–3172

21.

Zhang H, Zhang YS, Jin XW, Li MZ, Fan JS, Yang ZH (2013) Transanal single-port laparoscopic total mesorectal excision in the treatment of rectal cancer. Tech Coloproctol 17:117–123

22.

Chouillard E, Chahine E, Khoury G, Vinson-Bonnet B, Gumbs A, Azoulay D, Abdalla E (2014) NOTES total mesorectal excision (TME) for patients with rectal neoplasia: a preliminary experience. Surg Endosc 28:3150–3157

23.

Clavien PA, Barkun J, de Oliveira ML, Vauthey JN, Dindo D, Schulick RD, de Santibanes E, Pekolj J, Slankamenac K, Bassi C, Graf R, Vonlanthen R, Padbury R, Cameron JL, Makuuchi M (2009) The Clavien-Dindo classification of surgical complications: five-year experience. Ann Surg 250:187–196

24.

Nagtegaal ID, van de Velde CJ, van der Worp E, Kapiteijn E, Quirke P, van Krieken JH, Cooperative Clinical Investigators of the Dutch Colorectal Cancer G (2002) Macroscopic evaluation of rectal cancer resection specimen: clinical significance of the pathologist in quality control. J Clin Oncol 20:1729–1734

25.

Marescaux J, Dalleinagne B, Perretta S, Wattiez A, Mutter D, Cournaros D (2007) Surgery without scars—report of transluminal cholecystectomy in a human being. Arch Surg 142:823–826

26.

Wood SG, Panait L, Duffy AJ, Bell RL, Roberts KE (2014) Complications of transvaginal natural orifice transluminal endoscopic surgery: a series of 102 patients. Ann Surg 259:744–749

27.

Marks J, Mizrahi B, Dalane S, Nweze I, Marks G (2010) Laparoscopic transanal abdominal transanal resection with sphincter preservation for rectal cancer in the distal 3 cm of the rectum after neoadjuvant therapy. Surg Endosc 24:2700–2707

28.

Denost Q, Adam JP, Rullier A, Buscail E, Laurent C, Rullier E (2014) Perineal transanal approach: a new standard for laparoscopic sphincter-saving resection in low rectal cancer, a randomized trial. Ann Surg 260:993–999

29.

Sylla P, Rattner DW, Delgado S, Lacy AM (2010) NOTES transanal rectal cancer resection using transanal endoscopic microsurgery and laparoscopic assistance. Surg Endosc 24:1205–1210

30.

Atallah S, Martin-Perez B, Albert M, deBeche-Adams T, Nassif G, Hunter L, Larach S (2014) Transanal minimally invasive surgery for total mesorectal excision (TAMIS-TME): results and experience with the first 20 patients undergoing curative-intent rectal cancer surgery at a single institution. Tech Coloproctol 18:473–480

31.

Bertrand MM, Colombo PE, Alsaid B, Prudhomme M, Rouanet P (2014) Transanal endoscopic proctectomy and nerve injury risk: bottom to top surgical anatomy, key points. Dis Colon Rectum 57:1145–1148

32.

Nurkin S, Kakarla VR, Ruiz DE, Cance WG, Tiszenkel HI (2013) The role of faecal diversion in low rectal cancer: a review of 1791 patients having rectal resection with anastomosis for cancer, with and without a proximal stoma. Colorectal Dis 15:E309–E316

33.

Daams F, Wu Z, Lahaye MJ, Jeekel J, Lange JF (2014) Prediction and diagnosis of colorectal anastomotic leakage: a systematic review of literature. World J Gastrointest Surg 6:14–26

34.

Park JS, Kang SB, Kim DW, Lee KH, Kim YH (2009) Laparoscopic versus open resection without splenic flexure mobilization for the treatment of rectum and sigmoid cancer: a study from a single institution that selectively used splenic flexure mobilization. Surg Laparosc Endosc Percutaneous Tech 19:62–68

35.

Nagtegaal ID, Quirke P (2008) What is the role for the circumferential margin in the modern treatment of rectal cancer? J Clin Oncol 26:303–312

36.

Wexner SD, Berho M (2015) Transanal total mesorectal excision of rectal carcinoma: evidence to learn and adopt the technique. Ann Surg 261:234–236
Ethics declarations
Disclosures
Prof. Dr. Liang Kang, Dr. Wen-Hao Chen, Dr. Shuang-Ling Luo, Dr. Zhi-Hua Liu, Dr.Yan-Xin Luo, Prof. Dr. Mei-Jin Huang and Prof. Dr. Jian-Ping Wang have no conflicts of interest or financial ties to disclose.
Additional information
Liang Kang and Wen-Hao Chen have contributed equally to this work and shared the first authorship.
About this article
Cite this article
Kang, L., Chen, W., Luo, S. et al. Transanal total mesorectal excision for rectal cancer: a preliminary report. Surg Endosc 30, 2552–2562 (2016). https://doi.org/10.1007/s00464-015-4521-2
Received:

Accepted:

Published:

Issue Date:
Keywords
Rectal cancer

NOTES

Laparoscopic assistance

Transanal

TME