Abstract
Background
Bariatric surgery has been established as the most effective long-term treatment for morbid obesity.
Methods
We performed a retrospective review of SSO patients treated at our institute between 2008 and 2013 who underwent a laparoscopic gastric bypass (LGBP) or sleeve gastrectomy (LSG). The primary end point for this study was excess weight loss (EWL) at 1, 3, 6, and 12 months. Secondary end points included procedure length (PL), length of stay (LOS), diabetes management and postoperative complications.
Results
We identified 135 SSO patients who underwent bariatric surgery (93 LGBP, 42 LSG) at our institute from 2008 to 2013 with a median follow-up of 49 months. The incidence of EWL > 30 % for patients in the LGBP group was 3.9, 29.0, 72.2 and 94.6 % at 1, 3, 6 and 12 months, respectively, while the incidence of EWL > 30 % in patients in the LSG group was 4.2, 25.0, 59.1 and 100 % at 1, 3, 6 and 12 months, respectively. PL was 124 ± 49 min for the LGBP group and 98 + 51 min for the LSG group (p < 0.005). LOS was on average 3.0 days (range 1–21) for the LGBP group and 3.4 days (range 1–13) for the LSG group (p = 0.41). Patients experienced a decrease in their hemoglobin A1C level by 10 % for the LGBP group and 9 % for the LSG group at 1 year (p = 0.89). Postoperative complications were seen in 15.1 % of LGBP patients and 4.8 % of LSG patients.
Conclusions
Bariatric surgery is feasible in the SSO patients with comparable EWL outcomes and postoperative complications to historical non-SSO patients.
This is a preview of subscription content, log in to check access.
Access options
Buy single article
Instant access to the full article PDF.
US$ 39.95
Price includes VAT for USA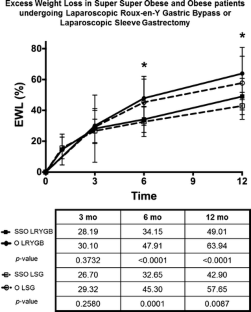 Abbreviations
SSO:

Super super obese

SO:

Super obese

BMI:

Body mass index

EWL:

Estimated weight loss

PL:

Procedure length

LOS:

Length of stay

SBO:

Small bowel obstruction

PE:

Pulmonary embolism

UGIB:

Upper gastrointestinal bleed

Hgb A1C:

Hemoglobin A1C
References
1.

O'Brien PE, MacDonald L, Anderson M, Brennan L, Brown WA (2012) Long-term outcomes after bariatric surgery: fifteen-year follow-up of adjustable gastric banding and a systematic review of the bariatric surgical literature. Ann Surg 257(1):87–94

2.

Jackson TD, Hutter MM (2012) Morbidity and effectiveness of laparoscopic sleeve gastrectomy, adjustable gastric band, and gastric bypass for morbid obesity. Adv Surg 46:255–268

3.

Lynch J, Belgaumkar A (2012) Bariatric surgery is effective and safe in patients over 55: a systematic review and meta-analysis. Obes Surg 22(9):1507–1516

4.

Ahn SM, Pomp A, Rubino F (2010) Metabolic surgery for type 2 diabetes. Ann N Y Acad Sci 1212:E37–E45

5.

Tutuian R (2011) Obesity and GERD: pathophysiology and effect of bariatric surgery. Curr Gastroenterol Rep 13(3):205–212

6.

Kubik JF, Gill RS, Laffin M, Karmali S (2013) The impact of bariatric surgery on psychological health. J Obes. 2013:837989

7.

Savastano S, Di Somma C, Pivonello R, Tarantino G, Orio F, Nedi V, Colao A (2013) Endocrine changes (beyond diabetes) after bariatric surgery in adult life. J Endocrinol Invest 36(4):267–279

8.

Brzozowska MM, Sainsbury A, Eisman JA, Baldock PA, Center JR (2013) Bariatric surgery, bone loss, obesity and possible mechanisms. Obes Rev 14(1):52–67

9.

Tuomilehto H, Seppä J, Uusitupa M (2013) Obesity and obstructive sleep apnea–clinical significance of weight loss. Sleep Med Rev 17(5):321–329

10.

Sheiner E, Willis K, Yogev Y (2013) Bariatric surgery: impact on pregnancy outcomes. Curr Diab Rep. 13(1):19–26

11.

Joshi GP, Ahmad S, Riad W, Eckert S, Chung F (2013) Selection of obese patients undergoing ambulatory surgery: a systematic review of the literature. Anesth Analg 117(5):1082–1091

12.

Ahmed S, Morrow E, Morton J (2010) Perioperative considerations when operating on the very obese: tricks of the trade. Minerva Chir 65(6):667–675

13.

Leykin Y, Pellis T, Del Mestro E, Marzano B, Fanti G, Brodsky JB (2006) Anesthetic management of morbidly obese and super-morbidly obese patients undergoing bariatric operations: hospital course and outcomes. Obes Surg 16(12):1563–1569

14.

Zerrweck C, Sepúlveda EM, Maydón HG, Campos F, Spaventa AG, Pratti V, Fernández I (2014) Laparoscopic gastric bypass vs. sleeve gastrectomy in the super obese patient: early outcomes of an observational study. Obes Surg 24(5):712–717

15.

Kushnir L, Dunnican WJ, Benedetto B, Wang W, Dolce C, Lopez S, Singh TP (2010) Is BMI greater than 60 kg/m(2) a predictor of higher morbidity after laparoscopic Roux-en-Y gastric bypass? Surg Endosc 24(1):94–97

16.

Farkas DT, Vemulapalli P, Haider A, Lopes JM, Gibbs KE, Teixeira JA (2005) Laparoscopic Roux-en-Y gastric bypass is safe and effective in patients with a BMI > or = 60. Obes Surg 15(4):486–493

17.

Gould JC, Garren MJ, Boll V, Starling JR (2006) Laparoscopic gastric bypass: risks vs. benefits up to two years following surgery in super-super obese patients. Surgery. 140(4):524–529

18.

Abeles D, Kim JJ, Tarnoff ME, Shah S, Shikora SA (2009) Primary laparoscopic gastric bypass can be performed safely in patients with BMI > or = 60. J Am Coll Surg 208(2):236–240

19.

Tichansky DS, DeMaria EJ, Fernandez AZ, Kellum JM, Wolfe LG, Meador JG, Sugerman HJ (2005) Postoperative complications are not increased in super-super obese patients who undergo laparoscopic Roux-en-Y gastric bypass. Surg Endosc 19(7):939–941

20.

Nguyen NT, Longoria M, Gelfand DV, Sabio A, Wilson SE (2005) Staged laparoscopic Roux-en-Y: a novel two-stage bariatric operation as an alternative in the super-obese with massively enlarged liver. Obes Surg 15(7):1077–1081

21.

de Menezes Ettinger JE, Azaro E, Mello CA, Fahel E (2005) Critical analysis of the staged laparoscopic Roux-en-Y: a two-stage operation to diminish the size of the liver in super-obese patients. Obes Surg 15(9):1358–1360

22.

Stephens DJ, Saunders JK, Belsley S, Trivedi A, Ewing DR, Iannace V, Capella RF, Wasielewski A, Moran S, Schmidt HJ, Ballantyne GH (2008) Short-term outcomes for super-super obese (BMI > or = 60 kg/m2) patients undergoing weight loss surgery at a high-volume bariatric surgery center: laparoscopic adjustable gastric banding, laparoscopic gastric bypass, and open tubular gastric bypass. Surg Obes Relat Dis. 4(3):408–415

23.

Schwartz A, Etchechoury L, Collet D (2013) Outcome after laparoscopic gastric bypass for super-super obese patients. J Visc Surg. 150(2):145–149

24.

Taylor JD, Leitman IM, Hon P, Horowitz M, Panagopoulos G (2006) Outcome and complications of gastric bypass in super-super obesity versus morbid obesity. Obes Surg 16(1):16–18

25.

Date RS, Walton SJ, Ryan N, Rahman SN, Henley NC (2013) Is selection bias toward super obese patients in the rationing of metabolic surgery justified?–A pilot study from the United Kingdom. Surg Obes Relat Dis. 9(6):981–986

26.

Wang C, Yang W, Yang J (2014) Surgical results of laparoscopic Roux-en-Y gastric bypass in super obese patients with BMI ≥ 60 in China. Surg Laparosc Endosc Percutan Tech. 24(6):e216–e220

27.

Sánchez-Santos R, Vilarrasa N, Pujol J, Moreno P, Manuel Francos J, Rafecas A, Masdevall C (2006) Is Roux-en-Y gastric bypass adequate in the super-obese? Obes Surg 16(4):478–483

28.

Magee CJ, Barry J, Arumugasamy M, Javed S, Macadam R, Kerrigan DD (2011) Laparoscopic sleeve gastrectomy for high-risk patients: weight loss and comorbidity improvement–short-term results. Obes Surg 21(5):547–550

29.

Sucandy I, Antanavicius G, Bonanni F Jr (2013) Outcome analysis of early laparoscopic sleeve gastrectomy experience. JSLS. 17(4):602–606

30.

Lemanu DP, Srinivasa S, Singh PP, MacCormick AD, Ulmer S, Morrow J, Hill AG, Babor R, Rahman H (2012) Single-stage laparoscopic sleeve gastrectomy: safety and efficacy in the super-obese. J Surg Res 177(1):49–54

31.

Sarhan M, Choi JJ, Al Sawwaf M, Murtaza G, Getty JL, Ahmed L (2011) Is weight loss better sustained with long-limb gastric bypass in the super-obese? Obes Surg 21(9):1337–1343

32.

Giordano S, Tolonen P, Victorzon M (2015) Laparoscopic Roux-en-Y gastric bypass versus laparoscopic adjustable gastric banding in the super-obese: peri-operative and early outcomes. Scand J Surg. 104(1):5–9

33.

Mehaffey JH, LaPar DJ, Turrentine FE, Miller MS, Hallowell PT, Schirmer BD (2015) Outcomes of laparoscopic Roux-en-Y gastric bypass in super-super-obese patients. Surg Obes Relat Dis 11(4):814–819

34.

Thereaux J, Czernichow S, Corigliano N, Poitou C, Oppert JM, Bouillot JL (2015) Five-year outcomes of gastric bypass for super-super-obesity (BMI ≥ 60 kg/m2): a case matched study. Surg Obes Relat Dis. 11(1):32–37
Ethics declarations
Disclosures
Oscar K. Serrano, MD, MBA, Jonathan E. Tannebaum, MD, Lindsay Cumella, BS, Jenny Choi, MD, Pratibha Vemulapalli, MD, W. Scott Melvin, MD, Diego R. Camacho, MD, report no conflict of interest.
About this article
Cite this article
Serrano, O.K., Tannebaum, J.E., Cumella, L. et al. Weight loss outcomes and complications from bariatric surgery in the super super obese. Surg Endosc 30, 2505–2511 (2016). https://doi.org/10.1007/s00464-015-4509-y
Received:

Accepted:

Published:

Issue Date:
Keywords
Super super obese

Excess weight loss

Bariatric surgery

Laparoscopic Roux-en-Y gastric bypass

Laparoscopic sleeve gastrectomy