Abstract
Introduction
Residency/fellowship training in hernia repair is still too widely characterized by the "see one, do one, teach one" model. The goal of this study was to perform a needs assessment focused on surgical training to guide the creation of a curriculum by SAGES intended to improve the care of hernia patients.
Methods
Using mixed methods (interviews and online survey), the SAGES hernia task force (HTF) conducted a study asking subjects about their perceived deficits in resident training to care for hernia patients, preferred training topics about hernias, ideal learning modalities, and education development.
Results
Participants included 18 of 24 HTF members, 27 chief residents and fellows, and 31 surgical residents. HTF members agreed that residency exposes trainees to a wide spectrum of hernia repairs by a variety of surgeons. They cited outdated materials, techniques, and paucity of feedback. Additionally, they identified the "see one, do one, teach one" method of training as prevalent and clearly inadequate. The topics least addressed were system-based approach to hernia care (46 %) and patient outcomes (62 %). Training topics residents considered well covered during residency were: preoperative and intraoperative decision-making (90 %), complications (94 %), and technical approach for repairs (98 %). Instructional methods used in residency include assisted/supervised surgery (96 %), Web-based learning (24 %), and simulation (30 %). Residents' preferred learning methods included simulation (82 %), Web-based training (61 %), hands-on laboratory (54 %), and videos (47 %), in addition to supervised surgery. Trainees reported their most desired training topics as basic techniques for inguinal and ventral hernia repairs (41 %) versus advanced technical training (68 %), which mirrored those reported by attending surgeons, 36 % and 71 %, respectively.
Conclusions
There was a consensus among HTF members and surgical trainees that a comprehensive, dynamic, and flexible educational program employing various media to address contemporary key deficits in the care of hernia patients would be welcomed by surgeons.
This is a preview of subscription content, log in to check access.
Access options
Buy single article
Instant access to the full article PDF.
US$ 39.95
Price includes VAT for USA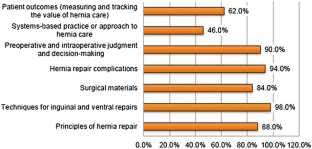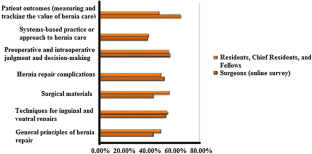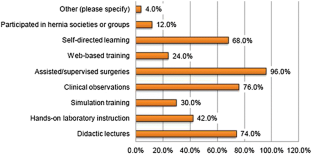 References
1.

Cogbill TH (2015) Surgical education and training: how are they likely to change? J Am Coll Surg 220(6):1032–1035

2.

Rutkow IM, Robbins AW (1993) Demographic, classificatory, and socioeconomic aspects of hernia repair in the United States. Surg Clin North Am 73(3):413–426

3.

Masukawa K, Wilson SE (2010) Is postoperative chronic pain syndrome higher with mesh repair of inguinal hernia? Am Surg 76:1115–1118

4.

Rutkow IM (2003) Demographic and socioeconomic aspects of hernia repair in the United States in 2003. Surg Clin North Am 83:1045–1051 (v–vi)

5.

Netto FS, Quereshy F, Camilotti BG et al (2014) Hospital costs associated with laparoscopic and open inguinal herniorrhaphy. JSLS 18(4):1–6

6.

Poulose BK, Shelton J, Phillips S et al (2012) Epidemiology and cost of ventral hernia repair: making the case for hernia research. Hernia 16:179–183

7.

Funk LM, Perry KA, Narula VK et al (2013) Current national practice patterns for inpatient management of ventral abdominal wall hernia in the United States. Surg Endosc 27:4104–4112

8.

Lewis FR, Klingensmith ME (2012) Issues in general surgery residency training-2012. Ann Surg 256:553–559

9.

Malangoni MA, Biester TW, Jones AT et al (2013) Operative experience of surgery residents: trends and challenges. J Surg Educ 70:783–788

10.

Sonnadara RR, Mui C, McQueen S et al (2014) Reflections on competency-based education and training for surgical residents. J Surg Educ 71:151–158

11.

Kavic SM (2013) Laparoscopic versus open repair: a superior approach to inguinal herniorrhaphy? OA Min Inv Surg 1(1):1

12.

Wauschkuhn CA, Schwarz J, Boekeler U et al (2010) Laparoscopic inguinal hernia repair: gold standard in bilateral hernia repair? Results of more than 2800 patients in comparison to literature. Surg Endosc 24(12):3026–3030

13.

Luijendijk RW, Hop WC, van den Tol MP et al (2000) A comparison of suture repair with mesh repair for incisional hernia. N Engl J Med 343(6):392–398

14.

Schwab R, Willms A, Kroger A et al (2006) Less chronic pain following mesh fixation using a fibrin sealant in TEP inguinal hernia repair. Hernia 10:272–277

15.

Gong K, Zhang N, Lu Y et al (2011) Comparison of the open tension-free mesh-plug, transabdominal preperitoneal (TAPP), and totally extraperitoneal (TEP) laparoscopic techniques for primary unilateral inguinal hernia repair: a prospective randomized controlled trial. Surg Endosc 25:234–239

16.

Langeveld HR, van't Riet M, Weidema WF et al (2010) Total extraperitoneal inguinal hernia repair compared with Lichtenstein (the LEVEL-Trial): a randomized controlled trial. Ann Surg 251:819–824

17.

Myers E, Browne KM, Kavanagh DO et al (2010) Laparoscopic (TEP) versus Lichtenstein inguinal hernia repair: a comparison of quality-of-life outcomes. World J Surg 34:3059–3064

18.

Pokorny H, Klingler A, Schmid T et al (2008) Recurrence and complications after laparoscopic versus open inguinal hernia repair: results of a prospective randomized multicenter trial. Hernia 12:385–389

19.

Atkinson H, Nicol S, Purkayastha S et al Surgical management of inguinal hernia: retrospective cohort study in southeastern Scotland, 1985–2001. BMJ 329(7478):1315–1316

20.

EU Hernia Trialists Collaboration Laparoscopic versus open groin hernia repair: meta-analysis of randomized trials based on individual patient data. Hernia 6(1):2–10

21.

Colavita PD, Tsirline VB, Walters AL et al (2012) Laparoscopic versus open hernia repair: outcomes and sociodemogrpahic utilization results from the nationwide inpatient sample. Surg Endosc 27:109–117

22.

Trevisonno M, Kaneva P, Watanabe Y et al (2015) Current practices of laparoscopic inguinal hernia repair: a population-based analysis. Hernia. doi:10.1007/s10029-015-1358-5

23.

Makary MA, Sexton JB, Freischlag JA et al (2006) Operating room teamwork among physicians and nurses: teamwork in the eye of the beholder. J Am Coll Surg 202(5):746–752

24.

Carney BT, West P, Neily J et al (2010) Differences in nurse and surgeon perceptions of teamwork: implications for use of a briefing checklist in the OR. AORN J 91(6):722–729

25.

Chen XP, Williams RG, Smink DS (2014) Do residents receive the same OR guidance as surgeons report? Difference between residents' and surgeons' perceptions of OR guidance. J Surg Educ 71(6):e79–e82

26.

Boerebach BC, Arath OA, Busch OR et al (2012) Reliable and valid tools for measuring surgeons' teaching performance: residents' versus self evaluation. J Surg Educ 69(4):511–520
Acknowledgments
The members of the SAGES Hernia Task Force are: Gina L. Adrales, Dartmouth-Hitchcock Med Ctr, Lebanon, NH, Igor Belyansky, Anne Arundel Med Ctr, Annapolis, MD, Parag Bhanot, Georgetown Univ Hsp, Washington, DC, Ibrahim Bulent Cetindag, University of Iowa, Iowa City, IA, Andrew J. Duffy, Yale Univ School of Med/New Haven Hsp, New Haven, CT, David Bryan Earle, Baystate Med Ctr, Springfield, MA, Robert J. Fitzgibbons, Creighton Univ Med Ctr, Omaha, NE, B. Todd Heniford, Carolinas Medical Ctr, Charlotte, NC, Brian P. Jacob, Mount Sinai Medical Center, New York, NY, Dennis R. Klassen, Queen Elizabeth II Health Sciences Ctr, Halifax, NS, Karl A. Leblanc, Louisiana State Univ, Baton Rouge, LA, Brent D. Matthews, Carolinas Med. Ctr., Univ. of N.Carolina, Charlotte, NC, John D. Mellinger, Southern IL Univ School of Med, Dept of Surgery, Springfield, IL, Philip A. Omotosho, Duke University Medical Center, Durham, NC, Adrian Park, Anne Arundel Medical Center, Annapolis, MD, Richard A. Pierce, Vanderbilt University Department of Surgery, Nashville, TN, Carla Marie Pugh, University of Wisconsin, Madison, WI, Bruce J. Ramshaw, Advanced Hernia Solutions, Daytona Beach, FL, John Scott Roth, Univ of KY, Lexington, KY, Douglas S. Smink, Brigham and Women`s Hospital, Boston, MA, Monica Torres-Jimenez, Alexandra Marine and General Hospital (Goderich), Goderich, ON, Shirin Towfigh, Beverly Hills Hernia Center, Beverly Hills, CA, Melina C. Vassiliou, McGill Univ, Montreal, PQ, Guy R. Voeller, University of Tennessee, Memphis, TN.
Ethics declarations
Disclosures
Drs. H. Reza Zahiri, Adrian E. Park, Carla M. Pugh, Melina Vassiliou, and Guy Voeller have no conflicts of interest or financial ties to disclose.
About this article
Cite this article
Zahiri, H.R., Park, A.E., Pugh, C.M. et al. "See one, do one, teach one": inadequacies of current methods to train surgeons in hernia repair. Surg Endosc 29, 2867–2872 (2015). https://doi.org/10.1007/s00464-015-4411-7
Received:

Accepted:

Published:

Issue Date:
Keywords
Hernia

Residency

Education

Clinical trials

Quality control

Outcomes