Abstract
Background
Management of complications of laparoscopic inguinal hernia repair remains challenging as well as debatable. Relaparoscopy in management of these complications is relatively newer concept. We tried to analyse the feasibility of relaparoscopy (transabdominal preperitoneal approach) in management of complications of laparoscopic inguinal hernia repair.
Materials and methods
The study group included 61 patients (referral cases) from a prospectively maintained database of previous laparoscopic inguinal hernia surgery with majority of the patients of recurrence (n = 39). Other complications were mesh infections (n = 15), pubic osteitis (n = 3), migration of mesh into adjacent viscera (n = 3) and meralgia paresthetica (n = 1). All patients underwent transabdominal preperitoneal approach (TAPP) between January 2007 and December 2013.
Results and outcome
Most of the patients had previous TEP repair (n = 49) with variable complications detected in the range of 9 days to 38 months. Small-sized mesh (n = 12) and rolled up mesh (n = 10) were the causes of recurrence in 57 % cases. Mycobacterium tuberculosis (40 %) and mixed bacterial infections (33 %) strains were detected in the infected mesh. Pubic osteitis and meralgia paresthetica were tackers induced. All patients dealt with TAPP approach. Recurrent hernia cases underwent mesh placement and infected mesh was removed in mesh infection. Tackers were removed in cases of osteitis pubis and meralgia paraesthesia. Median operative time was 62 min (42–126 min) and hospital stay 3 days (2–13 days). The relaparoscopy was accomplished in 95.1 % of cases with no major intraoperative complications and minimal postoperative morbidity.
Conclusion
Relaparoscopy through TAPP approach remains safe and feasible option to deal with primary laparoscopic hernia repair complications. Surgical techniques during primary laparoscopic repair are important cause for aforementioned complications. Though, surgical expertize remains warranted for relaparoscopy.
This is a preview of subscription content, log in to check access.
Access options
Buy single article
Instant access to the full article PDF.
US$ 39.95
Price includes VAT for USA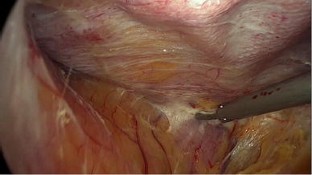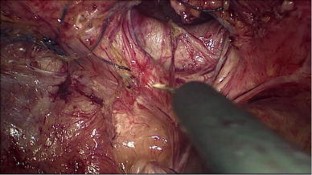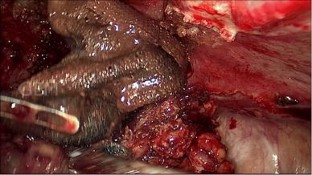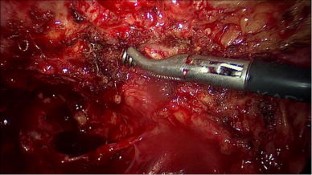 References
1.

Eklund A, Rudberg C, Leijonmarck CE, Rasmussen I, Spangen L, Wickbom G, Wingren U, Montgomery A (2007) Recurrent inguinal hernia: randomized multicenter trial comparing laparoscopic and Lichtenstein repair. Surg Endosc 21(4):634–640

2.

Leibl BJ, Jager C, Kraft B, Kraft K, Schwarz J, Ulrich M, Bittner R (2005) Laparoscopic hernia repair—TAPP or/and TEP? Langenbecks Arch Surg 390(2):77–82

3.

Liem MS, van Duyn EB, van der Graaf Y, van Vroonhoven TJ, Coala Trial Group (2003) Recurrences after conventional anterior and laparoscopic inguinal hernia repair: a randomized comparison. Ann Surg 237(1):136–141

4.

Simons MP, Aufenacker T, Bay-Nielsen M, Bouillot JL, Campanelli G, Conze J, de Lange D, Fortelny R, Heikkinen T, Kingsnorth A, Kukleta J, Morales-Conde S, Nordin P, Schumpelick V, Smedberg S, Smietanski M, Weber G, Miserez M (2009) European Hernia Society guidelines on the treatment of inguinal hernia in adult patients. Hernia 13(4):343–403

5.

Poelman MM, van den Heuvel B, Deelder JD, Abis GSA, Beudeker N, Bittner RR, Campanelli G, van Dam D, Dwars BJ, Eker HH, Fingerhut A, Khatkov I, Koeckerling F, Kukleta JF, Miserez M, Montgomery A, Munoz Brands RM, Morales Conde S, Muysoms FE, Soltes M, Tromp W, Yavuz Y, Bonjer HJ (2013) EAES Consensus Development Conference on endoscopic repair of groin hernias. Surg Endosc 27:3505–3519

6.

Palanivelu C (2005) Art of laparoscopic surgery textbook and atlas, 1st edn. Jaypee brothers publishers, India

7.

Felix E, Scott S, Crafton B, Geis P, Duncan T, Sewell R, McKernan B (1998) Causes of recurrence after laparoscopic hernioplasty. A multicenter study. Surg Endosc 12(3):226–231

8.

Langeveld HR, van't Riet M, Weidema WF, Stassen LP, Steyerberg EW, Lange J, Bonjer HJ, Jeekel J (2010) Total extraperitoneal inguinal hernia repair compared with Lichtenstein (the LEVEL-trial): a randomized controlled trial. Ann Surg 251(5):819–824

9.

Lovisetto F, Zonta S, Rota E, Bottero L, Faillace G, Turra G, Fantini A, Longoni M (2007) Laparoscopic transabdominal preperitoneal (TAPP) hernia repair: surgical phases and complications. Surg Endosc 21(4):646–652

10.

O'Reilly EA, Burke JP, O'Connell PR (2012) A meta-analysis of surgical morbidity and recurrence after laparoscopic and open repair of primary unilateral inguinal hernia. Ann Surg 255(5):846–853

11.

Burcharth J, Pommergaard HC, Bisgaard T, Rosenberg J (2014) Patient-related risk factors for recurrence after inguinal hernia repair: a systematic review and meta-analysis of observational studies. Surg Innov (Epub ahead of print)

12.

Phillips EH, Rosenthal R, Fallas M, Carroll B, Arregui M, Corbitt J, Fitzgibbons R, Seid A, Schultz L, Toy F (1995) Reasons for early recurrence following laparoscopic hernioplasty. Surg Endosc 9(2):140–144

13.

Ferzli GS, Khoury GE (2005) Treating recurrence after a totally extraperitoneal approach. Hernia 10(4):341–346

14.

Leibl BJ, Schmedt CG, Kraft K, Ulrich M, Bittner R (2000) Recurrence after endoscopic transperitoneal hernia repair (TAPP): causes, reparative techniques, and results of the reoperation. J Am Coll Surg 190(6):651–655

15.

van den Heuvel Baukje, Dwars Boudewijn J (2013) Repeated laparoscopic treatment of recurrent inguinal hernias after previous posterior repair. Surg Endosc 27:795–800

16.

Deans GT, Wilson MS, Royston CM, Brough WA (1995) Recurrent inguinal hernia after laparoscopic repair: possible cause and prevention. Br J Surg 82(4):539–541

17.

Knook MT, Weidema WF, Stassen LP, van Steensel CJ (1999) Endoscopic total extraperitoneal repair of primary and recurrent inguinal hernias. Surg Endosc 13(5):507–511

18.

Li J, Ji Z, Li Y (2014) Comparison of laparoscopic versus open procedure in the treatment of recurrent inguinal hernia: a meta-analysis of the results. Am J Surg 207:602–612

19.

Grant AM, Hernia Trialists Collaboration EU (2002) Open mesh versus non mesh repair of groin hernia: meta-analysis of randomised controlled trials based on individual patient data. Hernia 6:130–136

20.

Buret A, Ward KH, Olson ME, Costerton JW (1991) An in vivo model to study the pathobiology of infectious biofilms on biomaterial surfaces. J Biomed Mater Res 25(7):865–874

21.

Rehman S, Khan S, Pervaiz A, Perry EP (2012) Recurrence of inguinal hernia following removal of infected prosthetic meshes: a review of the literature. Hernia 16:123–126

22.

Hamouda A, Kennedy J, Grant N, Nigam A, Karanjia N (2010) Mesh erosion into the urinary bladder following laparoscopic inguinal hernia repair; is this the tip of the iceberg? Hernia. 14(3):317–319

23.

Agrawal A, Avill R (2006) Mesh migration following repair of inguinal hernia: a case report and review of literature. Hernia 10(1):79–82

24.

Kurukahvecioglu O, Ege B, Yazicioglu O, Tezel E, Ersoy E (2007) Polytetrafluoroethylene prosthesis migration into the bladder after laparoscopic hernia repair: a case report. Surg Laparosc Endosc Percutan Tech 17(5):474–476

25.

Hume RH, Bour J (1996) Mesh migration following laparoscopic inguinal hernia repair. Laparoendosc Surg 6(5):333–335

26.

Goswami R, Babor M, Ojo A (2007) Mesh erosion into caecum following laparoscopic repair of inguinal hernia (TAPP): a case report and literature review. J Laparoendosc Adv Surg Tech A 17(5):669–672

27.

Ekçi B, Altinli E, Dervisoglu S, Demir M, Tasci I (2011) The effects of laparoscopic mesh fixation device on bone, costo-chondral junction and tendon site. Ann Ital Chir 82(1):89–93

28.

Harth M, Bourne RB (1981) Osteitis pubis: an unusual complication of herniorrhaphy. Can J Surg 24(4):407–409
Acknowledgments
This study was presented as oral presentation (award session) at 9th international congress of Association of Minimal Access surgeons of India at Dubai, November 2014.
Ethics declarations
Disclosures
Drs. Bansal S, Bishwajeet D, Rajapandian S, Parthasarathi R Senthilnathan P, Praveenraj P, Palanivelu C have no conflicts of interest or financial ties to disclose.
About this article
Cite this article
Ramakrishnan, P., Bansal, S., Deuri, B. et al. A single-centre experience of relaparoscopy in complications of laparoscopic inguinal hernia repair-feasibility and outcomes. Surg Endosc 30, 2308–2314 (2016). https://doi.org/10.1007/s00464-015-4387-3
Received:

Accepted:

Published:

Issue Date:
Keywords
Relaparoscopy

Recurrent hernia

Mesh infection

Osteitis pubis

TAPP