Abstract
Background
The purpose of this study was to evaluate postoperative voice outcomes and functional parameters in total thyroidectomy via a transaxillary (TA) approach.
Methods
Seventy-six patients who underwent total thyroidectomy via a TA approach (TA group) were included. A total of 204 patients who underwent conventional open total thyroidectomy (conventional group) in the same time period were analyzed as a control group. All patients underwent prospective functional evaluations before surgery and at 1 week and 1, 3, 6, and 12 months postoperatively using a comprehensive battery of functional assessments.
Results
There was no conversion to conventional open thyroidectomy in the TA group. Operation time and the amount of drainage were significantly higher in the TA group than in the conventional group (p < 0.001 and p = 0.033, respectively), while vocal cord paralysis, hypoparathyroidism, and hematoma were not different among two groups (p = 0.215, 0.290, and 0.385, respectively). Regarding GRBAS, the TA group showed a more aggravated tendency postoperatively, although statistical significance was attained only at postoperative 6 months (p = 0.043). The voice handicap index abruptly increased postoperatively in the TA group, showing significant differences with the conventional group at postoperative 1 week and 1 month (p < 0.001 and p = 0.001, respectively). Fundamental frequency and maximal vocal pitch did not significantly change postoperatively in either group. The conventional group showed a more rapid decline in pain than the TA group, and paresthesias on the neck and chest were more aggravated in the TA group during the early postoperative period. The dysphagia handicap index was higher in the TA group, while cosmesis was better in the TA group at all postoperative periods.
Conclusions
Although cosmetic outcome was better with the TA approach, the longer operation time, aggravated subjective voice outcomes, paresthesia, and swallowing function need to be considered in selecting the operative approach.
This is a preview of subscription content, log in to check access.
Access options
Buy single article
Instant access to the full article PDF.
US$ 39.95
Price includes VAT for USA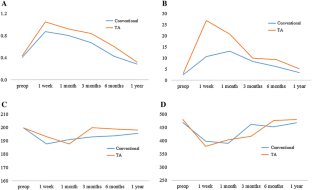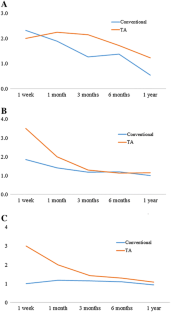 References
1.

Bae DS, Koo DH, Choi JY, Kim E, Lee KE, Youn YK (2014) Current status of robotic thyroid surgery in South Korea: a web-based survey. World J Surg 38(10):2632–2639

2.

Lee S, Ryu HR, Park JH, Kim KH, Kang SW, Jeong JJ, Nam KH, Chung WY, Park CS (2011) Excellence in robotic thyroid surgery: a comparative study of robot-assisted versus conventional endoscopic thyroidectomy in papillary thyroid microcarcinoma patients. Ann Surg 253(6):1060–1066

3.

Kang SW, Jeong JJ, Nam KH, Chang HS, Chung WY, Park CS (2009) Robot-assisted endoscopic thyroidectomy for thyroid malignancies using a gasless transaxillary approach. J Am Coll Surg 209(2):1–7

4.

Lee J, Nah KY, Kim RM, Ahn YH, Soh EY, Chung WY (2010) Differences in postoperative outcomes, function, and cosmesis: open versus robotic thyroidectomy. Surg Endosc 24(12):3186–3194

5.

Lewis CM, Chung WY, Holsinger FC (2010) Feasibility and surgical approach of transaxillary robotic thyroidectomy without CO(2) insufflation. Head Neck 32(1):121–126

6.

Perrier ND, Randolph GW, Inabnet WB, Marple BF, VanHeerden J, Kuppersmith RB (2010) Robotic thyroidectomy: a framework for new technology assessment and safe implementation. Thyroid 20(12):1327–1332

7.

Davis SF, Abdel Khalek M, Giles J, Fox C, Lirette L, Kandil E (2011) Detection and prevention of impending brachial plexus injury secondary to arm positioning using ulnar nerve somatosensory evoked potentials during transaxillary approach for thyroid lobectomy. Am J Electroneurodiagnostic Technol 51(4):274–279

8.

Cha W, Kong IG, Kim H, Hah JH, Sung MW (2014) Desmoid tumor arising from omohyoid muscle: the first report for unusual complication after transaxillary robotic thyroidectomy. Head Neck 36(5):48–51

9.

Cabot JC, Lee CR, Brunaud L, Kleiman DA, Chung WY, Fahey TJ 3rd, Zarnegar R (2012) Robotic and endoscopic transaxillary thyroidectomies may be cost prohibitive when compared to standard cervical thyroidectomy: a cost analysis. Surgery 152(6):1016–1024

10.

Lee J, Kwon IS, Bae EH, Chung WY (2013) Comparative analysis of oncological outcomes and quality of life after robotic versus conventional open thyroidectomy with modified radical neck dissection in patients with papillary thyroid carcinoma and lateral neck node metastases. J Clin Endoscrinol Metab 98(7):2701–2708

11.

Chung WY (2012) Pros of robotic transaxillary thyroid surgery: its impact on cancer control and surgical quality. Thyroid 22(10):986–987

12.

Rosen CA, Lee AS, Osborne J, Zullo T, Murry T (2004) Development and validation of the voice handicap index-10. Laryngoscope 114(9):1549–1556

13.

Silbergleit AK, Schultz L, Jacobson BH, Beardsley T, Johnson AF (2012) The Dysphagia handicap index: development and validation. Dysphagia 27(1):46–52

14.

Kang SW, Park JH, Jeong JS, Lee CR, Park S, Lee SH, Jeong JJ, Nam KH, Chung WY, Park CS (2011) Prospects of robotic thyroidectomy using a gasless, transaxillary approach for the management of thyroid carcinoma. Surg Laparosc Endosc Percutan Tech 21(4):223–229

15.

Kandil EH, Noureldine SI, Yao L, Slakey DP (2012) Robotic transaxillary thyroidectomy: an examination of the first one hundred cases. J Am Coll Surg 214(4):558–564

16.

Bond JS, Duncan JA, Sattar A, Boanas A, Mason T, O'Kane S, Ferguson MW (2008) Maturation of the human scar: an observational study. Plast Reconstr Surg 121(5):1650–1658

17.

Lee J, Yun JH, Nam KH, Soh EY, Chung WY (2011) The learning curve for robotic thyroidectomy: a multicenter study. Ann Surg Oncol 18(1):226–232

18.

Park JH, Lee J, Hakim NA, Kim HY, Kang SW, Jeong JJ, Nam KH, Bae KS, Kang SJ, Chung WY (2014) Robotic thyroidectomy learning curve for beginning surgeons with little or no experience of endoscopic surgery. Head Neck. doi:10.1002/hed.23824

19.

Sun GH, Peress L, Pynnonen MA (2014) Systematic review and meta-analysis of robotic vs conventional thyroidectomy approaches for thyroid disease. Otolaryngol Head Neck Surg 150(4):520–532

20.

Lee J, Na KY, Kim RM, Oh Y, Lee JH, Lee J, Lee JS, Kim CH, Soh EY, Chung WY (2012) Postoperative functional voice changes after conventional open or robotic thyroidectomy: a prospective trial. Ann Surg Oncol 19(9):2963–2970

21.

Tae K, Kim KY, Yun BR, Ji YB, Park CW, Kim DS, Kim TW (2012) Functional voice and swallowing outcomes after robotic thyroidectomy by a gasless unilateral axillo-breast approach: comparison with open thyroidectomy. Surg Endosc 26(7):1871–1877

22.

Tae K, Ji YB, Cho SH, Lee SH, Kim DS, Kim TW (2012) Early surgical outcomes of robotic thyroidectomy by a gasless unilateral axillo-breast or axillary approach for papillary thyroid carcinoma: 2 years' experience. Head Neck 34(5):617–625

23.

Lee J, Yun JH, Choi UJ, Kang SW, Jeong JJ, Chung WY (2012) Robotic versus endoscopic thyroidectomy for thyroid cancers: a multi-institutional analysis of early postoperative outcomes and surgical learning curves. J Oncol 2012:734541

24.

Foley CS, Agcaoglu O, Siperstein AE, Berber E (2012) Robotic transaxillary endocrine surgery: a comparison with conventional open technique. Surg Endosc 26(8):2259–2266
Ethics declarations
Disclosure
Drs. Doh Young Lee, Saehee Lim, Sung Hoon Kang, Kyoung Ho Oh, Jae-Gu Cho, Seung-Kuk Baek, Jeong-Soo Woo, Soon-Young Kwon, and Kwang-Yoon Jung have no conflicts of interest or financial ties to disclose.
About this article
Cite this article
Lee, D.Y., Lim, S., Kang, S.H. et al. A prospective 1-year comparative study of transaxillary total thyroidectomy regarding functional outcomes: Is it really promising?. Surg Endosc 30, 1599–1606 (2016). https://doi.org/10.1007/s00464-015-4386-4
Received:

Accepted:

Published:

Issue Date:
Keywords
Total thyroidectomy

Transaxillary approach

Conventional thyroidectomy

Voice

Swallowing