Abstract
Background
Endoscopic surgery has been a novel treatment for colon polyps or even early colorectal cancer. However, the exact re-inspection after colonic polypectomy to detect the scar from polyp removal was difficult to be performed. In our previous study, colon cancer tattooed with carbon nanoparticles was easily found during surgery. We speculated that carbon nanoparticles could be used in exact re-inspection after colonic polypectomy.
Objective
To evaluate the efficiency of carbon nanoparticles for re-inspection after colonic polypectomy.
Methods
Twenty-four patients with precancerous lesion or early colorectal cancer that underwent colonoscopic polypectomy between October 2012 and December 2013 were enrolled in the study. Participants were divided into two groups. Group A patients were injected with carbon nanoparticles beneath the lesion sites 3 cm. Group B patients were not treated with nanoparticles. All patients underwent quarterly colonoscopies. Once the colonoscope was withdrawn from the site last time record, the time spent searching for lesions was recorded.
Results
There were no significant differences between general conditions or lesion pathology between the groups. The time spent searching for lesions in Group B was much longer than that in Group A (13.67 ± 8.07 vs. 1.21 ± 0.39 min, P < 0.001). Carbon nanoparticles marked lesions for 12 months in some patients, and no adverse reactions were reported.
Limitations
It was a small sample study.
Conclusions
Tattooing lesions using carbon nanoparticles suspensions is safe. The durability of dye enables lesions to be re-checked by colonoscopy or laparoscopy for up to 1 year.
This is a preview of subscription content, log in to check access.
Access options
Buy single article
Instant access to the full article PDF.
US$ 39.95
Price includes VAT for USA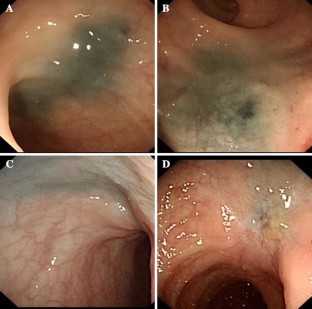 References
1.

Takahashi H, Arimura Y, Masao H, Okahara S et al (2010) Endoscopic submucosal dissection is superior to conventional endoscopic resection as a curative treatment for early squamous cell carcinoma of the esophagus (with video). Gastrointest Endosc 72:255–264

2.

Oyama T, Tomori A, Hotta K et al (2009) Endoscopic submucosal dissection of early esophageal cancer. Clin Gastroenterol Hepatol 7(2):149–155

3.

Ono H (2006) Early gastric cancer: diagnosis, pathology, treatment techniques and treatment outcomes. Eur J Gastroenterol Hepatol 18(8):863–866

4.

Tanaka S, Oka S, Chayama K (2008) Colorectal endoscopic submucosal dissection: present status and future perspective, including its differentiation from endoscopic mucosal resection. J Gastroenterol 43(9):641–651

5.

Kuwabara T, Hiyama T, Oka S et al (2012) Clinical features of pharyngeal intraepithelial neoplasias and outcomes of treatment by endoscopic submucosal dissection. Gastrointest Endosc 76(6):1095–1103

6.

Hanaoka N, Ishihara R, Takeuchi Y et al (2013) Clinical outcomes of endoscopic mucosal resection and endoscopic submucosal dissection as a transoral treatment for superficial pharyngeal cancer. Head Neck 35(9):1248–1254

7.

Fujishiro M (2008) Perspective on the practical indications of endoscopic submucosal dissection of gastrointestinal neoplasms. World J Gastroenterol 14(27):4289–4295

8.

Tutticci N, Bourke MJ (2014) Advanced endoscopic resection in the colon: recent innovations, current limitations and future directions. Expert Rev Gastroenterol Hepatol 8(2):161–177

9.

Wang W, Wang R, Wang Y et al (2013) Preoperative colonic lesion localization with charcoal nanoparticle tattooing for laparoscopic colorectal surgery. J Biomed Nanotechnol 9(12):2123–2125

10.

Japanese society for cancer of the colon and rectum. JSCCR guidelines (2010) for the treatment of colorectal cancer. Kanehara, Tokyo, p 2010

11.

Watanabe T, Itabashi M, Shimada Y et al (2012) Japanese Society for cancer of the colon and rectum (JSCCR) guidelines 2010 for the treatment of colorectal cancer. Int J Clin Oncol 17(1):1–29

12.

Kitajima K, Fujimori T, Fujii S et al (2004) Correlations between lymph node metastasis and depth of submucosal invasion in submucosal invasive colorectal carcinoma: a Japanese collaborative study. J Gastroenterol 39(6):534–543

13.

Ueno H, Mochizuki H, Hashiguchi Y et al (2004) Risk factors for an adverse outcome in early invasive colorectal carcinoma. Gastroenterology 127(2):385–394

14.

Tateishi Y, Nakanishi Y, Taniguchi H et al (2010) Pathological prognostic factors predicting lymph node metastasis in submucosal invasive (T1) colorectal carcinoma. Mod Pathol 23(8):1068–1072

15.

Nizam R, Siddiqi N, Landas SK et al (1996) Colonic tattooing with India ink: benefits, risks, and alternatives. Am J Gastroenterol 91(9):1804–1808

16.

Botoman VA, Pietro M, Thirlby RC (1994) Localization of colonic lesions with endoscopic tattoo. Dis Colon Rectum 37(8):775–776

17.

Coman E, Brandt LJ, Brenner S et al (1991) Fat necrosis and inflammatory pseudotumor due to endoscopic tattooing of the colon with india ink. Gastrointest Endosc 37(1):65–68

18.

Park SI, Genta RS, Romeo DP et al (1991) Colonic abscess and focal peritonitis secondary to India ink tattooing of the colon. Gastrointest Endosc 37(1):68–71

19.

Salamon P, Berner JS, Waye JD (1993) Endoscopic India ink injection: a method for preparation, sterilization, and administration. Gastrointest Endosc 39(6):803–805

20.

Van der Pas MH, Ankersmit M, Stockmann HB et al (2013) Laparoscopic sentinel lymph node identification in patients with colon carcinoma using a near-infrared dye: description of a new technique and feasibility study. J Laparoendosc Adv Surg Tech A 23(4):367–371

21.

Hammond DC, Lane FR, Welk RA et al (1989) Endoscopic tattooing of the colon. An experimental study. Am Surg 55(7):457–461

22.

Arteaga-González I, Martín-Malagón A, Fernández EM et al (2006) The use of preoperative endoscopic tattooing in laparoscopic colorectal cancer surgery for endoscopically advanced tumors: a prospective comparative clinical study. World J Surg 30(4):605–611

23.

Ryu KW, Lee JH, Choi IJ et al (2003) Preoperative endoscopic clipping: localizing technique of early gastric cancer. J Surg Oncol 82(1):75–77

24.

Chen XF, Zhang B, Yang HX et al (2013) Clinical research of the sentinel lymph node in patients with early gastric cancer. Sichuan Da Xue Xue Bao Yi Xue Ban. 44(1):151–154
Acknowledgments
Rong Wang is supported by the Key Program of Fujian Provincial Department of Science and Technology (Grant No. 2014I0005) and supported by the General Program of Medical Health and Scientific Research Foundation of Nanjing Military Command (Grant No. MS131); Yu Wang is supported by the Key Project of Nanjing Military Command (Grant No. 14ZX25); Wen Wang is supported by the External Cooperation Project of Medical Health and Scientific Research Foundation of Nanjing Military Command (Grant No. 2015I0013).
Ethics declarations
Disclosures
Rong Wang, Yu Wang, Dazhou Li, Li Yu, Gang Liu, Jun Ma, Wen Wang have no conflicts of interest or financial ties to disclose.
Additional information
Rong Wang and Yu Wang have contributed equally to this article.
About this article
Cite this article
Wang, R., Wang, Y., Li, D. et al. Application of carbon nanoparticles to mark locations for re-inspection after colonic polypectomy. Surg Endosc 30, 1530–1533 (2016). https://doi.org/10.1007/s00464-015-4367-7
Received:

Accepted:

Published:

Issue Date:
Keywords
Carbon nanoparticles

Colonoscopic polypectomy

Early colorectal cancer

Tattoo