Abstract
Background
Emerging evidence suggests that despite dedicated practice, not all surgical trainees have the ability to reach technical competency in minimally invasive techniques. While selecting residents that have the ability to reach technical competence is important, evidence to guide the incorporation of technical ability into selection processes is limited. Therefore, the purpose of the present study was to evaluate whether background experiences and 2D–3D visual spatial test results are predictive of baseline laparoscopic skill for the novice surgical trainee.
Methods
First-year residents were studied. Demographic data and background surgical and non-surgical experiences were obtained using a questionnaire. Visual spatial ability was evaluated using the PicSOr, cube comparison (CC) and card rotation (CR) tests. Technical skill was assessed using the camera navigation (LCN) task and laparoscopic circle cut (LCC) task. Resident performance on these technical tasks was compared and correlated with the questionnaire and visual spatial findings.
Results
Previous experience in observing laparoscopic procedures was associated with significantly better LCN performance, and experience in navigating the laparoscopic camera was associated with significantly better LCC task results. Residents who scored higher on the CC test demonstrated a more accurate LCN path length score (r s(PL) = −0.36, p = 0.03) and angle path (r s(AP) = −0.426, p = 0.01) score when completing the LCN task. No other significant correlations were found between the visual spatial tests (PicSOr, CC or CR) and LCC performance.
Conclusion
While identifying selection tests for incoming surgical trainees that predict technical skill performance is appealing, the surrogate markers evaluated correlate with specific metrics of surgical performance related to a single task but do not appear to reliably predict technical performance of different laparoscopic tasks. Predicting the acquisition of technical skills will require the development of a series of evidence-based tests that measure a number of innate abilities as well as their inherent interactions.
This is a preview of subscription content, log in to check access.
Access options
Buy single article
Instant access to the full article PDF.
US$ 39.95
Price includes VAT for USA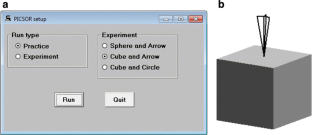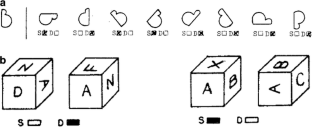 Abbreviations
PicSOr:

Pictorial surface orientation

CR:

Card rotation

CC:

Cube comparison

LCN:

Laparoscopic camera navigation

LCC:

Laparoscopic circle cut
References
1.

Fritz D, Nye CD, Carretta TR, Ree MJ (2010) Factor structure of the air force officer qualifying test form S: analysis and comparison with previous forms. Mil Psychol, 22:68–85

2.

Wickham JA, Dilworth RL (1987) Alternate flight aptitude selection test (AFAST) information pamphlet. Headquarters, Department of the Army, Washington, DC

3.

King RE, Manning CA, Drechsler GK (2006) Operational use of the air traffic selection and training battery. Int J Appl Aviat Stud 6:207–234

4.

Bell JA (1988) Royal air force selection procedures. Ann R Coll Surg Engl 70:270–275

5.

Holdsworth RF (1988) Objective assessment—the state of the art. Ann R Coll Surg Engl 70:266–270

6.

Birkmeyer JD, Finks JF, O'Reilly A, Oerline M, Carlin AM, Nunn AR, Dimick J, Banerjee M, Birkmeyer NJ (2013) Surgical skill and complication rates after bariatric surgery. N Engl J Med 369:1434–1442

7.

Crothers IR, Gallagher AG, McClure N, James DT, McGuigan J (1999) Experienced laparoscopic surgeons are automated to the "fulcrum effect": an ergonomic demonstration. Endoscopy 31:365–369

8.

Deziel DJ, Millikan KW, Economou SG, Doolas A, Ko ST, Airan MC (1993) Complications of laparoscopic cholecystectomy: a national survey of 4,292 hospitals and an analysis of 77,604 cases. Am J Surg 165:9–14

9.

Nasca TJ, Day SH, Amis ES (2010) The new recommendations on duty hours from the ACGME task force. N Engl J Med. doi:10.1056/NEJMsb1005800

10.

Palter VN, Orzech N, Reznick RK, Grantcharov TP (2013) Validation of a structured training and assessment curriculum for technical skill acquisition in minimally invasive surgery: a randomized controlled trial. Ann Surg 257:224–230

11.

Zevin B, Dedy NJ, Bonrath EM, Grantcharov TP (2013) Development and validation of a comprehensive simulation-enhanced training curriculum in bariatric surgery. In: American college of surgeons annual meeting, Washington DC

12.

Frank JR, Snell LS, Sherbino J (2014) Draft CanMEDS 2015 Milestones Guide. The Royal College of Physicians and Surgeons of Canada, Ottawa

13.

Royal Australasian College of Surgeons Royal Australasian College of Surgeons (2013) Surgical education and training policies. Available at. http://www.surgeons.org/policies-publications/policies/surgical-education-and-training/. Accessed 22 Jan 2014

14.

Royal College of Surgeons of England Royal College of Surgeons of England (2013) Intercollegiate surgical curriculum programme. Available at. https://www.iscp.ac.uk. Accessed 29 Dec 2013

15.

Grantcharov TP, Funch-Jensen P (2009) Can everyone achieve proficiency with the laparoscopic technique? Learning curve patterns in technical skills acquisition. Am J Surg 197:447–449

16.

Alvand A, Auplish S, Gill H, Rees J (2011) Innate arthroscopic skills in medical students and variation in learning curves. J Bone Joint Surg Am 93:1–9

17.

Schijven MP, Jakimowicz J (2004) The learning curve on the Xitact LS 500 laparoscopy simulator: profiles of performance. Surg Endosc 18:121–127

18.

Gallagher AG, Cowie R, Crothers I, Jordan-Black JA, Satava RM (2003) PicSOr: an objective test of perceptual skill that predicts laparoscopic technical skill in three initial studies of laparoscopic performance. Surg Endosc 17:1468–1471

19.

Stefanidis D, Korndorffer JR Jr, Black FW, Dunne JB, Sierra R, Touchard CL, Rice DA, Markert RJ, Kastl PR, Scott DJ (2006) Psychomotor testing predicts rate of skill acquisition for proficiency-based laparoscopic skills training. Surgery 140:252–262

20.

Maan ZN, Maan IN, Darzi AW, Aggarwal R (2012) Systematic review of predictors of surgical performance. Br J Surg 99:1610–1621

21.

Adams BJ, Margaron F, Kaplan BJ (2012) Comparing video games and laparoscopic simulators in the development of laparoscopic skills in surgical residents. J Surg Educ 69:714–717

22.

Ju R, Chang PL, Buckley AP, Wang KC (2012) Comparison of Nintendo Wii and PlayStation2 for enhancing laparoscopic skills. JSLS 16:612–618

23.

Paschold M, Schroder M, Kauff DW, Gorbauch T, Herzer M, Lang H, Kneist W (2011) Virtual reality laparoscopy: which potential trainee starts with a higher proficiency level? Int J Comput Assist Radiol Surg 6:653–662

24.

Buckley CE, Kavanagh DO, Gallagher TK, Conroy RM, Traynor OJ, Neary PC (2013) Does aptitude influence the rate at which proficiency is achieved for laparoscopic appendectomy? J Am Coll Surg 217:1020–1027

25.

Buckley CE, Kavanagh DO, Nugent E, Ryan D, Traynor OJ, Neary PC (2014) The impact of aptitude on the learning curve for laparoscopic suturing. Am J Surg 207:263–270

26.

Ekstrom RB, French JW, Harman HH, Dermen D (1976) Kit of factor-referenced cognitive tests (Spatial Orientation). Education Testing Service, Princeton, NJ; Office of Naval Research Contract, New Jersey, pp 1–314

27.

Peters JH, Fried GM, Swanstrom LL, Soper NJ, Sillin LF, Schirmer B, Hoffman K (2004) Development and validation of a comprehensive program of education and assessment of the basic fundamentals of laparoscopic surgery. Surgery 135:21–27

28.

Ritter EM, Scott DJ (2007) Design of a proficiency-based skills training curriculum for the fundamentals of laparoscopic surgery. Surg Innov 14:107–112

29.

Banerjee C, Cosentino M, Hatzmann W, Noe KG (2010) Endoscopic intracorporal knotting and suture techniques: talent or experience? Gynecol Surg 7:S210–S211

30.

Cope DH, Fenton-Lee D (2008) Assessment of laparoscopic psychomotor skills in interns using the MIST Virtual Reality Simulator: a prerequisite for those considering surgical training? ANZ J Surg 78:291–296

31.

Lokuge S, Fruci V, Abraham T, Youash S, Bates S, Leyland N (2012) Does innate motor skill predict medical student's interest in pursuing a surgical specialty? J Minim Invasive Gynecol 19:S25

32.

Madan AK, Harper JL, Frantzides CT, Tichansky DS (2008) Nonsurgical skills do not predict baseline scores in inanimate box or virtual-reality trainers. Surg Endosc 22:1686–1689

33.

Hislop SJ, Hsu JH, Narins CR, Gillespie BT, Jain RA, Schippert DW, Almudevar AL, Illig KA (2006) Simulator assessment of innate endovascular aptitude versus empirically correct performance. J Vasc Surg 43:47–55

34.

Van Hove C, Perry KA, Spight DH, Wheeler-Mcinvaille K, Diggs BS, Sheppard BC, Jobe BA, O'Rourke RW (2008) Predictors of technical skill acquisition among resident trainees in a laparoscopic skills education program. World J Surg 32:1917–1921

35.

Nomura T, Miyashita M, Shrestha S, Makino H, Nakamura Y, Aso R, Yoshimura A, Shimura T, Akira S, Tajiri T (2008) Can interview prior to laparoscopic simulator training predict a trainee's skills? Surg Educ 65:335–339

36.

Enochsson L, Westman B, Ritter EM, Hedman L, Kjellin A, Wredmark T, Fellander-Tsai L (2006) Objective assessment of visuospatial and psychomotor ability and flow of residents and senior endoscopists in simulated gastroscopy. Surg Endosc 20:895–899

37.

Arora H, Uribe J, Ralph W, Zeltsan M, Cuellar H, Gallagher A, Fried MP (2005) Assessment of construct validity of the endoscopic sinus surgery simulator. Arch Otolaryngol Head Neck Surg 131:217–221s

38.

Westman B, Ritter EM, Kjellin A, Torkvist L, Wredmark T, Fellander-Tsai L, Enochsson L (2006) Visuospatial abilities correlate with performance of senior endoscopy specialist in simulated colonoscopy. J Gastrointest Surg 10:593–599
Disclosures
Marisa Louridas, Lauren Quinn and Teodor Grantcharov have no conflicts of interest or financial ties to disclose.
About this article
Cite this article
Louridas, M., Quinn, L.E. & Grantcharov, T.P. Predictive value of background experiences and visual spatial ability testing on laparoscopic baseline performance among residents entering postgraduate surgical training. Surg Endosc 30, 1126–1133 (2016). https://doi.org/10.1007/s00464-015-4313-8
Received:

Accepted:

Published:

Issue Date:
Keywords
Visual spatial

Technical skill

Laparoscopy

Surgical education