Abstract
Introduction
Laparoscopic adjustable gastric banding (LAGB) represents a safe and effective bariatric procedure, particularly for patients over 50. Preoperative risk factors for impaired post-LAGB excess weight loss are not well characterized for this population. This study aimed to identify demographics, characteristics or comorbidities associated with excess weight loss at 6 and 12 months postoperatively (EWL180 and EWL365, respectively) for these patients.
Methods
One hundred and seventeen LAGB patients >50 years of age from 2005 to 2014 were retrospectively reviewed for factors potentially associated with EWL180 and EWL365. Rationally selected variables chosen for analysis included age, race, gender, initial body mass index and preoperative weight loss; comorbidities assessed included hypertension, psychiatric disorders and diabetes mellitus (DM). Variables correlated with EWL180 or EWL365 on bivariate linear regression analysis (P ≤ .05) were input into multivariate linear regression analysis to confirm independent association.
Results
Preoperative DM (B = −9.1 % EWL; 95 % CI −13.6, −4.5 %; P < .001) and African-American race (B = −8.8 % EWL; 95 % CI −17.3, −0.3 %; P = .05) were independent risk factors for impaired EWL180. Only DM was a risk factor for impaired EWL365 (B = −9.7 % EWL; 95 % CI −17.7, −1.8 %; P = .02).
Conclusions
LAGB is a successful operation in patients >50 years of age. Preoperative DM is an independent risk factor for impaired EWL in this cohort.
This is a preview of subscription content, log in to check access.
Access options
Buy single article
Instant access to the full article PDF.
US$ 39.95
Price includes VAT for USA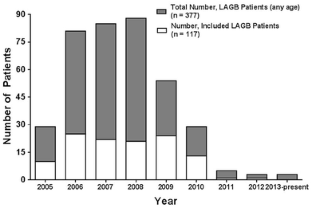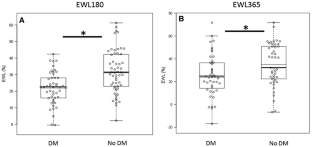 References
1.

Bellanger DE, Greenway FL (2011) Laparoscopic sleeve gastrectomy, 529 cases without a leak: short-term results and technical considerations. Obes Surg 21:146–150

2.

Arterburn D, Powers JD, Toh S, Polsky S, Butler MG, Portz JD, Donahoo WT, Herrinton L, Williams RJ, Vijayadeva V, Fisher D, Bayliss EA (2014) Comparative effectiveness of laparoscopic adjustable gastric banding vs laparoscopic gastric bypass. JAMA Surg 149:1279–1287

3.

Colquitt JL, Pickett K, Loveman E, Frampton GK (2014) Surgery for weight loss in adults. The Cochrane database of systematic reviews 8:CD003641

4.

Himpens J, Dapri G, Cadiere GB (2006) A prospective randomized study between laparoscopic gastric banding and laparoscopic isolated sleeve gastrectomy: results after 1 and 3 years. Obes Surg 16:1450–1456

5.

Gebhart A, Young MT, Nguyen NT (2015) Bariatric surgery in the elderly: 2009–2013. Surg Obes Relat Dis 11(2):393–398

6.

Loy JJ, Youn HA, Schwack B, Kurian MS, Fielding GA, Ren-Fielding CJ (2014) Safety and efficacy of laparoscopic adjustable gastric banding in patients aged seventy and older. Surg Obes Relat Dis 10:284–289

7.

Livhits M, Mercado C, Yermilov I, Parikh JA, Dutson E, Mehran A, Ko CY, Gibbons MM (2012) Preoperative predictors of weight loss following bariatric surgery: systematic review. Obes Surg 22:70–89

8.

Parikh M, Lo H, Chang C, Collings D, Fielding G, Ren C (2006) Comparison of outcomes after laparoscopic adjustable gastric banding in African-Americans and whites. Surg Obes Relat Dis 2:607–610 discussion 610-602

9.

Chau WY, Schmidt HJ, Kouli W, Davis D, Wasielewski A, Ballantyne GH (2005) Patient characteristics impacting excess weight loss following laparoscopic adjustable gastric banding. Obes Surg 15:346–350

10.

Roden DM, Pulley JM, Basford MA, Bernard GR, Clayton EW, Balser JR, Masys DR (2008) Development of a large-scale de-identified DNA biobank to enable personalized medicine. Clin Pharmacol Ther 84:362–369

11.

Harris PA, Taylor R, Thielke R, Payne J, Gonzalez N, Conde JG (2009) Research electronic data capture (REDCap)—a metadata-driven methodology and workflow process for providing translational research informatics support. J Biomed Inform 42:377–381

12.

Ren CJ, Fielding GA (2003) Laparoscopic adjustable gastric banding: surgical technique. J Laparoendosc Adv Surg Tech A 13:257–263

13.

Ayloo SM, Fernandes E, Masrur MA, Giulianotti PC (2014) Adjustable gastric banding: a comparison of models. Surg Obes Relat Dis 10:1097–1103

14.

Pournaras DJ, Osborne A, Hawkins SC, Vincent RP, Mahon D, Ewings P, Ghatei MA, Bloom SR, Welbourn R, le Roux CW (2010) Remission of type 2 diabetes after gastric bypass and banding: mechanisms and 2 year outcomes. Ann Surg 252:966–971

15.

Adegbola S, Tayeh S, Agrawal S (2014) Systematic review of laparoscopic adjustable gastric banding in patients with body mass index ≤35 kg/m(2). Surg Obes Relat Dis 10:155–160

16.

Piaggi P, Lippi C, Fierabracci P, Maffei M, Calderone A, Mauri M, Anselmino M, Cassano GB, Vitti P, Pinchera A, Landi A, Santini F (2010) Artificial neural networks in the outcome prediction of adjustable gastric banding in obese women. PLoS ONE 5:e13624

17.

Still CD, Wood GC, Chu X, Manney C, Strodel W, Petrick A, Gabrielsen J, Mirshahi T, Argyropoulos G, Seiler J, Yung M, Benotti P, Gerhard GS (2014) Clinical factors associated with weight loss outcomes after Roux-en-Y gastric bypass surgery. Obesity 22:888–894

18.

Favretti F, Segato G, Ashton D, Busetto L, De Luca M, Mazza M, Ceoloni A, Banzato O, Calo E, Enzi G (2007) Laparoscopic adjustable gastric banding in 1791 consecutive obese patients: 12-year results. Obes Surg 17:168–175

19.

Ponce J, Paynter S, Fromm R (2005) Laparoscopic adjustable gastric banding: 1014 consecutive cases. J Am Coll Surg 201:529–535

20.

Pontiroli AE, Alberto M, Paganelli M, Saibene A, Busetto L (2013) Metabolic syndrome, hypertension, and diabetes mellitus after gastric banding: the role of aging and of duration of obesity. Surg Obes Relat Dis 9:894–900

21.

Busetto L, Angrisani L, Basso N, Favretti F, Furbetta F, Lorenzo M, Italian Group for L-B (2008) Safety and efficacy of laparoscopic adjustable gastric banding in the elderly. Obesity 16:334–338

22.

Chan JM, Rimm EB, Colditz GA, Stampfer MJ, Willett WC (1994) Obesity, fat distribution, and weight gain as risk factors for clinical diabetes in men. Diabetes Care 17:961–969

23.

Colditz GA, Willett WC, Rotnitzky A, Manson JE (1995) Weight gain as a risk factor for clinical diabetes mellitus in women. Ann Intern Med 122:481–486

24.

Dixon JB, O'Brien PE, Playfair J, Chapman L, Schachter LM, Skinner S, Proietto J, Bailey M, Anderson M (2008) Adjustable gastric banding and conventional therapy for type 2 diabetes: a randomized controlled trial. JAMA 299:316–323

25.

Runkel M, Muller S, Brydniak R, Runkel N (2015) Downgrading of Type 2 diabetes mellitus (T2DM) after obesity surgery: duration and severity matter. Obes Surg 25(3):494–499

26.

Lutz TA, Bueter M (2014) The physiology underlying Roux-en-Y gastric bypass: a status report. Am J Physiol Regul Integr Comp Physiol 307:R1275–1291

27.

Tadross JA, le Roux CW (2009) The mechanisms of weight loss after bariatric surgery. Int J Obes 33(Suppl 1):S28–32

28.

Brancati FL, Kao WH, Folsom AR, Watson RL, Szklo M (2000) Incident type 2 diabetes mellitus in African American and white adults: the Atherosclerosis Risk in Communities Study. JAMA 283:2253–2259

29.

Dixon JB, Dixon ME, O'Brien PE (2001) Pre-operative predictors of weight loss at 1-year after Lap-Band surgery. Obes Surg 11:200–207

30.

Ryden A, Karlsson J, Sullivan M, Torgerson JS, Taft C (2003) Coping and distress: What happens after intervention? A 2-year follow-up from the Swedish Obese Subjects (SOS) study. Psychosom Med 65:435–442

31.

Thalheimer A, Bueter M, Wierlemann A, Lager C, Jurowich C, Germer CT, Fein M (2009) Predictability of outcome in laparoscopic gastric banding. Obes facts 2(Suppl 1):27–30

32.

Lynch J, Belgaumkar A (2012) Bariatric surgery is effective and safe in patients over 55: a systematic review and meta-analysis. Obes Surg 22:1507–1516

33.

Buchwald H, Avidor Y, Braunwald E, Jensen MD, Pories W, Fahrbach K, Schoelles K (2004) Bariatric surgery: a systematic review and meta-analysis. JAMA 292:1724–1737

34.

Dixon JB, McPhail T, O'Brien PE (2005) Minimal reporting requirements for weight loss: current methods not ideal. Obes Surg 15:1034–1039

35.

Bayham B, Greenway F, Bellanger D (2012) Outcomes of the laparoscopic sleeve gastrectomy in the Medicare population. Obes Surg 22:1785
Acknowledgements
Dr. Colleen Brophy, M.D., Professor of Surgery, Vanderbilt University. Vanderbilt RedCAP: CTSA Award UL1 TR000445 from NCATS/NIH.
Disclosures
Eric S. Wise, Sarwat Ahmad, Travis R. Ladner, Kyle M. Hocking and Stephen M. Kavic have no conflict of interest to disclose.
About this article
Cite this article
Wise, E.S., Ahmad, S., Ladner, T.R. et al. Impaired weight loss in laparoscopic adjustable gastric banding patients over 50 years of age: diabetes mellitus as an independent risk factor. Surg Endosc 30, 663–669 (2016). https://doi.org/10.1007/s00464-015-4257-z
Received:

Accepted:

Published:

Issue Date:
Keywords
Bariatric

Obesity

Laparoscopy

Gastric banding