Abstract
Purpose
Pleural biopsies are commonly performed to investigate the cause of exudative pleural effusion. Biopsy needles (e.g. Abrams needle, Cope needle) are traditionally used to perform the biopsy. However, certain complications such as pneumothorax and haemothorax have been described. We present a technique utilizing a novel retrograde forceps, which could improve the simplicity and lower the complication rate of performing closed pleural biopsies.
Description
A retrograde forceps (Retroforceps, Karl Storz, Tuttlingen, Germany) was used to perform 20 transcutaneous pleural biopsies in a cadaver thorax under thoracoscopical control. Video documentation of the procedure from outside and inside the thorax was performed. The surgeon performing the biopsy was blinded to the thoracoscopical view. After the removal of the forceps, it was checked whether biopsy material was retrieved. The video material was retrospectively used to confirm whether the biopsy was taken from the pleura parietalis.
Evaluation
Biopsy material was retrieved in 19 out of 20 biopsy attempts. Video material confirmed that the biopsy was taken from the pleura parietalis in all cases.
Conclusions
Using a retrograde biopsy forceps is a simple and practicable procedure suitable for clinical application. This technique could potentially reduce the incidence of pneumothorax.
This is a preview of subscription content, log in to check access.
Access options
Buy single article
Instant unlimited access to the full article PDF.
US$ 39.95
Price includes VAT for USA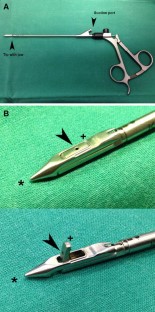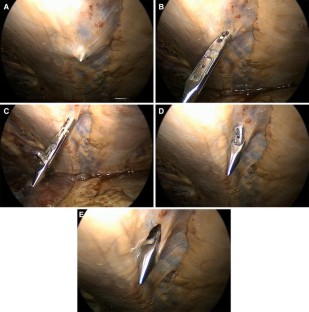 References
1.

Maskell NA, Butland RJ, Pleural Diseases Group SoCCBTS (2003) BTS guidelines for the investigation of a unilateral pleural effusion in adults. Thorax 58(Suppl 2):ii8–ii17

2.

Abrams LD (1958) A pleural-biopsy punch. Lancet 1(7010):30–31

3.

Cope C (1958) New pleural biopsy needle; preliminary study. J Am Med Assoc 167(9):1107–1108

4.

Silverman I (1954) Improved Vim-Silverman biopsy needle. J Am Med Assoc 155(12):1060–1061

5.

Chakrabarti B, Ryland I, Sheard J, Warburton CJ, Earis JE (2006) The role of Abrams percutaneous pleural biopsy in the investigation of exudative pleural effusions. Chest 129(6):1549–1555. doi:10.1378/chest.129.6.1549

6.

Walshe AD, Douglas JG, Kerr KM, McKean ME, Godden DJ (1992) An audit of the clinical investigation of pleural effusion. Thorax 47(9):734–737

7.

Cowie RL, Escreet BC, Goldstein B, Langton ME, Leigh RA (1983) Pleural biopsy. A report of 750 biopsies performed using Abrams's pleural biopsy punch. S Afr Med J = Suid-Afrikaanse tydskrif vir geneeskunde 64(3):92–95

8.

Koegelenberg CF, Bolliger CT, Theron J, Walzl G, Wright CA, Louw M, Diacon AH (2010) Direct comparison of the diagnostic yield of ultrasound-assisted Abrams and Tru-Cut needle biopsies for pleural tuberculosis. Thorax 65(10):857–862. doi:10.1136/thx.2009.125146

9.

Hooper C, Lee YC, Maskell N, Group BTSPG (2010) Investigation of a unilateral pleural effusion in adults: British Thoracic Society Pleural Disease Guideline 2010. Thorax 65(Suppl 2):ii4–ii17. doi:10.1136/thx.2010.136978

10.

Hugle T, Leumann A, Pagenstert G, Paul J, Hensel M, Barg A, Foster-Horvath C, Nowakowski AM, Valderrabano V, Wiewiorski M (2014) Retrograde synovial biopsy of the knee joint using a novel biopsy forceps. Arthrosc Tech 3(3):e317–e319. doi:10.1016/j.eats.2014.01.009

11.

Koegelenberg CF, Diacon AH (2011) Pleural controversy: closed needle pleural biopsy or thoracoscopy—which first? Respirology 16(5):738–746
Acknowledgments
We thank Reto Kaesermann, Mike Mueller, and Bernd Friker for excellent technical support.
Disclosures
Martin Wiewiorski, Andreas Hiebinger, Sebastian Hoechel, Magdalena Müller-Gerbl, Alexej Barg, Victor Valderrabano, and Thomass Hügle have declared that they have no conflicts of interest.
Electronic supplementary material
Below is the link to the electronic supplementary material.
Video 1. Biopsy technique. All steps of this procedure can be performed without thoracoscopical assistance. However, to demonstrate the key steps and technical aspects of the biopsy, this video provides a thoracoscopical view of the procedure. The key steps are as follows: skin incision, penetrating the joint capsule with the forceps, opening the forceps, pulling the open jaw against the synovial membrane, closing the jaw, and retrieving the biopsy sample from the jaw. Supplementary material 1 (MP4 3588 kb)
About this article
Cite this article
Wiewiorski, M., Hiebinger, A., Hoechel, S. et al. Transcutaneous pleural biopsy with a retrograde forceps: a novel approach. Surg Endosc 30, 396–400 (2016). https://doi.org/10.1007/s00464-015-4204-z
Received:

Accepted:

Published:

Issue Date:
Keywords