Abstract
Background
Previous reports have suggested that endoscopic retrograde cholangiopancreatography (ERCP) in pediatric patients is safe, but because the total number of cases reported in the literature remains small, questions remain regarding safety and outcomes of this procedure in children.
Methods
Pediatric patients who underwent ERCP were identified from diagnostic to billing codes. Medical records were examined for age, gender, diagnosis codes, indication, type of sedation, findings, interventions, and complications. Descriptive statistics were prepared for data including frequencies, percentages for categorical variables, and means and standard deviations for quantitative variables. Extensions of logistic regression were used to examine the relationship between demographic and clinical characteristics and post-ERCP pancreatitis.
Results
Four hundred and twenty-five ERCPs were performed on 276 pediatric patients. Patient's age ranged from 72 days to 18 years, and there was equal gender distribution. Targeted duct cannulation was achieved in over 95 % of cases, and therapeutic interventions were common (81.3 %). The most common indications were biliary obstruction (43.3 %) and chronic pancreatitis (26.8 %). The most common complication was post-ERCP pancreatitis which occurred in 26 cases (7.7 %), and the majority was mild by consensus definition. Procedural characteristics significantly associated with post-ERCP pancreatitis included: pancreatogram, pancreatic sphincterotomy, pancreatic duct stenting, and pancreatic duct stricture dilation. Immediate post-sphincterotomy bleeding occurred twice (1.1 %), and both cases were successfully treated during the procedure. There was one instance of a possible delayed sphincterotomy bleed. No mortality was observed.
Conclusions
This retrospective review is one of the larger ERCP series reported in the pediatric population and adds to the growing body of literature supporting that ERCP can be safely applied in younger patients by skilled endoscopists. The complication rate found in this series closely parallels that observed in adults. Prospective studies of pediatric ERCP are still required to more definitively define the safe and appropriate use of this procedure in children.
This is a preview of subscription content, log in to check access.
Access options
Buy single article
Instant access to the full article PDF.
US$ 39.95
Price includes VAT for USA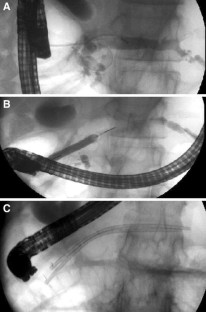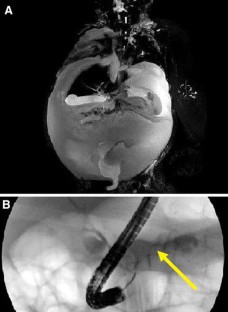 References
1.

McCune WS, Shorb PE, Moscovitz H (1968) Endoscopic cannulation of the ampulla of vater: a preliminary report. Ann Surg 167:752–756

2.

Cohen S, Bacon BR, Berlin JA, Fleischer D, Hecht GA, Loehrer PJ Sr, McNair AE Jr, Mulholland M, Norton NJ, Rabeneck L, Ransohoff DF, Sonnenberg A, Vannier MW (2002) National institutes of health state-of-the-science conference statement: ERCP for diagnosis and therapy, January 14–16, 2002. Gastrointest Endosc 56:803–809

3.

Waye JD (1976) Endoscopic retrograde cholangiopancreatography in the infant. Am J Gastroenterol 65:461–463

4.

Cotton PB, Laage NJ (1982) Endoscopic retrograde cholangiopancreatography in children. Arch Dis Child 57:131–136

5.

Putnam PE, Kocoshis SA, Orenstein SR, Schade RR (1991) Pediatric endoscopic retrograde cholangiopancreatography. Am J Gastroenterol 86:824–830

6.

Varadarajulu S, Wilcox CM, Hawes RH, Cotton PB (2004) Technical outcomes and complications of ERCP in children. Gastrointest Endosc 60:367–371

7.

Green JA, Scheeres DE, Conrad HA, Cloney DL, Schlatter MG (2007) Pediatric ERCP in a multidisciplinary community setting: experience with a fellowship-trained general surgeon. Surg Endosc 21:2187–2192

8.

Reinshagen K, Muldner A, Manegold B, Kahler G (2007) Efficacy of ERCP in infancy and childhood. Klin Padiatr 219:271–276

9.

Issa H, Al-Haddad A, Al-Salem AH (2007) Diagnostic and therapeutic ERCP in the pediatric age group. Pediatr Surg Int 23:111–116

10.

Durakbasa CU, Balik E, Yamaner S, Bulut T, Buyukuncu Y, Sokucu N, Akyuz A, Bugra D (2008) Diagnostic and therapeutic endoscopic retrograde cholangiopancreatography (ERCP) in children and adolescents: experience in a single institution. Eur J Pediatr Surg 18:241–244

11.

Paris C, Bejjani J, Beaunoyer M, Ouimet A (2010) Endoscopic retrograde cholangiopancreatography is useful and safe in children. J Pediatr Surg 45:938–942

12.

Otto AK, Neal MD, Slivka AN, Kane TD (2011) An appraisal of endoscopic retrograde cholangiopancreatography (ERCP) for pancreaticobiliary disease in children: our institutional experience in 231 cases. Surg Endosc 25:2536–2540

13.

Halvorson L, Halsey K, Darwin P, Goldberg E (2013) The safety and efficacy of therapeutic ERCP in the pediatric population performed by adult gastroenterologists. Dig Dis Sci 58:3611–3619

14.

Troendle DM, Barth BA (2013) ERCP can be safely and effectively performed by a pediatric gastroenterologist for choledocholithiasis in a pediatric facility. J Pediatr Gastroenterol Nutr 57:655–658

15.

Agarwal J, Reddy DN, Talukdar R, Lakhtakia S, Ramchandani M, Tandan M, Gupta R, Pratap N, Rao GV (2014) ERCP in the management of pancreatic diseases in children. Gastrointest Endosc 79:271–278

16.

Enestvedt BK, Tofani C, Lee DY, Abraham M, Shah P, Chandrasekhara V, Ginsberg GG, Long W, Ahmad N, Jaffe DL, Mamula P, Kochman ML (2013) Endoscopic retrograde cholangiopancreatography in the pediatric population is safe and efficacious. J Pediatr Gastroenterol Nutr 57:649–654

17.

Pant C, Sferra TJ, Barth BA, Deshpande A, Minocha A, Qureshi WA, Olyaee M, Anderson MP (2014) Trends in endoscopic retrograde cholangiopancreatography in children within the united states from 2000 to 2009. J Pediatr Gastroenterol Nutr 59:57–60

18.

Cotton PB, Lehman G, Vennes J, Geenen JE, Russell RC, Meyers WC, Liquory C, Nicki N (1991) Endoscopic sphincterotomy complications and their management: an attempt at consensus. Gastrointest Endosc 37:383–393

19.

Zeger SL, Liang KY (1986) Longitudinal data analysis for discrete and continuous outcomes. Biometrics 42:121–130

20.

Pezzilli R, Romboli E, Campana D, Corinaldesi R (2002) Mechanisms involved in the onset of post-ERCP pancreatitis. JOP 3:162–168

21.

Cotton PB, Garrow DA, Gallagher J, Romagnuolo J (2009) Risk factors for complications after ERCP: a multivariate analysis of 11,497 procedures over 12 years. Gastrointest Endosc 70:80–88

22.

Elmunzer BJ, Scheiman JM, Lehman GA, Chak A, Mosler P, Higgins PD, Hayward RA, Romagnuolo J, Elta GH, Sherman S, Walijee AK, Repaka A, Atkinson MR, Cote GA, Kwon RS, McHenry L, Piraka CR, Wamsteker EJ, Watkins JL, Korsnes SJ, Schmidt SE, Turner SM, Nicholson S, Fogel EL, U.S. Cooperative for Outcomes Research in Endoscopy (USCORE) (2012) A randomized trial of rectal indomethacin to prevent post-ERCP pancreatitis. N Engl J Med 366:1414–1422
Acknowledgments
Michele Shaffer Ph.D., Co-Director, Seattle Children's Core for Biomedical Statistics and Associate Professor of Pediatrics in the Division of Pediatric Gastroenterology at Seattle Children's assisted with the statistical analysis.
Disclosures
Dr. Matthew Giefer has no conflicts of interest or financial ties to disclose; Dr. Richard Kozarek has royalties from Elsevier, Blackwell, and Springer, and will be receiving research support from Boston Scientific.
About this article
Cite this article
Giefer, M.J., Kozarek, R.A. Technical outcomes and complications of pediatric ERCP. Surg Endosc 29, 3543–3550 (2015). https://doi.org/10.1007/s00464-015-4105-1
Received:

Accepted:

Published:

Issue Date:
Keywords
ERCP

Children

Outcomes

Complications

Bile duct stones

Pancreatitis